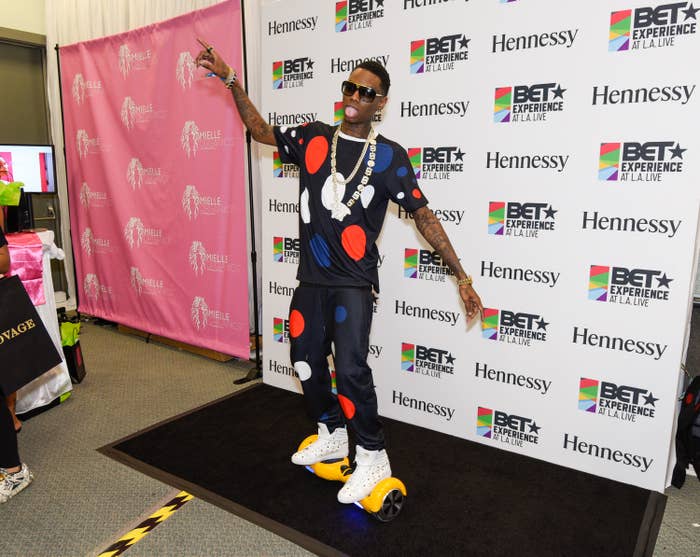 On Nov. 12, the rapper/hoverboard merchant Soulja Boy wrote an email to the support staff of Stripe, a major online payment processing company. He was concerned about a large negative balance on his account, which he had used to process payments for the two-wheeled self-balancing scooters he sold for $1,500 on an online store under the name "Souljaboard."
"I need help all the payments are fraud," Soulja Boy wrote. "And it sent my account to negative because they all say they weren't authorized. please help in any way you can thanks. I don't want to have to pay all this money because of frauds is there any way to reverse these payments and get my account to Good standing."
The email was the culmination of a three-month struggle between the rapper and Stripe over the issue of "chargebacks": processed credit card orders that are subsequently disputed by the cardholder, for which internet merchants are typically held responsible. The reasons someone may dispute an internet purchase vary, but fraud — someone using stolen credit card information — is among the most common.
According to internal Stripe documents obtained by BuzzFeed News, online hoverboard purchases are plagued by fraud. The issue is not limited to Souljaboards. As many as three-quarters of all purchases from some hoverboard merchants result in chargebacks. (According to a Stripe company source who wished to remain anonymous, a typical chargeback rate is 1%.) Furthermore, according to documents reviewed by BuzzFeed News, some cards have been used to fraudulently purchase hoverboards from multiple merchants.
The issue has become so bad that, according to an account postmortem — an unsigned six-page document that outlines "Remediations" and "Next Steps" — Stripe considered suing its users to recoup funds.
"We need to be willing to file a lawsuit," the postmortem reads. "At what point are we actually willing to file a lawsuit? There's a reputation/PR issue here since we still would be suing a user."
Payment processing services like Stripe act as go-betweens for merchants and credit card companies. When a customer buys a product online, the credit card company passes the charge on to the payment processor, which puts the money in the merchant's bank account. If a cardholder disputes a charge and the credit card company agrees to a refund, the payment processor is obligated to refund the credit card company with money that is sometimes debited from the original merchant's account.
That's a problem for the merchant, who is out the cost of the board as well as the cost of shipping and is still liable for the fraudulent charge. With enough disputes, merchants can easily go into the red — which is what happened with at least three online hoverboard vendors.
Stripe responded to BuzzFeed News' request for comment in a statement: "We can't comment on the financial details of particular Stripe accounts for privacy reasons. Generally speaking, credit card network require merchants to limit disputed transactions to less than 1%. If a merchant's dispute rate is above that threshold, card networks can and do enforce their limit by levying fines and, in some serious cases, refusing to allow the merchant to continue accepting credit cards at all."
Documents show that as of Dec. 7, Soulja Boy's Stripe account held a balance of $-174,440.08. Between June 30, 2015, and Dec. 7, according to the same documents, more than 75% of all orders associated with that account were disputed after the fact. In an Oct. 19 email, Stripe support told Soulja Boy, "The vast majority of your negative balance is due to fraud." Soulja Boy did sell goods other than hoverboards on his store, including shirts and caps, but several facts suggest that hoverboard sales constituted most of the sales, and most of the fraud.
First, the average size of an individual sale in that time period was nearly $1,300 — items on Soulja Boy's store other than the Souljaboard ranged from $25–100. Second, the 75% of disputed orders accounted for 91% of the total amount of sales — meaning items from disputed orders were significantly more expensive than orders from non-disputed ones.
Soulja Boy isn't alone. IO Hawk, perhaps the best-known hoverboard brand in the U.S., currently holds a negative balance of more than $900,000 with Stripe. In a company history of the since-disabled account, a picture emerges of a merchant struggling to cope with the sudden surge in interest in its product, legitimate and otherwise.
According to Stripe documentation, John Soibatian registered a GoDaddy page in November 2014 to sell hoverboards. (GoDaddy uses Stripe as its credit card payment processor.) Orders for IO Hawk skyrocketed after a Today show appearance in May 2015, and so too, according to the postmortem, did fraud.
In mid-June, representatives from Wells Fargo, which underwrites transactions handled by Stripe, contacted the payment company to alert them to an increase in fraudulent transactions associated with the IO Hawk account. This was the first of a series of warnings from Wells Fargo, which led Stripe to send an internal memo on July 10: "Wells Fargo is extremely concerned about the extent of this fraud and corresponding reputational damage. We anticipate that we may be contacted by the Card Brands (and possibly other regulatory bodies and/or law enforcement agencies) to explain this activity and want to have a solid understanding of what has occurred."
By that point, Stripe had disabled the IO Hawk account. "Smart Wheels processed over $2,000,000 in orders, many of which we believe were fraudulent," an internal account timeline reads. "Once the business' dispute volume exceed the value of incoming charges, [the payment company] began sending debits to recover the negative balance."
At first, Stripe was able to recover some of the balance through these debits, but according to Stripe documents, the IO Hawk account holder subsequently blocked debits from its bank account. All in all, IO Hawk payments processed by Stripe later incurred more than $1.5 million dollars in chargebacks — nearly 58% of its business with Stripe — of which IO Hawk still owes more than $900,000.
On the Stripe internal management system, IO Hawk is now flagged as "unreputable" and described in an attached note as "one of our largest losses ever, merchant was not suited to run a business of this size and with such a risky product."
Neither Soulja Boy nor Soibatian responded to emails, phone calls, or texts for comment.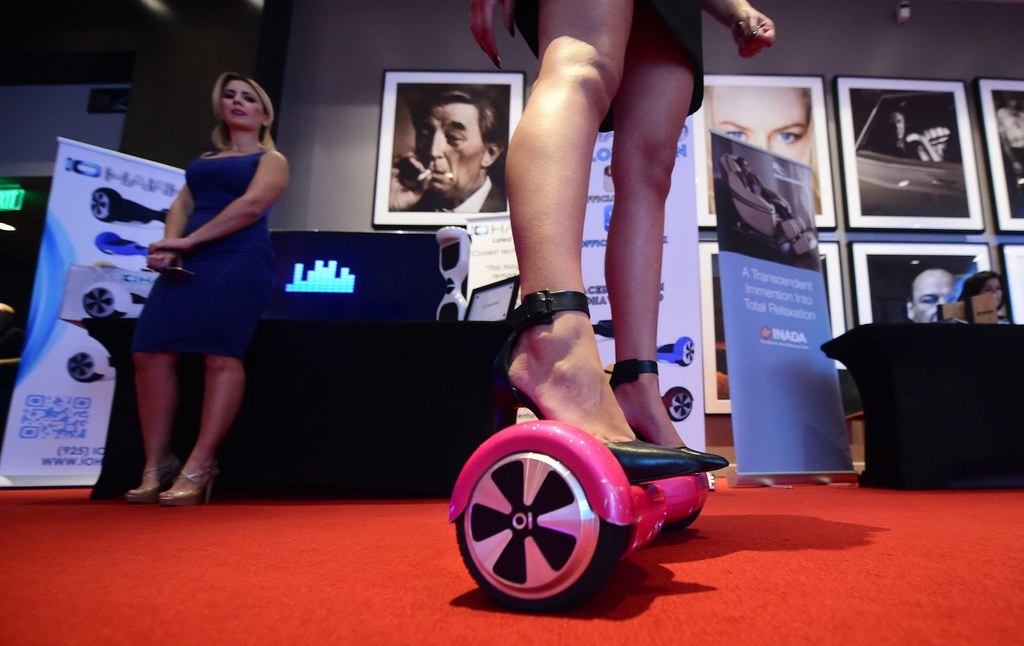 Indeed, as BuzzFeed News has reported, the hoverboard craze has attracted a legion of inexperienced merchants, eager to cash in on wild demand and unabashed about marking up the cost of their product (the IO Hawk sells for $1,800; in China, hoverboards cost less than a tenth of that to produce). It may be this very inexperience — in combination with the intense demand for and high cost of the boards — that leads to the proliferation of fraud. While credit card companies and payment processing companies like Stripe do offer fraud protection through algorithmic detection, merchants are ultimately responsible for repaying fraudulent charges. Documentation from Stripe reveals that new hoverboard merchants may be unaware of how to monitor for fraud and who holds the responsibility to monitor for fraud — which certainly seems to be the case with Soulja Boy.
In an October email to the payment company, Soulja Boy wrote, "I can pay the balance but don't want to if its from frauds then I will be spending money over something that I thought would be prevented through your website." And in a written recap of a July 15 conversation with IO Hawk's John Soibatian, a member of the payment company's support staff wrote, "He emphasizes that he hasn't accessed his ... account for several weeks and was unaware payments would require any active monitoring."
Stripe doesn't require, though it does allow, standard CVV (card verification value) code and zip code checks for its merchants.
As of Dec. 7, both IO Hawk and Soulja Boy owed Stripe hundreds of thousands of dollars. So too did CyBoard, which had accrued a nearly $-150,000 balance on a since frozen account through Stripe.
A Nov. 20 "repayment letter" from Stripe outlined a yearlong payment plan with an initial payment of $40,000 and subsequent monthly payments of $10,000 in order to keep Stripe from seeking legal recourse.
A manager from CyBoard who asked not to be named said that 60 days after setting up its Stripe account, the company started receiving chargebacks. When they noticed that many of the disputed orders came from the same IP address in Canada, they assumed it was fraud.
"We contacted Stripe and said, 'Can you please help us?'" the manager said. "I guess they didn't see it as a big enough problem at the time."
Stripe did, however, shut down CyBoard's account on July 30, according to the manager, preventing them from making more sales.
Among those stuck with the bill: Travis Peters, who left CyBoard early in summer 2015. Peters, whose website describes him as "a self-made millionaire entrepreneur," had used his name to sign CyBoard up for Stripe.
"They (illegally) strong armed me for the debt of CyBoard," Peters wrote in an email to BuzzFeed News. "They did this by holding my funds on other merchant accounts of mine until I paid off the debt, even though I sold off all legal responsibility for CyBoard. Merchant processing online — it's a nightmare."
In the meantime, those negative balances are bad for both the merchants and Stripe, which had to reimburse defrauded credit card companies. Souljaboard.com now redirects to SODMG.com, a Blogger page with six entries. Peters no longer sells hoverboards. CyBoard has changed payment processors. And IO Hawk still sells hoverboards, but only through PayPal. "It would have been beneficial to get [IO Hawk] on the phone early on, so they could understand the gravity of the situation," the Stripe postmortem reads. But like many things when it comes to hoverboards, the rush to sell first and ask questions later seems to defy gravity.
CORRECTION
An earlier version of this post stated that Soulja Boy's online store was hosted by Shopify.