The new iPhone 6S includes "3D touch" based on the pressure applied to the screen:
Apple is introducing upgraded iPhones, iPads, and Apple TVs at its annual fall event.
The Watch will see new software upgrades for travel. Hardware upgrades include a new band.

The new iPad Pro debuted, featuring a full-size software keypad, Apple's largest iPad screen and strongest processing power yet, and a new $99 "Apple Pencil" stylus. Aimed at professionals, Apple teamed with Microsoft and Adobe on iPad-only productivity and creative apps. They cost $799, $949, $1079 based on hard drive size. A new external keyboard costs $169. It's all available in November.

Apple TV with have a touch surface remote and voice control. To start, Siri can search iTunes, Hulu, and Showtime. A new OS, called tvOS, is "based on iOS and built for the living room," said Apple SVP Eddie Cue. It will run movies, television, music, and games, including Guitar Hero and a Star Wars game. It's cost $140 or $199 and is available in October.

The new iPhone 6S and 6S Plus are built on a faster chip A9 chip. There's also a new rose gold option and new gestures based on the force of your touch. The new camera will shoot 4K video. The 6S will start at $199, and the 6S Plus will start at $299. Preorders begin Sept. 12.
Watch the event live here.
Here's a look at the Apple Pencil:
Apple's annual Fall "Special Event" came and went without any major surprises, but with three major, expected product announcements that are sure to drive a lot of business: the iPad Pro, a 12.9-inch, super-fast tablet that aims to capture enterprise business; an overhauled Apple TV, which comes with a new gesture-enabled remote and an impressive app store; and the biannual "S" crop of iPhones, the iPhone 6s and the iPhone 6s Plus.
Though no new product categories were announced, the theme of the event was size: It was held at the massive, 7,000-seat Bill Graham Civic Auditorium, and the iPad Pro was introduced in a video that showed the device hurtling through space like an asteroid.
The presentation went big too, over two hours, and though there was some filler (what felt like 10 minutes on a Frogger knockoff called "Crossy Street"), a lot happened.
You can catch up on it with our live news feed, below.
"Make that money, watch it burn."
Want a new iPhone every year?
If you pay $32 a month into Apple's new installment plan, you can get one, on any carrier you want.
No, the new iPhones are not free. The 6s will start at $199, and the 6s Plus will start at $299.
And they come out soon! September 25!
You can preorder them on Saturday, Sept. 12.
The camera is, predictably, a heck of a lot better. It's now got a 12 megapixel sensor.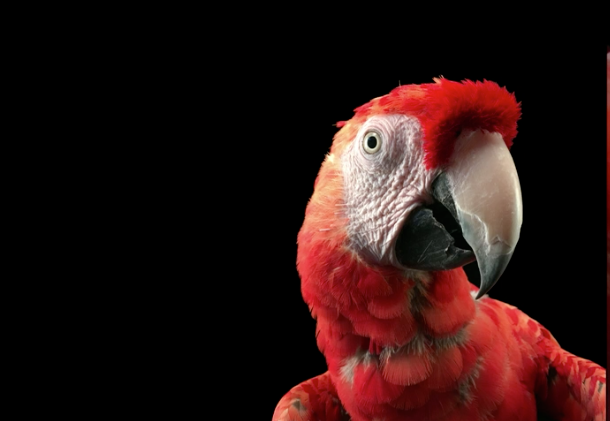 And it takes, for the first time, 4K video. 4K video is very, very good. Every frame of video you shoot will have 8 million pixels. Your pets will look more realistic than ever.
The other camera, the one that takes your selfies, has a 5 megapixel camera. That's pretty high too! So the selfie camera now takes true-tone photos.
Kardashians: behold! And, behold Kardashians!
And there's a new feature called "Live Photos" which captures a 12MP still image for 1.5 seconds (a total of 3) on either side of a photo. It animates. And it can have sound.
The new iPhones, as expected and widely reported, are the iPhone 6S and the iPhone 6S Plus.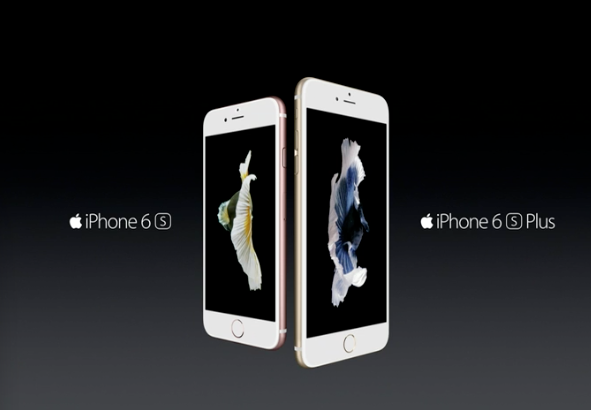 The third major piece of Apple's day is iPhone, and Cook began with a little crowing. He took time to mention how fast growth of the phone has been abroad, outpacing the rest of the industry worldwide by three times. In China, growth has been staggering.
"They are the most loved phones in the world," Cook added.
The new phones "may look familiar," Cook said, but added, "We have changed everything about these new iPhones."
The case, made of a new aluminum alloy, includes a new rose gold option. The display is covered by a new glass. Touch has been upgraded as well, with 3D Touch.
It has to do with the force of your touch, and it enables two new gestures: Peek and Pop. Pressing lightly gives a peek of content (like an image).
There's a new rose gold option.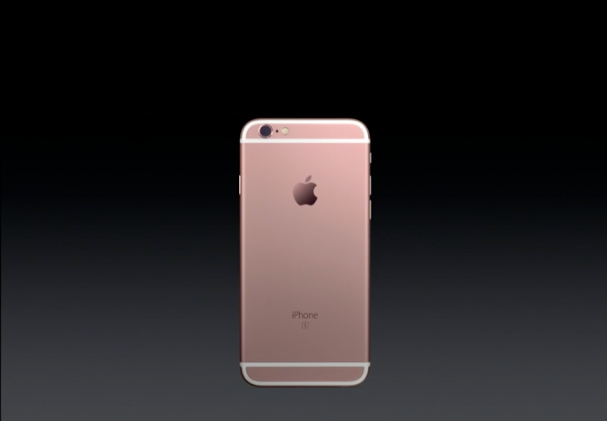 It has 3D Touch.
The new iPhones are built on a new, faster chip: the A9. It's built on something called transistor architecture, which makes it more efficient.
Like the iPad Pro, it's got a desktop class CPU and a console class GPU.
Games will look pretty dang good, and can take advantage of the new touch functionality.
The new Apple TV is $149 and $199, and it's coming in October.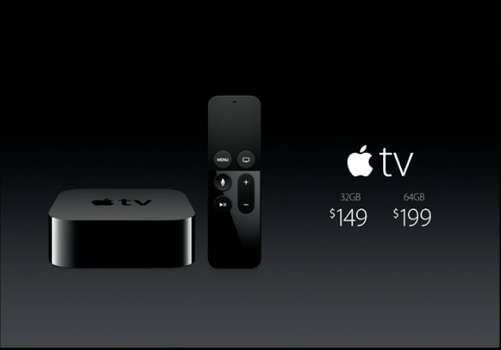 It will available in over 100 countries by the end of the year.
Apple TV is also built to appeal to sports fans.
The MLB app shows games, stats, and notifications from other games; those notifications can instantly cue split screen. An NHL app is coming to Apple TV in 2016.
You can also shop on Apple TV.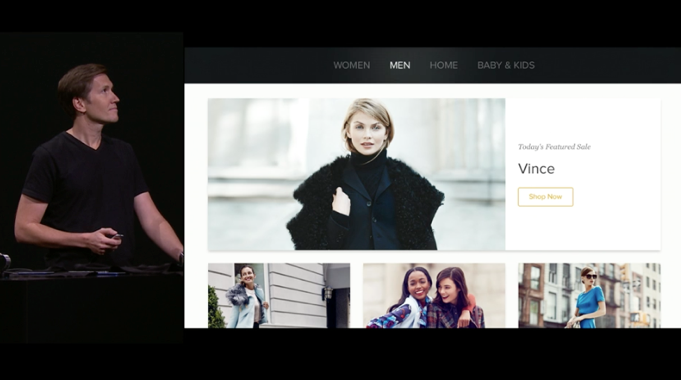 Commerce could be a big piece of Apple TV. Gilt, the discount online fashion retailer, showed off its own proprietary Apple TV app.
So if you've got money left after splurging on the new iPad Pro, you can buy some John Varvatos!
Beat Sports is a brand new game for Apple TV.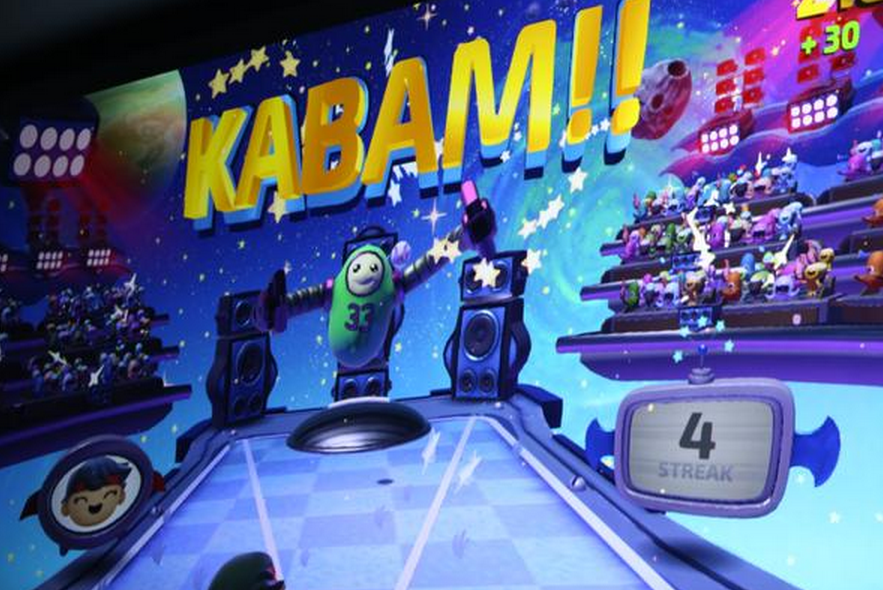 Harmonix, the makers of Rock Band, introduced Beat Sports for Apple TV.
It takes advantage of the new remote's motion sensing capabilities to combine rhythm-based gaming and sports gaming.
It's the kind of cute and loud casual game that could addict kids to Apple TV and drive parents insane.
Apple TV comes with a brand new OS, called tvOS.
"It's based on iOS and built for the living room," said Apple SVP Eddie Cue. It will run movies, television, music, and games, including Guitar Hero and a Star Wars game.
One very cool feature: If you ask Siri "what did she say?", Apple TV will scroll back fifteen seconds and turn on closed captioning.
You'll control the new Apple TV with a new, glass, touch surface remote. With that remote and voice control, you'll be able to perform universal search: To start, you can search iTunes, Hulu, and Showtime. More services will follow.
Apple announced its much-anticipated overhaul of Apple TV, the first since 2012.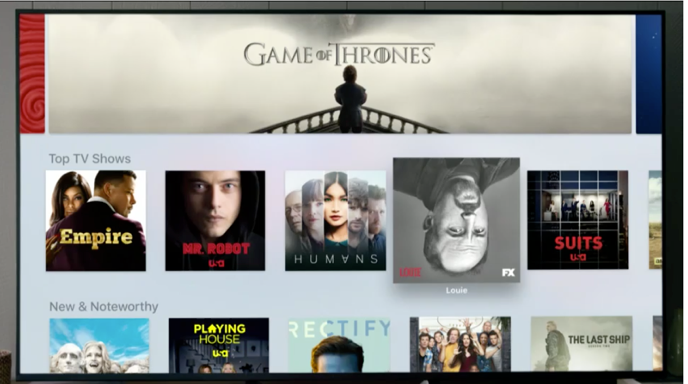 As expected, it comes with an App Store.
"The TV experience itself hasn't changed much in decades," Tim Cook said. "It's been standing still while innovation in the mobile space has been thriving. Today we are going to do something about that. We believe that the future of TV is apps."
In contrast to the mammoth iPad Pro, Apple also announced a little cousin: The iPad Mini 4, which will cost $399.
Here are the prices for the Pro, the Pencil and the Smart Keyboard, all available in November: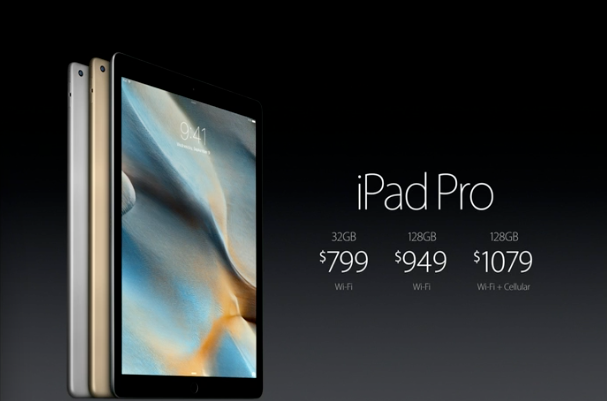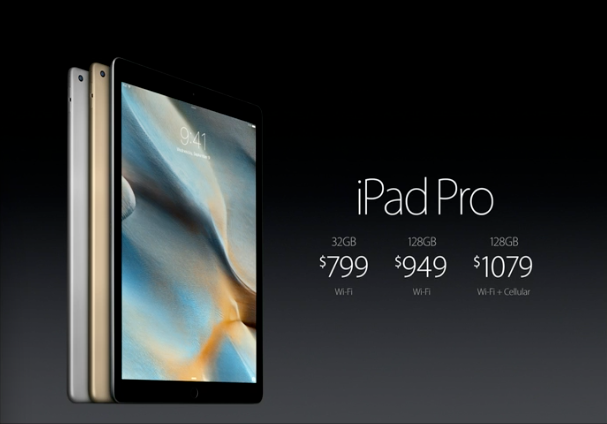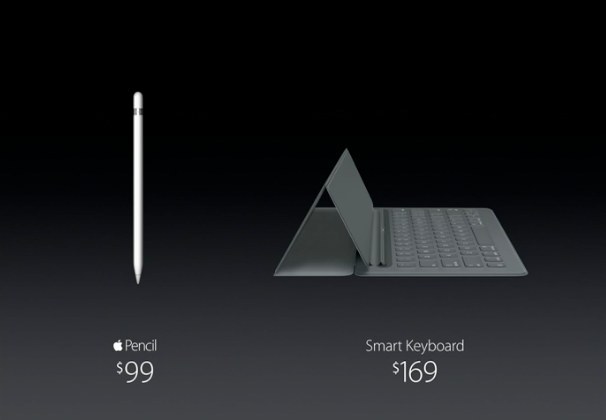 The prices for iPad Pro are as big as the device itself: $799, $949, and $1079, based on the size of the hard drive.
The pencil will be $99 and the keyboard $169.
A medical app, 3D 4 Medical — which showed off the graphics horsepower of the Pro — displays the human anatomy.
Doctors can show patients skeletal and muscular systems at high resolution and will "pinpoint precision."
They can also simulate surgical procedures. Neat! Also, scary!
Apple has also teamed up with Adobe on iPad-only design apps.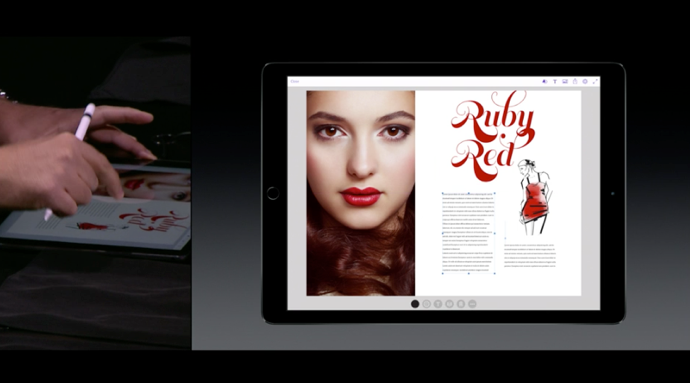 Another big player in the productivity space, Adobe, is building a new suite of apps for iPad Pro.
Comp, a design tool, is "as easy to use as drawing on a napkin". You can build a rough wireframe in seconds, using Typekit fonts for the first time ever on a mobile device.
A new version of Photoshop, Fix, has facial detection and lets you instantly change facial expressions within photos.
On the Pro, users will be able to run two Office apps side-by-side; so, Powerpoint and Excel, for example.
To highlight the business capabilities of the Pro, Apple brought up Kirk Koenigsbauer, a CVP at Microsoft Office.
Koenigsbauer demoed markup and annotation tools to use in an Office doc; markups made with Pro can be viewed on any device running Office.
Apple also announced a new custom keyboard — the Smart Keyboard — and a special stylus — Apple Pencil.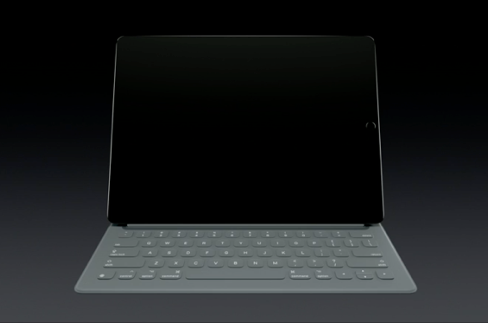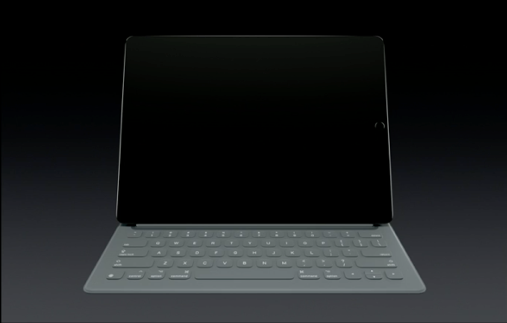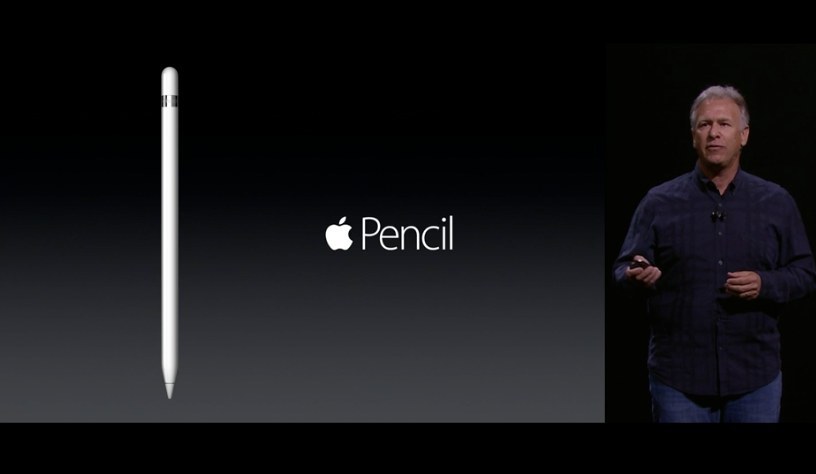 To complement the enterprise-focused iPad Pro, Apple's Smart Keyboard connects via a new magnetic port.
The Apple Pencil is "packed full of amazing new technology."
Sensors on the pencil work with the display to detect position, force, and tilt. That data lets you do a thin or a bold stroke — there are obvious applications for art and design. And it can also be used in conjunction with a finger. The Pencil charges by plugging into the Pro.
Here's the pencil in action:
The iPad Pro is also incredibly thin and has a 10-hour battery life.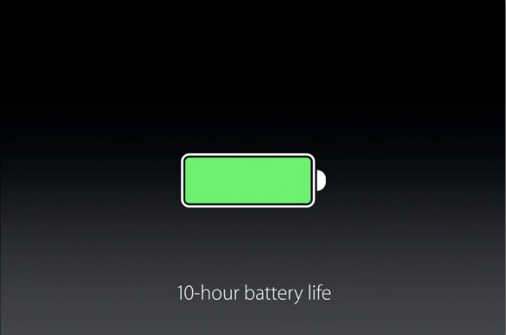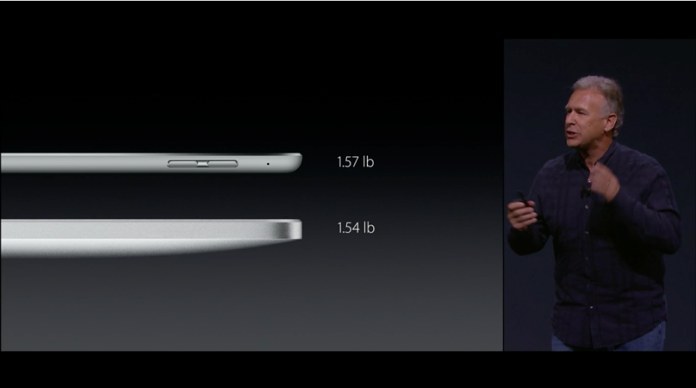 At 6.9mm wide, the iPad Pro is less than a millimeter thicker than the iPad Air 2.
And it has a 10-hour battery life. To the picture, Apple added a four-speaker audio system to the Pro.
And now for the "biggest news in iPad since iPad" — the iPad Pro.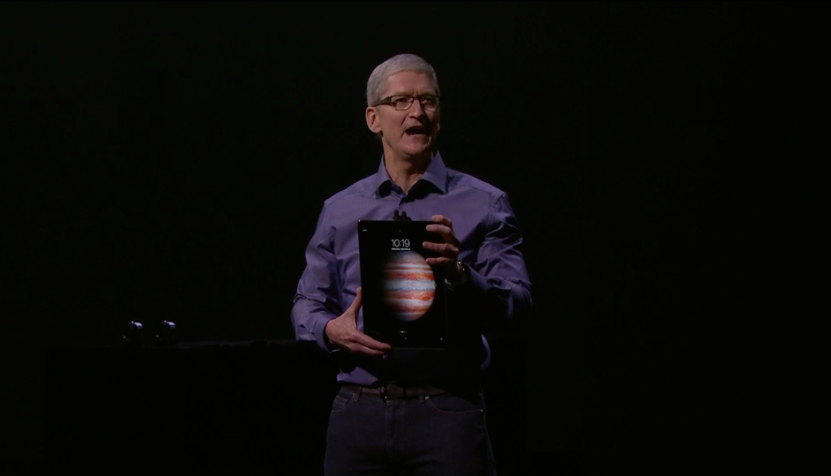 As expected, Apple introduced its new iPad line — the enormous iPad Pro — by positioning it as an enterprise device.
Cook highlighted the company's partnerships with Cisco and IBM before playing a video of the device hurtling through space, a veritable planetoid of screen.
Cook called it "the most capable and powerful iPad we've ever created."
Apple SVP Phil Schiller filled in the details: A huge screen, 12.9 inches, with 5.6 million pixels (that's more than a 15-inch retina MacBook Pro), that accommodates a full-size software keyboard; and a faster processor, running on an A9X 64-bit chip with doubled memory and storage performance.
Schiller called it "desktop performance" with a "console-class GPU".
There are new models and bands as well, including two new finishes: Rose Gold and Anodized Aluminum.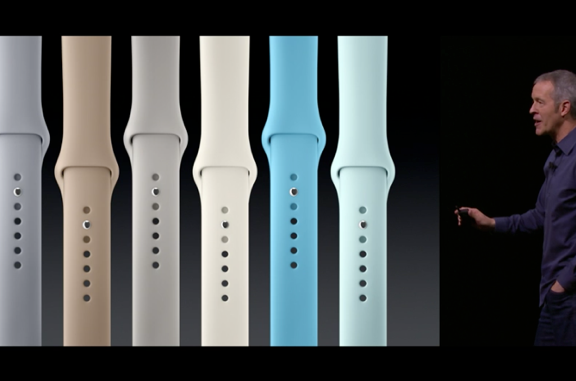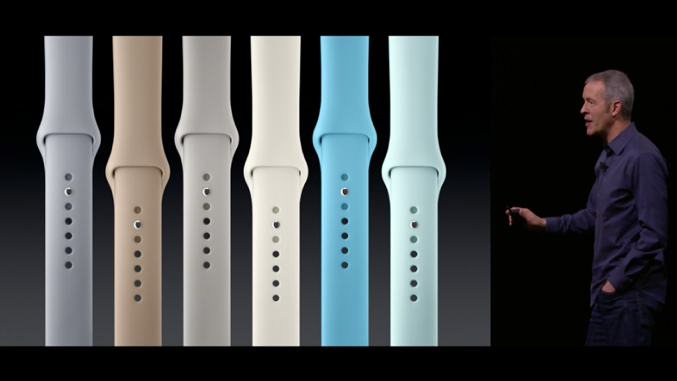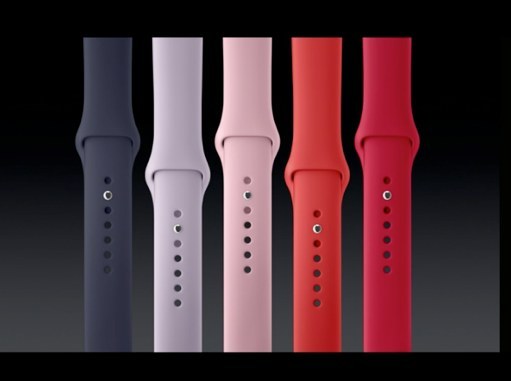 Apple is also partnering with Hermes to bring a new luxury look to their watch. Their iconic band will be part of the new Watch collection.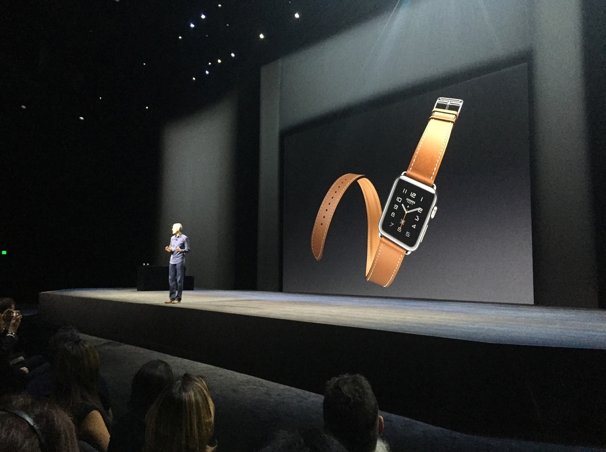 So is Airstrip, an app for physicians.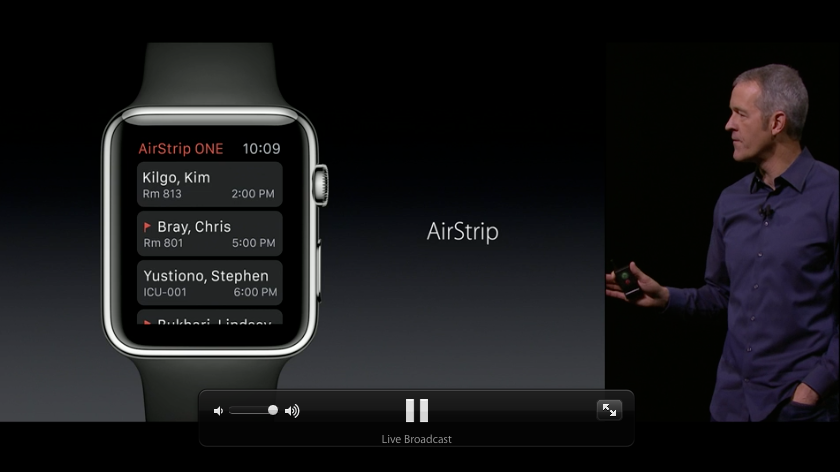 Airstrip lets physicians send HIPPA compliant messages to patients and shows live health stats including things like heart rate — a mother can actually listen to her baby's heart rate on her wrist with a new sub-app called Sense4Baby.
There are currently 10,000 apps for the Watch, which is less than a year old. Notably transit, Apple's transportation app and Facebook Messenger is coming to the Watch.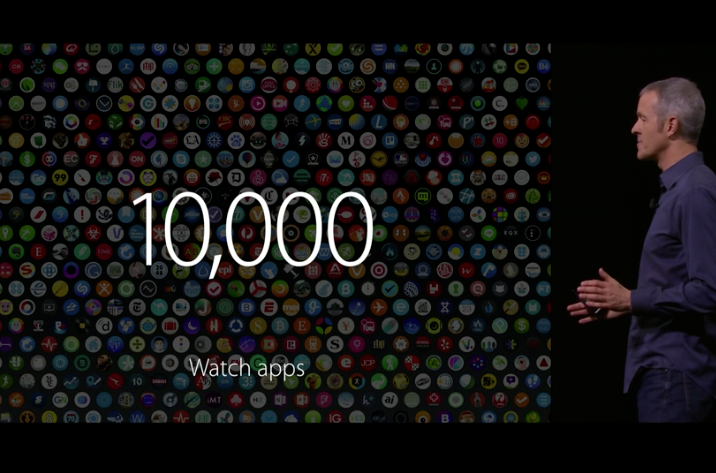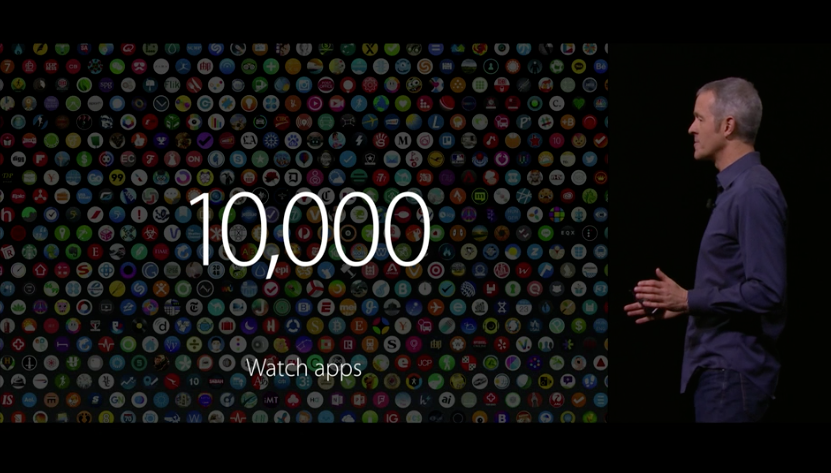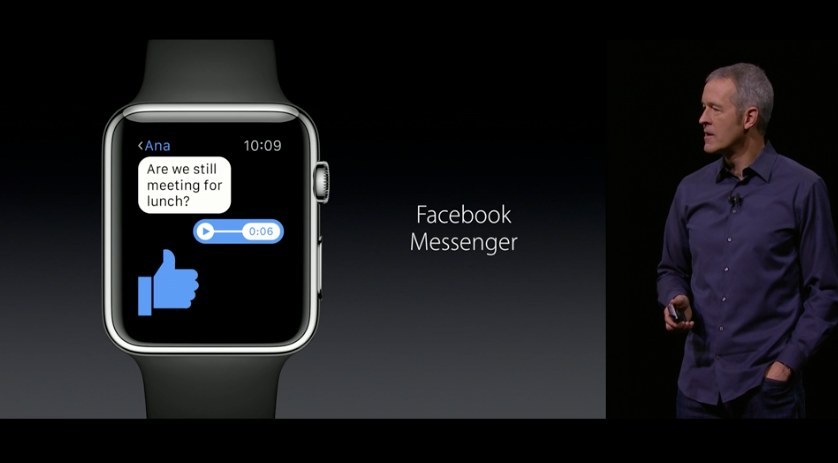 Updates on the Apple watch: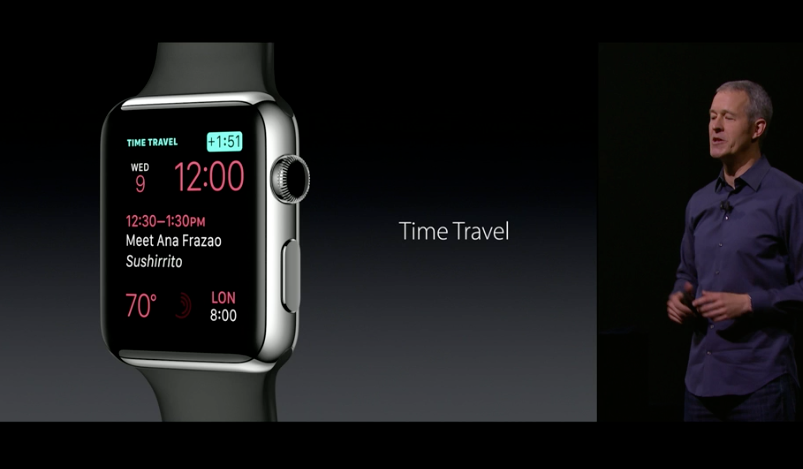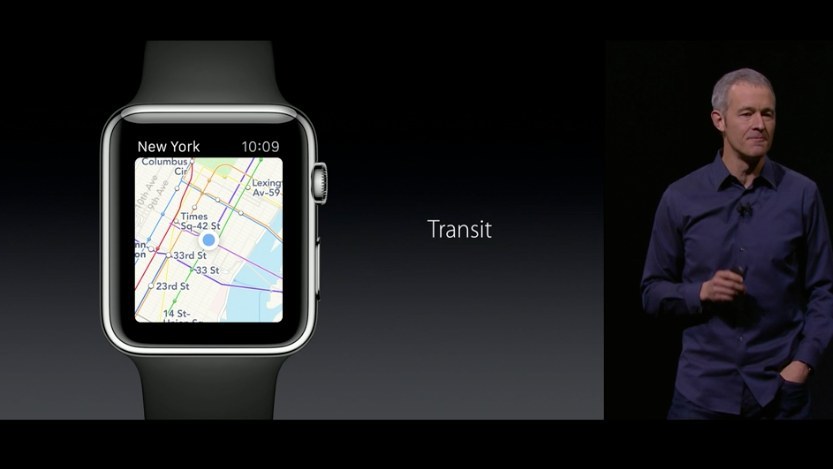 Apple kicked off its fall event without its customary victory lap of recent accomplishments, but rather with updates about Apple Watch.
After promising "monster announcements" later in the show, CEO Tim Cook reported that customer satisfaction for the watch is currently at 97%.
New faces, new third party complications, and even more apps are on the horizon.
Tim Cook says he's about to make some "monster announcements."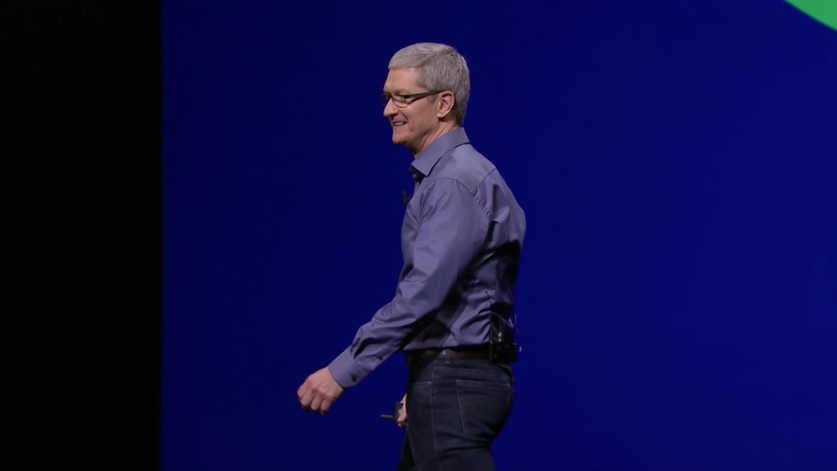 Some scenes from outside the event: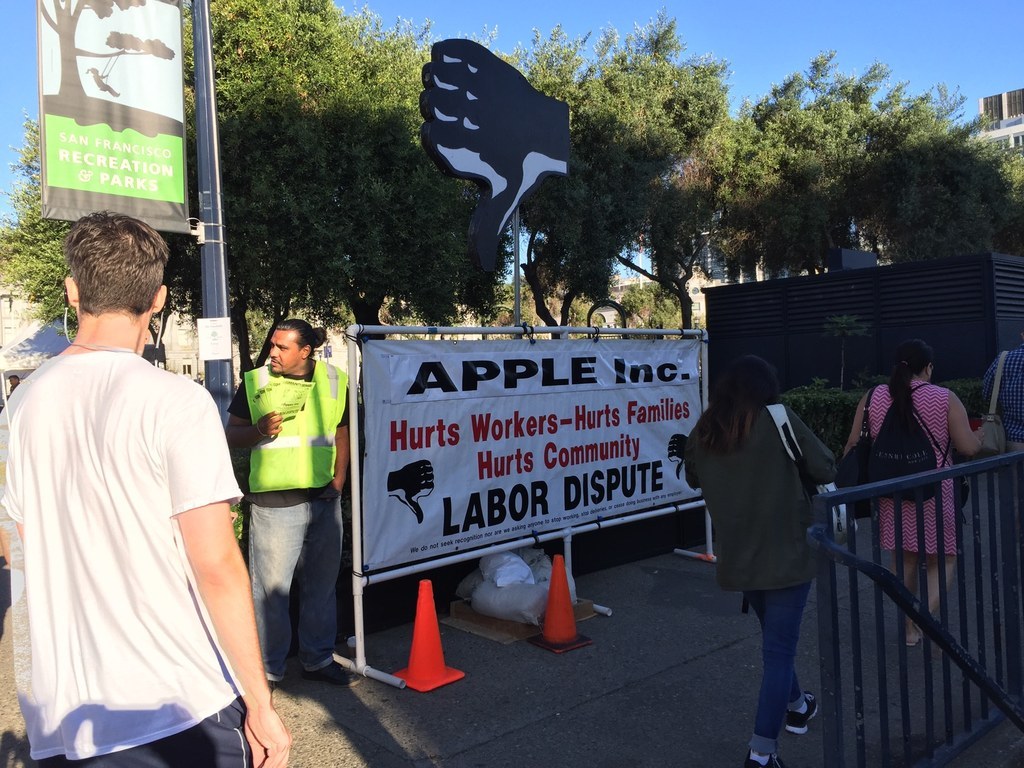 Huge lines outside the Bill Graham Civic Auditorium which has 7,000 seats.