People Are Switching To iOS 8 Slower Than You Might Think
Expect that to change by the end of the weekend, though.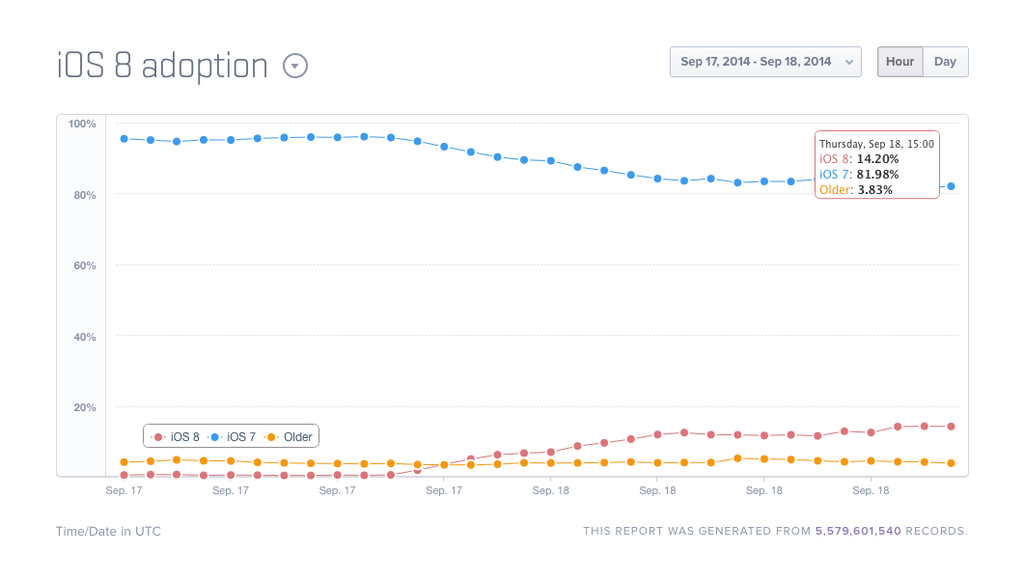 The release of a new iteration of iOS, Apple's mobile operating system, has turned that least exciting of digital phenomena—the upgrade download—into a cultural event. Office WiFi networks slow to a crawl, Twitter mobs bemoan the requisite data dumps necessary to make room on their hard drives, and a horde of obsessives comb the new setup for little differences.
It's enough to make you think everyone has the new software, at once. That's far from the case. As this fascinating graph from the digital analytics firm Mixpanel shows, as of this writing, 82 percent of iOS users are still using iOS 7, while only 14 percent have made the upgrade. (The remaining 4 percent are still using older versions.)
That's not, of course, a definitive account, but Mixpanel's sample size of 5,579,601,540 records is notable. It goes to show that while new users dominate the conversation and make the most noise, huge numbers of users put off upgrading for some time.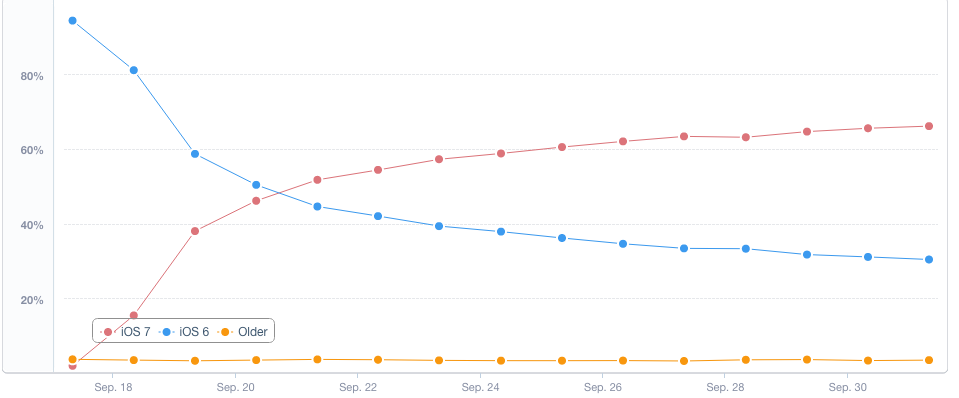 So how long will it be until iOS 8 passes iOS 7 in total users? Looking at a chart of the last upgrade shows that iOS 7 passed iOS 6 on September 21, 2013, three days after the release of iOS 7. It's also worth noting that, starting tomorrow, Apple will be shipping and selling hundreds of thousands of its new line of iPhone 6 and 6 Pluses that will have iOS 8 pre-installed. With that in mind, it's likely that last year's trend will hold and we may see the majority of iOS switch to the new operating system sometime this weekend.