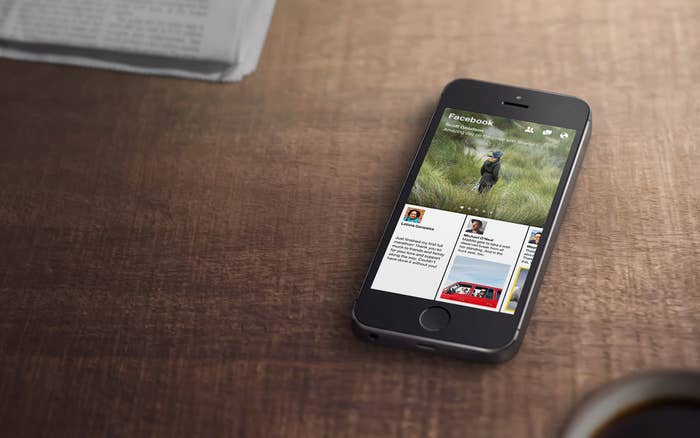 Facebook's mobile reader app Paper — an app that TechCrunch called "years ahead of its time" and The Verge said far surpassed the actual Facebook app — has actually lost users since its launch in February, according the web metrics company ComScore.
The app has 119,000 monthly active users — roughly the population of Sunnyvale, Calif. — according to ComScore. That's 0.001% of Facebook's monthly user base.
The numbers raise a basic question about the ability of the new tech giants to launch small experimental projects — and how quickly they'll pull the plug on a product that they love if it isn't catching on. Paper was the first product released by Facebook Creative Labs, the in-house, small-team app shop devoted to fostering an experimental, startup-like environment within the context of what is now an enormous and enormously profitable company. Creative Labs is supposed to be free from constraints so it can produce the products of Facebook's future.
This nested structure obviously insulates Labs products from the financial pressures of actual startups. And Facebook, for its part, appears to have much different standards for Paper than it would for a mainline change to its News Feed or mobile app.
Facebook spokesperson Jillian Stefanki disputed ComScore's numbers and defended the app:
These numbers are not accurate. We've been pleased with Paper's progress so far. We said from the beginning our immediate goal wasn't to have a certain number of people downloading the app, but instead to make sure that the people who use the app really love the experience and continue to be engaged with it. In fact, thus far, we've found that people using Paper explore an average of 80 stories each day. We haven't started to focus on growth, but it's something we'll be working on down the road.
And it's true that users who actually use Paper (a group that seems to skew heavily toward tech enthusiasts, journalists included) have been happy with it — the app's more than 7,000 ratings on the App Store average four stars. Plus, ComScore user data for mobile is far from an unquestionable benchmark for the success of an application. Still the trend of overall users — down — and their tiny number does raise interesting questions about the approach the new tech giants will take with their in-house pseudo-startups/innovation labs, the best known of which is Google X.
In other words, if the relationship between Facebook the giant company and Facebook Creative Labs is directly analogous to the relationship between private financing and a startup, what happens when a Creative Labs project fails? Are these projects truly experiments that will be allowed to succeed or fail on their own merits, or will Facebook keep them alive in the hopes that they eventually take off?
The fate of Paper — if it can't gain traction — rests on that question.