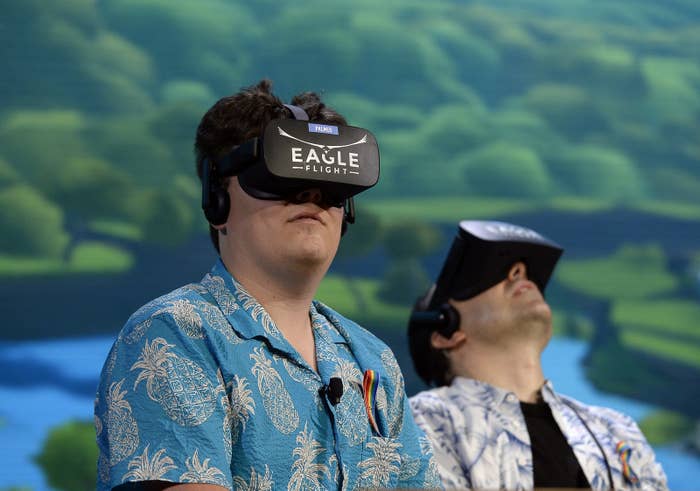 This May, 100 virtual reality developers from around the country gathered at Facebook's Menlo Park campus for a bootcamp in making software for the Oculus Rift. They were there as a part of the Launch Pad program, a fellowship designed "for diverse creators to build for VR." After a long day of meetings, the final speaker was Oculus founder Palmer Luckey, wearing his trademark Hawaiian shirt. By keynoting the event, some attendees felt, Luckey was sending a message: The future of VR looked like them.

Now, four short months later, many of the Launch Pad fellows are reconsidering their involvement with the program after revelations that Luckey donated money to a pro-Trump nonprofit associated with the alt-right, the online political movement of trolls that sees offensive speech as a patriotic duty and views cultural diversity with disdain.

"I'm doing a Day of the Dead project. ... How can I promote that when the head of Oculus is giving money [to support] Trump?"
"The mood is surprise, shock, dismay, and disappointment," one Launch Pad fellow, a California-based producer, told BuzzFeed News. "A number of people are creating documentaries to address social issues, and they are questioning whether Oculus is the right platform."
Announced in March, the Launch Pad program comprises the May bootcamp as well as the possibility of tens of thousands of dollars in funding for Oculus projects. In the announcement, the company encouraged "women, people of color, members of the LGBTQ community and anyone who is willing to share how their perspective adds to the 'diversity of thought' in our community" to apply.
The program also includes a community: a closed Facebook group set up for the fellows by in-house coordinators, where dozens of fellows are now sharing their anger and disappointment.

"Let me get this straight, the founder of Oculus thinks my sister should be banned from visiting me in the US because she's Muslim? And hates my husband because he's Jewish?" wrote one fellow.
Alejandro Quan-Madrid, a Launch Pad fellow based in Los Angeles, said Luckey's political donations make him feel like a hypocrite. "I'm doing a Day of the Dead project and showing it at Day of the Dead festivals," he told BuzzFeed News. "How can I promote that when the head of Oculus is giving money [to support] Trump — and Trump wants people in my community to be deported?"

On Friday, Luckey wrote a Facebook post apologizing for "my actions ... negatively impacting the perception of Oculus and its partners." But he did apologize not for the activity of Nimble America itself, which was formed to turn "shitposting and meme magic" into a "real life" political operation. As the Daily Beast reported, Nimble America gestated on r/The_Donald, the Trump subreddit whose community members say that liberals are "cucks" and "left wing SJWs," Syrian immigrants are "animals" who should be "put in a cage," and that black people would "still be living in mud huts" if not for colonialism.
Palmer's apology didn't move many of the Launch Pad fellows. "It didn't say anything of real substance," said the California producer. "At some point, I'm not sure if there is anything to be said. It feels like he probably really believes this stuff."
Several of the fellows asked the Launch Pad coordinator, Oculus Diversity Lead Amy Thole, for clarification on Luckey's apology. Thole, who declined to speak to BuzzFeed News, sent an email to the fellows yesterday announcing that because of a planned move to Oregon, Monday was her last day at the company. There would be an "Oculus Diversity Transition" to new leadership, she wrote. She did not mention Luckey or Nimble America. (According to the email, Thole's replacement is Ebony Peay, who previously worked as an executive assistant at Oculus.)
Peay will be thrust into a difficult situation — now many of the fellows are hesitant about Oculus publicly using their work. At the bootcamp, Oculus employees talked about the importance of "making VR inclusive" from the very beginning of the new industry, one of the fellows told BuzzFeed News. But now, fellows say, people are going to view Project Launch skeptically. "I feel bad for the organizers," said Quan-Madrid. "Any time they come out and talk about Launch Pad, it will look like a PR cover-up."
Launch Pad fellows will have until October to decide whether or not they will accept funding from Oculus; that's when the company plans to announce the winning projects. If they don't, they'll join a handful of developers who have already decided to withdraw support from the platform in the wake of last week's report about Luckey. Among other things, that's not good news for Facebook, which faces major competition in the burgeoning VR market from Sony, HTC, and Google.
"The days of separation between a founder's values and his company's values are waning," the California producer and Launch Pad fellow said. "And there's a bigger question: Are the values he embodies good for Facebook?"