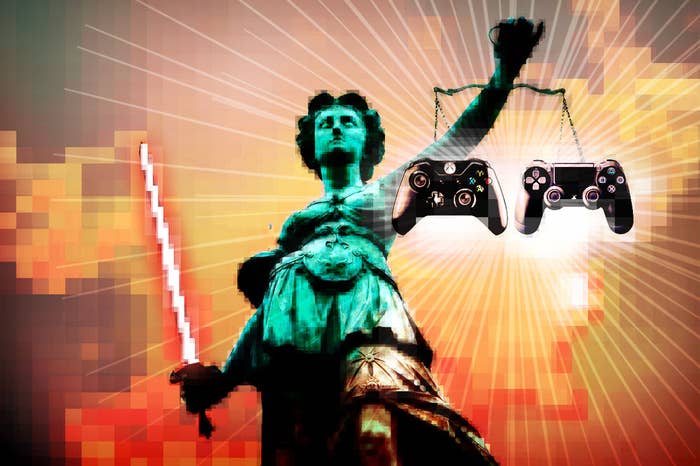 If you pay attention at all to the gaming or the gadget media, you've been subjected, over the past few months, to competing mass lubrications of the global consumer appetite by Microsoft and Sony, two of the planet's bigger corporations. Just what are they preparing us for? Two starkly different versions of our entertainment future, or so we're told.
In the first, the Xbox One, Microsoft's cloud-computing, voice-reacting, all-seeing big rig, will filter all of your leisure media — games, TV shows, streaming video — through a single, uncannily responsive interface that does what you want when you ask it, or gesture at it, much of the time, like a butler who is surly because he knows better than you do.
In the second, gamers, or some Reddit-approved notion of that baggy word, rule the living room, and the PlayStation 4 is a testament to their sovereignty. It is a pure parallelogram of play, sacrificing not a single quark of brute computational testosterone to media functionality or gesture control or any of the other sundry concessions to the rest of the household that might dilute the purity of the device.
Now, just in time for the Month of Ritual Commerce, the consoles are here. And though the Xbox One does not come out until Friday, the battle of these diametrically opposed, world-historically conflicted entertainment futures has already been joined. How? By rival games that express these totally diverging philosophies? One a hard diamond of pure gaming, the other, a gesture-controlled, voice-activated, game/TV futurething?
Well, err, no. The first skirmish of the war for our gaming future was actually over 360 pixels.
Dubbed the "Xbox One Resolutiongate," the biggest "difference" debated between the two consoles thus far is that Microsoft's machine runs Battlefield 4 and Call of Duty: Ghosts (two basically not-good games) at a lower resolution than Sony's does. Hardly definitive or big-picture stuff, or even "stuff" at all. (And today, another "point scored" for Sony: Xbox One won't support Twitch, the streaming service, when it launches on Friday.)
That the first flap of the release window came over something totally insignificant to the majority of people who will buy these systems is proof of just how little of substance we actually have to grasp with regards to the Xbox One and PS4. Here at BuzzFeed, we've been playing with both of them for the past week, and yet a weird sense persists that we hardly know anything about them, except for the messaging.
Right now, these two consoles are, literally and figuratively, black boxes, lists of specifications and fine-difference features that promise a lot and reveal very little. So, I could tell you that the PlayStation 4 is a major aesthetic upgrade from its predecessor (it is); that the controller feels significantly more substantial (it does); that the system UI rarely lags (it doesn't); that the games, taken as a whole, look a little nicer (they do); and that it lacks a single feature that I found memorable, apart from more horsepower. And I could tell you that the Xbox One features a voice-activation system that veers between incredible and unresponsive (it does); gesture controls that seem far from ready (it does); cable and television integration that was easy to set up and easy to use (they were); and neato-peato vibrating motors in the controller triggers. Now ask yourself a question: Do any of these things actually matter to you?
We know a few things for sure: Like the last generation, not a single one of the launch games by itself justifies the purchase of a PlayStation 4 or an Xbox One. A couple of titles (Killzone: Shadowfall and Ryse) look the part, but they are, as games and not demonstrations of visual power, jejune.
Graphics are obvious, and it's not surprising that game and gadget writers would seize on this small difference and turn it into a larger story — there's just not that much to talk about yet. Of course, that's exactly how the discussion of the last generation started, too. We saw article after article comparing PS3 and Xbox 360 graphics side by side, and endless explanations of why Microsoft's system looked ever-so-slightly better than Sony's.
Of course, that didn't end up mattering. Despite a terrible slate of launch games and a disastrous hardware bug, 360 became incredibly popular because of a handful of terrific exclusive series, a great matchmaking service, and excellent streaming media capabilities. The PlayStation 3, despite a foolishly high launch price, a near total hardware redesign, and a terrible slate of launch games, became incredibly popular because of a handful of terrific exclusive series, free multiplayer, Blu-Ray, and a pretty great subscription game service. Both systems peaked in sales and quality releases around the same time, and they have sold basically the same number of units.
And 360 and PS3 were vastly different pieces of computing hardware that arrived at more or less the same point. Xbox One and PS4, on the other hand, have similar PC-based guts and offer many of the same social and media bells and whistles. Even the controllers and the systems themselves look more alike than ever. My point is this: These two boxes are going to play most of the same huge games — from Call of Duty to Madden to Watch Dogs to GTA 6 — and each will have a smattering of must-play exclusive games from developers like Naughty Dog and Epic.
Everything right now is simply speculation. In 2006, Naughty Dog was best known for games about anthropomorphized animals; no one could have predicted that they would make games as transcendent as Uncharted 2 and The Last of Us. And Epic, now famous for the 360-defining Gears of War, was essentially known in 2005, when that console launched, as a company that made computer graphics engines. In other words, if you buy one of these systems now you're probably doing so for psychological reasons (loyalty to a brand, preference for one of the handful of exclusive studios that still exist, desire to be first). Basing a major purchasing decision off of the available facts about a console at launch (unless it is substantially defined by its hardware, like the Wii) makes very little sense.
Take this mixed review of the PlayStation 3 from 2006, written by Ben Kuchera, then at Ars Technica:
I think my main problem with the PS3 is that philosophically, it's a confused system. It doesn't really know what it wants to do. The 360 wants to be a social system; it wants to get you online, talking to people, playing these fun little minigames, and going for the high score and bragging rights. It wants to bring you together and make you remember what you love about gaming.
None of this is wrong, at all. It's a normal reaction to a new console, to the available data. But it gets at just how little we know when we "review" new console hardware. The 360 didn't succeed because it was a "social system" dedicated to "gaming" with "fun little minigames." The PS3 didn't fail — and then succeed — because it was "confused" and then not confused. The whole idea is that we don't know exactly what is going to make these consoles succeed or fail, and we may not know for quite some time.
All of the living room functionality included in the Xbox One is a good case in point. Ordering your console to switch from TV to a game, or to sign in, or to turn off, is certainly a cool thing. Integrating your cable box with the rest of your entertainment is certainly a cool thing. And yet, will anyone really pay $500 just to make the "input" button on their remote obsolete? Will a low-cost, more polished competitor from a major technology company join the market? We don't know. No one does.
Last week I attended a demonstration of the Xbox One user interface in a Manhattan loft space rented by Microsoft and gussied up to look like a living room. I watched an Xbox rep actually surprise himself by using gesture controls to swipe through photos shared to SkyDrive, the Microsoft cloud storage service. "I didn't know it could do that," he said.
The Xbox One and PS4 are exciting — I get that; it's been a long time since there were new consoles. But we're all discovering what they can do, and what will make them rise or fall, together, as we go.