No, Hoverboards Aren't "Illegal" In New York City
But that doesn't mean you can ride them on the street.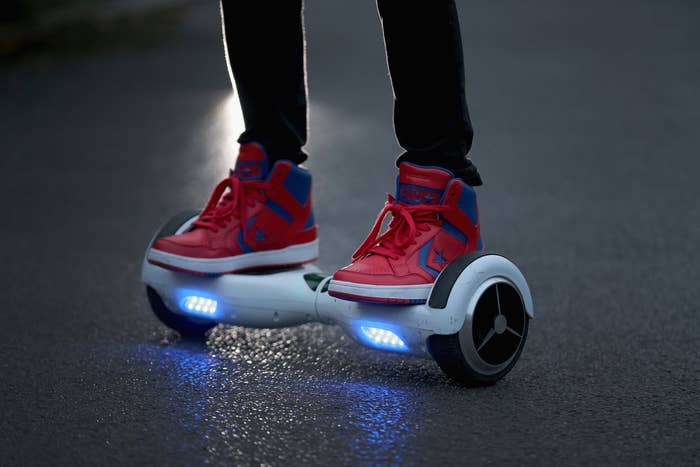 On Monday, the NYPD's 26th precinct, which covers Morningside Heights and parts of West Harlem, tweeted that hoverboards, the self-balancing scooters that have taken over the world, are illegal: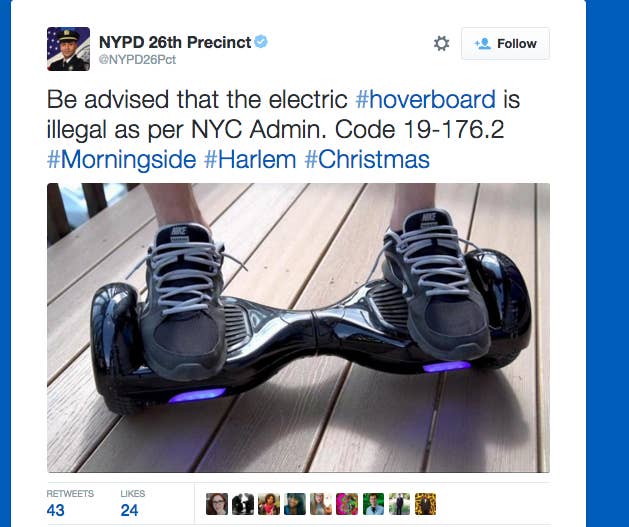 Over the past two days, the tweet solicited dozens of responses, mainly pointing to exceptions within the administrative code cited in the tweet. To wit:
"For the purposes of this section, the term motorized scooter shall not include wheelchairs or other mobility aids designed for use by disabled persons, electric powered devices not capable of exceeding fifteen miles per hour or "electric personal assistive mobility devices" defined as self-balancing, two non-tandem wheeled devices designed to transport one person by means of an electric propulsion system"
Hoverboards, at least the ones that have come to the U.S. thus far (they're all manufactured in China), cannot exceed 15 mph. Most of them cannot exceed 8 mph. Furthermore, hoverboards, which operate with two independent self-balancing wheels, fit the very description of "electric personal assistive mobility devices," meaning they are further excepted from this administrative code.
And as of noon today, the 26th precinct had removed the tweet.
Reached for comment, a detective who answered the NYPD public relations general number said she didn't know anything about the decision to take the tweet down: "We have no idea. We didn't put the tweet up," she said.
Still, just because the precinct removed the tweet doesn't mean you can ride your hoverboard anywhere in public. The city's Department of Transportation does consider hoverboards motor vehicles, and any motor vehicle that cannot be registered with the New York State is illegal to ride in any area that allows registered motor vehicle traffic, including streets, sidewalks, highways, parking lots.
In other words: New Yorkers, keep your hoverboarding to your apartment and the park.