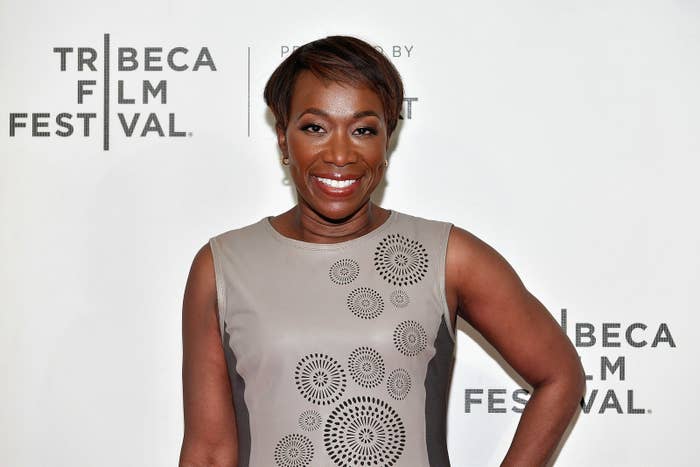 On her April 28 show, embattled MSNBC anchor Joy Reid repeated her belief that she did not write recently-resurfaced anti-gay posts on her old blog. But she admitted — in the face of highly skeptical reporting — that her cybersecurity team had been unable to substantiate her claim that she had been hacked years ago.

In a statement given to reporters by MSNBC last month, Jonathan Nichols, Reid's independent security consultant, said that he was "cooperating with federal law enforcement in their attempt to identify the source of this activity."
Reid's lawyer, John H. Reichman, added that an FBI investigation was underway.
Neither man addressed how or when the investigation began — in December, when Nichols wrote he first discovered evidence of hacking, or last month, when Reid's hacking claim went public, or at some point in the middle — or how the issue came to the attention of the FBI.
Citing Justice Department policy, the FBI would neither confirm nor deny the existence of an investigation into improper access of Reid's old blog. And Reichman did not respond to a request for comment.
But a source familiar with FBI investigations told BuzzFeed News that Nichols has previously given information to the agency that led to a criminal inquiry on a matter unrelated to Reid. And in two audio recordings of rambling telephone calls posted online, a man three sources identified as Nichols — including the source familiar with FBI investigations — acknowledged giving information to the FBI.
Nichols did not respond to multiple requests for comment.
The Reid controversy has been a black eye for NBCUniversal. Sources inside MSNBC say that the cable network appears ready to move on. The rising progressive star guest hosted Chris Hayes' show last Friday night. Pointing to the results of a pending FBI investigation, combined with Reid's professed belief that she did not write the old posts, has created a way for the network to defer passing judgement on the issue.
But if Nichols did refer the Reid case to the FBI, it's unclear if he provided any more evidence than what he showed to the media — evidence that has received significant scrutiny.
MSNBC declined to comment for this story. NBCUniversal is an investor in BuzzFeed.
Cybersecurity experts often collaborate with law enforcement, and the source familiar with FBI investigations stressed that Nichols' prior cooperation with law enforcement was professional. (According to his LinkedIn, Nichols — after a career in the military — has been working as a cybersecurity analyst since 2012.)
That source and a St. Louis-area anti-police brutality activist named Leigh Maibes — who recorded the telephone calls with Nichols — told BuzzFeed News that Nichols gave information to the FBI that led to an investigation in 2016. In one of those calls, which is nearly an hour long, Maibes and Nichols discuss Nichols' relationships with a variety of people in the activist cybersecurity community, and a plan to start an investigation that would send a man named Gregory Lirette to prison. Maibes told BuzzFeed News that she recorded the calls to protect herself once she found out Nichols was in communication with the FBI. (Nichols was not aware the calls were being recorded, and Missouri, where Maibes lives, is a one-party consent state.)
Lirette, a New Orleans IT professional, knew Maibes from Twitter. He told BuzzFeed News that the complaint against him was specious, and resulted from an online conflict with an individual who had been trolling him on Twitter. He said he does not know why Nichols reported him. BuzzFeed News could not verify the alleged conduct.
No charges were brought against Lirette, who told BuzzFeed News that an FBI agent verbally informed him that the investigation had produced "no actionable charges." And the source familiar with FBI investigations told BuzzFeed News that the inquiry revealed trolling on both sides and had been a waste of time.
Emails between Lirette and the FBI agent in charge of the case reviewed by BuzzFeed News confirm that an investigation took place.
In one of the recordings, from January 2017, Nichols tells Mabies that he "called in" Lirette to the FBI. And after Maibes asks him in the same recording if he has taken "formal informant vows," Nichols responds, "yes."
The source familiar with FBI investigations told BuzzFeed News that this refers to standard guidelines, called admonishments, that the FBI reads to sources reporting crimes before they proffer information. The source stressed that this does not mean Nichols is or has been a cooperating subject in an investigation.
Last month, an MSNBC source told the Washington Post that the network had deferred from commenting on Reid's hacking because "the matter has been brought to the attention of law enforcement and we're letting that process play itself out."
Steven Perlberg contributed reporting to this story.