Less than a week after the 2016 presidential election, a Trump supporter named Alan Beck tweeted two photographs of an anti-Trump protest in Washington, DC, in which a hooded figure held aloft a sign reading "Rape Melania." The images went viral, and the sign — as well as Twitter — drew swift condemnation from news outlets both right and left.
Some Trump supporters took the sign as confirmation that the passionate national opposition to the president-elect was ultimately anarchic and violent. (Many of these supporters had drawn a similar conclusion about the Black Lives Matter movement.) "The current surge in the left's propensity toward violence and mayhem should surprise no one," wrote one InfoWars commenter. And to some Clinton supporters, the sign was a gutting refutation of Michelle Obama's "when they go low, we go high" speech and a reminder that Trump rallies didn't hold a monopoly on menace.
But, BuzzFeed News has learned, the "Rape Melania" sign was not the work of an anti-Trump protester at all. Instead, according to sources, it was the brainchild of a group of Trump supporters led by Jack Posobiec, one of the organizers of the controversial DeploraBall inauguration party and a prominent figure in the pro-Trump internet.
Furthermore, as shown by a series of Posobiec's text messages obtained by BuzzFeed News and confirmed by a source who collaborated with Posobiec, the sign was the culmination of a disinformation campaign by Posobiec and others intended to paint the anti-Trump rallies as violent and out of control.
In a phone call with BuzzFeed News, Posobiec denied that the texts were sent by him and said that it was likely they had been photoshopped. He also denied having any involvement in the campaign.
BuzzFeed News reviewed the texts on a source's iPhone in Signal, the secure texting app, and the Signal messages allegedly from Posobiec came from the same phone number on which BuzzFeed News talked to Posobiec.
At 9:59 p.m. on Nov. 10, Posobiec posted a video to Twitter of an anti-Trump protester yelling "Assassinate that nigga." In a 10:30 p.m. text message that same night, Posobiec claimed that he'd started an "assassinate Trump" chant to goad protesters into copying him, with the intention of filming them:

Though the video didn't go viral, it was picked up by Russia Today and some conservative blogs. In the same text message conversation, Posobiec and his collaborator brainstormed other incendiary things to chant, including "Rape Melania."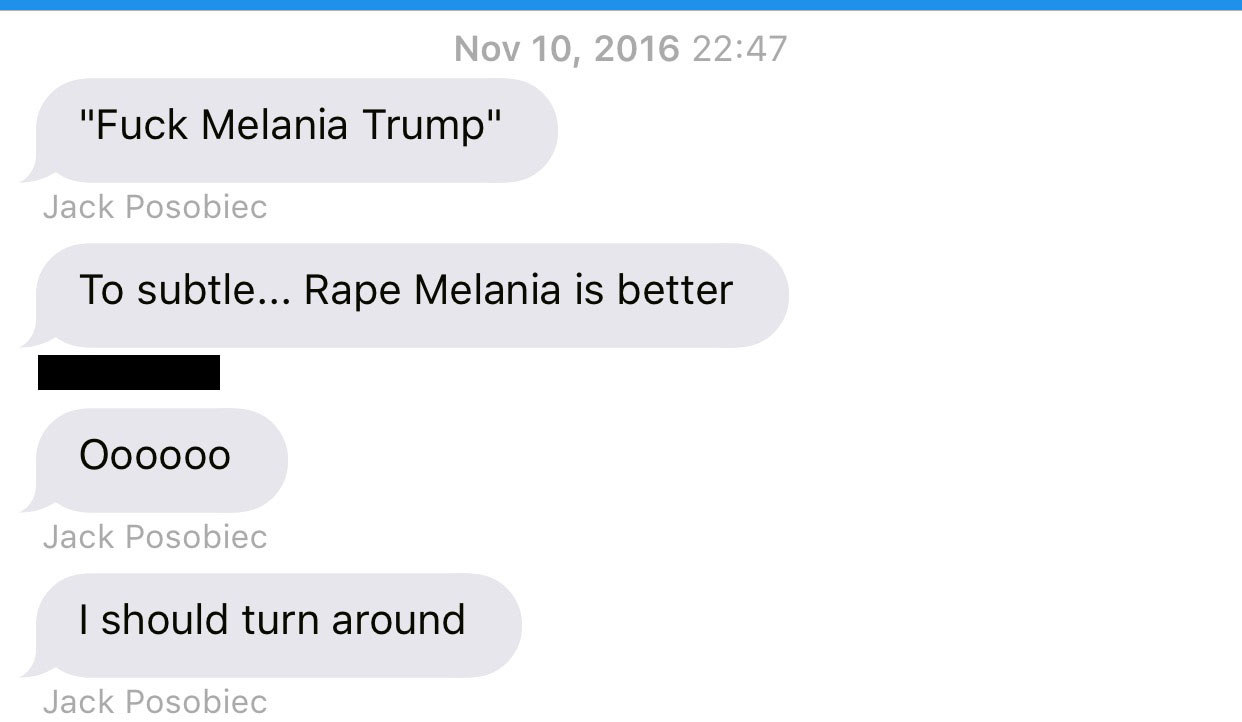 Two days later, in another text obtained by BuzzFeed News, Posobiec discussed with another collaborator his plan to "discredit" an anti-Trump protest by infiltrating it "with the bad signs."
According to a source, it is Posobiec himself holding the "Rape Melania" sign in the photographs published by Beck — a charge Posobiec also denies.
After posting the photographs, Beck uploaded a 22-minute YouTube video of himself and Posobiec sitting in a car near the protest, titled "Anti-Trump Protester Created'R4PE MELANIA!' Sign and The Rest of the Protesters Do Nothing."
The following day, a collaborator texted Posobiec a screenshot of Twitter's trending topics, of which "Rape Melania" was number three. Posobiec responded, "Woah!"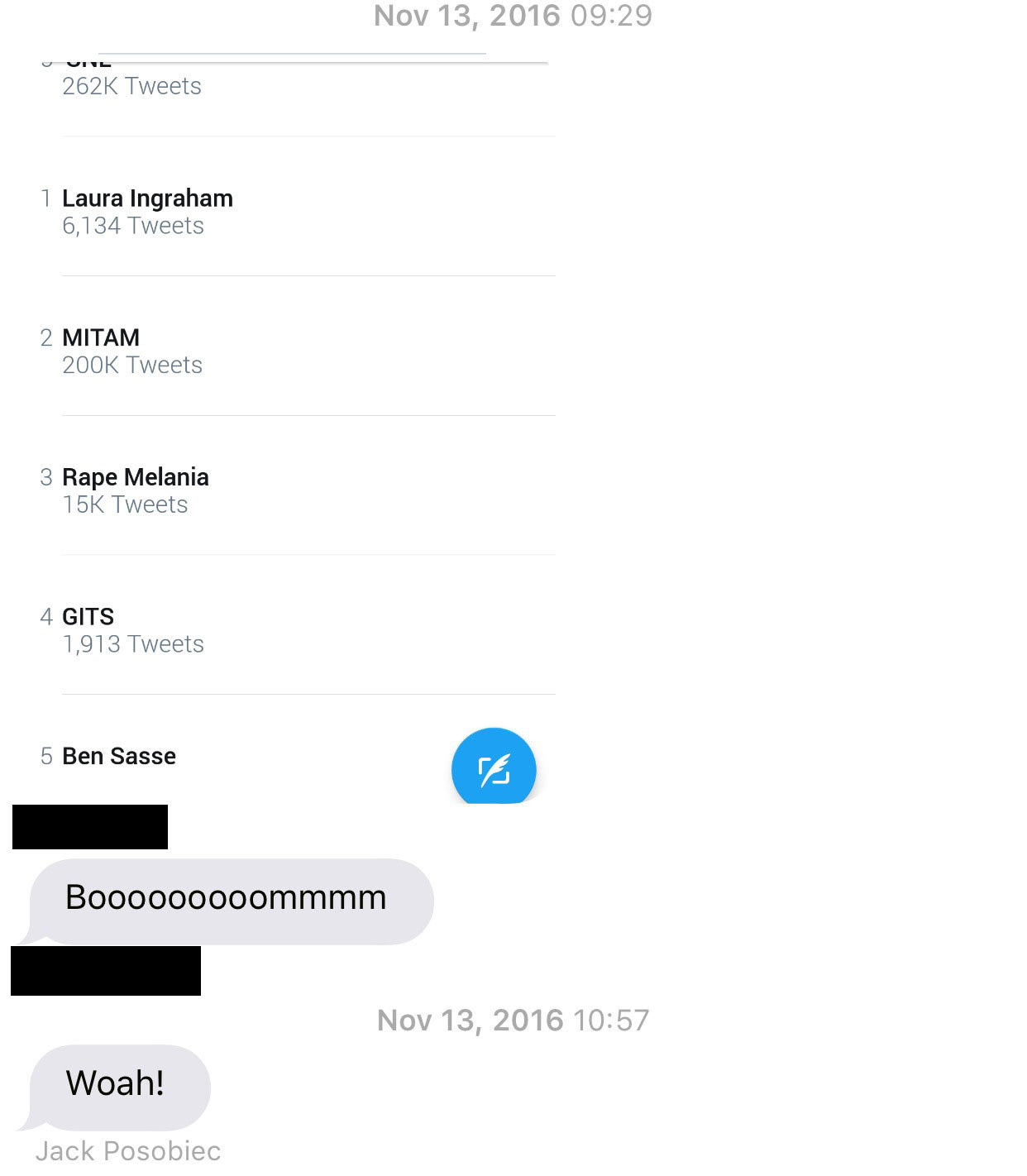 Posobiec, who is the special projects director of a grassroots organization called Citizens for Trump, has been at the center of several flareups of the new right media in recent weeks. In November, Posobiec was thrown out of Comet Ping Pong, the Washington, DC, pizza parlor made infamous by #pizzagate, for filming a children's birthday party. And in December, Posobiec started the viral #DumpStarWars hashtag after claiming that Rogue One contained anti-Trump scenes.