Steve Bannon and his associates at Breitbart News planned a broad financial, legal, and editorial campaign to damage Twitter, according to documents obtained by BuzzFeed News.
The campaign, waged in the months before Bannon left his job as chair of Breitbart and took control of Donald J. Trump's presidential run in August 2016, sought to devalue and weaken the social network that had banned his employees and, he believed, silenced conservative voices.
"Should we sue Twitter?" Breitbart's then–technology editor Milo Yiannopoulos wrote in an email to his boss in late July 2016. "I'd crush the optics."
"Yes," replied Bannon, before continuing in another follow-up email. "Already talked to lawyers."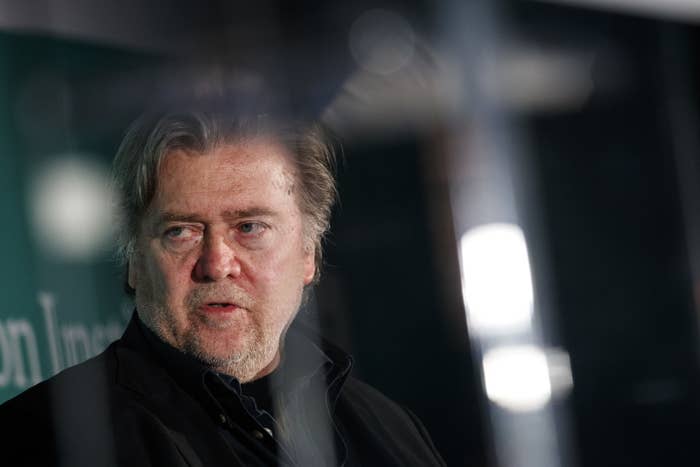 These messages, and other documents shared with BuzzFeed News, reveal a strategy to conduct a sustained, three-pronged war against Twitter. It included a deluge of negative coverage about Twitter on Breitbart, explorations of potential litigation against the San Francisco company, and nascent plans to sabotage Twitter's volatile stock with financial institutions and traders.
While social media companies have become regular targets of the pro-Trump right, Bannon's focus on Twitter — which has struggled to define and enforce its policies on harassment, abuse, and free speech — underscores how vital a battleground the platform is in the current culture war. And it illustrates how these companies, desperate to be seen as neutral actors, have been dragged out of that position by dogged political forces.
The emails within Breitbart also highlight the complex relationship the alt-right's enablers had with Twitter, which was instrumental in spreading their ideas and electing their candidate, but whose alleged censorship made it a magnet for their antagonism.
The face of that antagonism was Yiannopoulos, who sought constant advice from Bannon and used his suspensions and eventual expulsion from Twitter as ammunition to attack the company and its CEO, Jack Dorsey. Under Bannon's guidance, Yiannopoulos examined state laws to see if there were avenues for potential litigation and made plans to contact short sellers about sandbagging Twitter's shares. In October, BuzzFeed News revealed that Yiannopoulos, Breitbart's most recognizable figure until his scandalous departure in February of this year, sought the opinions and contributions of racists, white nationalists, and neo-Nazis for work published on the right-wing news site.
Breitbart News, Yiannopoulos and Bannon did not respond to requests for comment.
Three former Twitter executives said that they did not focus on Breitbart's public fixation with their company. One noted that while there were some discussions about Yiannopoulos's suspensions and Breitbart's regularly critical coverage, the company was more concerned with warnings of actual violence, like ISIS's threat that it would harm the company's employees for banning terrorist-related accounts in 2015.
"There wasn't a red alert meeting every day, and the company viewed Breitbart sort of like, 'Get in line with the other craziness on the platform,'" that person told BuzzFeed News.
"There were plenty of other reasons to short Twitter."
"Twitter was unaware of any campaign of this nature," a company spokesperson said in a statement.
The emails from within Breitbart expose the measures Bannon, the brawling champion of the new populist conservative politics, is willing to take to humble the tech giants — a fight he continued in the White House and has kept up since leaving the administration in August. (BuzzFeed News reported in September that Bannon tried to plant a mole inside Facebook.) More than a year later, as public opinion on the left and the right alike turned against big tech, the emails reveal just how deep the antipathy toward Silicon Valley ran in Bannon's anti-globalist circles long before it became bipartisan sentiment.
When contacted by BuzzFeed News, the former Twitter executives — who asked to remain anonymous for fear of endangering business and personal relationships — were surprised to hear of Breitbart's plans to interfere with Twitter, especially given Bannon's proximity to the Trump campaign. From a financial standpoint, Twitter's shares were already among the most shorted among technology stocks, and it's unclear if Breitbart's strategy to affect the company's share price ever went beyond an exploratory phase.
"There were way bigger issues for Twitter to deal with in that time frame," one person said. "There was continued speculation on whether Jack [Dorsey] could hold two jobs, decelerating revenue, and rancor about politics and more broadly about the election."

"There were plenty of other reasons to short Twitter," he added.
On Jan. 11, 2016, Milo Yiannopoulos emailed Steve Bannon a screenshot of Twitter's stock, which had dropped more than 3% during day trading. The company's shareholders may have been hurting, but Yiannopoulos was in the mood to celebrate: He was convinced Breitbart had helped drive down Twitter's share price.
"If it goes down to -5 [percent] and stays we can claim this as a victory I think," wrote Yiannopoulos above the image. "This will be a week of pain for Twitter. … I want to underscore how petty what they did was and what it has revealed about the company and what the consequences are going to be."
Two days earlier, Twitter had removed Yiannopoulos's verification check mark, a status symbol among the social network's power users, without disclosing why. Breitbart's response was swift and coordinated: a barrage of stories about Twitter's antipathy toward conservatives, the ways the disciplinary measure had backfired, and a list of "criminals, abusers, and harassers" who had not lost their verification.

"This will be a week of pain for Twitter."
"I love this company," Yiannopoulos had written earlier on Jan. 9. "You guys think exactly like I do. Fuck Them Up."
The outrage caught on. The archconservative Breitbart found grudging sympathy from a wide range of mainstream outlets, including the Guardian and BuzzFeed News, which ripped Twitter for a lack of clear and consistent standards. "The breitbart machine rolling," Bannon wrote in an email to Yiannopoulos, Breitbart editor Alexander Marlow, and Breitbart Chief Financial Officer Larry Solov.
As the scope of interest in the story became clear, Bannon — a former Goldman Sachs investment banker — turned his attention to the company's plunging stock.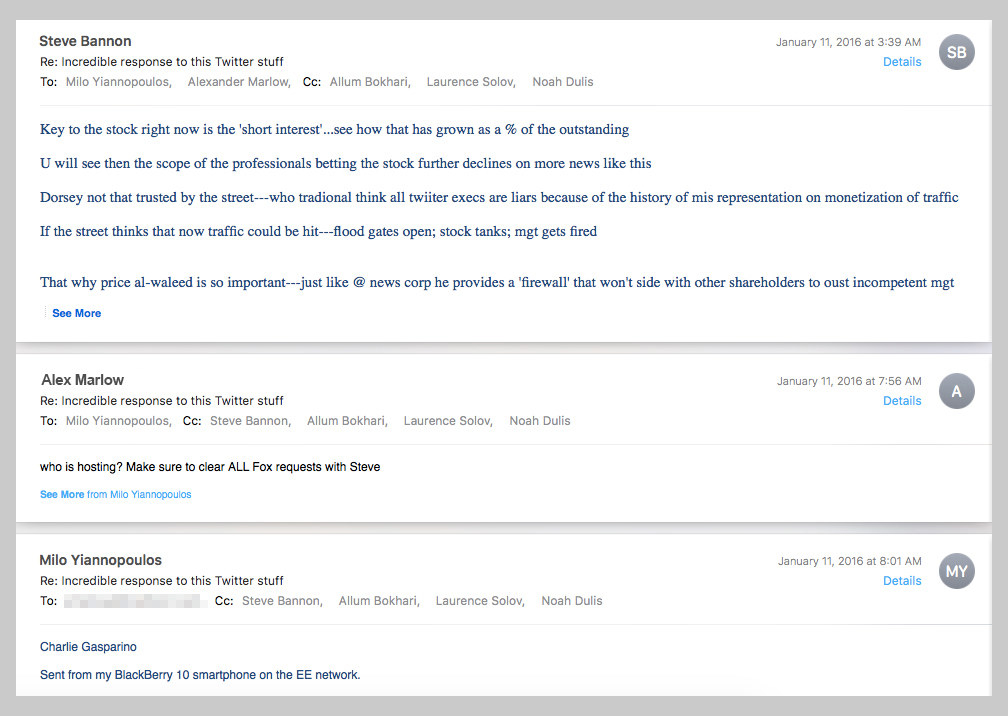 "Key to the stock right now is the 'short interest,'" Bannon wrote in the same email chain, referring to investors betting that the stock price would continue to fall. "U will see then the scope of the professionals betting the stock further declines on more news like this." Bannon thought the company's weak response to a fundamental problem — it was a speech company, after all — would exacerbate Wall Street's skepticism towards Twitter's leadership.
"Dorsey not that trusted by the street---who traditional think all twiiter execs are liars because of the history of mis representation on monetization of traffic," Bannon wrote. "If the street thinks that now traffic could be hit---flood gates open; stock tanks; mgt gets fired."
For months, Bannon had encouraged Yiannopoulos to hammer Silicon Valley. Bannon, who in his role as chief strategist recently led a push within the White House to regulate major social platforms like Google and Facebook as utilities, saw those companies as fundamentally biased against conservatives, and sought to paint their leaders as out-of-touch coastal elites and their success as artificial.
"Tech bubble Bursting before your eyes," he wrote to his Yiannopoulos in August 2015. "Get something up. Facebook; twitter getting crushed." And in December 2015, Bannon forwarded a New York Post story about then–Yahoo CEO Marissa Mayer's "lavish spending" to his tech editor with instructions: "you must own this bro."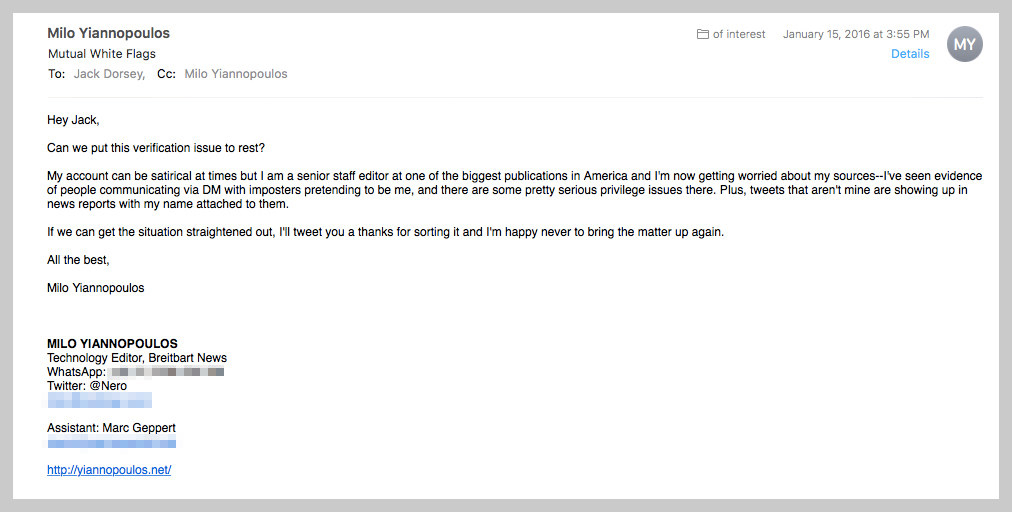 On Jan. 15, Yiannopoulos sent a peace offering to Twitter — a cordial email to Jack Dorsey asking for his verification to be restored in exchange for a detente. A screenshot of an email tracker Yiannopoulos used registered that the email was opened 111 times.
But Dorsey never responded.
And so the "#war," as Bannon called it, carried on. If Yiannopoulos's claim was correct — that negative coverage stemming from his conflict with Twitter was hurting its stock price — he and Bannon had natural allies in those who stood to gain financially from Twitter's loss.
Shorting stocks, or placing a bet that a stock will fall by borrowing shares to sell them and then rebuying them at a later date, is a common strategy among investors; according to financial analytics company S3 Partners, as of August 2017, nine of the 12 most-shorted stocks in the US were in the technology sector. Some hold that shorting can become a self-fulfilling prophecy: If enough people bet against a stock, it can worry other investors enough to sell their shares, pushing the price down and benefiting the short investors.
Twitter's stock, which had plunged from nearly $70 a share in January 2014 to $17 at the time of Yiannopoulos's de-verification, was one of the most shorted stocks on Wall Street, a fact that was compounded by stalling user and revenue growth, a lack of product direction, and other self-inflicted mistakes. If one wanted to hurt Twitter in early 2016, ginning up more short interest in the stock would have been a way to do it.

"I know serious players who are about to short Twitter."
One of the investors who claimed to have benefited from Twitter's plummeting stock was the notorious conservative activist — and former Breitbart reporter — Charles C. Johnson, who was banned from Twitter in May 2015 for a tweet that referenced "taking out" Black Lives Matter leader DeRay Mckesson. Johnson had boasted to Yiannopoulos even before the latter's de-verification that he had "made a lot of money shorting Twitter" and offered to "cut [him] in." In response, Yiannopoulos asked for more details, writing, "We do have laws where journalism and the stock market are concerned."
"I was ready to help forge the sword to cut off Twitter's head," Johnson told BuzzFeed News.
After the run of Breitbart stories about Yiannopoulos's de-verification, Johnson began to email Yiannopoulos more frequently about damaging Twitter. "A billion dollar hedge fund manager called me to talk twitter today," Johnson wrote to Yiannopoulos on Jan. 11, 2016. "I made $100k just today on what you did." And throughout the next several days, the men exchanged dozens of emails about the stock price, about Twitter's inflated user numbers, and Johnson's plans to, as he wrote in a Jan. 17 email, "go seriously short Twitter." "Want to know if you're serious about fucking them up," he said.
"I'm serious," Yiannopoulos responded.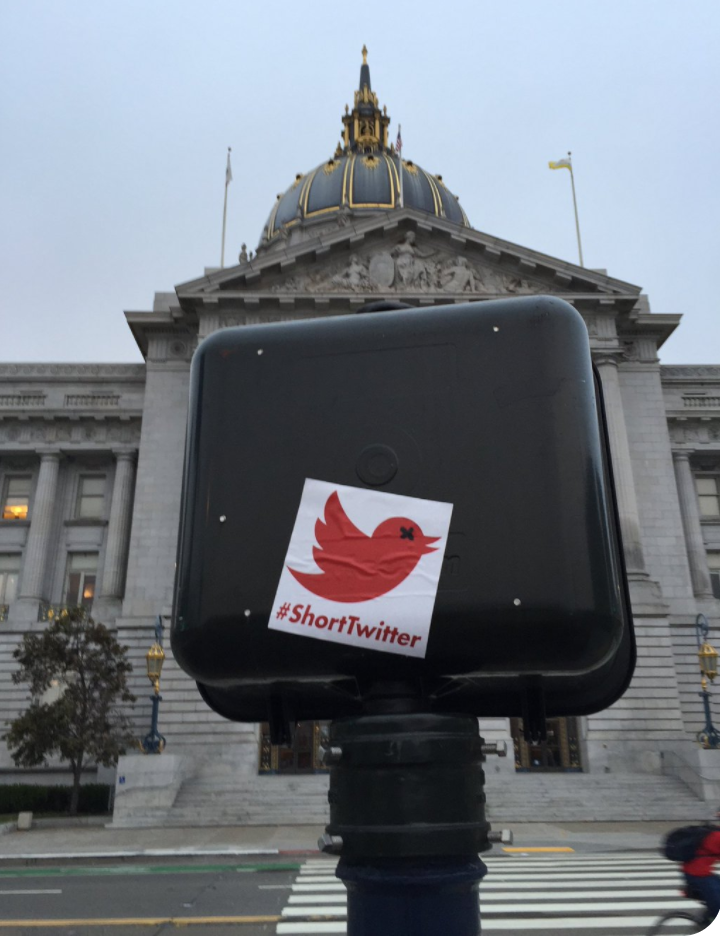 Johnson didn't just short Twitter from behind the scenes. He had helped create a Twitter account @shortthebird in July 2015 and organized a campaign to put stickers and posters up around the company's San Francisco headquarters with the hashtag #shorttwitter. (The hashtag never really took off, however, as it was simultaneously being employed by Twitter users to joke about their physical stature.) Johnson also trolled Twitter investor Chris Sacca by sending a photo of himself standing in front of Twitter's building and a note about how much money he had supposedly made when the company's shares hit a new all-time low on Jan. 8.
Still, despite his goading, Johnson said that Yiannopoulos did not collaborate with him on his bets against Twitter.
"Milo pussed out," Johnson said. "He was all talk when it comes to taking down Twitter."
It's unclear whether Yiannopoulos himself or anyone affiliated with Breitbart ever shorted Twitter. But, emails show, Bannon at least considered it. On July 19, Yiannopoulos was banned from Twitter. Nine days later, he received an email from a person who identified themselves as Tino Parla, a "political and economic strategist," advising him to "convince private equity firms to short twitter because of the strategic direction Jack is taking it in." Yiannopoulos forwarded the email to Bannon. (Parla did not respond to an emailed request for comment.)
"This is what I told u the other day," Bannon wrote back. "[T]here are firms that specialize in it. We need to go see them."
BuzzFeed News could not confirm whether these meetings took place. But on Aug. 1, Yiannopoulos gave an interview to Business Insider UK in which he said, "I know serious players who are about to short Twitter."
Others who spoke with Yiannopoulos rebuffed him by noting that the opportunity to short Twitter had already passed by the summer of 2016. Trader Scott, an anonymous writer who maintains a blog on the popular anti-establishment finance blog Zero Hedge, saw the Business Insider interview and sent an email to the Breitbart star. "I would love to see Twitter get clobbered," he wrote, but the company's shares were "down tremendously already over the last year" and thus would be too risky to bet against. Yiannopoulos sent the email to Bannon, who responded, "I agree that all the easy money has been made."
"The reason I initially sent something to him was because it was an incompetent and emotional thing to say," Trader Scott told BuzzFeed News. "Some people love Milo and they follow what he says. Some unfortunate people may have shorted Twitter based on that and lost a lot of money."
Since Aug. 1, 2016, Twitter's share price is up more than 32%.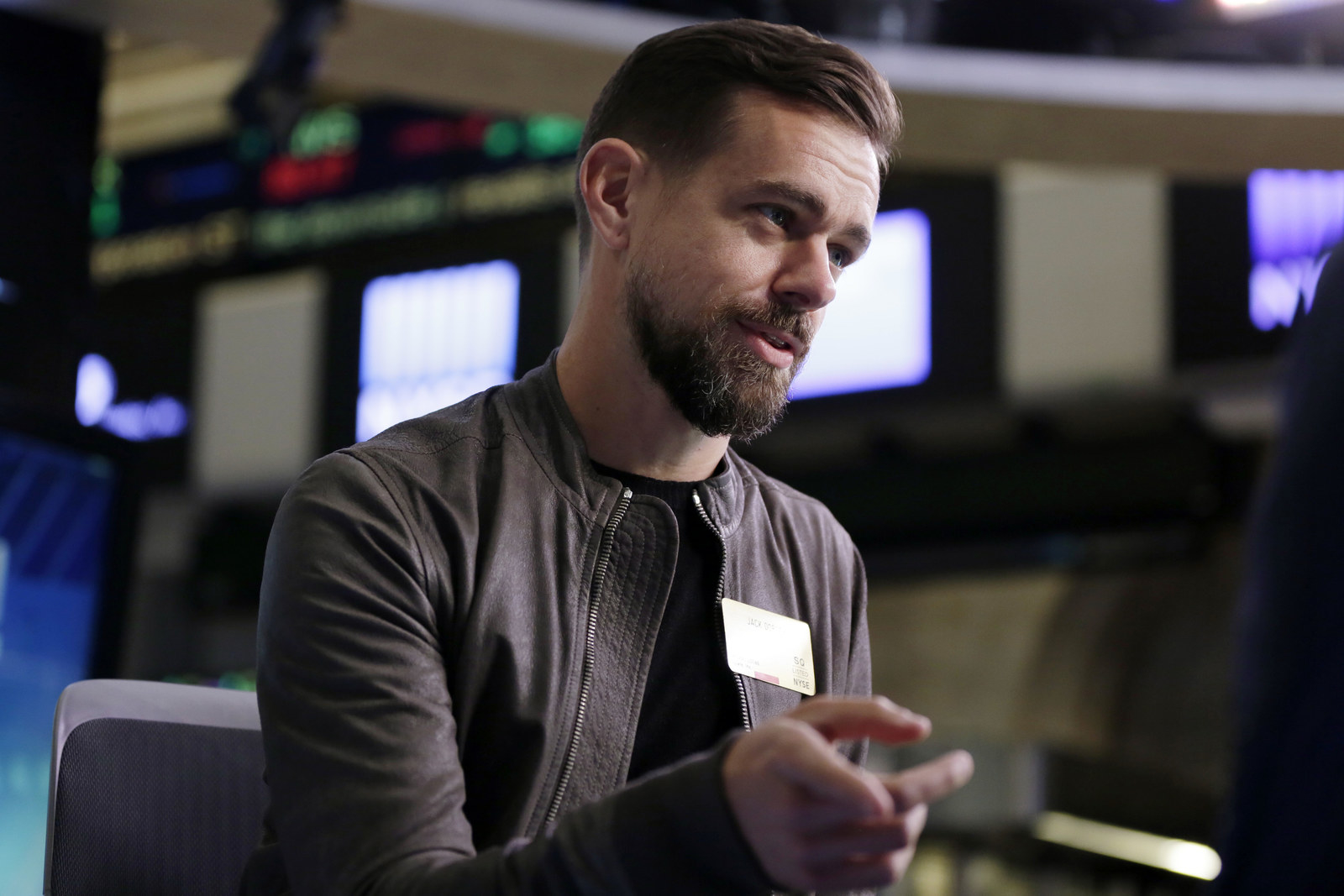 As Yiannopoulos and Bannon considered their financial options against Twitter, they also discussed a salvo of attacks against the social networks using the US court system. One of their inspirations may have been the Obama White House.
At a March 4, 2016, White House press briefing, Yiannopoulos lobbed a question at White House press secretary Josh Earnest about the administration's views on what he called Twitter and Facebook's "censoring and punishing conservative and libertarian points of view."
"Is there anything the president can do to encourage Silicon Valley to remind them of the critical importance of open free speech in our society?" asked Yiannopoulos, less than two months after his Twitter account was de-verified. "Are there any mechanisms the government can use to remind them of that responsibility, or do we have to trust the market will punish them if they don't?"
"Obviously there is a third branch of government: It's our courts," replied Earnest. "So if there are private citizens who feel their constitutional rights are being violated in some way, they do have an opportunity to address that before a judge in a court of law."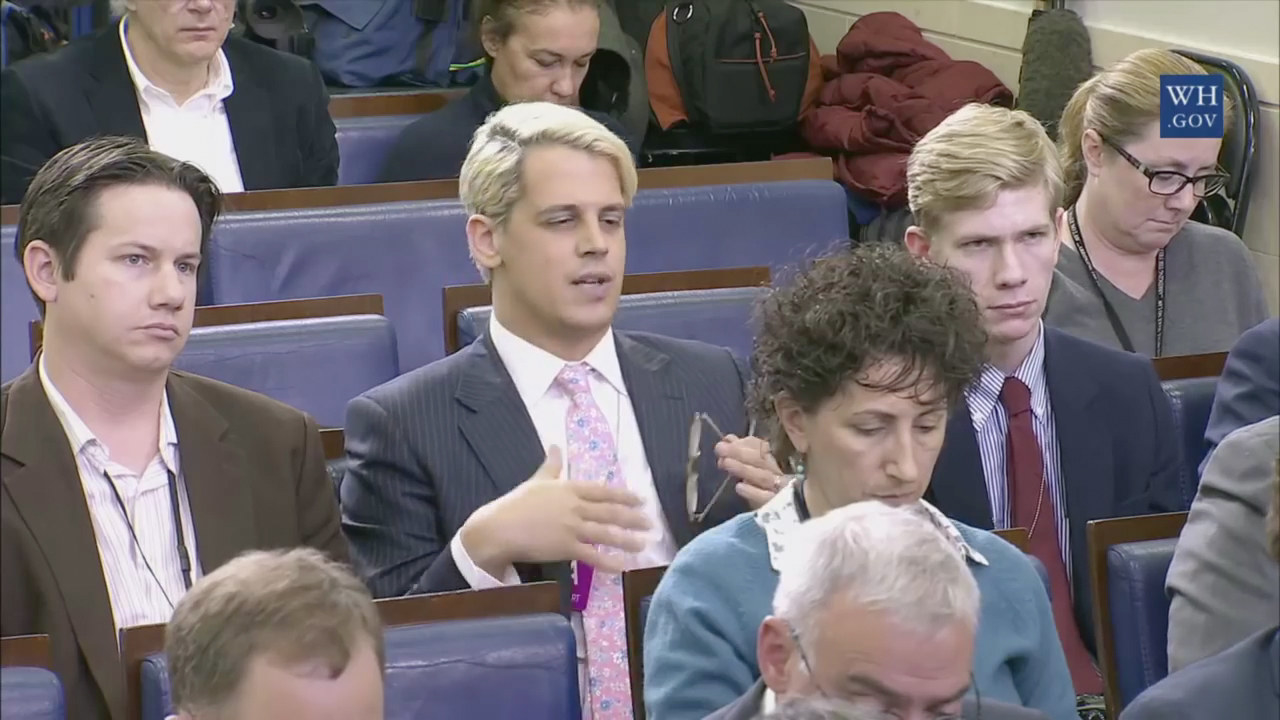 Yiannopoulos had toyed with the idea of taking legal action against Twitter at least since the beginning of 2016, though he was unclear on what case he would have against the company, according to his emails with associates. Much of his early thought process was instigated by Johnson, who prodded him with questions about potential lawsuits following run-ins with Twitter.
On Jan. 19, Johnson sent a message titled "Twitter suit" to the Breitbart tech editor, saying that he had spent four hours on the phone with a lawyer about a suit. Johnson connected Yiannopoulos with Bob Kohn, a semiretired attorney and music industry entrepreneur, who said in his introductory email that he admired the provocateur "as a true defender of Liberty." Kohn then offered his "two cents to help you understand the nature of the legal issues that have been thrusted upon you," though Yiannopoulos never responded.
"I've never even spoken to him, no less gave him legal advice," Kohn said of Yiannopoulos to BuzzFeed News. "While I once admired his passionate exercise of free speech rights, I have since lost interest in his style of political activism."
Over the next few months, Johnson sent a few more emails, each time suggesting that he was on the cusp of submitting legal paperwork and encouraging Yiannopoulos to join. A Feb. 23 email was followed by another on April 5, when he claimed to have "hired an attorney to sue Twitter today." On May 27, when he was suspended from Twitter, WeSearchr cofounder and former Business Insider chief technology officer Pax Dickinson shot a note over to Johnson and his lawyer Jonathon Burns, saying that if the suspension turns permanent, "I'll join the lawsuit." Johnson in turn forwarded the email to Yiannopoulos and far-right media personalities Lauren Southern and Mike Cernovich to drum up attention.
Following his own temporary suspension from Twitter on June 15, Yiannopoulos was once again pestered by Johnson about litigation, though he replied to an email the next day, "not sure I have grounds to join." In a separate message to Bannon, Yiannopoulos asked the Breitbart chair if he thought it was time to sue the social network, but noted, "my instinct is no."
His permanent ban from Twitter in July immediately changed that outlook. At 2:25 in the morning on July 22, Yiannopoulos sent a note to Bannon saying that he was ready to sue Twitter. By 5:23 p.m. that evening, Johnson had emailed his own legal strategy to the pair, arguing that they challenge the constitutionality of a section of the Communications Decency Act that gives immunity to social media companies from being prosecuted for what its users say on their platforms.
"What's up with these guys? They look like buffoons."
Within minutes of Johnson's email, Yiannopoulos sent his own note to Bannon. "Charles is PR poison. I don't want his name associated with mine or anywhere near what we do," he wrote. Yiannopoulos also seemingly stopped responding to Johnson's emails about legal strategy and set out to find his own way.
On July 26, Breitbart's tech editor received an email from right-wing attorney and activist Marcus Epstein with the subject line "Legal Case against Twitter" and an attachment that contained what he thought were grounds for suing the company based on California law. Epstein was involved in a paleoconservative political club with white nationalist leader Richard Spencer in 2007, as well as the white nationalist student group Youth for Western Civilization, and pleaded no contest in 2008 to a misdemeanor assault of a black woman in Washington, DC. (According to a factual proffer filed and signed by a US Attorney, Epstein called the woman a "nigger" before hitting her in the head.)
Yiannopoulos passed the email and attached memo to Marlow, Bannon, and Solov, the Breitbart CFO, who said that Breitbart's lawyers were already looking into the themes discussed in the memo, but that there were "several leaps of faith" that required further analysis.
"I'd like to be more involved in this if we are discussing/planning action," Yiannopoulos responded.
While Bannon remained largely quiet, he did check back to see the progress his team had made on its possible legal avenues. "Where r we on this???" he wrote in an email to Yiannopoulos and Solov on July 31 in regard to examining a lawsuit under California law.
The legal argument against Twitter that some minds in the far right settled on was an attempt to extend the free speech protections offered by the California constitution to online spaces. A US Supreme Court ruling in the 1980 case Pruneyard Shopping Center v. Robins established that individuals had the right to peacefully exercise their rights to free speech in a private Northern California shopping center that was open to the public. Solov and Breitbart's lawyers were hoping that they could attain a legal precedent in which the Pruneyard rule could be extended to practicing free speech in online spaces, like Twitter.
Solov's attempt to arrive at a decisive legal conclusion, however, was slow. On Aug. 15, after receiving another email about legal strategy from conservative commentator David Rubin and being impatient with Solov's response to his emails, Yiannopoulos unloaded on Breitbart's CFO.
"Not to be a needy diva, but it seems peculiar to me to have lawyers researching a potential suit when we haven't even discussed a Twitter strategy," he wrote. "I don't see how such a suit could proceed without my knowledge or consent and Breitbart management isn't in possession of the facts it needs to assemble one because, as I say, no one will talk to me."
"Consequently, I've been preparing my own case independently of Breitbart," he added.
Solov attempted to the smooth over the situation by scheduling a phone call with the disgruntled employee for the next day. "Obviously we can and would do nothing without you!" he wrote.
Bannon stayed out of the conversation. Two days later, the Trump team announced that he would take over as head of the campaign.
On Oct. 5, Epstein returned with another "confidential" legal memo that "summarizes previous communications I have had with Milo Yiannopoulos and Steve Bannon." Epstein sent that memo to Yiannopoulos and Solov and sought to develop a consulting agreement with Breitbart for developing litigation against Twitter.
"I shared my idea to use the California Constitution's free speech provision as a clause for action with Steve Bannon and Milo Yiannopoulos in February 2016," Epstein wrote, later noting that Breitbart's tech editor had said he planned to enlist Breitbart's attorneys at Reed Smith LLP's Silicon Valley office to help with the case. (Reed Smith did not return BuzzFeed News' request for comment.) "Mr. Yiannopoulos floated the possibility of Robert Mercer paying me directly to serve as a consultant," he added, alluding to the Breitbart patron and Trump megadonor. In a conversation with BuzzFeed News, Epstein said he never received any payment from Breitbart or the Mercer family.
On Nov. 18, after some prodding from Epstein, Yiannopoulos responded.
"I don't think there's realistically any money coming for this from anyone," he wrote.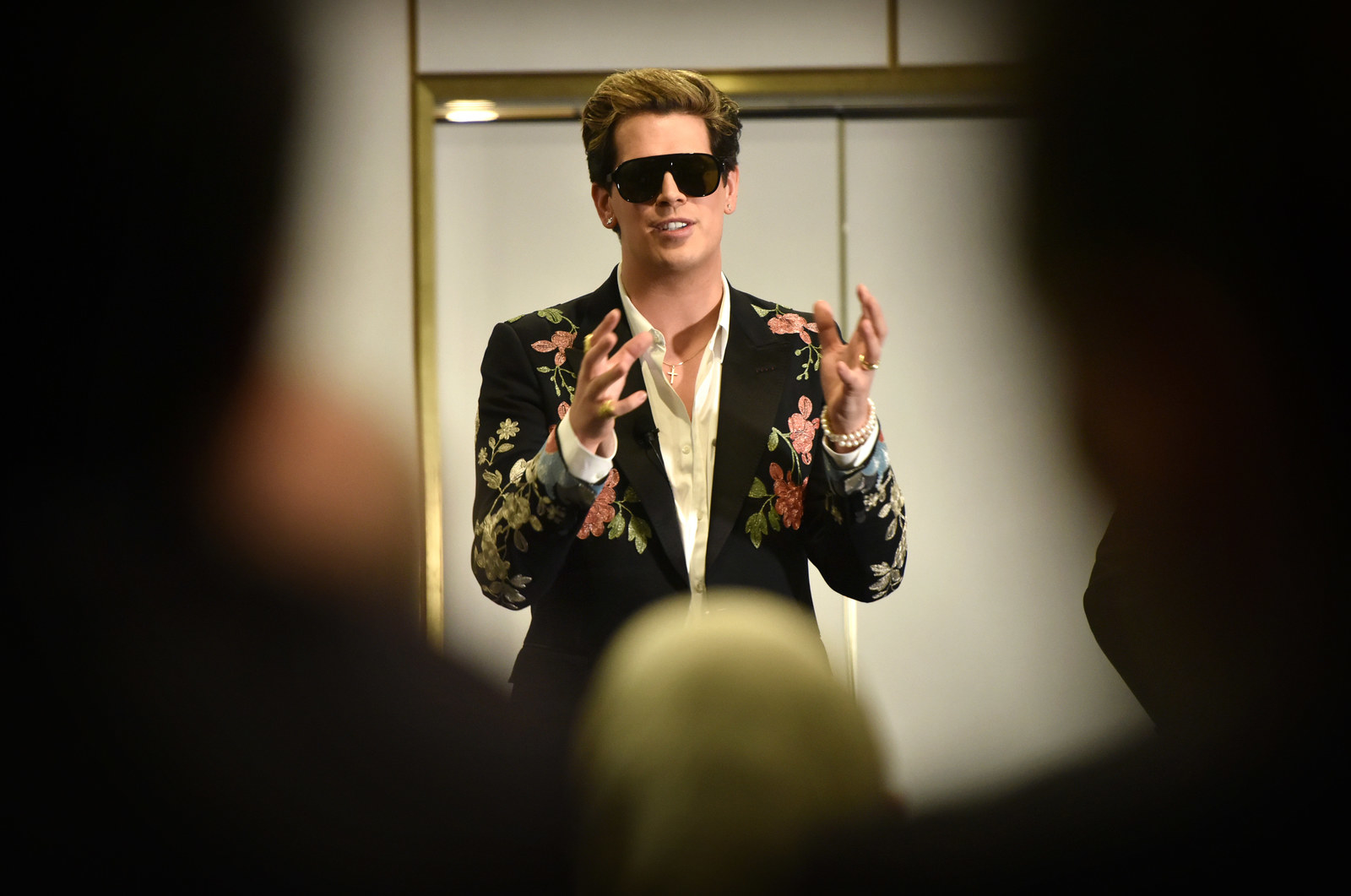 To the financial and legal campaign Bannon and Yiannopoulos quietly waged against Twitter, the two added a drumbeat of negative coverage on Breitbart. As on every other front of Bannon's multipronged narrative war against liberal culture, the goal was to paint the company as failing, hypocritical, out of touch, and in thrall to censorious social justice warriors.
Even before Twitter took action against Yiannopoulos, Bannon made clear his low opinion of the people he would later refer to as "the lords of Silicon Valley." In August 2015, he derided the tech contingent who flocked to Burning Man as "a fucking joke" and "dystopian." The next month, he forwarded Yiannopoulos a Business Insider story about tech CEOs including Mark Zuckerberg, Tim Cook, and Jeff Bezos meeting with Chinese President Xi Jinping in Seattle with a note: "Need you to hit. Kow towing to their Chinese masters." And in October, he sent Yiannopoulos a story about Twitter layoffs, and personally signed off on a story about the failures of female tech CEOs ("I recommend we take vanity fair glamour shot of Marissa Mayer in purple dress spread out in chaise lounge as the main photo to mock the entire concept").
After the January de-verification — in response to which Bannon gave meticulous instructions about Breitbart's coverage, down to headline and format — the Breitbart executive chair cheered on as his lieutenant started to hammer the social network. On March 18, 2016, Yiannopoulos emailed Bannon the Breitbart story, headlined "Jack Dorsey Denies Twitter Censors Users." "Ride hard," Bannon responded.
Two days later, Bannon asked Yiannopoulos to appear on the Breitbart daily radio show "calling dorsey a liar." When Twitter's head of communications, Natalie Kerris, quit after less than six months on the job, Bannon instructed Yiannopoulos: "We should force that up to home page." In early June, after Twitter suspended a game developer who tweeted that some mosques should be surveilled, Bannon emailed Yiannopoulos, Marlow, and Solov, saying, "This is massive."
Yiannopoulos took the encouragement to heart. Between Jan. 1 and Aug. 17 — the day Bannon left to manage the Trump campaign — Breitbart Tech ran 176 stories critical of Twitter, nearly one a day. The stories ranged from gloating over the stock price to anecdotal reports of Twitter's hostility to conservatives; from columns about Dorsey's lack of leadership skills to assertions that the company was "where Silicon Valley careers go to die."
On June 15, Twitter briefly suspended Yiannopoulos hours ahead of a planned press conference, titled "ABSOLUTELY HARAM: Milo On Gays Vs. Islam," in Orlando following the Pulse nightclub shooting.
"No word on why," Yiannopoulos wrote to Bannon. "Can't be unconnected to press conference today."
"Dude!!!!!" Bannon responded.
"This is a total war," Yiannopoulos wrote back.
"Total," Bannon wrote, "So let's go get some scalps… I told alex [Marlow] all in in every level."
But before the war could get started, Twitter caved, reinstating Yiannopoulos less than a day later.
"What's up with these guys?" Bannon wrote to Yiannopoulos after Twitter backtracked. "They look like buffoons."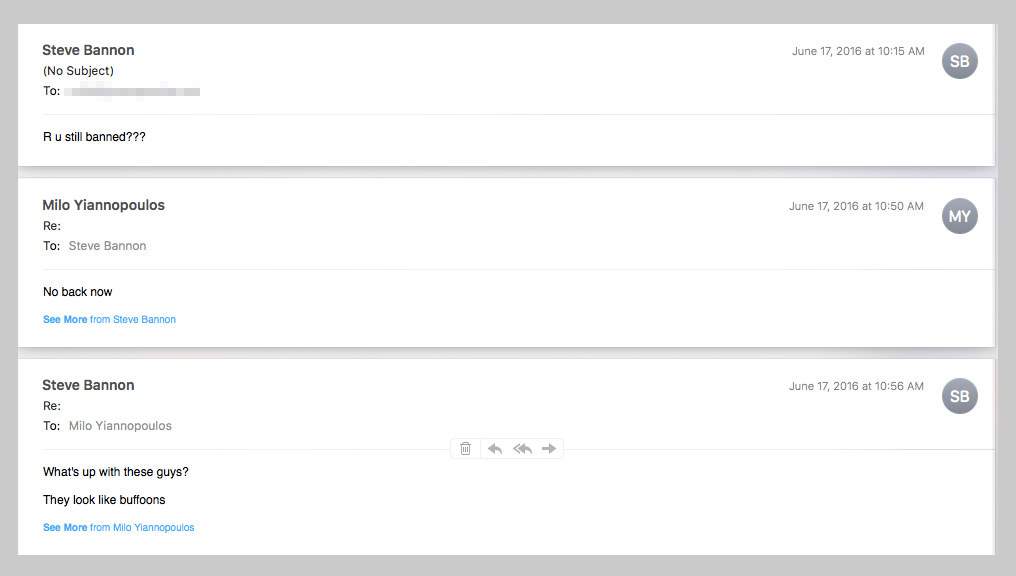 Twitter permanently banned Yiannopoulos from its service on July 19, a day after he encouraged his followers to bombard Ghostbusters star Leslie Jones with racist tweets. At the time Bannon's attention was divided; the Republican National Convention had just gotten underway in Cleveland. But he still pitched in on an email thread about a follow-up story titled "Double Standards: Leslie Jones' Racist Twitter History" that ran on Breitbart the next day. In response to a draft of the story, which aggregated a series of Jones' crass tweets about white people, Bannon wrote, "Stone cold liar. Approved."
At the RNC, Yiannopoulos took advantage of the Breitbart booth's location directly across a narrow hallway from Twitter's to train a "Twitter Shame Cam" on employees of the company. Together with Breitbart reporter Matthew Boyle, Yiannopoulos followed Twitter employees up and down the hall asking if they believed in free speech. According to a Daily Caller report, one of the employees called the police to complain about Boyle and Yiannopoulos.
Bannon left to run the Trump campaign on Aug. 17, 2016. With Bannon working for a candidate who used the platform with unprecedented effectiveness and Yiannopoulos on the road for his Dangerous Faggot Tour, the site seemed to ratchet down its antipathy toward Twitter.
Still, one of the very few emails Bannon sent to Yiannopoulos's work email after leaving Breitbart concerned Twitter. On Oct 27, less than two weeks before the election, Bannon forwarded a Reuters story to Yiannopoulos and Marlow titled "In Breathless U.S. Election, Twitter Generates Buzz Not Cash." It's unclear if his views on the social platform ever rubbed off on the presidential candidate he was grooming, but two days later, Trump also took a swing.
"Wow, Twitter, Google and Facebook are burying the FBI criminal investigation of Clinton," he tweeted. "Very dishonest media!"
Ten days later Trump was elected president. ●