In the weeks before election day, pro-Trump, alt-right trolls have leveraged the scale of social media to spread misinformation aimed at keeping Clinton voters away from the polls — most prominently by disseminating official-looking, but totally bogus, campaign ads that encourage people to vote for Clinton by text message. There's been a growing response to the pro-Trump misinformation campaign on Twitter and other social platforms — Twitter yesterday released an official video debunking the vote-by-text nonsense, for example. But get ready for even more, because the people behind them are hardly out of ideas.
Posts on 4chan's politically incorrect message board — a nerve center of the alt-right from which many of these posts appear to have originated — detail a multi-pronged campaign of election day social media deception and mayhem, intending to confuse, slow, and disenfranchise Clinton voters.
The first step in the campaign is to reinvigorate the "text to vote" campaign. Currently, texting "Hillary" to the phone number 59925, as the original fake ads urged voters to do, prompts a text reply reading "The ad you saw was not approved by Hillary For America in any way."
The trolls' solution? They now plan on releasing new ads instructing voters to text "GO to 47246 — the official Clinton text channel. It's a more savvy iteration on the earlier scam. That's because texting the "GO" command to that SMS shortcode prompts a reply from the Clinton campaign: "Thanks for being a part of the campaign!" As one 4chan poster pointed out "This sounds like it counted the vote."
Another major push being discussed on /pol is a series of ads, again done in the style of official Clinton campaign messaging, that encourages Clinton voters to demand paper ballots.
Playing on fears of Russian interference with American voting machines, these ads serve two purposes to the alt-right. The first, according to the designer of the ad, is to make sure that Clinton votes aren't counted multiple times by Soros-controlled voting machines, which plays to a false but commonly held conspiracy theory within the alt-right. "We know [George] Soros pretty much own a large part of the electronic voting machines in USA," wrote the poster. "We want to avoid their usage and promote the usage of paper ballots instead."
The second motivation for trying to trick Clinton voters into using paper ballots is far more straightforward: It's to make the process of voting more onerous.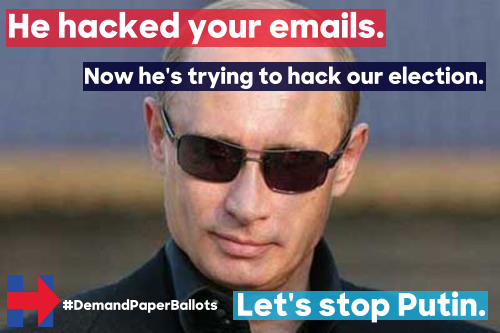 Another hashtag campaign, #DraftOurDaugthers, was popularized by the alt-Right impresario Mike Cernovich, and 4chan is running with it. The ads, which also adopt official Clinton campaign branding, depict smiling girls and young women next to ominous messages about a coming military draft — an allusion to the right's criticism of Clinton as a warmonger. The effect, of course, is intended to frighten.

While some of these campaigns have already rolled out, there is frequent chatter on /pol about disseminating them heavily on election day. Wrote one poster [sic], "Yeah. We need to get this stuff ready...on election day and insert it into all of the twitter made forced hashtags, because we all know there's gonna be a paid for trending Hillary hashtag on November 8th... Alot of retarded libs would fall for this and not go out and vote. We need to make this happen on election day."
And in case there was any mistake about the targets of these ads, another poster made it clear:
"Remember remember the 8th of November,

When /pol/ shut down the black vote.

We all know that Twitter is the home of all black queens. They're dumb enough to fall for this shit too."
Disseminating false information about an election or a political campaign in this potentially violates a litany of state voting rights laws.