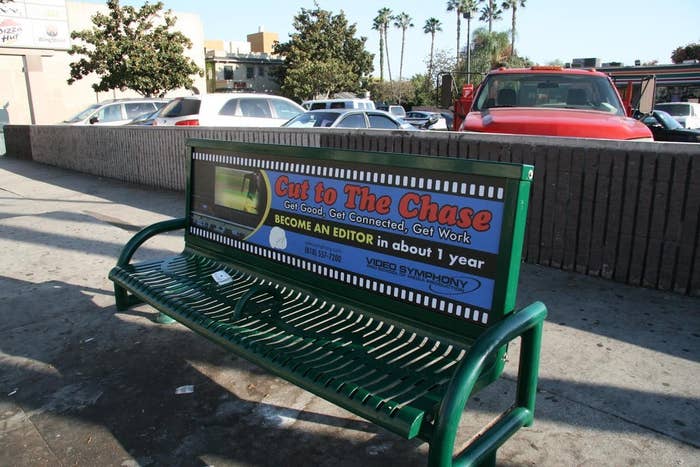 Devices identical to those secretly planted in New York City phone booths have been installed in public spaces in Los Angeles and Chicago, BuzzFeed News has learned.
The Bluetooth devices known as "beacons" were installed in bus benches in Los Angeles and train stations in Chicago. Additional information obtained suggests that the devices were also installed in San Francisco, though BuzzFeed News was unable to independently confirm that allegation.
The beacons are manufactured by Gimbal Inc., the San Diego company that made the 500 beacons that were removed from New York City phone booths earlier this month, after a BuzzFeed News investigation revealed their existence.
Taken together, the programs reveal a broad initiative by Gimbal to quietly partner with outdoor advertising companies in major American cities. And they clarify the extent to which technology companies, cities, and brands have begun experimenting with new forms of commercial persuasion, with scant public notice.
Gimbal did not return a request for comment about the programs.
Beacons emit simple, self-identifying signals. Although beacons do not collect any information themselves, they play a central role in Gimbal's phone-tracking technology. Gimbal requires smartphone apps that use its software to get users' "opt-in" permission before collecting data and sending beacon-triggered notifications. When a Gimbal-enabled, customer-approved app "sees" a Gimbal beacon, the phone sends information about the encounter — including the phone's "unique identifier", its location, and the time of day — to Gimbal's servers.
Gimbal's apparent strategy — getting hundreds of its beacons placed in high-trafficked public spaces — contrasts markedly with the indoor, retail-focused applications that have dominated beacon-based marketing so far, such as telling a customer in aisle 12 that polo shirts are on sale.
While municipalities have trumpeted the potential civic uses of a beacon network (to help city agencies send alerts and other messages to smartphones, for example), their implementation has far-ranging commercial implications. And while the outdoor ad firms have so far played down those implications publicly, they've already pitched brands on the consumer potential of beacons.
In its communications with city officials and with BuzzFeed News, Titan Outdoor Advertising initially said that the beacons it installed in NYC phone booths were only being used for testing and maintenance purposes. In several instances, however, the Gimbal beacons installed in Titan's phone booths were used for explicitly commercial purposes.
The Tribeca Film Festival app used the phone booth beacons earlier this year to send festivalgoers notifications about nearby happenings. ShopAdvisor, a mobile shopping app, touted a "pilot program" collaboration with Qualcomm in Manhattan in a solicitation to brands: "There are 500 beacons outdoor beacons placed in Manhattan across all key shopping districts. The ShopAdvisor platform is integrated to work with these beacons." And a promotional image now deleted from Gimbal's website includes what appears to be heat map of beacon-phone interactions in a wide swath of Manhattan: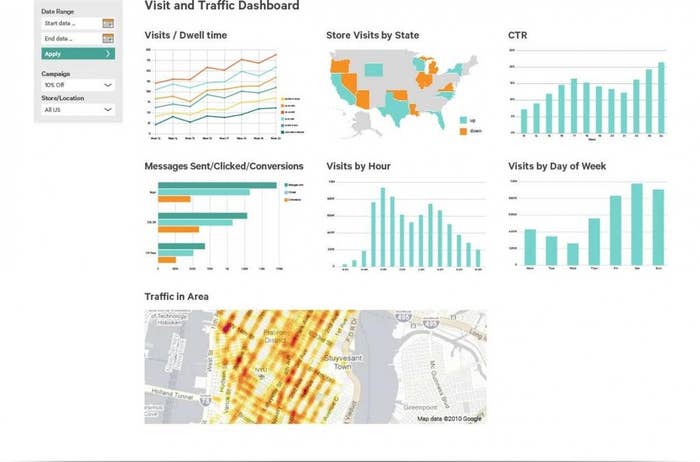 In Los Angeles, beacons have been installed in "less than 5%" of the city's more than 5,000 bus benches, according to Randall Smith, CEO of Martin Outdoor Advertising. (Five percent of 5,000 would be 250 benches.) Martin announced the program publicly for the first time via press release last week, shortly after BuzzFeed News contacted the company regarding beacons.
Long before Martin published that press release, however, it appears to have marketed the program to advertisers. In a document obtained by BuzzFeed News, Martin touted the ability of its Gimbal beacons to "deliver timely, personalized content to mobile audiences" and to help "understand your audience's traffic patterns to help build an even more targeted message in the future." Metadata embedded in the document suggests that it was last modified on Aug. 1. Martin did not immediately return a request for comment about the document.
In Chicago, Titan installed beacons in 40 locations near 11 Chicago Transit Authority rail stations in September for a two-week "test," according to CTA spokesman Brian Steele. Those beacons were taken down, but the CTA and Titan will conduct another test "that will be longer in duration and possibly scope," Steele told BuzzFeed News.
Neither test had been disclosed to the public before BuzzFeed requested comment from Chicago and Titan. Shortly thereafter, a niche industry blog published some details of the program.
In San Francisco, beacons emitting Gimbal's unique signature have also been detected outdoors, according to an anonymous tipster who feared being fired for speaking publicly. Those beacons may have been turned off or removed in recent weeks; BuzzFeed News was unable to verify their installation.
That would make at least four major markets — including the three largest cities in America — where Gimbal beacons have been quietly installed in outdoor ads.
Gimbal beacons are cheap to manufacture and install; Doug Thompson, an industry analyst who owns the beacon company dot3, said the company's business model involves selling large quantities of the actual devices at a low cost and making money off of its proprietary platform, which knows every time a Gimbal-enabled device passes by a Gimbal beacon.
"While other companies were still distributing developer kits, Gimbal was aggressive in getting their beacons to market, and doing so in a way which encouraged very large networks of beacons. Their beacons were priced with a mind to large-scale deployments, and their back-end cloud solution was tailored for managing large networks of beacons," Thompson told BuzzFeed News.
Indeed, a large beacon network seems to be essential to the services the company has marketed to its clients. Gimbal's "Profile" service, for example, "passively develops a profile of mobile usage and other behaviors" that allow the company to make educated guesses about a user's demographics ("age, gender, income, ethnicity, education, presence of children"), interests ("sports, cooking, politics, technology, news, investing, etc"), and the "top 20 locations where [the] user spends time (home, work, gym, beach, etc.)." According to Gimbal, the Profile service only operates for users who explicitly "opt in" to it.
The more beacons, and the more people who would encounter them, the more valuable the Gimbal network would become.
Email the writers of this article at joe.bernstein@buzzfeed.com and jeremy.singer-vine@buzzfeed.com.
Jim Dalrymple, Tyler Pager, and Jeff Landa contributed reporting to this story.