Apple Announces The Big, Fast, And Pricey New iPad Pro
It's big business.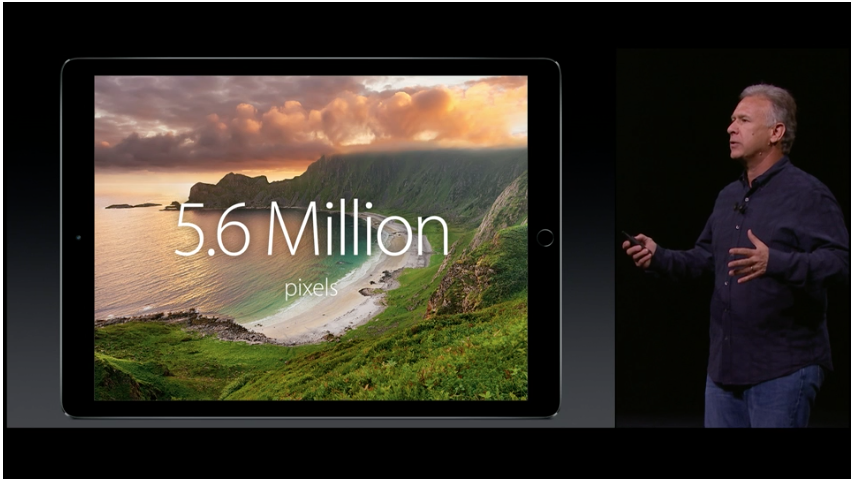 Calling the announcement "the biggest news in iPad since iPad," Apple is welcoming a new member to its line of tablet computers, the iPad Pro, and, measuring in at over a foot, it is indeed a massive update.
Today at the Bill Graham Civic Auditorium in San Francisco, Apple CEO Tim Cook announced the highly anticipated iPad Pro, a bigger, faster, and yes more expensive version of the company's iconic tablet.
Start with that size: The device has a 12.9-inch display, or more than three inches bigger than the screen on the current iPad Air 2 — the width is the same as the height of the current iPad Air, and it's densely packed with 5.6 million pixels. Apple Senior Vice President Phil Schiller called it the most advanced display that the company's ever built. It comes with a standard 64GB hard drive, four times the size of the 16 GB drive on the iPad Air 2, and it can be upgraded to a whopping 128 GB.
It also has a zippy A9X processor for desktop-class speed. Apple claims it has 10 hours of battery life, with four speakers to generate dense sound at three times the volume of the iPad Air 2. Yet it's just 6.9 mm thick, and weighs 1.57 pounds. It comes in silver, gold, and space gray.
The device is meant to help Apple capture business customers with its tablet, which has traditionally been a leisure device. To make that happen Apple also announced a new physical keyboard, it calls it the Smart Keyboard, that connects to the tablet via three magnetic circles to transmit power and data, and a new Apple Pencil, a stylus to write, draw, and take notes with that charges via a lightning connector. All of this is meant to help Apple capture customers who might have otherwise been in the market for a laptop.
It's clearly designed with business customers in mind — and in fact Microsoft executives joined Apple onstage to show off Microsoft Office running on the iPad. Because the iPad Pro can run two side-by-side apps simultaneously, you could, for example, run Microsoft Excel and Word at once on the same screen. Apple also showed off the iPad Pro working with medical and design applications from 4Medical and Adobe, respectively.
The enterprise-suitable Pro comes as Apple has teamed up with big corporate partners like IBM — which has started building iOS apps for its clients — and Cisco, which is building an internet "fast lane" for iOS business users.
The new iPad Pro also comes close to an Apple laptop in price: It starts at $799 for the least expensive model of the iPad Pro, and runs up to $1,079. The Apple Pencil is $99, and the Smart Keyboard is $169. Whether people will pay that much for a bigger, shinier tablet may go a long way toward changing the fortunes of the iPad, which Apple has seen decline in sales for the past two years.
In contrast to the mammoth iPad Pro, Apple also announced a little cousin: The iPad Mini 4, which will cost $399.