OurMine, the hacking group that in recent weeks has taken over the Twitter accounts of tech luminaries such as Google CEO Sundar Pichai, Facebook CEO Mark Zuckerberg, and former Twitter CEO Dick Costolo, has claimed another scalp: Uber CEO Travis Kalanick.
In a since-deleted tweet sent at 10:05 p.m. ET from Kalanick's account, the group announced that they had taken control: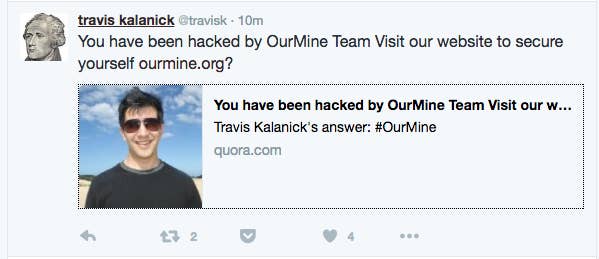 It appears from the tweet that the group may not have had direct access to Kalanick's Twitter account, but rather gained control of his Quora account, which enables users to post directly to Twitter. That's how OurMine hacked Pichai.
The group told BuzzFeed News yesterday afternoon that it had not picked a new target and that its hacks take anywhere between an hour and several days to carry out. OurMine has been criticized by the security community for publicizing its business by hacking tech notables.
BuzzFeed News has reached out to Uber for comment.