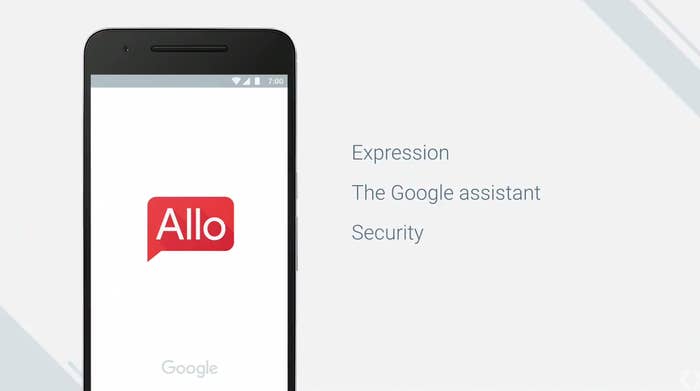 At its annual IO conference today, Google announced a new messaging app, which it promises to make conversations "easier, more expressive and more productive."
The app, called Allo, is linked to users' phone numbers (like WhatsApp).
In a presentation, Google's Erik Kay touted the ways Allo allows the customization of messages for a broader range of expression, most notably with a feature that allows users to scale the size of emojis and text by sliding.
The company also pointed to the way that their investments in machine learning will enable the new messaging app to offer better replies.
"Allo uses machine learning to suggest what you want to say on the fly," said Kay. "These aren't just canned responses."

Indeed, the app has the ability to suggest responses to images; it might suggest "cute dog" to a received image of a dog, or recipes for a receives image of a pasta dish. It also boasts integration with Google Assistant, the virtual helper also announced today.
Like WhatsApp, Allo provides end-to-end encryption. This security tool allows only the intended recipients of a message to view it. "We realize that sometimes people want to be incognito. Of course, this applies to chat as well," said Kay.
Allo features an incognito mode (similar to Chome), in which chats are presented with discrete notifications "hiding the sender and the message content from shoulder surfers and prying eyes" he said. The incognito mode also includes an option to remove messages after a certain amount of time. And once messages are deleted, they are no longer accessible through your device. Kay said he anticipates building additional privacy and security features into Allo in the future.
Google also announced Duo, a new video messaging app. Also linked to the user's phone number, Duo comes with a feature Google is calling Knock Knock, which shows a livestream of the caller before the call begins. Like Allo, the new video messaging features end to end encryption. Kay said that Duo can seamlessly transition between cellular and Wifi, and that it monitors network quality multiple times a second to ensure a good video feed.