What We Learned
Apple announced new iPads: the iPad Air 2, which starts at $499, and iPad Mini 3, which starts at $399.
iPads are flat, touchscreen computers.
Apple has sold 225 million iPads since launch.
Apple unveiled updated Mac Mini and iMac with Retina Display.
Apple Pay is available starting Oct. 20.
We did it! 80 minutes of live-blogging and we're in the clear. Nobody lost their jobs (yet!). We've got new iPads (They're thinner! Thinner than a pencil! Pencil thin and then some!). We've got new iMacs (sharp display!). We've got Apple Pay coming on Monday. We've got a souped-up Mac Mini. Everyone bought iPhones (to sell in China!). Sure, this event could've been summed up in a tweet-sized press release, but the point is we did it. There are new products. This is the fully-realized Tim Cook vision of the Apple ecosystem, which is comprehensive (or will be with the Apple Watch) and pretty seamless to switch between. Excelsior! —Charlie
Tim Cook is trying to put on a brave face in his powerful, emotional closing statement, but it's pretty clear the Will.i.am smartwatch has him rattled. —Tom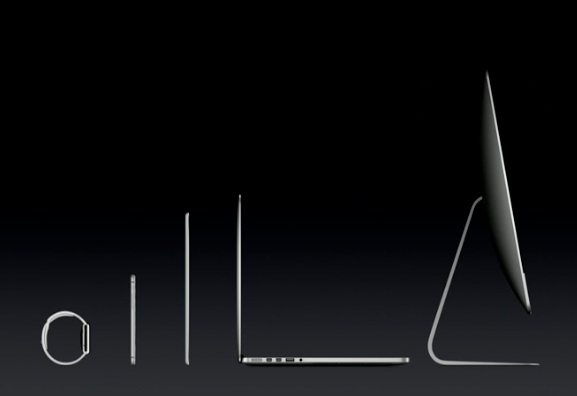 I will buy a chicken sandwich for the first person to tattoo this image on their body. —Joe
Ladies and gents, your new iMac prices: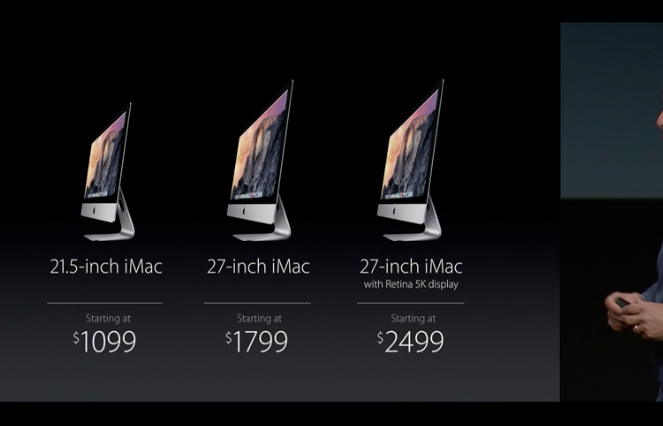 Schiller seems like a nice guy, but he's just stringing together random nouns now: "Terabyte...5K...ITT Tech...I5 Standard...Radeon...Killerdrive." —Joe
The new Apple computers with big screens are very expensive, and they are still not portable. But if you are open to spending a lot of money or you work with things like photos and videos a lot, it is probably a good computer that your boss will pay for. —Matt
BREAKING: "TERAFLOPS" IS A REAL ACTUAL TECHNICAL TERM.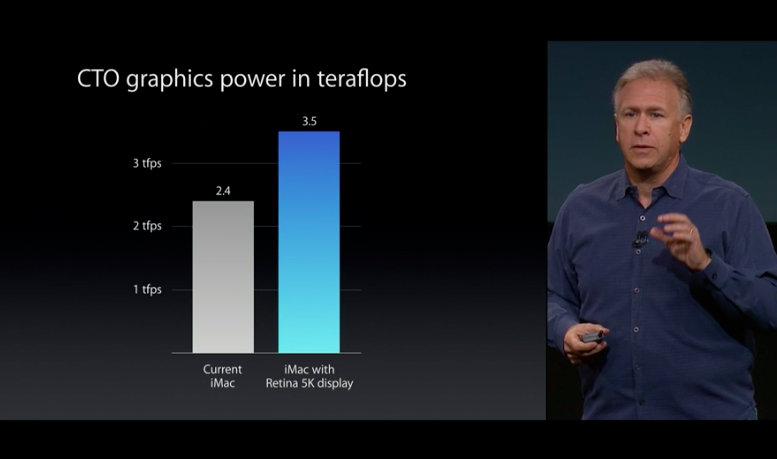 I'M SCREAMING
–Katie
Apple brags that the new high-resolution iMac screen comes with "organic passivation," which I guess is a big relief for everyone out there worried about pesticides. —Tom
Katie, both my parents have gold iPhones and they gave me life so I can't really speak ill of the device. And really, when you think about it, I think it's about what you DO with the phone that really matters. You're making too much of this. Try to keep things in perspective. If gold feels right, then it feels right. Difference of opinion is what makes us human. Have I ever told you I'm glad you're my friend? —Charlie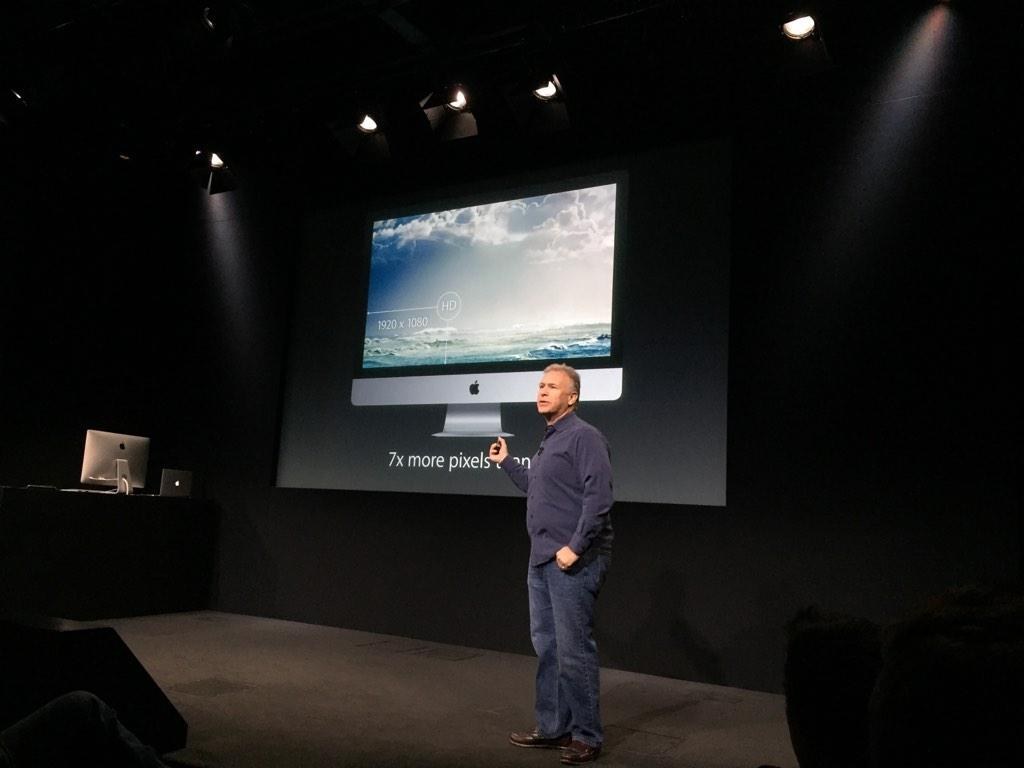 Apple is also going to sell some new large desktop computers, which aren't portable, that have a better display. Apple is calling it a "5K Retina" display, which is actually a small slight to the general screen-making industry that considers "4K" the next good screen. It is higher resolution, so the images appear more clearly and the colors are brighter. Apple does this a lot and it is largely a marketing buzzword that is meant to get people excited about Apple's expensive machines and buy them. —Matt
The iPad Air 2 and iPad Mini 3 come in silver and gold.
I am literally being torn apart by trying to figure out if you're a piece of shit if you buy the gold one.
I think....... it's cool. IDK. Maybe I shouldn't be so judgmental. People should just live their lives and buy whatever color luxury iPad toy they want. Why do I need to weigh in on that? Why do I care? What's the point? Maybe I'm missing something inside that makes me feel like I need to judge others constantly. Maybe sex IS cool in 2014, maybe I'm just being a jerk. Am I a jerk? Am I bad? Help. I'm so hungry. —Katie
There is literally not one thing announced at today's event that I could describe to my mother, who loves her iPad. "There's...new ones?" "Please don't call home anymore unless you have news, Joe." —Joe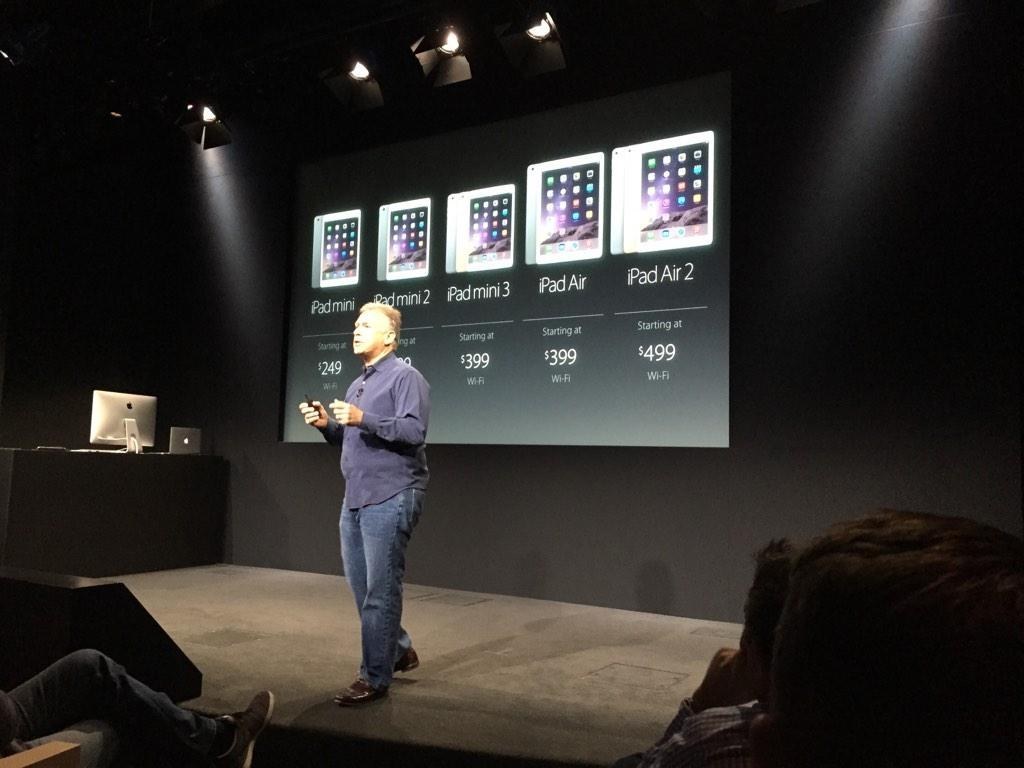 Apple is selling a pretty cheap Apple tablet for $249. It is a very old version of the small iPad, but it is very cheap, and a lot of people like to buy cheap devices. Android devices are usually much cheaper than Apple devices, so Apple making a cheap device means it can compete with Android device makers. —Matt
It's so quiet in here and Apple execs are just rattling off prices. It sounds like a QVC infomercial. Very bizarre. I'm cold and a little afraid. —Charlie
Ladies and gents, your iPad Air 2 prices: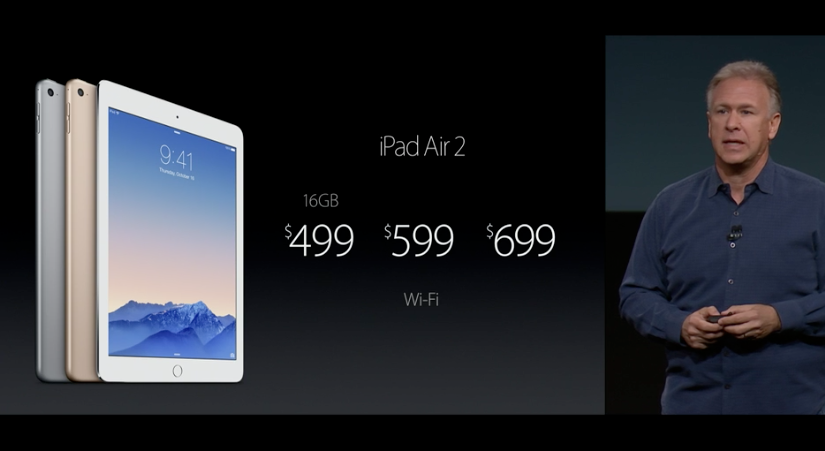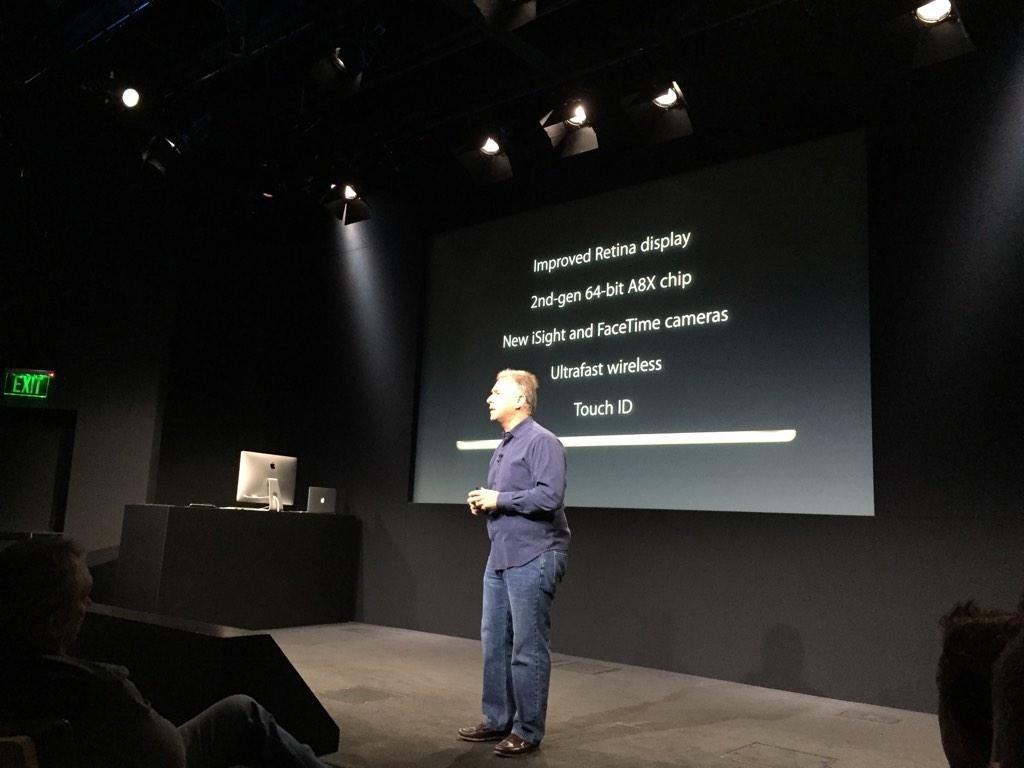 These are the new things in the new iPad. The second one is a bit gibberish, but in human terms, it means your iPad will run apps a little bit faster than your old iPad. Touch ID is Apple's Applese term for the fingerprint scanner. —Matt
Welcome to the one-hour mark, friends. If you've made it this far then there's a good chance you may not be getting enough oxygen to your brain. This is a fever dream. It may be my Waterloo.
BONO, COME TOUCH MY FINGER AND WE CAN RIDE OFF INTO THE SUNSET! —Charlie
I don't like how this presentation is making me feel like a parent who has to feign enthusiasm for her child's science project. —Joe
The people in the demos of Apple products are always living these cool, fulfilling lives. They're always hiking or reading to their kids or meeting friends for sushi or listening to U2 and being like, "Yeah, this is the shit, great tunes, sick-nasty guitar sounds. I enjoy this and it's good." They're jogging and taking photos of themselves on some dumb mountain or playing some sport or being in their nice-looking home. It makes me feel like a subhuman piece of shit who lives in filth, eats garbage, and has been to the gym, like, once in the last three weeks, which probably does explain my frequent constipation, and why I have so many screenshots of, like, dumb crap on my desktop and why I can't ever find any file I save. My life is and empty and shit, just like this live blog (JK this live blog is the only thing keeping me going). —Katie
iPads become magically thin just as Saudi Arabia is hit by an outbreak of witchcraft. Coincidence?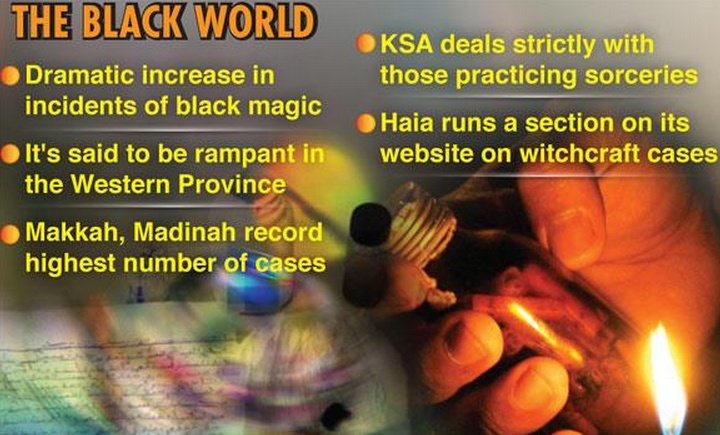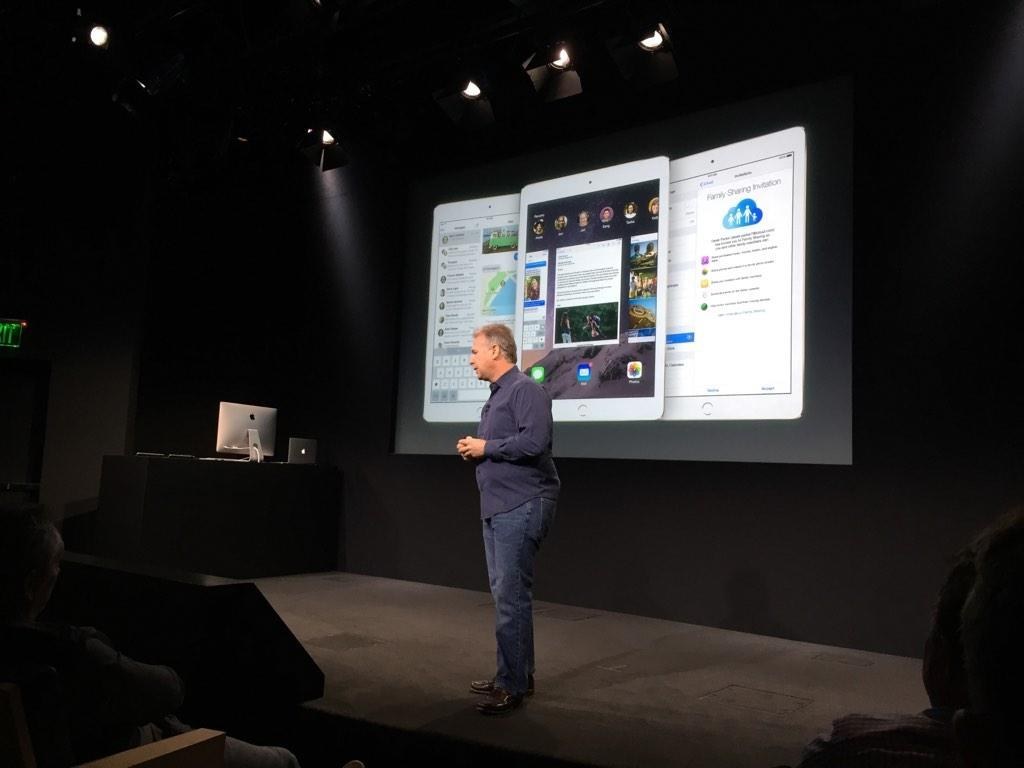 The new iPads will have a fingerprint scanner built in to unlock the tablet and buy things from Apple. The scanner was on last year's iPhone, the iPhone 5S. —Matt
Thing That Grinds My Gears: How DARE Apple encourage users to take more photos with an iPad?! This is reprehensible. Call the Hague. And these sample photos?! OH YEAH DON'T MIND ME I'M JUST HOVERING OVER THE GOLDEN GATE BRIDGE IN MY CHOPPER LET ME JUST GET OUT MY iPAD AND SNAP THIS QUICK SHOT.
For. Shame.
—Charlie
RIP pencils :( —Matt
Just an FYI to other tablets, some people like a little more thickness to hold at night. Every inch of you is perfect. —Tom
THIS IS AN IMAGE TAKEN BY THE NEW iPAD (LOTS OF THOUGHTS TO FOLLOW):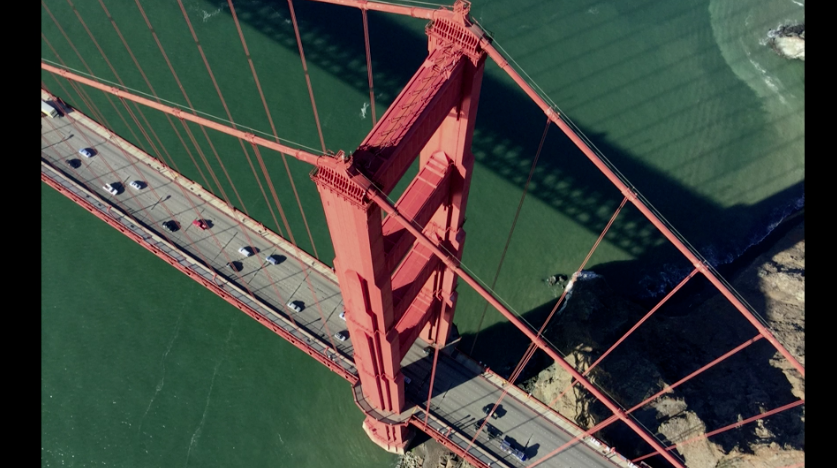 I'm getting a migraine trying to imagine the human who, at 1:46 p.m. on a Thursday afternoon, is bobbing up and down and getting excited about the iPad Air 2's slight graphics performance upgrades. —Charlie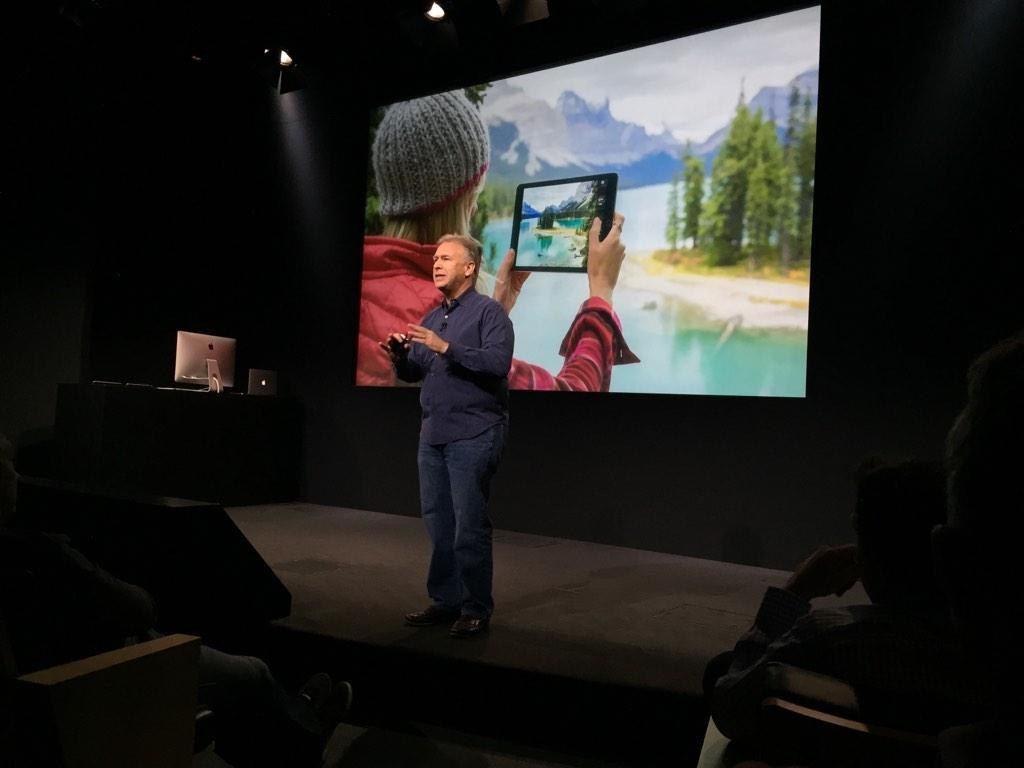 This iPad is also very good for holding up like a very very large camera and taking a photo, like this person in the photo, according to Apple marketing guy Phil Schiller. "It's a huge jump forward for iPad." —Matt
Apple IS LASERING PENCILS LEFT AND RIGHT. LEAVE NO PENCIL UNSCATHED!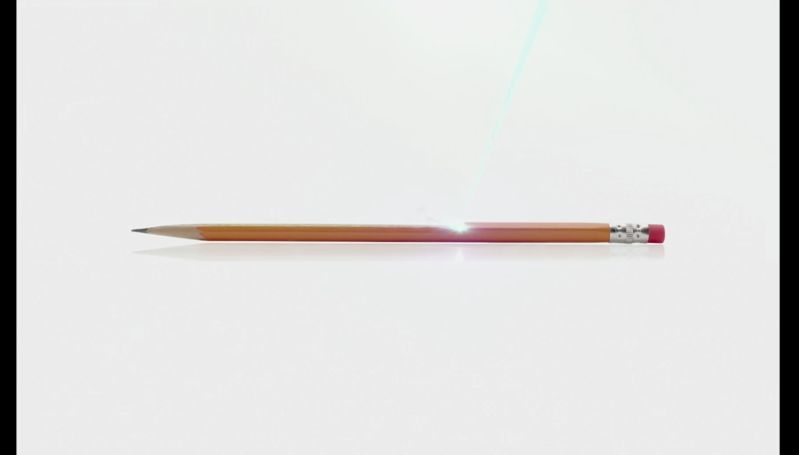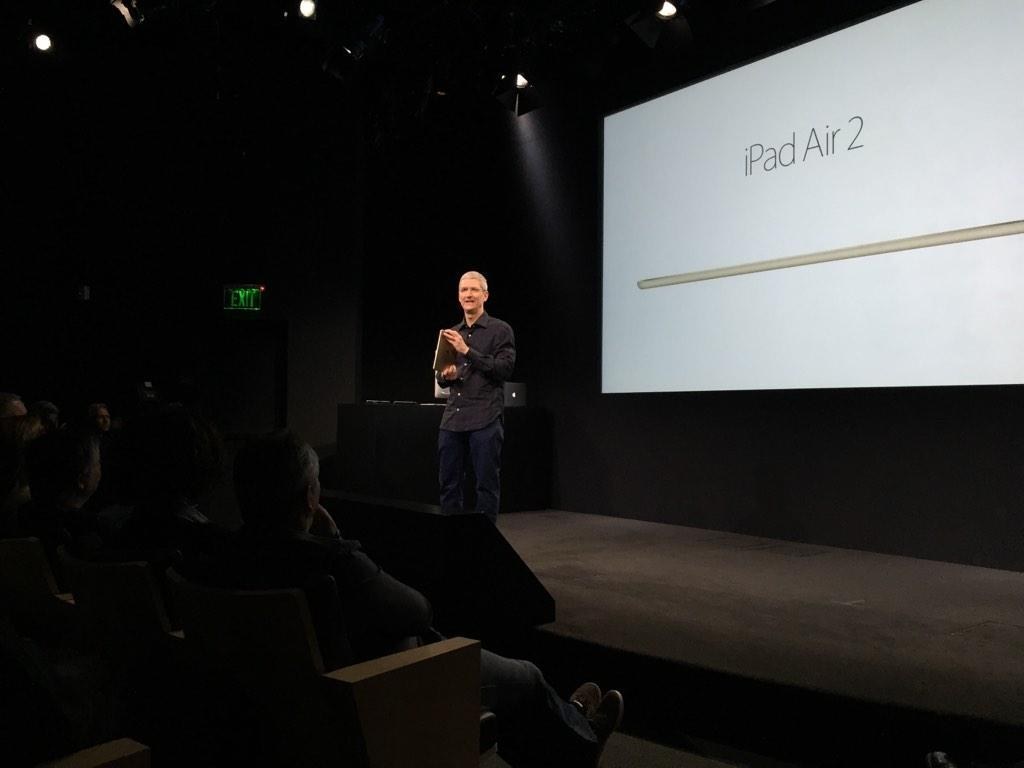 Tim Cook: "It's so thin. Look how thin it is." —Matt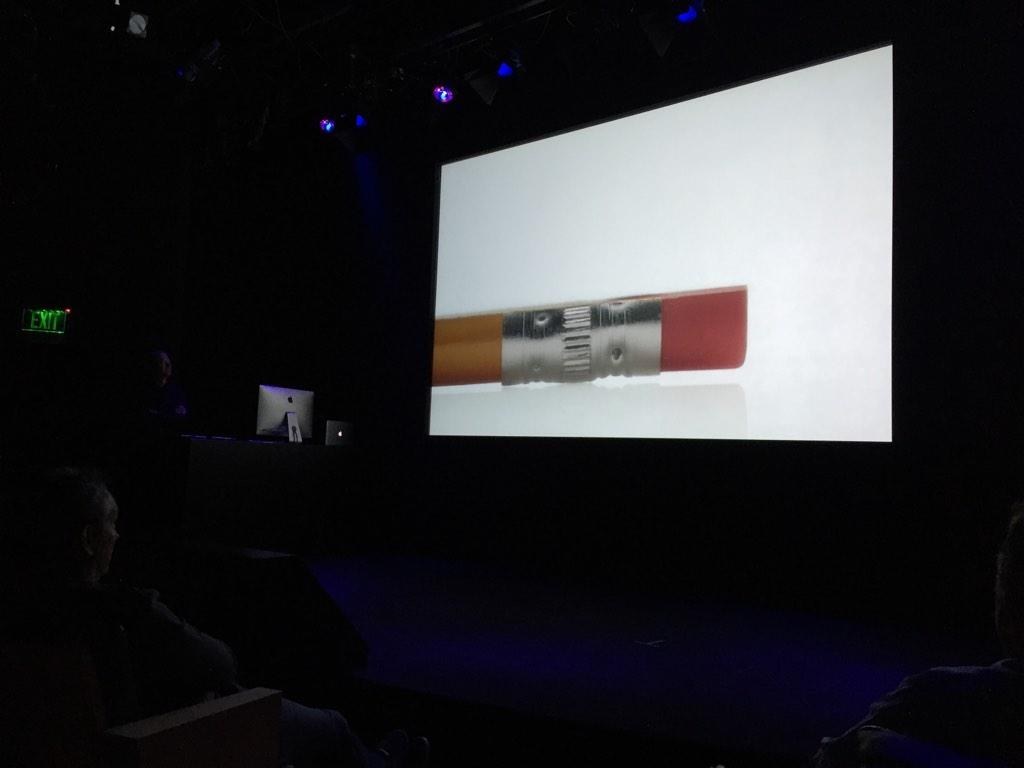 Apple straight-up murdered a pencil just to prove a point that the new iPad is really, really thin. It's called an iPad Air 2. —Matt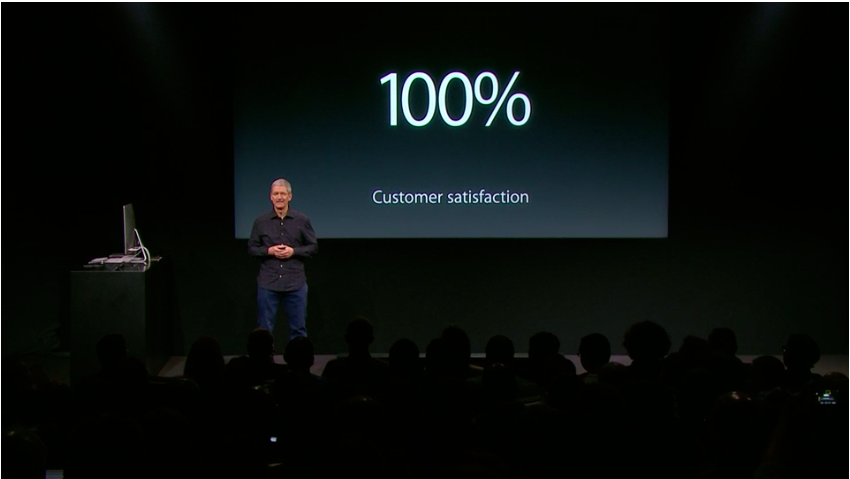 Cook says that the iPad Mini Retina has 100% customer satisfaction. What does that even MEAN? How is that possible? What metric is that?
Also Cook keeps calling customer satisfaction "customer sat." Which is funny. LOL customer sat. —Katie
TOTALLY agree with Joe's point. This sort of folksy, jokey stuff really deflects how important Apple decisions are with regard to security. For example, today the FBI director is going to speak out against Apple's new encryption. Not to say he's right, but this sort of "LOL! We're just a fun tech company" schtick feels wrong. —Charlie
Two hundred and twenty-five million iPads is a lot, but when you consider the Rich Kids of Tehran bought 180 million of them, it's not so many. —Joe
Everyone shut up and look at this Will.i.am smartwatch/nightmare.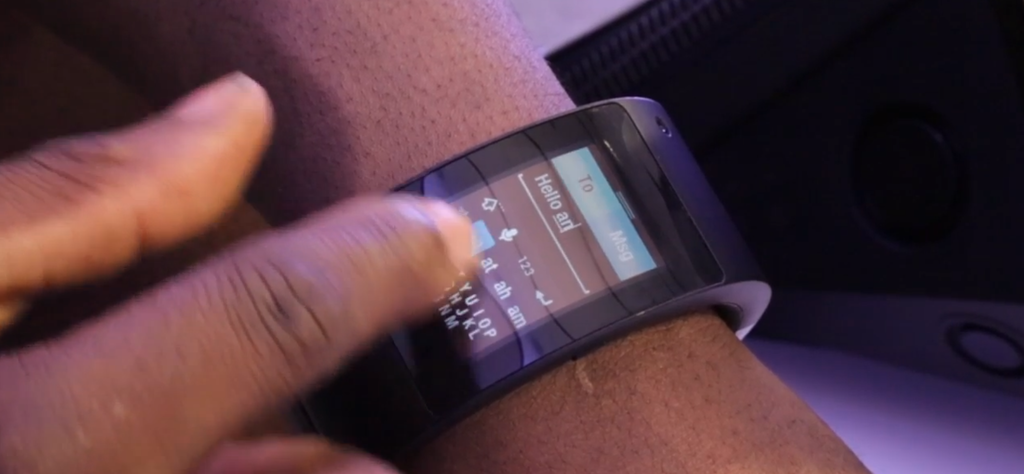 Gara here. I know this disaster is nominally about an Apple event, but let's be real. The biggest tech story of the day is the Will.i.am smartwatch. Now I know what you're thinking — Will.i.am is less of a human and more of an algorithmic aggregation of trending topics and Auto-Tune that manifests itself in human form, but hear me out.
Will.i.am is a man of the people, you see, and he's all about the kids and just being real and authentic, you know? Like an artist but also a technologist? So of course this smartwatch was launched at the Salesforce Dreamforce conference.
Also worth knowing: five hours of battery life, and a QWERTY keyboard, for those times when typing on a keyboard literally the size of your fingertip seems like the thing that needs to happen.
The Wall Street Journal has a whole story on this perfect storm of nightmares bundled into watch form — watch the video just to hear Will.i.am say, in perfect pitchman-entrepreneur voice, "I dreamed big. So we went to AT&T."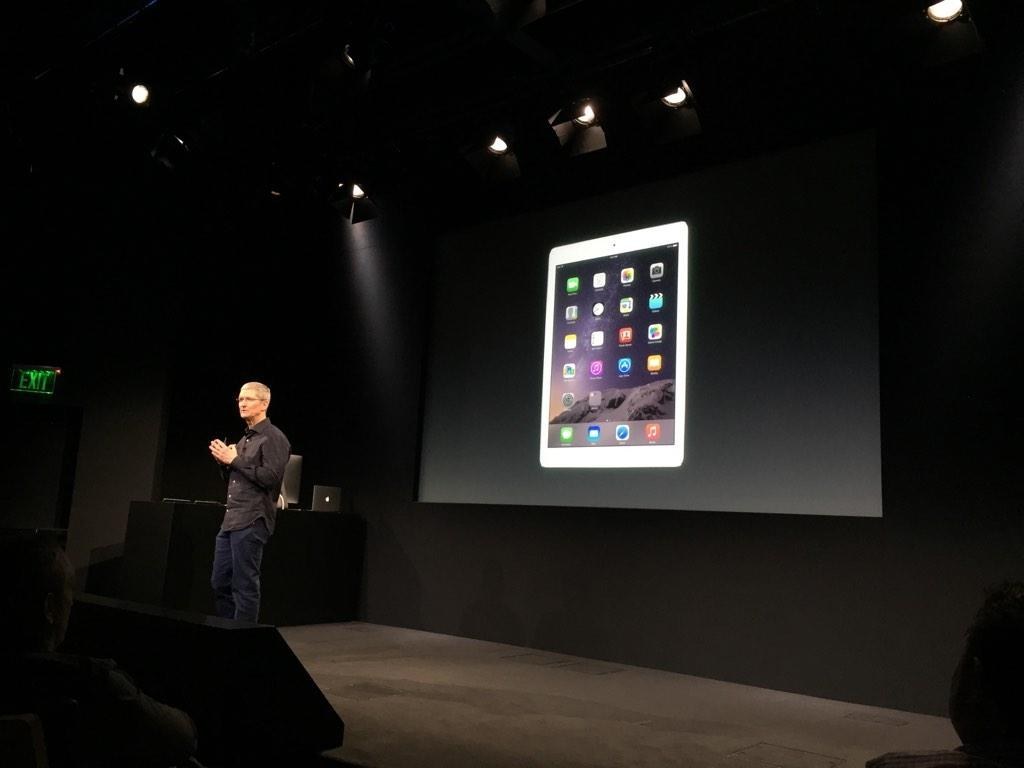 Count it: 36 minutes in and Cook is now getting to iPads. "As we pack more and more power into iPad, our customers and developers have begun to use it in ways we couldn't imagine. Now, as you look around, iPad is everywhere." Apple says it's sold 225 million iPads. —Matt
Apple joking about its new commitment to secrecy seems tone-deaf, at best, given the events of the past two months. What are they thinking? —Joe
APPLE EXECUTIVE IS TALKING TO COLBERT WHERE AM I JUST GET TO THE iPADS I BEG YOU
I'm starting to wonder if Stephen Colbert is one of those celebrities who has some weird gambling debts or lost all his money in a Ponzi scheme like Kevin Bacon did with Bernie Madoff that would explain why it seems like he shills as hard as a Kardashian lately. —Katie
Roping Stephen Colbert into a secrecy-themed corporate presentation module is actually a crippling indictment of American satire. —Joe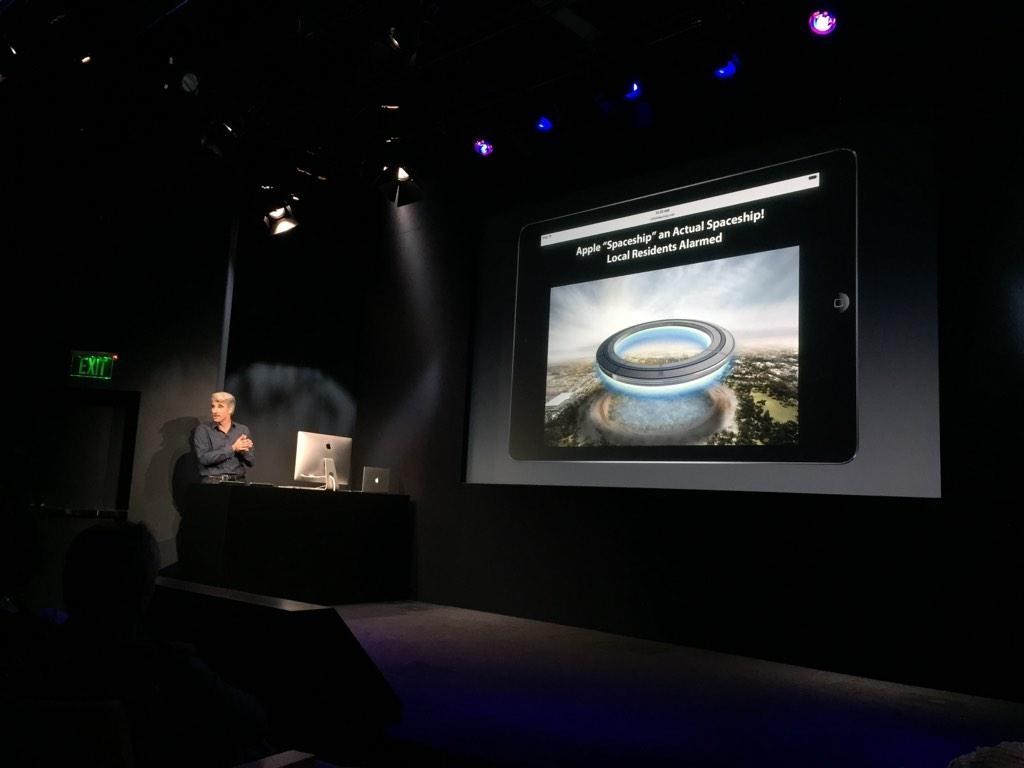 They're doing a comedy bit right now about "secrecy at Apple events" because the images to the new iPad supposedly leaked early.
Here's my only question:
Are DILF jokes still dad jokes?
—Katie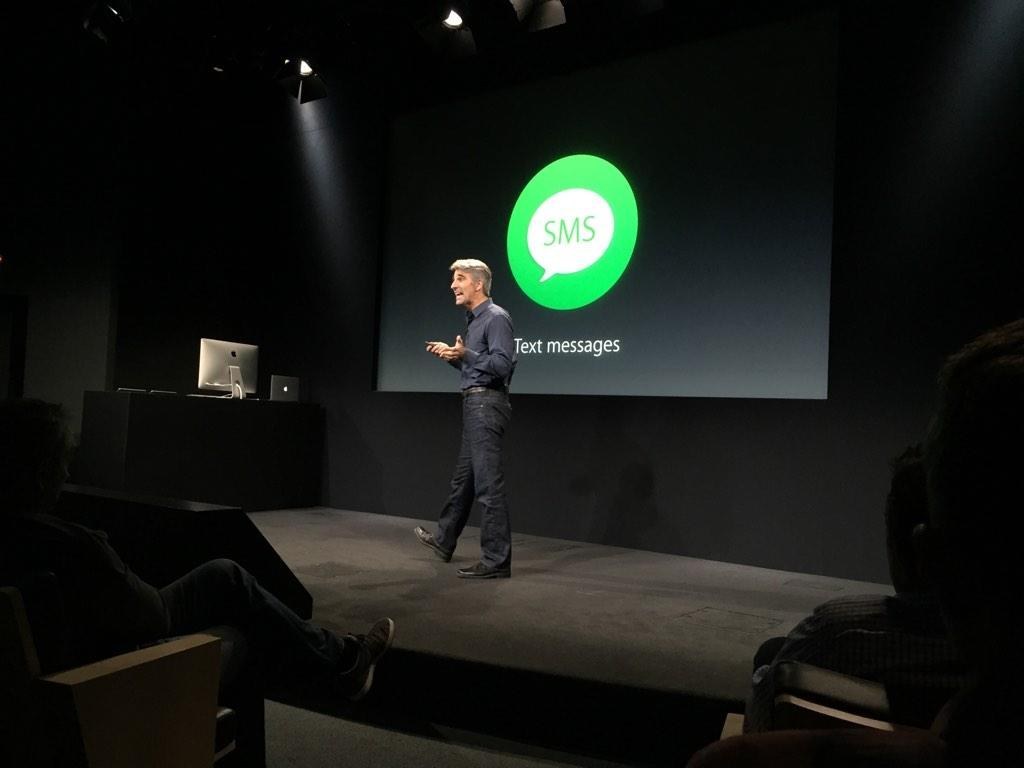 The new Mac software will include lots of things that the add features from your phone to your computer, like responding to text messages. Yes! Text messages. Also phone calls. The future is here. —Matt
I may not survive this event. —Charlie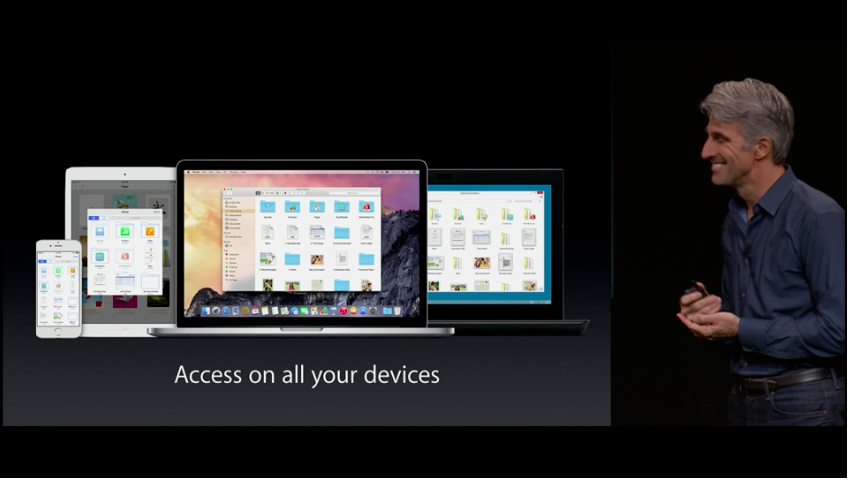 The next update for the iPhone operating system, which theoretically will not be broken, will include Apple Pay — which lets you pay for things with your phone — and a new beta Camera Roll that saves photos to iCloud. (iCloud is Apple's online storage part of the iPhone.) —Matt
Tabs. Tabs. LOL it's really funny when he keeps talking about "tabs." Because, ya know...tabs. —Katie
I would like to run my hands through Craig's gorgeous mane of hair. Is there an app for that? —Joe
Does anyone have the first five seasons of Two and a Half Men on DVD? Because I'd rather watch that than this unnecessary bragging. —Joe
Katie here. I can't really tell you why all of the health/fitness stuff really steams my clams, but I just can't stand it. Like, go for a run, time yourself, don't be a fucking chode about it. The only thing worse than people who are really into fitness are people who want to measure and quantify it. I guess I don't mean if you're a weird professional bodybuilder or whatever, or if you're Michael Phelps, then SURE, measure everything. But if you're just some semi-jacked DILF who lists "hiking" on your online dating profile, then, like, IDK... I'm putting you in the moon cannon (the cannon that blasts people to the moon).
BREAKING: Apple has spent 19 minutes taking a victory lap and rehashing the products it launched last month. If you are just tuning in, you've missed nothing. Up to now has been a huge waste of everyone's time, in my opinion. —Charlie
That's Craig Federighi on stage, by the way. He's known for being Apple's new point guy on the iPhone and Mac operating systems, and also a silver fox status part.
Still no mention of the last update that basically bricked a lot of people's phones, though! Apple rolled out an update, but had to ask users to restore their phones from old backups because it was busted.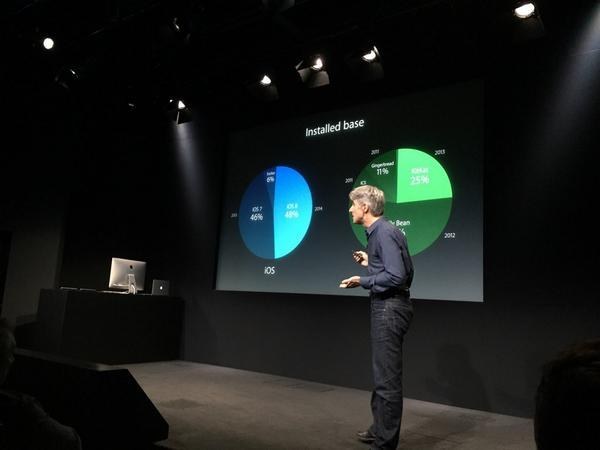 Apple rolled out the new operating system iOS 8 last month, and about half of iPhone users have downloaded it. But there were some problems after the release because the over-the-air update is so large.
Also, Apple's usual quarterly "Android updates slowly" chart, seen on the right.
Watchkit is for developers who are making apps and "experiences" for the iWatch.
The other day I was looking on 4chan and I saw a drawing of Penny from the Inspector Gadget cartoons having sex with the dog from that cartoon. Just reminded me of the whole smartwatch thing. It was really gross FYI.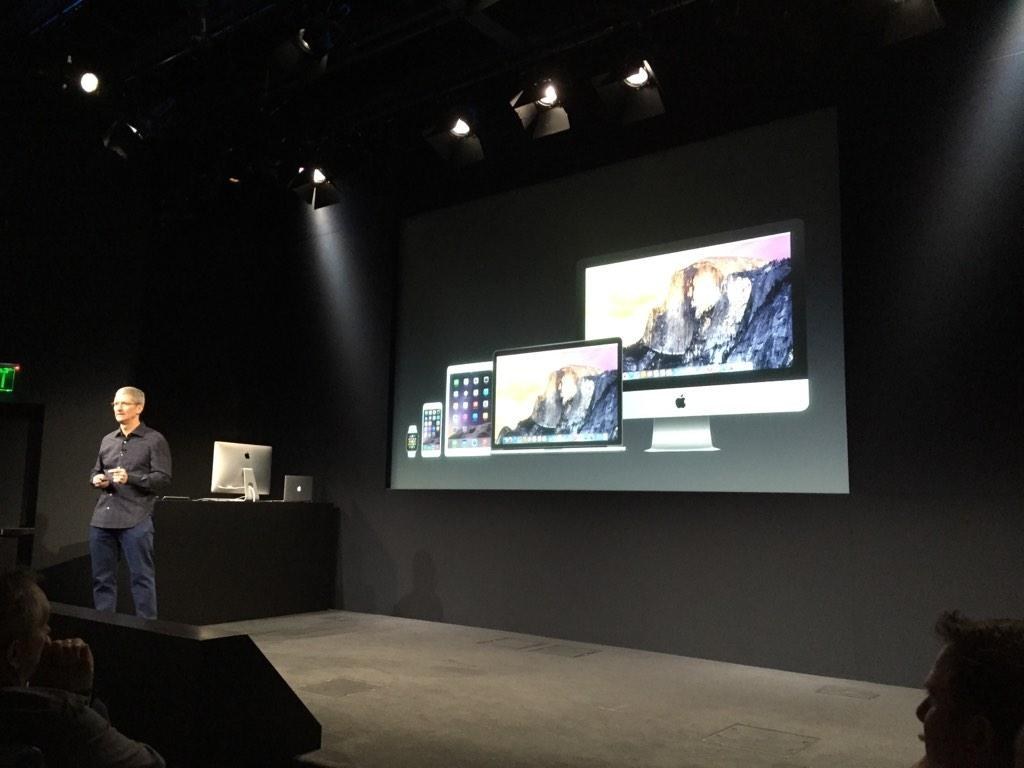 Apple is updating its new operating systems, iOS 8 and Yosemite. Vanity stat time!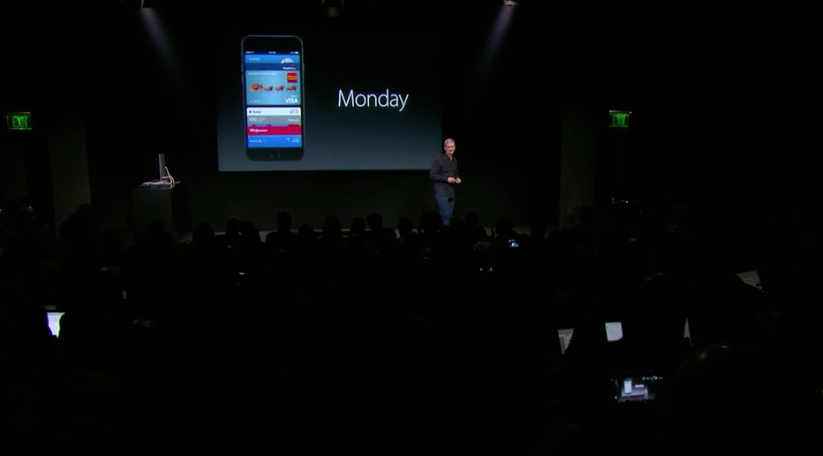 Lots of updates to Apple Pay rolling in. Company has signed up 500 new banks since the iPhone 6 unveiling in September, Cook says.
Cook is giving an update to the Watch now.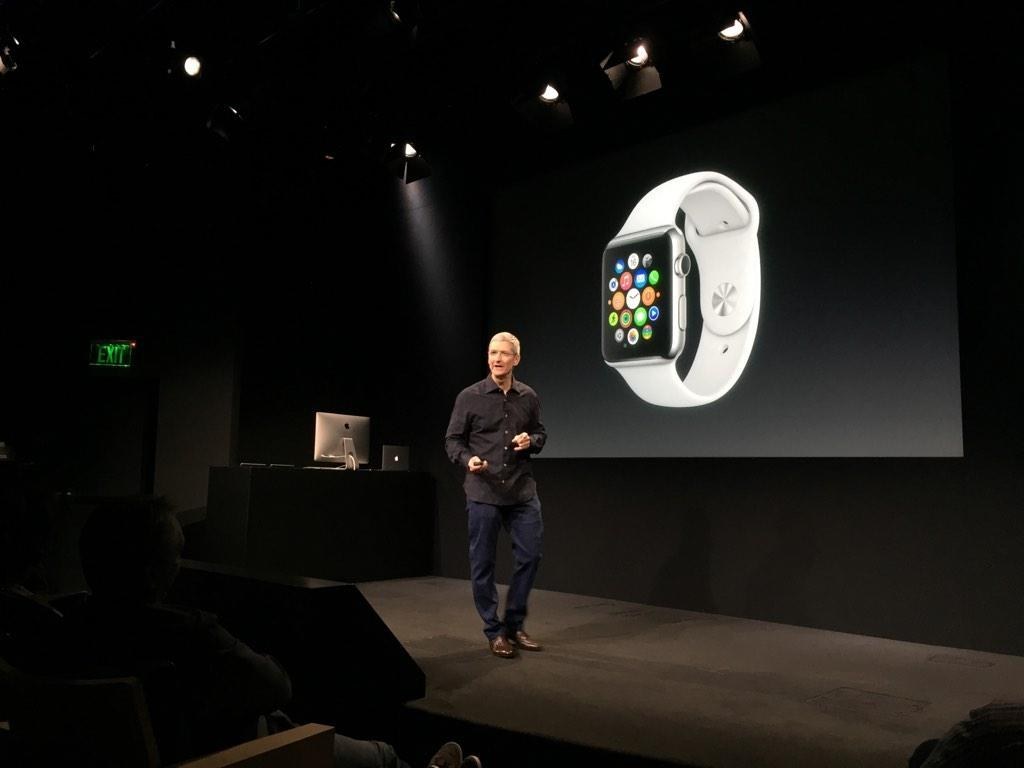 Apple says it is rolling out "WatchKit," a development kit for the Apple Watch. This will let developers build apps for the Watch before it launches. Cook says the Watch will begin shipping "early next year."
Cook is touting how "private" Apple Pay is. Is that like...because people are going to use it to watch p0rn? Lmao ewwww.
This reminds me of an important announcement: Sex is not cool in 2014. That's just something you should know.
Apply Pay starts on Monday.
"I've wanted Beats headphones for a long time but Jimmy won't give me a pair," says Cook, of Jimmy Iovine. RICH GUY HUMOR!
Apple CEO Tim Cook seems to be rambling a bit about iPhones. This has the feel of a B-side. Deep cuts. For the fans.
A number of humans from across the spectrum of races and genders, but probably not economic classes, seem incredibly excited for today's medium-size Apple event.