By most any measure, Discord is a thriving startup. After a $20 million funding round last January led by the august venture capital firm Greylock Partners, the voice-and-text chat app for gamers — lauded as a slick combination of "the best elements of Skype, IRC, and Slack" — has swelled over the past year from 3 million to 25 million users.
Now, thanks to that growing community and ease of use, Discord has found favor with an unintended and inflammatory audience: the alt-right, the online movement of hardcore trolls, white nationalists, and neo-Nazis that has dominated discussion of internet life in the Trump era.
It's a familiar story. From Reddit to Twitter, the internet has produced a series of groundbreaking communication platforms, the very popularity and technological ingenuity of which have led to their adoption by hatemongers, trolls, and harassers. This trend has led the leadership of these services to have to make hard and sometimes ideologically inconsistent choices about free speech, including banning users and entire communities.
Discord didn't start, like Reddit and Twitter, with any grand ideals about freedom of expression; it was built from the ground up as a tool for facilitating chat between cooperative gamers.
"We're very focused on making an amazing communication product for gamers," Discord CEO Jason Citron told BuzzFeed News. "I had a hunch that it would be used outside of gaming, but it wasn't anything we thought specifically about."
But a quick look at popular Discord servers shows that discussions on the service have trickled down from purely gaming into gaming-adjacent interests like anime, marijuana, porn, and rare Pepes. And where there are memes, in 2017, there are trolls, and worse.
In a Discord chat server called "/pol/Nation" — named for the controversial 4chan imageboard — more than 3,000 users participate in a rolling multimedia chat extravaganza of Hitler memes, white nationalist revisionist history, and computer game strategy. And in a voice-over-IP chatroom within the server, users keep up a steady chatter about the same subjects. It's like a cutting-edge, venture-backed version of its namesake; 4chan on steroids.
"There's a huge diversity of opinions," /pol/Nation's publisher, who goes by the handle "theBigKK," told BuzzFeed News over Discord voice chat. "Center-right, alt-right, national socialist."
A separate server called "Thunderdome" hosts the enthusiastic staff and fans of the Daily Stormer, a neo-Nazi website. "Thunderdome" is published by Andrew "Weev" Auernheimer, the white nationalist troll known most recently for printing reams of Nazi propaganda on hundreds of open-IP printers around the country.
Discord differs from other communication platforms in one key way: Its chats are entirely opt-in, meaning the potential for unsolicited public harassment is significantly lower. That's why, Citron told BuzzFeed News, the presence of the alt-right on his platform won't work the same way as on Twitter.

"We've noticed it," Citron told BuzzFeed News. "We read the news. But the way Discord is designed, it's not a public communication tool. Someone can't airdrop out of the sky and bother you."
Still, the private nature of the chats may raise a different issue for Discord. It may not be the place where harassment is carried out, but it may be the place where harassment is planned, or worse. In Thunderdome, Weev posted the code necessary to print Nazi propaganda remotely: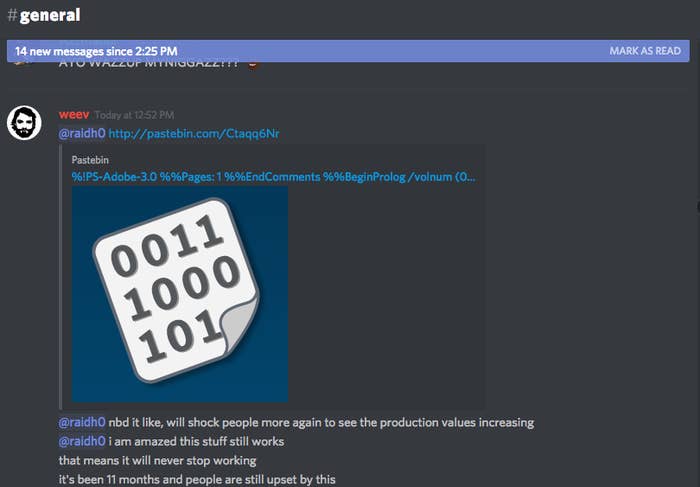 Asked about the potential for such abuses, Citron was philosophical. "Because we have such a large product, I think it's inevitable that you have people who are misbehaving," he said. "If something is important to us and it's against the law, we act against it very quickly."
So, what's important to Discord? In November, TheBigKK contacted Discord customer service over Twitter to ask if /pol/Nation was "in any danger of being removed." The Discord Twitter account responded, "The only thing that we would ever need to get authorities involved in is illegal speech such as acts of terrorism and the sharing of illegal content such as child pornography."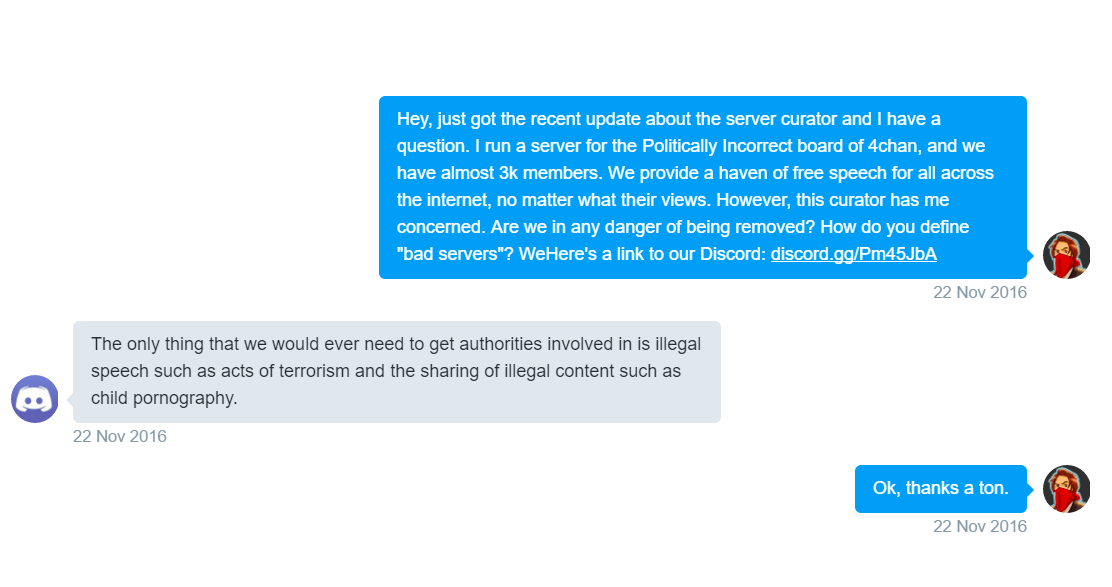 Even if a server or a user met this standard, consistent enforcement against infringing users or communities would be nearly impossible. Anyone can create a Discord server with the click of a button, and it's nearly as easy to transfer administrative roles between users. The server /pol/Nation started on October 22, and by Election Night two weeks later it had grown into a thriving community with more than 1,000 simultaneous users from around the world celebrating Donald Trump's victory. According to TheBigKK, a minimum of 10 users are on /pol/Nation's voice chat at all times.
Indeed, Citron seems resigned to the idea that Discord will be a place where the kinds of users who have made the social internet toxic over the past few years congregate and plan.

"It's inevitable that there will be actors using the product for things that are not completely wholesome," he said.
In other words, as Discord continues to grow, don't expect the alt-right to go anywhere — and don't expect the company to do very much about it.
"It seems natural to me," TheBigKK said, over Discord's crystal-clear voice chat. "It's natural for a place that allows free speech."