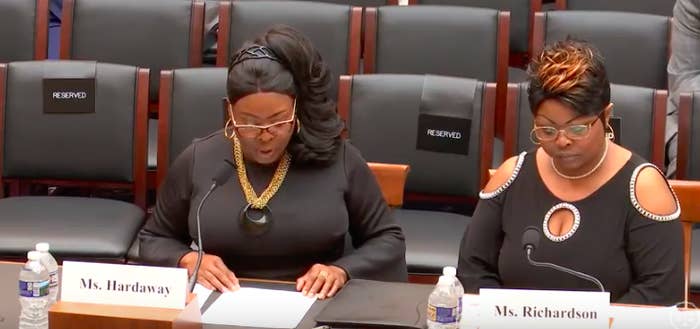 During contentious sworn congressional testimony Thursday, pro-Trump social media celebrities Diamond and Silk repeated disproven claims that they had been singled out for punishment by Facebook for their political beliefs and that they did not receive payments from the Trump campaign.

Diamond and Silk, sisters whose real names are Lynnette Hardaway and Rochelle Richardson, stuck to their story that their Facebook page had been "blocked" for being conservative and that they had no financial relationship with the Trump campaign, even as lawmakers presented them with direct evidence to the contrary.
Reporting and statements from Facebook have both strongly contradicted their claim that their Facebook page had been throttled, and their content demonetized, because of their political beliefs. Earlier this month, Facebook said the demonetization was the result of an updated policy and repeatedly apologized to the sisters for erroneously deeming their content "unsafe."
During tense exchanges with Reps. Hakeem Jeffries of New York and Sheila Jackson Lee of Texas, the women also denied having ever been paid by the Trump campaign. When presented with an official FEC document showing that they had received $1,275, the women said the payment had been a refund for airline tickets they had bought as part of a pro-Trump tour in 2016.
At one point, Jeffries reminded the sisters that they were under oath under penalty of perjury.
The House Judiciary Committee hearing, on the filtering practices of social media platforms, came after numerous questions about Facebook censoring Diamond and Silk from Republican members of Congress earlier this month when Facebook CEO Mark Zuckerberg appeared before both houses.
The duo, known for their flamboyant act on YouTube, did not tone it down for the occasion.