All 171 Goals From The 2014 World Cup In One Beautiful Graphic
GOOOOOOOOOOOOOOOOOOOOOOOOOOOOOOOAL(s)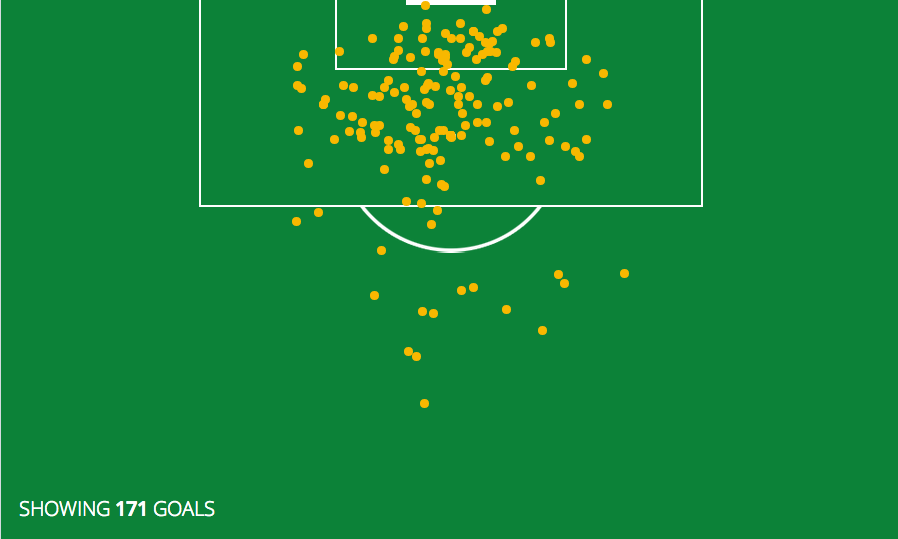 Last night, Germany's Mario Gotze scored a gorgeous one-touch volley to push Die Nationalmannschaft past Argentina 1-0, for their fourth World Cup win.
Gotze's goal was the 171st of the month-long tournament, which ties France '98 for the most scores in a World Cup. Some of them were unbelievable, like Robin Van Persie's opening-match full-sprint dive-bomb against Spain and James Rodriguez's outrageous top of the box missile against Uruguay. Far more were workmanlike.
Now, thanks to the work of a Swedish chemical engineering student, Emil Johansson, we can see where all 171 goals were scored. Hovering over each point yields the name of the scorer, the minute of the score, the direction of the shot, and the match score at the time. You can also sort the visualization by country, by player, and by match. Johansson's website features some other great soccer-related interactives, including data plots of team heights, weights, and manager experience and salary.
So the best tournament in sports may be over, but you don't have to forget about it quite yet.