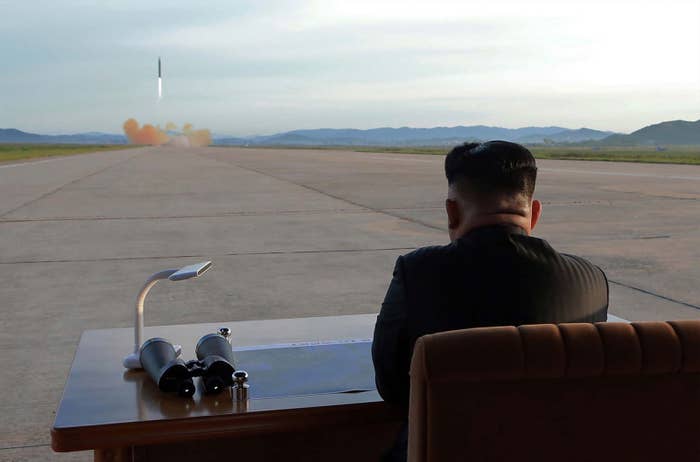 Hot-headed exchanges between Kim Jong Un and Donald Trump endanger the world. UN sanctions only increase Pyongyang's resolve, and demands that Kim eliminate nuclear weapons and negotiate are met defiantly.
We are demanding what we want — but not the way to get there. We need to remember that the ultimate goal is long-term reconciliation between North Korea, South Korea, and the US. Bold changes can and do happen in international relations: America's enemies in World War II are now our allies.
For now, North Korean Foreign Minister Ri Yong Ho asserts that President Trump has declared war and Pyongyang will respond militarily to future US displays of force. A nuclear exchange could kill millions. What's needed beyond international condemnation are direct talks.
Though there is no front door — we have no embassy or foreign office in Pyongyang — there is a back route of contact used in the past, the so-called "New York channel" at North Korea's mission to the UN. Before the latest round of insults began, North Korea was contacting Americans with connections to the Trump administration in an attempt to understand the relationship between the president and his cabinet. We can now urge Kim to negotiate through the New York channel.
The way to get North Korea to the table is, first, to underscore Kim's awareness that he will die if war breaks out. Secretary of Defense James Mattis avers that the United States can destroy North Korea while securing the safety of South Korea. Whether that is true is less important than the assertion.
Second, we should appeal to Kim's vanity.
"Is Pyongyang Beijing's puppet?" we should ask. "Does Kim have the strength and maturity to ignore vain insults and enter talks?" Along with his endangered position, those questions can goad him to show up, demonstrating his adult independence. If the New York Channel fails, the question can be raised in news media, publicly embarrassing Kim.
German Chancellor Angela Merkel suggests that negotiations be multilateral, like the talks that led to the nuclear agreement with Iran. But direct bilateral meetings between the US and North Korea have a better chance of securing our national interests.
Kim has gained vast attention. The terror he generates suggests to him that he functions on the same level as the US and China. He wants to be recognized as a nuclear power and may see negotiations as a way to bolster that image. The chance that he will meet in good faith is zero, of course. But this should not deter the powerful US from engaging this wildly threatening regime.
Beyond the fantasy of defeating the US and uniting Korea, Kim's nuclear activity is grounded in survival. He knows what happened to Muammar Gaddafi and Saddam Hussein when they could no longer use weapons of mass destruction as insurance policies. If negotiations fail, impoverished Pyongyang will industrialize ballistic missiles and sell them to other dangerous regimes.
Claims by some Americans that negotiation with North Korea is appeasement are misguided. Dialogue will avert war and discourage proliferation of nuclear weapons.
North Korea and the United States will enter negotiations with their strongest demands. Kim wants to expand his nuclear arsenal and force the US to abandon South Korea. The US wants Kim to cease nuclear research and belligerency. The positions having been stated; they must give way to compromises. We will not get our desired result by unrelentingly demanding that Kim abandon nuclear weapons — we must break the impasse. Kim wants grandeur but hidden under his bold posture he fears giving up nuclear deterrence. Our first set of discussions will therefore not result in our final goal.
That realization has a positive history. In 1953, recognizing that the US could not win the Korean War, President Dwight D. Eisenhower negotiated an armistice that stopped the killing, leaving the technical state of conflict unchanged. In 1986, President Ronald Reagan and Soviet Premier Mikhail Gorbachev met for talks that led to the reduction of nuclear stockpiles. President Clinton oversaw Israeli Prime Minister Yitzhak Rabin shaking hands with PLO Chairman Yasser Arafat. But assemblies of informed people also gather their wrong opinions, as Benjamin Franklin said. Kim will refuse to disarm. Our negotiators must make him see that we are not after regime change, and that trade with Japan and South Korea will be more profitable than selling WMDs. Certainly it's better than a mutually destructive war — and it will make him look good.
North Korea need not remain an enemy. Down the line, when Kim finds the US trustworthy, he may give up his nuclear weapons. And when that happens, sanctions can be eliminated and a 70-year-old war can finally come to an end.
Jonathan Wachtel served as Director of Communications and Spokesperson for the US Mission to the United Nations. As a journalist he covered global conflicts for ABC, Fox and Worldwide Television News.
Albert Wachtel is a professor at the Claremont Colleges. He has written for many national journals and newspapers, including syndicated columns, and is the author of four books.

Outside Your Bubble is a BuzzFeed News effort to bring you a diversity of thought and opinion from around the internet. If you don't see your viewpoint represented, contact the curator at bubble@buzzfeed.com. Click here for more on Outside Your Bubble.