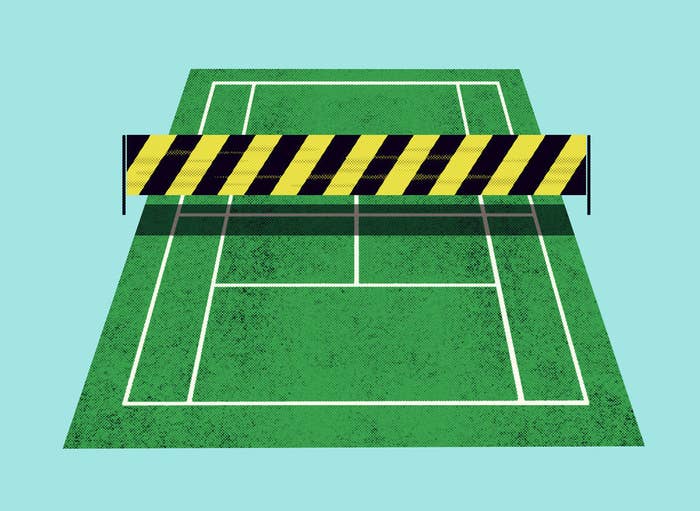 World tennis authorities say they received warnings about suspicious activity related to 48 matches in the first quarter of 2016, an increase of more than 50% over the number of warnings during the same period last year. The matches in question include one at a Grand Slam tournament and one on the Women's Tennis Association Tour.
The information was revealed in a first-of-its-kind report from the Tennis Integrity Unit, the body charged with investigating corrupt betting. Following an investigation by BuzzFeed News and the BBC into match-fixing in January, the unit has faced criticism — and an inquiry by the British Parliament — over its lack of transparency.
In its report Friday, the TIU emphasized that the warnings are not necessarily evidence of match-fixing. "Every alert received by the TIU is assessed and followed up as an indicator that something inappropriate may have happened. It is important to appreciate that an alert on its own is not evidence of match-fixing." The TIU did not specify what the suspicious activity was, and did not name the matches in question. (January's Australian Open, however, was the only Grand Slam tournament held in the first three months of 2016.)
The integrity unit receives alerts through "Memorandums of Understanding" with members of the betting industry worldwide. The watchdog group ESSA, formerly the European Sports Security Agency, said in its latest quarterly report that it had issued nine suspicious alerts to the Tennis Integrity Unit during the first three months of 2016.
In total, the TIU says it received alerts on 246 matches last year, a fact it previously revealed during a special hearing in front of Parliament's Culture, Media and Sport Committee.
In late January the tennis authorities also announced an independent review, which was to be led by Adam Lewis, an expert in sports law. In the new quarterly report the TIU said that Lewis will be aided by Beth Wilkinson, a former assistant U.S. attorney in New York, and Marc Henzelin, a partner at the Geneva-based law firm LALIVE.
Aside from the Grand Slam and WTA match, this year's alerts also flagged suspicious activity related to 12 ATP Men's Challenger matches, 24 ITF Men's Futures matches, and 10 ITF Women's matches.