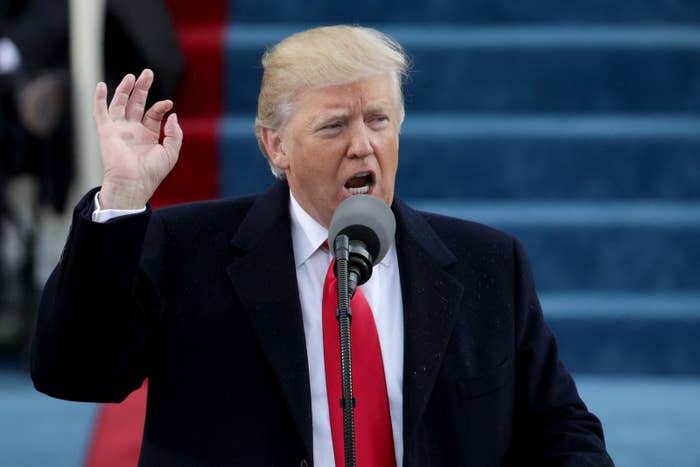 Six days after Donald Trump's inauguration, a blogger calling himself Kumar published an explosive claim: Parts of the president's inaugural address were lifted from a "content creation tool" called Articoolo, which uses bots to generate blocks of text.
The president's speech:
"Mothers and children trapped in poverty in our inner cities, rusted out factories scattered like tombstones across the landscape of our nation, an education system flush with cash, but which leaves our young and beautiful students deprived of all knowledge."
The bot text that Kumar quoted:
"families trapped in poverty in our inner cities, rusted out factories scattered like tombstones across the landscape of our nation, an education system which leaves our young and beautiful students deprived of all knowledge."
Articoolo, an Israeli startup that has already accumulated some good press, tweeted the blogger's analysis. (After BuzzFeed News contacted the company for this article, the tweet was removed.) The CEO shared the the story on his Facebook page. Kumar reached out to BuzzFeed News with XML files to show that passages from two other Trump speeches were also first generated by Articoolo's software.
The claim was extraordinary, and the evidence seemed striking. But none of it appears to be true.
BuzzFeed News found no evidence that Trump's words originated in any articles produced by Articoolo. As for the blogger, Kumar Khan, he appears to be not a real person but rather the creation of the CEO himself, hiding behind a fake screen name.
Separate emails sent to Kumar, who claimed to be in East Asia, and Doron Tal, the CEO, who claimed to be at home in Israel, were opened on the same single device, according to a widely used internet tracking service. And a private email to BuzzFeed News supposedly sent by Kumar used language — "I thought I've already seen it all, and then this happened" — almost identical to what Articoolo used in its public tweet.
Asked about these coincidences, Tal denied that his company was behind the original claims.
"It looks like you are trying to tell me that I was trying to hoax you or something like that," Tal said. "I don't know how to even reply to your awkward question. I am not the one behind it, and our only mistake was tweeting about it." He offered no plausible explanation of how the emails to him and to Khan would have been opened on the same device.
Responding to the same questions, the Kumar Khan email address sent a message saying:
"Ok, you got me. The XML files were half fake (oh my god, send the police!), I didn't really succeed to grab source files out of articles web pages … I was trying too hard to convince that my story was real and it got me to slightly cheat. It's not nice, I know and feel sorry for doing that, but Trump is doing it all the time (-:"
Articoolo is a young company based in Tel Aviv and founded by Tal, a lawyer with a 15-year track record in the tech industry, as well as Nir Haloani, a mathematician, and Lilia Demidov, a researcher and software developer. Neither returned messages from BuzzFeed News.

Articoolo markets itself to websites looking for text that has been optimized for search engines, in order to attract more visitors. The company says its software can write a short article about any subject, and that no two articles are ever the same. A user searches for a topic like illegal immigration, for instance, or the best wines. The site then uses an algorithm to find material already out there on the web and transforms it just enough to qualify as a new thing. "We provide at least a coherent starting point," Tal told Vice in August, "after doing all the research, aggregation, combining and rephrasing."
The company is backed by Plus Ventures, an Israeli investment firm that says it focuses on "fast growth technology and media ventures," including more than two dozen other tech startups. Plus Ventures did not respond to requests for comment.
Emails claiming to be from Khan introduced him as an SEO expert who had been curious to see if Articoolo's claims held up. So he found a back door into the website, he claimed, and retrieved nearly 10,000 past articles, then ran them through a plagiarism checker and found three matches with Trump speeches.
"I was sitting with my laptop in front of the TV while Trump was speaking and browsed the articles I curated when Bammm! it strike me," one of the emails said.
His refusal to speak to a reporter by Skype — only by email — was an early clue that things might not be as they seemed. His email signature claims he works at a company in Bangalore, India, called Infodiac. But the person who answered at the number Khan provided said there was no one there by that name. An official from the office park where Infodiac is supposedly located said it had no record of the company.
Khan's original blog post featured an Articoolo article that appeared to include lines that also appeared in the inaugural speech, as well as a couple of paragraphs that did not. Web searches revealed what appears to be the source for those other paragraphs: an article called "Will America Collapse?" that originally appeared on the website political-economy.com. Those passages were slightly altered for the Articoolo text. (In the original: "Look at your grocery store, people are obese and falling apart." In the Articoolo version: "Take a look your grocery, individuals are obese and falling apart.")
But the language in Trump's speech did not originate in the politcal-economy.com article or in any other identifiable source. Articoolo declined to provide any proof that any similar language ever appeared on the company's website. BuzzFeed News fed the lines from the inaugural address through six different plagiarism websites and found no evidence that it was anything other than original.
Told of the allegations, the Trump administration issued a short response: "The White House is not even familiar with the app."
Pranav Dixit in New Delhi and Adrian Carrasquillo in Washington, DC, contributed to this story.