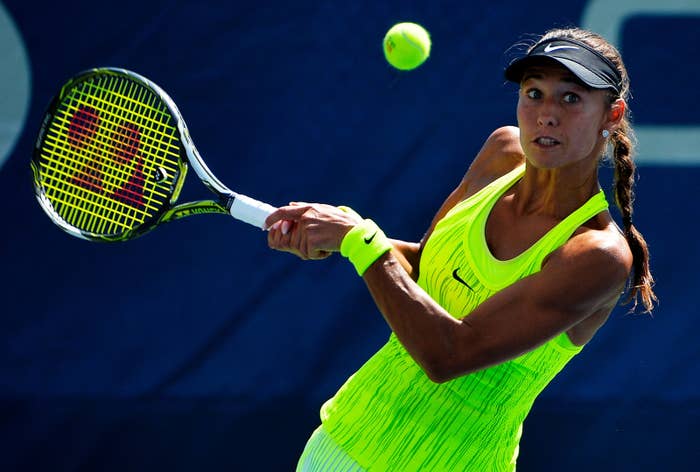 World tennis authorities have opened an investigation into a first-round women's tennis match at the US Open that attracted unusually heavy betting in suspicious patterns, BuzzFeed News has learned.
The match, which took place last Tuesday, was between Vitalia Diatchenko, a Russian player who is ranked 677th in the world, and Timea Bacsinszky, a Swiss player who is ranked 15th. Diatchenko's loss — 1–6, 1–6 — was not a surprise. But FederBet, an organization that monitors suspicious gambling movement, detected an "enormous quantity" of betting, more than 10 times the amount the match was expected to generate. The betting centered on three possible outcomes based on final score and the number of games. All of those bets were winners.
Betting data is not proof of match-fixing, but in tennis, large bets on specific outcomes can be a hallmark of corruption. Referring to the betting pattern, Francesco Baranca, FederBet's secretary general, said, "This match looked really, really, really strange."
Neither player responded to BuzzFeed's requests for comment on email or social media. Diatchenko told the New York Times she had no knowledge of any attempt to fix her match: "I don't know what to say, really. I play my tennis." (Bacsinszky did not comment on the matter.)
Responding to an inquiry about FederBet's findings, the Tennis Integrity Unit — the international body charged with investigating corruption in the sport — confirmed that it was investigating the match in question. "As with all cases," Mark Harrison, the group's spokesperson, wrote in an email, "the TIU will assess, make a judgement and take appropriate action." He declined to offer specifics, but cautioned that betting alerts, such as that from FederBet, are not conclusive.
Earlier this year, a BuzzFeed News investigation revealed evidence of widespread match-fixing in professional tennis. Since that time, world tennis authorities have convened an independent investigation into the sport's anti-corruption practices.
During the match in question, Diatchenko was visited on court by a doctor. The player injured her ankle at the 2015 US Open and had only played in three tournaments prior to this year's US Open, including reaching the semifinals in doubles of a Futures tournament in Moscow in June. She received a spot in this year's US Open draw through a "protected ranking," which allows injured players to use their pre-injury ranking to enter certain tournaments.
The Tennis Integrity Unit has reported that it was alerted to 121 suspicious matches during the first half of this year. The Diatchenko-Bacsinszky match is the only one from this year's US Open that is currently being investigated.
This is not the first Grand Slam match to attract suspicious betting this year. A mixed-doubles match at the Australian Open also garnered a large degree of scrutiny due to line movements that were out of the ordinary. The Tennis Integrity Unit found "no evidence of corrupt activity" after its investigation of that match.