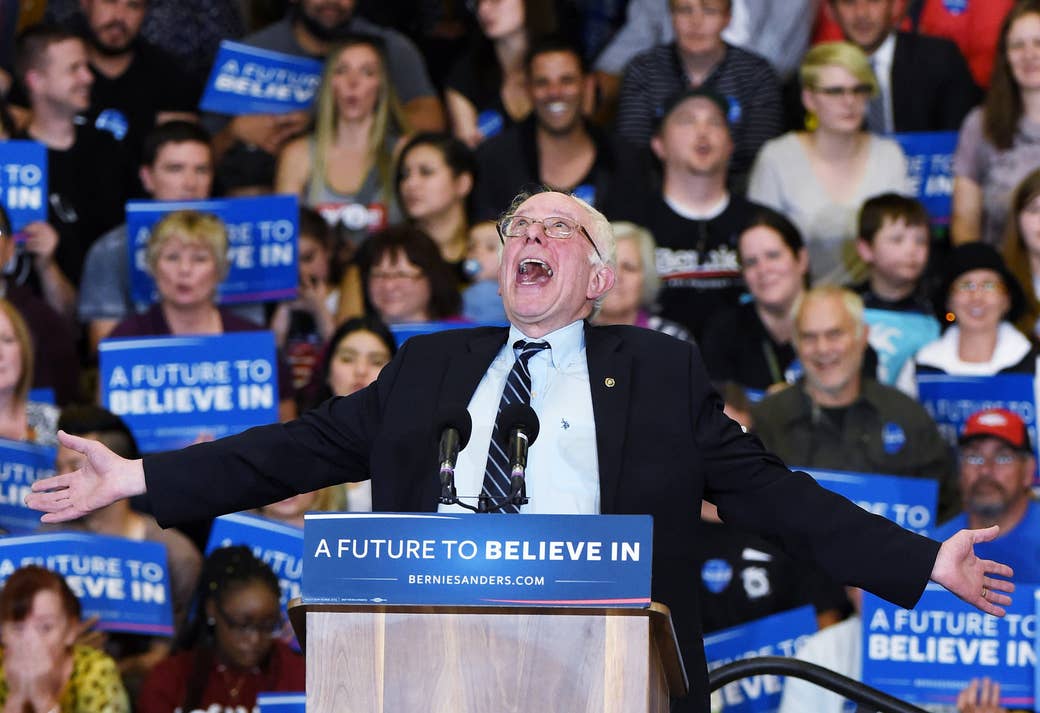 Bernie Sanders is raising staggering amounts of money through the ActBlue fundraising site. Much of it comes from small donors.


How much did he raise through February?


$112,718,405.
When the 2016 election began, the idea was that big money from big donors would dominate the election. Instead, many candidates with robust super PACs have failed; Donald Trump has loaned himself money; and Bernie's raised more than $112 million (accounting for 82% of contributions to his campaign) through ActBlue, an online donation service for Democrats, specializing in small donors.

There is no precedent for Sanders' online fundraising. It's almost like a soda fountain — he presses the lever, and money comes flowing out. It may be the new standard for Democratic fundraising, or it may be a once-in-lifetime thing, that only a candidate who so thoroughly positions his candidacy against big money in politics.
But how does it work, exactly? We analyzed the data for all the donations made through ActBlue between April 30, 2015 and February 29, 2016, using Federal Election Commission data processed by ProPublica's FEC Itemizer.
The first thing we learned: The money bombs work. Sanders doesn't raise money in steady streams.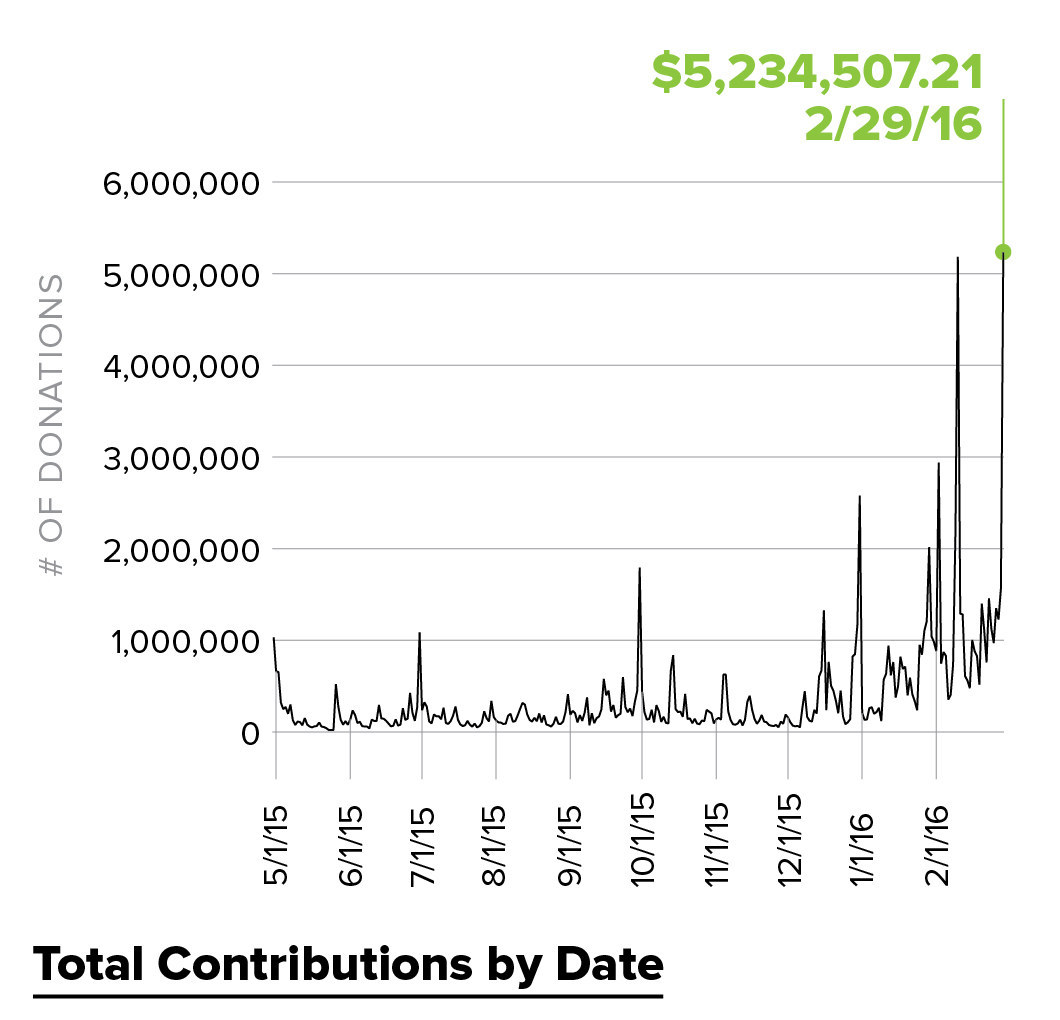 The spikes in the chart above illustrate a "money bomb" — a huge Sanders fundraising push with a fixed deadline — going off. The big spike in early January came from a Sanders New Year's fundraising drive. The huge spike in the middle of February came after Sanders raised $5.2 million in the 24 hours after he won the New Hampshire primary.
The second: There are a lot of people who really love to donate to Bernie Sanders again and again.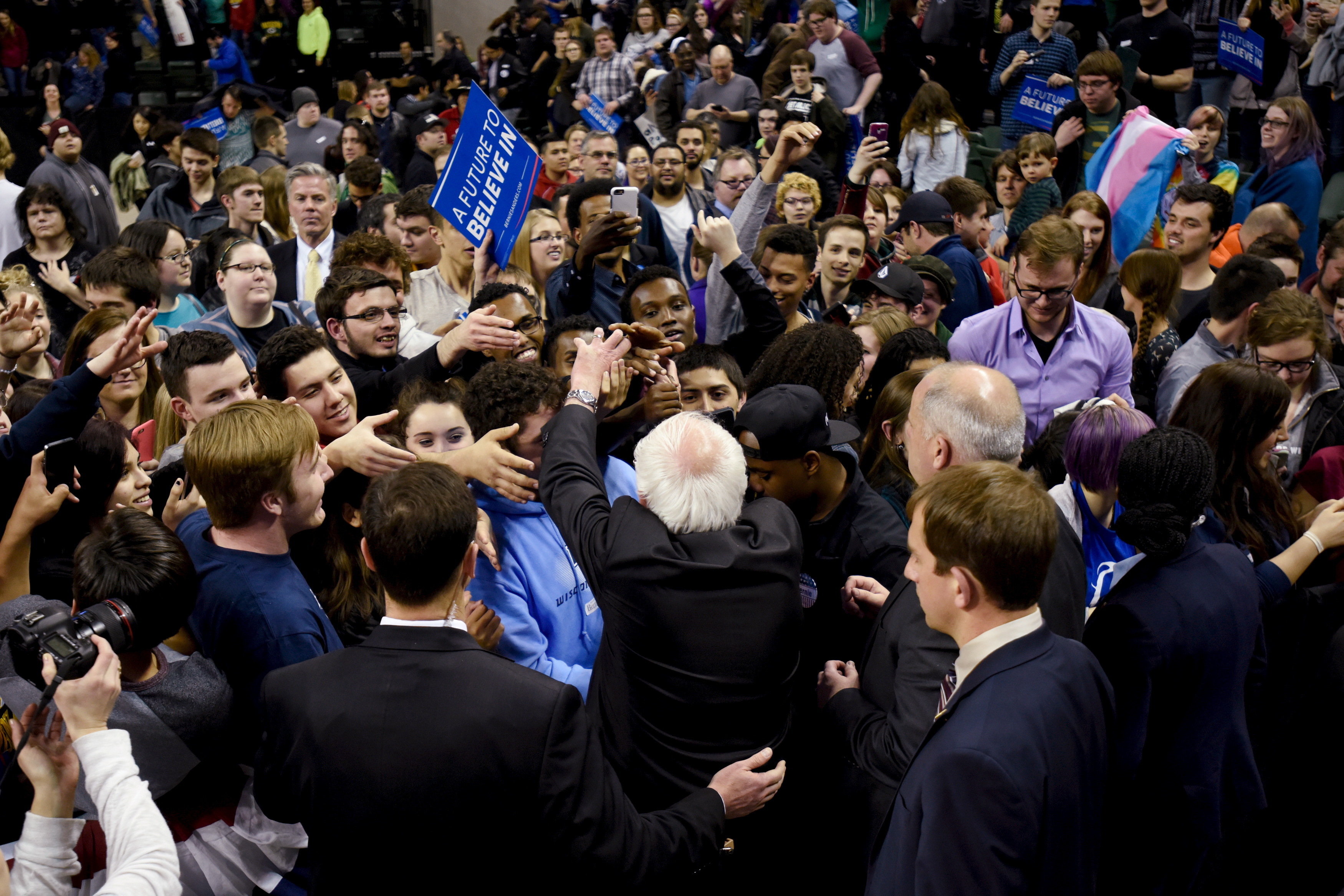 At least 29 Bernie donors have given at least 100 times through ActBlue, according to the data. They span the spectrum of Sanders' base, from professionals to students. Among the 29 are a college student, an art historian, a lawyer, a pharmacist and a federal employee. Six of the 29 are from California. Five are from Texas.
The 29 super donors are different from most Sanders givers — 53% of Sanders' donors on ActBlue give just once (at an average donation of $33.) The vast majority of Sanders' donors, 92%, donate less than $200.
The average overall of ActBlue donations is juuuust shy of the "twenty-seven dollars" Sanders talks about all the time. The real average is $26.87. (Presumably Sanders is talking about his overall donations in speeches, which includes donations that come in from other sources, but the ActBlue number is very close.)
"I'm living on Social Security, and usually I can give just $3," said Patricia Keljik of Mount Prospect, Illinois. "I wish I could give him a lot more."
Keljik, 62, has contributed 144 times to Sanders, donating $705 overall.
She said she usually gives when she gets an email from the campaign has a few dollars to spare. "When he needs it and asks for it, I give him what I can."
"He's speaking to people who don't have a lot, and we feel for the first time that somebody is speaking for us. The only thing we can do is to give what we can and that way the only people he is beholden to are us."
Alan McLemore, an attorney from Beaumont, Texas, believes Bernie Sanders is the new Franklin Delano Roosevelt.
So far, he's given to Sanders' campaign 101 times. His donations total around $2,600. McLemore said he signed up for automatic monthly donations through ActBlue and will sometimes make additional donations.
"When he sends an email for some special reason, then we'll give him some extra money," he said. "He's the only candidate in a long time who perfectly says what we believe. He just nails it.
McLemore said he plans to keep giving to Sanders if he wins the nomination, which he thinks could still happen. "He's got a much better chance than the corporate media are saying."
Xitij Shah, a sales engineer from Texas, has given the maximum $2,700 to Sanders' campaign through 200 separate donations.
Shah, who first started giving last May, decided in mid-July to start giving $1 each day to the campaign. But after Clinton's narrow win in Iowa, Shah sent Sanders $2,054 instead of continuing to give smaller amounts over a longer period of time.
"That's when I realized he could probably use that money now," said Shah, who keeps up with the Sanders chatter on Reddit and will be flying to New York soon to canvass for the senator.
"The main reason I support Sen. Sanders for president is that he is the most honest person running for president and he wants to get big money out of politics," he said. "I don't believe we can make serious change in this country without reforming how we run our elections, and to a greater extent, our democracy."
Shah also added that he didn't agree with everything Sanders has proposed, but a lot of his plans have already been tested. "For me, a lot of [Sanders' proposed] policy...I've seen done in other countries and those are the things that I wish the U.S. had," he said.
We wondered if the same group of dedicated people like this were just giving to Bernie Sanders a lot. But, actually, the universe of new Bernie donors actually has grown in recent months...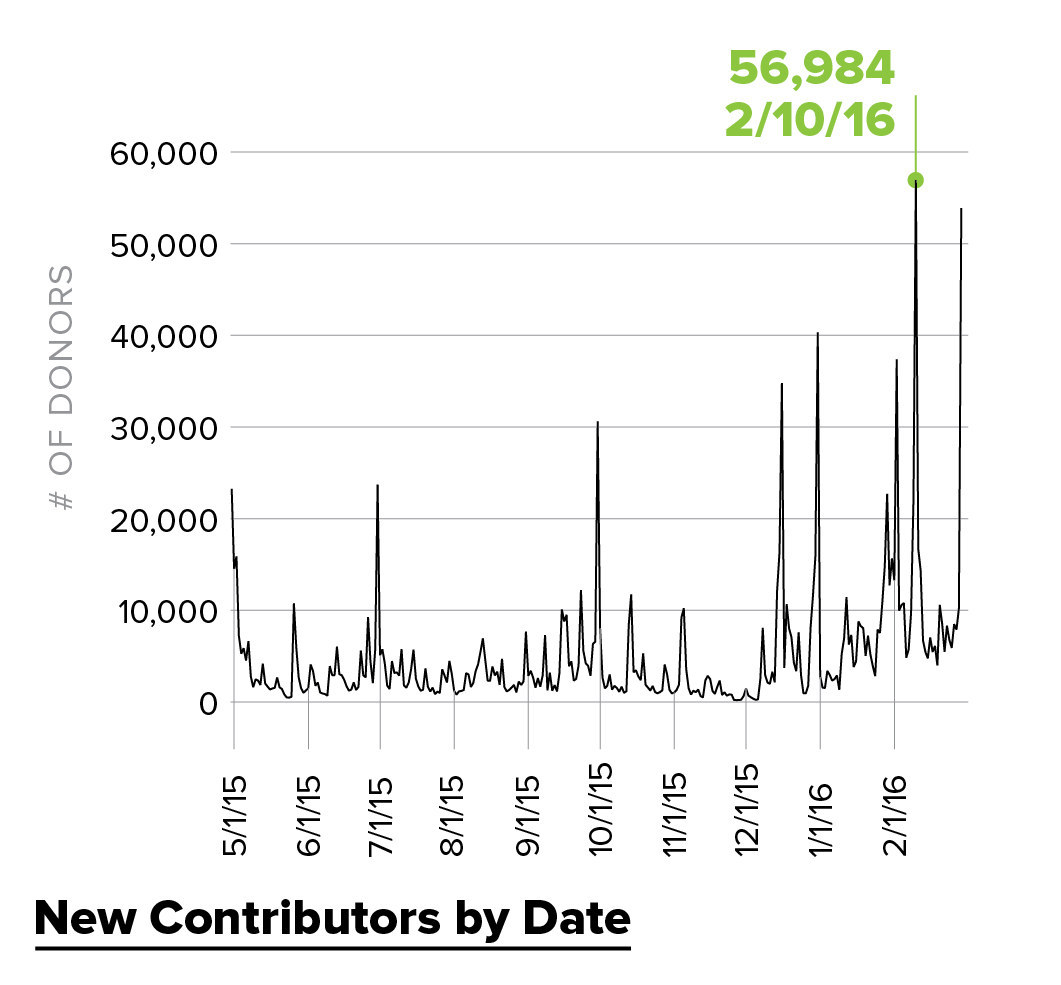 There's that New Hampshire win again in February. One of the interesting things in the data is that, in November, when Clinton started to pull away from Sanders in polling before the race tightened again, the universe of donors didn't expand that much.
And Sanders has indeed raised an insane amount of money from the actual small donations — he's literally been given $10 about 1.4 million times.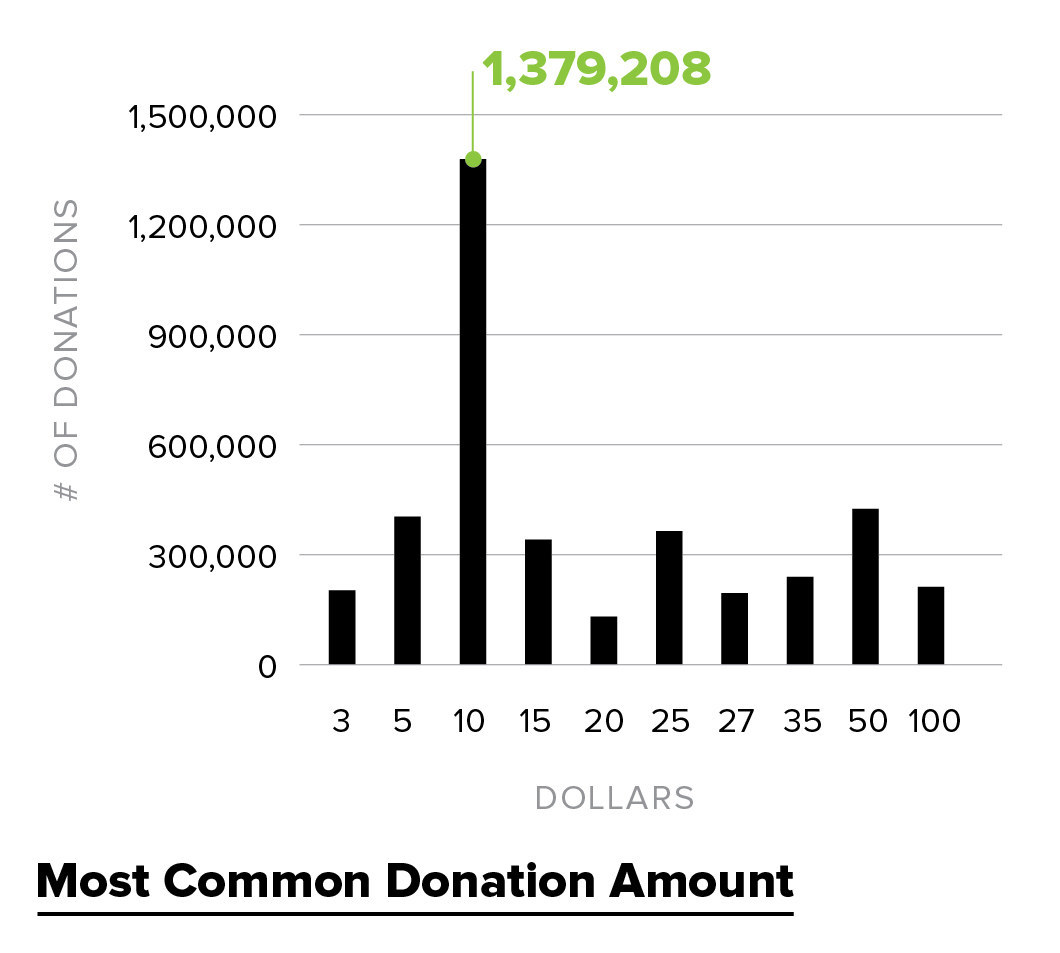 Where does all this money come from? The most Bernie Sanders sounding places in the country.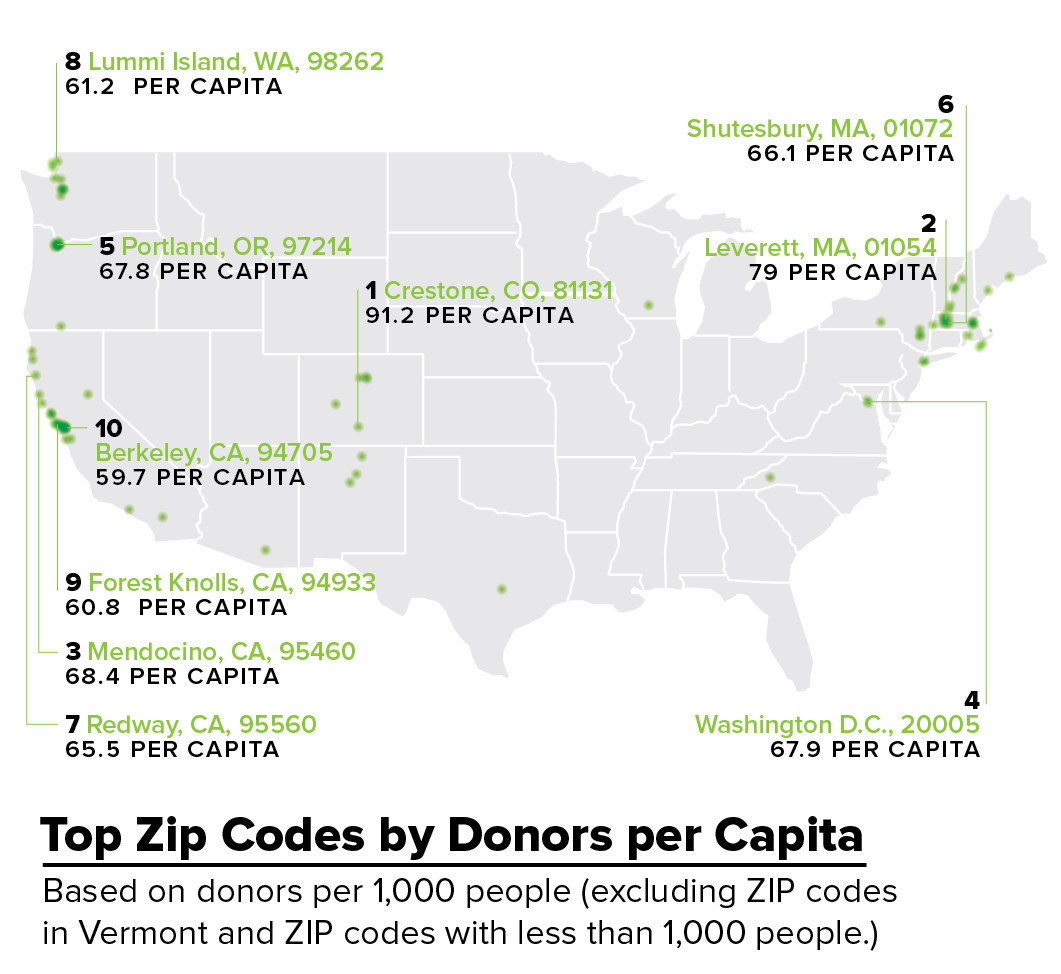 Crestone, Colorado, has the highest concentration of Sanders donors by zip code per capita outside of Vermont. Of the 1,173 people who live in 81131, 107 have donated to the Sanders campaign. The area is home to multiple spiritual centers and progressive ideals — the town's logo is a log cabin with solar panels, and Crestone's official "vision statement" calls for "a community committed to sustainable living practices and spiritual traditions."

The zipcode that includes Logan Circle, the neighborhood in Washington, D.C., is in the top five. Three zipcodes for Berkeley, California, are in the top 25 for donations per capita. The exclusive zipcode for Brown University is in the top 30.
Then there are big city neighborhoods that you'd totally expect: Downtown Portland (97214) and multiple zipcodes in San Francisco also rank near the top per capita.
And one of the centers of Bernie Sanders' universe is in Seattle.
Turn the corner into Fremont, the neighborhood of this Northwest city with six of the highest per-capita Sanders donor concentrated zip codes in the country, and the first thing you see is an imposing statue of Vladimir Lenin.
It's the real thing, shipped to the "Artists Republic of Fremont" — motto: De Liberta Quirkas — from Slovakia after it was toppled by revelers celebrating the fall of the Soviet Union in the late 1980s.
But the 16-foot monument to the most famous communist in history is actually a monument to capitalism: The statue has been for sale for years, the reported asking price $250,000.
It's a centerpiece of political debate, routinely defaced by vandals who spray Lenin's bronze hands with red paint to signify the millions who died under Soviet power. On the Sunday after Sanders swept the Washington state caucuses, the statue had "MURDERER" spray painted down the side in red.
Scattered in the blocks around the statue is the predictable eclectic mix of used bookstores, organic food stores, and a marijuana dispensary. The neighborhood is changing as Seattle sloughs off what's left of its 1990s chic for the expensive comfort food and brand consciousness of the 2010s. Not far from the Lenin statue was Roux, a New Orleans-themed eatery of the moment that features handcrafted cocktails and and Edison lightbulbs. It's a different side of Fremont — but no less Sanders country.
At the bar sipping a Manhattan and watching the NCAA tournament on his iPhone via Slingbox was Ryan Phillips, an employee at a large industrial firm in his 30s. Fremont is the only place he wanted to live in Seattle upon moving to the city from the Midwest. He embraced the culture going from "indoor kid" to avid outdoorsperson, as is the style of the city.
Phillips is a Republican. A Republican, who like just about everyone else in Fremont, would vote for Sanders if it came to it. "We're fucked," he said of his own party. Voting Republican is not an option so far this year he added.
All his friends give to Bernie, Phillips said. He hasn't given him any money but he broadly praised the Sanders effort — he likes that Sanders is honest, he said, and he likes that Sanders is direct.
Seattle is unabashedly liberal. There's a socialist on the city council who last year declined to publicly endorse Sanders because he's running as a Democrat. Everything is organic, everything is politically correct, there's that lefty earnestness that can be both grating and also produce real social change, and quickly.
Sanders' headquarters in the city was set up in the Capitol Hill neighborhood. (It was closed the night of Bernie's massive win in the state. "Thank you guys," a local had written on a paper sign on the front door advertising the caucuses.)
It's "weird" in Capitol Hill — LARPers everywhere on a recent Saturday night, dressed like anime and Star Wars characters — but the neighborhood is also in the midst of almost comically rapid gentrification.
A couple of blocks away, Amazon.com has built a new downtown headquarters complex that's changing the nature of the areas around it — with wealthy white people. Starbucks has a special showcase branch called the Reserve Roastery in Capitol Hill. People line up for an $11 cup of siphon-brewed coffee or a $40 half-pound of single-source Rwandan coffee roasted by bearded men dressed like brewmasters on the premises.
When the bartender at LTD, a beer and sports bar on the ourskirts of Fremont, overheard a conversation about the concentration of Sanders donors in the city, he rolled his eyes.
"Seattle," he said. "The ATM for Democrats."