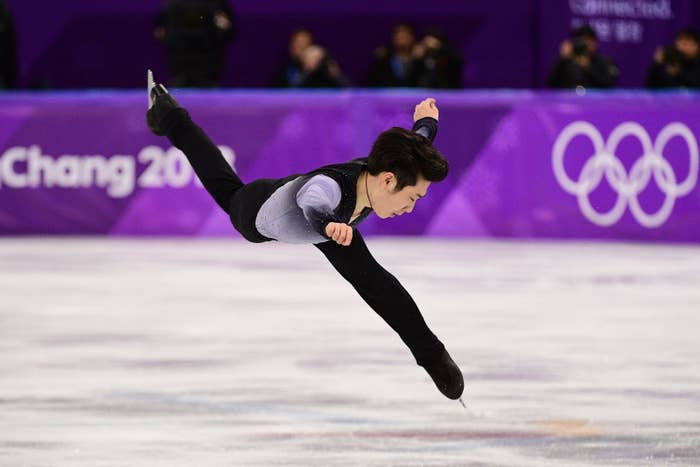 Two Chinese figure skating judges, whom BuzzFeed News identified as judges favoring Chinese skaters, have been suspended for showing national bias during the 2018 Winter Olympics.
The International Skating Union, the group that runs world figure skating, announced that it had suspended Chen Weiguang and Huang Feng for giving Chinese skaters higher marks during the men's and pairs competitions, respectively. Chen was suspended for two years and banned from judging at the 2022 Winter Olympics in Beijing. Huang was suspended for one year. Both were among a group of 16 judges who showed a consistent pattern of home-country preference, according to a BuzzFeed News analysis of top figure skating competitions.
Chen gave much higher marks than average to the Chinese skater Jin Boyang during the Olympic men's competition. She scored him 25 points above the average during the men's free skate — the biggest boost by any figure skating judge during the entire Olympics. The ISU wrote in its report, "There is no doubt that she preferred the Chinese skater over the other competitors and this fulfills the elements of national bias."
The ISU had warned Huang about biased judging prior to the Olympics because of his marks at the 2017–18 ISU Grand Prix of Figure Skating Final, according to the suspension announcement. The ISU does not publish information about individual warnings unless a suspension occurs. During the pairs skating competition at the Olympics, Huang boosted the Chinese pair while scoring their main competitors below the average of the other judges. The ISU stated, "In his Free Program judging he shows a clear tendency to set a difference in points between his pair and their direct competitors."
Both Chen and Huang argued during the suspension process that there was no explicit mention of national bias in the figure skating rules during the 2018 Olympics. The ISU recently voted to adopt the language into its constitution but said that these suspensions were valid under the old rules, which barred bias "on any grounds." The judges did not immediately respond to requests for comment.