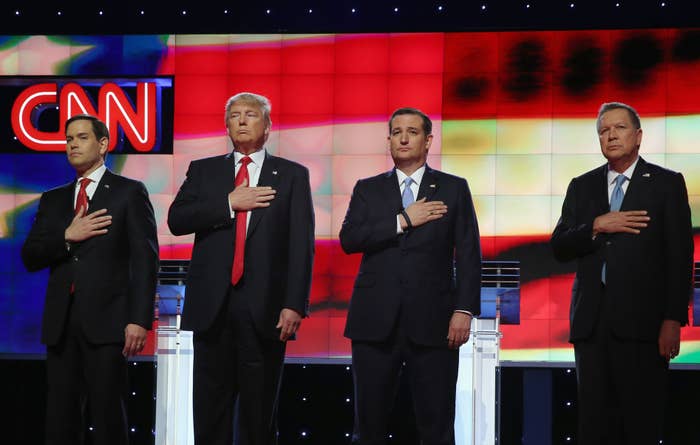 Establishment Republican donors were reluctant to back Sen. Ted Cruz even as he emerged as the top alternative to Donald Trump after key primary wins last month — with just about as many moving to John Kasich, whose path to the nomination is much dicier.
Approximately 63 of Bush's campaign committee donors gave to Cruz after the former Florida governor dropped out of the race on Feb. 20, according to a BuzzFeed News analysis of the latest Federal Election Commission reports. Contributions from those donors amounted to just under $100,000 for the Cruz campaign.
And about 120 former Marco Rubio donors contributed a total of $126,650 to Cruz after the Florida senator dropped out of the presidential race on March 15.
Cruz's super PACs also struggled to get large checks from new donors in March, according to FEC reports. His cluster of super PACs relied heavily on supporters like hedge fund magnate Bob Mercer who have been with the Texas senator from the beginning.
The latest campaign finance reports, which cover donations through March 31, don't capture the establishment support the campaign is expected to have picked up in recent weeks as Cruz has wooed major donors in Las Vegas and Manhattan.
Meanwhile, Ohio Gov. John Kasich's campaign received about $174,000 from 131 former Bush donors along with $92,000 from 97 former Rubio donors during the same timespan.
And then there actually are people who gave to Rubio and Bush that then joined Team Trump — Donald Trump's campaign received donations from approximately nine former Bush donors and six former Rubio donors, according to the analysis.
Due to how the FEC collects and publishes data on contributions, the numbers are necessarily imprecise. The campaigns are only required to reveal the names of donors who have given more than $200 to a campaign. And because the FEC doesn't assign donors unique identifiers, misspelled names, and extremely common names can throw off the calculations.