Here Is The St. Louis County Police Department's Arsenal
An armored personnel carrier. A 270-pound ballistic shield. A sonic weapon. A military-grade helicopter. An analysis of their equipment list illustrates the department's militarization over the past 10 years.
American police departments both large and small have undergone a militarization in recent years. The St. Louis County Police Department — which drew widespread criticism for its muscular response to protests this summer in Ferguson, Missouri — is no exception.
The department has an arsenal. It has acquired an armored personnel carrier, a 270-pound metal shield, three helicopters, two projectile launchers, and hundreds of smaller armaments during the past 10 years, according to public records obtained by BuzzFeed News. The department has amassed its cache through direct purchases, as well as state, regional, and federal grant programs.
That arsenal was deployed against protesters night after night in the weeks following the fatal police shooting of 18-year-old Michael Brown on Aug. 9. Brown, who was black, was shot by Ferguson police officer Darren Wilson, who is white; findings of a grand jury probe into the shooting are expected any day.
The scenes of clashes between protesters and police that streamed out of Ferguson following the shooting became a flashpoint for a larger discussion of police militarization in America.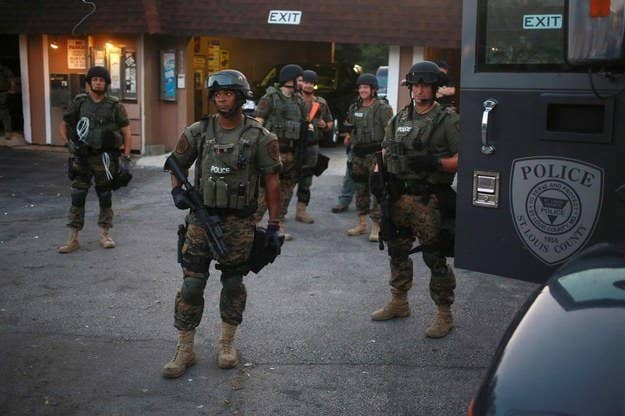 Politicians such as Kentucky congressman Rand Paul and Missouri senator Claire McCaskill have questioned whether such military-style equipment is actually needed for police to effectively do their jobs.
Others say that, when used by well-trained officers, such weaponry can promote public safety. "In the hands of carefully selected, disciplined, highly trained officers, sophisticated weapons and tactics can peacefully end situations that might otherwise end in bloodshed," John Jay College of Criminal Justice professor Eugene O'Donnell wrote in the New York Times.
BuzzFeed News received the St. Louis County Police Department's "Capital Asset List" as of August 2014 through a Missouri Sunshine Law request. The full equipment list can be found here. The list is only a partial accounting of everything that rolled through the streets of Ferguson during the high-profile demonstrations because other departments, including the Ferguson Police Department and the Missouri State Highway Patrol, deployed there as well.
Officials with the St. Louis County Police Department did not respond to detailed questions about these items.
Some of the items the department has acquired include:
Two PGL-65 40 mm Multi-Shot Launchers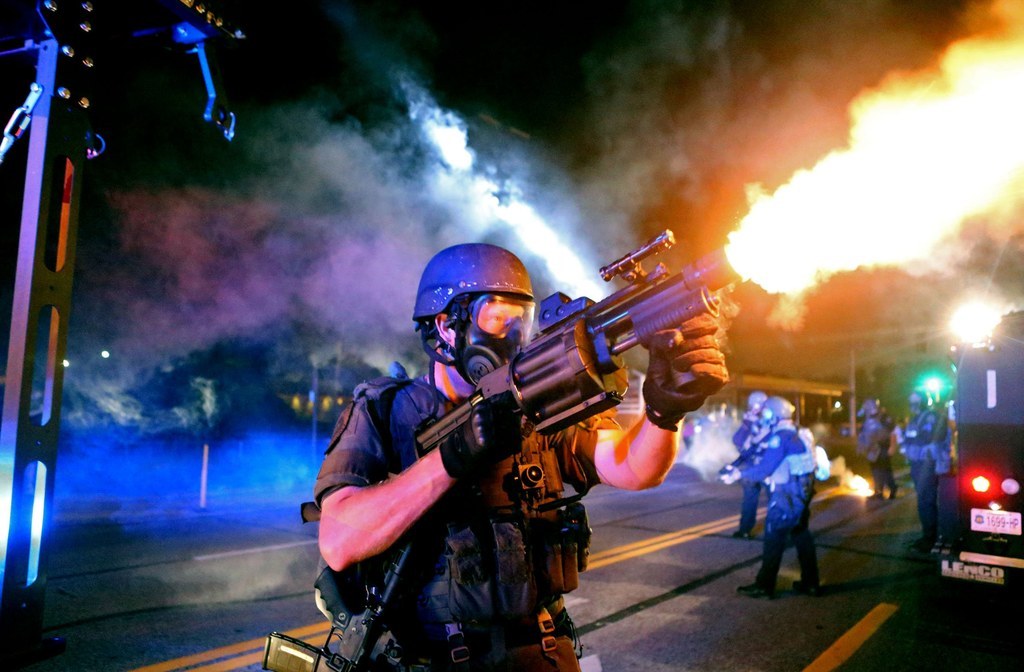 Purchased in August 2009. These weapons are designed to launch canisters of tear gas or other munitions into crowds or buildings. The department purchased a smaller single-launcher in July 2012.
One Long-Range Acoustic Device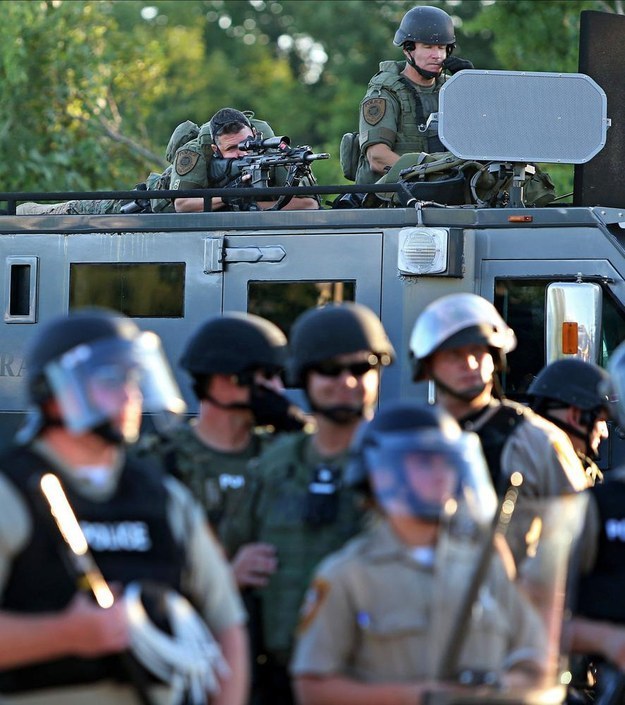 One Armored Personnel Carrier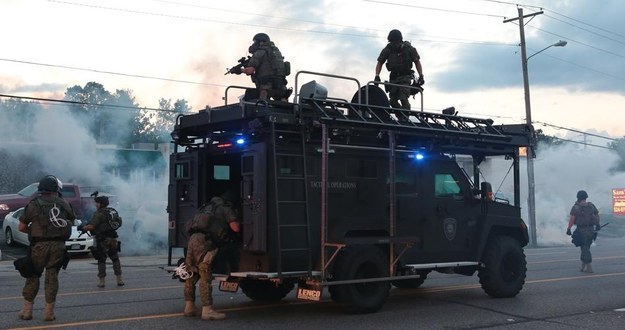 Like dozens of other departments around the country in recent years, the St. Louis County department acquired an armored personnel carrier of the kind deployed by armies at war and modified for local law enforcement use. Through a regional grant, the department purchased a Lenco BearCat in August 2010. The BearCat has steel plating armor that is between 0.5 and 1.5 inches thick (depending on the model) and is designed to withstand land mines, IEDs and small arms fire.
20 Aimpoint CompM4s Sights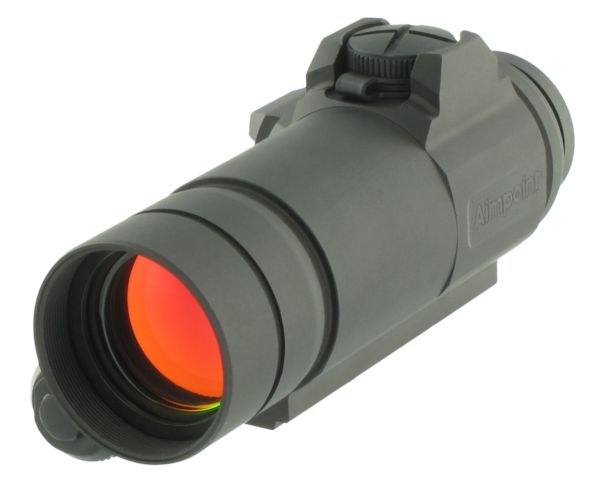 One 270-Pound Rolling Ballistic Shield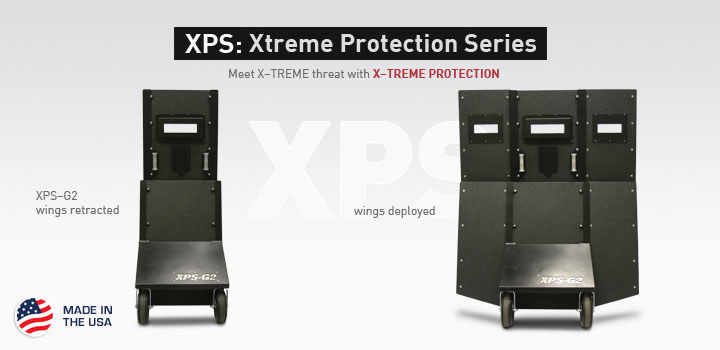 The St. Louis County Police Department purchased an XPS4-G2 ballistic shield in June 2011. The shield is designed to protect officers from arms fire as they move through a building. According to manufacturer Patriot 3's website, the shield weighs approximately 270 pounds without additional wings, which can add more protective width to the shield.
16 Smaller Ballistic Shields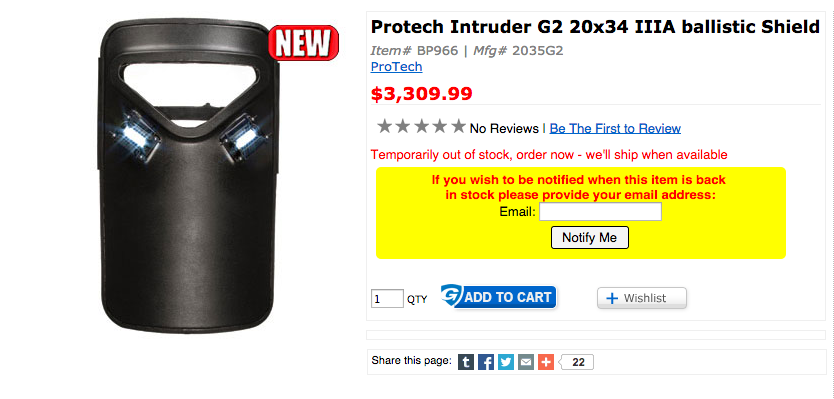 Through other federal and state grants in 2012, the department also purchased 16 smaller ballistic shields, of the type often carried by riot police.
One 1969 Hughes MH-6C Helicopter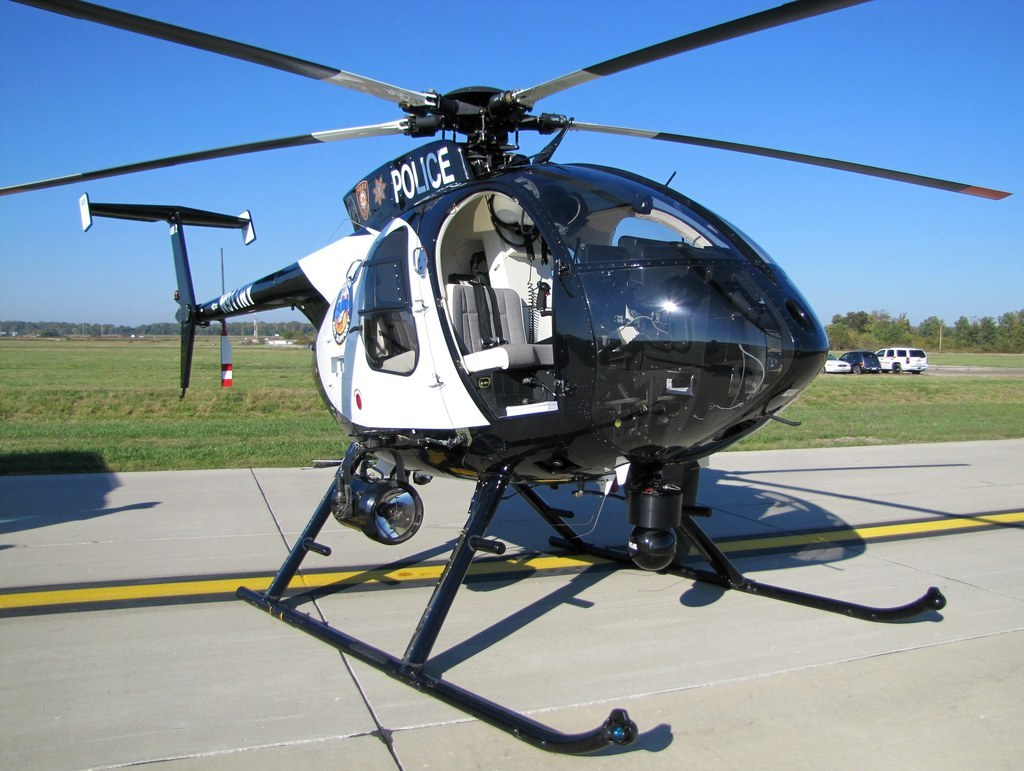 In October 2008, the St. Louis County Police Department acquired this military-grade helicopter through the federal 1033 program. The department later purchased two MD 369E helicopters through a regional grant in January 2010 and November 2012.
10 New Tasers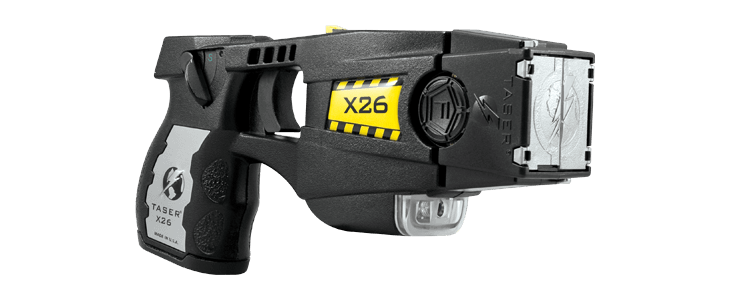 In January 2014, the police department acquired 10 tasers, bringing its total to at least 830 — more than one for every police officer in the department (as of its 2013 annual report).
…And Lots of Other Things
The full equipment list as of August 2014 can be found here. Since then, the St. Louis County Police Department has continued to purchase tactical equipment, including additional helmets, shield, batons, and shin guards in October. Sgt. Brian Schellman, a department spokesman, said that the department purchased the new gear because "they didn't have enough gear to outfit everyone who was in Ferguson in August."