With Labor Provisions Still Unresolved, Immigration Backers Remain Upbeat
"Bottom line, we're very close. I'd say we're 90 percent there. We have a few little problems," Sen. Schumer says.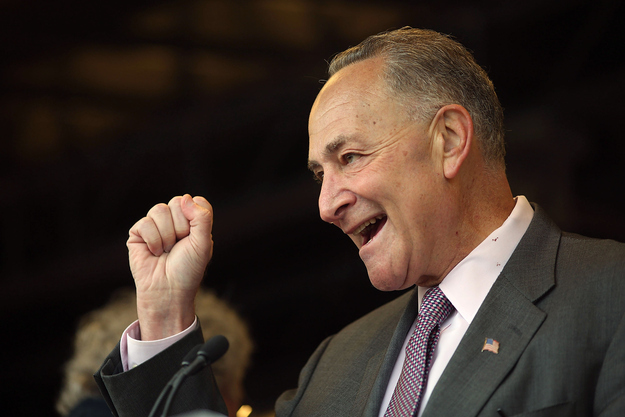 WASHINGTON — A bipartisan group of Senate negotiators Wednesday said they remain close to completing work on a comprehensive immigration reform plan, even as staff continue to struggle with key labor provisions effecting future immigrations.
"Bottom line, we're very close. I'd say we're 90 percent there. We have a few little problems, we've been on the phone all day with our four other colleagues," Sen. Charles Schumer said during a press conference in Arizona after he toured the border with Sens. John McCain, Jeff Flake and Michael Bennet, all of whom are members of the so-called "Gang of 8."
"We're on track to having a bill when we get back to congress in the next couple of weeks," an upbeat Schumer added.
But positive rhetoric aside, serious problems remain as immigration rights groups who over the last year have become one of the biggest heavyweights in American politics find themselves in the cross fire between two of its original titans — labor and big business.
While a pathway to citizenship for the millions of undocumented workers in the United States has long been the primary roadblock to reform, with Republicans like Sens. Marco Rubio and Rand Paul and conservative Reps. Like Raul Labrador now endorsing it, the more difficult problem of labor rules has come to the fore.
The fight is as old as it is difficult. On one side are unions like the AFL_CIO and United Farm Workers, who have demanded sweeping protections for current workers that would prevent a collapse in wages in the future. The "future flow" restrictions would, in many cases, essentially eliminate the ability of businesses to bring in non-native workers unless unemployment dropped significantly.
On the other side are business interests, who have insisted on as few labor protections as possible, arguing that a steady flow of relatively inexpensive labor into low and mid skill professions is key to their economic success.
Tinker with the language a bit, and the fight could just as easily be about government contracting rules, minimum wage or any of the dozens of legislative wars the two sides have fought over the decades in Congress.
Whether or not the Latino community and immigration reform advocates can overcome that age old animosity remains to be seen: If the Gang of 8 can come to a agreement that all its members can endorse, the Senate will almost certainly fall in line behind the bill, and likely with significant bipartisan support.
But the House presents a much trickier situation. Speaker John Boehner, at least at this point, doesn't appear interested in breaking the "Hastert Rule" on immigration, meaning he'll need between 190 to 200 Republicans will to support the bill. If the legislation leans too far toward labor interests that could be extremely tricky.
At the same time, if Democrats see the bill as giving into business and hurting labor, the assumed widespread support amongst Minority Leader Nancy Pelosi's conference may not show up.
And even if Boehner is willing to cobble together some sort of a coalition of Democrats and Republicans, a concerted effort by a coalition of union loyalists and conservative opponents to a pathway to citizenship could form up as major floor roadblock to passage.
Members of the Gang are clearly aware of the problems. "We have to do both. We have to show them that we can stop future flows of people coming here illegally" while also "being generous" in legal immigration and dealing with those that are here, Schumer said.
McCain agreed, telling reporters "nobody is going to be totally happy with this legislation."