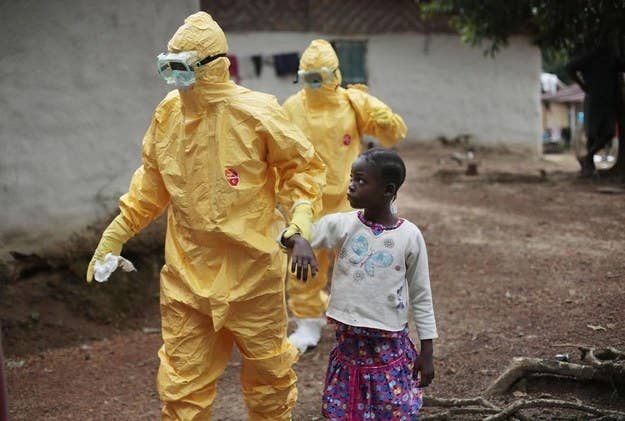 WASHINGTON — America's Ebola effort lacks a leader, a key senator told BuzzFeed News.
With Ebola cases doubling every 24 days in Liberia and showing no sign of slowing, Kansas Republican Sen. Jerry Moran said President Obama needs to appoint an Ebola czar to coordinate the government's sprawling, multi-agency effort. Moran, the ranking member on the Appropriations Committee's health subcommittee, said it has been difficult for even lawmakers to find the right person to talk to.
"We're trying to figure out about the funding," Moran said. But "there is no person to go to, to tell us how all this is going to be funded," he said, and "what resources will be needed."
Asked if he felt it was time for Obama to appoint someone to head up America's Ebola efforts in Africa, Moran said, "It's exactly the kind of thing I'm talking about."
"I don't think there is a person in charge," he added. "And I don't think there is a plan internationally to bring the folks together to combat this."
Moran's criticism may seem like arcane, inside-Washington politics, but he said it's actually about saving lives in an epidemic that has already killed more than 3,300 people and is raging out of control. Having a high-level White House point person responsible for the Ebola crisis, he said, could create greater urgency and focus — as well as mediate the inevitable turf wars among different agencies.
The Obama administration said it doesn't need an Ebola czar and that its campaign against the epidemic is being run by Jeremy Konyndyk, who leads the Office of Foreign Disaster Assistance at the United States Agency for International Development, known as USAID. Konyndyk does not work in the White House; for the last year, he's headed the office, following a five-year stint as policy director for Mercy Corps. From Washington, he coordinates efforts by Centers for Disease Control and Prevention, the State Department, the Department of Defense, and National Institutes of Health.
"USAID has been leading the international response; they have been doing so from day one," said an administration official, who spoke on background in order to freely discuss the issue. "Regarding the notion of an 'Ebola Czar,' that obviously has resonance from other contexts, but we're always hesitant to create another layer of bureaucracy. We need our response to be as nimble as possible to bring this under control."
USAID and DOD are responsible for nearly two-thirds of the $95 million in federal funds already committed to fighting Ebola. An additional $80 million is expected to come online in the coming months to help fund the response, according to USAID.
Tasked with responding to international disasters, USAID's foreign disaster office has responded to a host of crises, including the 2011 tsunami in Japan, 2010 Haiti earthquake and subsequent cholera outbreak, and last year's Haiyan Typhoon.
In addition to the Ebola outbreak in West Africa, the office is also addressing crises in Syria, Iraq, and southern Sudan, setting up multi-agency teams, which are called Disaster Assistance Response Teams, in each of those areas.
The expanding scope of the Ebola crisis has stretched an already strained response system, a USAID official said. "The system was stretched even before" Ebola, the official said, because of the other disasters, particularly the escalating refugee crises in Syria and Iraq. "It's a challenge," the USAID official said.
Still, the official said, "I think at this point we're managing well. We prioritized Ebola."
According to the World Health Organization, as of Oct. 1, there are 7,178 confirmed cases of Ebola in West Africa, with the total number of deaths at 3,338, and the crisis has continued to worsen. In Liberia, for instance, confirmed cases increased 26% between Sept. 9 and Sept. 17, despite increased international focus on the country, according to data from USAID.
International attention became squarely focused on the Ebola crisis this summer. But it wasn't until U.S. aid workers were infected — and subsequently brought back to the United States — that Congress and the Obama administration fully engaged.
On Tuesday, CDC officials confirmed the first case of Ebola in the United States, involving a Texas man who had traveled to West Africa, and on Wednesday Texas Gov. Rick Perry acknowledged that several children had come in contact with the infected man.
USAID has no authority over domestic cases, however. Officials with the agency are quick to deflect any questions about response within the country, stressing that their mission is strictly international in nature.
CDC, in conjunction with state and local authorities, has thus far handled the isolated cases of Americans with Ebola inside the United States. Moran and Obama administration officials said Wednesday they remain confident an outbreak like the one in West Africa won't occur in the United States.
Moran argued, however, that politically it is important to have an identifiable person who is in charge of the international effort.
The White House needs "someone who can speak for the effort, speak to the American people … and I think that's difficult to find today," Moran said.