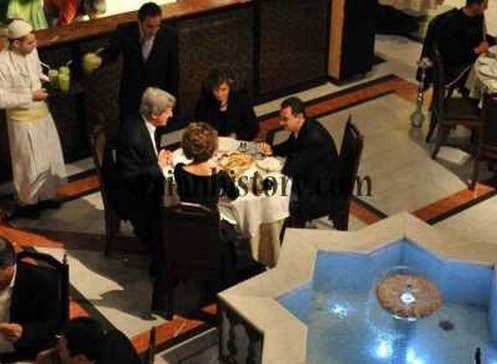 CHARLOTTE, NC - Last month, Senate Foreign Relations Chairman John Kerry called on the world to help the [Syrian] opposition both in ending [Bashar al-]Assad's reign of terror and in preparing for what comes next after he is gone."
But as recently as 2009, he appears to have been privately dining with the Syrian strongman and his wife.
Kerry's August speech was a blistering indictment of Assad in which he accused him of employing a "scorched earth" policy and of overseeing the deaths of tens of thousands of civilians.
But before Kerry became among his country's loudest voices for regime change in Syria, he was among the American figures hoping that Syria could be pushed toward reform. And a photograph published on a website full of pictures of Syrian leaders and dignitaries appears to show Kerry, his wife Teresa Heinz Kerry and seated with Assad and Syrian First Lady Asma al-Assad at a private dinner in Damascus' old city.
The website did not return a request for comment, and it is unclear when in 2009 the picture was taken.
In a statement to Buzzfeed, Kerry spokeswoman Jodi Seth acknowledged he had engaged in a bipartisan effort to bridge the gap between the U.S. and Syria but stressed he has since condemned Assad's regime and called for him to step down.
"There might have been a path forward, a possibility that was well worth exploring: Syria desperately needed economic help to prevent a powder keg of demographic pressure from exploding, and we wanted peace with Israel and an end to Syria's coziness with Iran and terrorist organizations. History showed that Syria had occasionally taken positive steps when engaged by the West and in testing an engagement policy, Senator Kerry always insisted that actions, not words, counted," Seth said.
"He doesn't regret testing Syria's intentions, but regrets that Assad squandered the opportunity. Senator Kerry has condemned the regime, urged Assad's departure, and pressed for a managed transition that would respect the aspirations of the Syrian people and help end the bloodshed," Seth added.
Kerry is one of President Barack Obama's top surrogates on foreign policy issues and is scheduled to address the Convention Thursday evening.
As late as last year Kerry had decidedly less stern language about the dictator.
"Assad has been very generous with me in terms of the discussions we have had," Kerry said in March of 2011, stressing that he was speaking "personally." "And when I last went to -- the last several trips to Syria — I asked President Assad to do certain things to build the relationship with the United States and sort of show the good faith."
Early in Obama's administration there was some hope among Western diplomats that the Syrian government, which is closely connected to Hezbollah and Iran, could provide an opportunity to break the deadlock between Israel and its Arab neighbors.
In 2009 and 2010 Kerry engaged in a round of shuttle diplomacy to Damascus, meeting several times over the two year period in an effort to find some common ground with Assad, and during one visit Kerry told reporters that "Syria is an essential player in bringing peace and stability to the region."
Those efforts quickly fizzled, as Syrian remained tightly allied with Iran, and the relationship between Syria and most of the world has collapsed into open hostility amid Assad's brutal efforts to remain in control of the country.
Kerry's position on Syria likewise has also soured. In a May 2011, he referred to the burgeoning conflict as a "brutal crackdown in Syria threatens to spiral out of control and lead to more civilian killings."