Above: Efrain Bautista Dominguez at a shelter for migrants on June 18, 2017, in Nogales, Sonora, Mexico. He was a longtime resident of Arizona when he received his deportation order. Photograph by Caitlin O'Hara for BuzzFeed News
NOGALES, Mexico — It's already hot in Nogales, Arizona, and the sun burns off what's left of the morning cloud cover and bakes the asphalt of the tiny downtown area. An unmarked white van pulls up to the border post. Aside from the government plates, there's no way to tell it apart from any of the dozens of other vans that move day laborers back and forth between the small border outpost and the big city of Tucson an hour and a half north.
The van pulls into the checkpoint separating Nogales, Arizona, from its Mexican namesake and comes to a stop. Two men step out of it and head into a spartan, concrete building straddling the border. A few minutes later they emerge, carrying what few possessions they have, escorted by Mexican officials who will release them into Nogales.
It's not even 7 a.m., but the day's deportations have already begun at Nogales, one of several border checkpoints where the US churns out thousands of deportees daily, an increasing number of whom haven't been to Mexico in years.
While the Obama administration essentially exempted hundreds of thousands of long-term undocumented immigrants from deportation, under President Trump's zero-tolerance approach to immigration enforcement, the Department of Homeland Security has made finding and removing them a priority.
"Now with this dramatic increase of people deported from the United States, what people need is a lot more than a plate of food and a place to sleep for the night."
And so far, DHS has been very successful: Since January, detentions by Immigration and Customs Enforcement have gone up 38% compared to the same period in 2016, according to testimony delivered by Acting ICE Director Thomas Homan in June. Enforcement under Trump "is expected to result in significant increases to interior apprehensions and removals," he said.
Agents have begun arresting undocumented immigrants during targeted raids in Texas and other states, using formal "check-ins" with undocumented immigrants to detain people in the country illegally, and even bringing human trafficking charges against families of minors fleeing violence in Central America.
And those numbers will only get bigger: As of June 3, ICE had 968,773 removal orders for immigrants not yet in custody, according to Homan. But as more and more of the deported population is made up of people who have spent significant portions of their lives in the US, there are needs that the aid groups operating in Mexican border towns are ill-equipped to provide.
"Now with this dramatic increase of people deported from the United States, what people need is a lot more than a plate of food and a place to sleep for the night," said Joanna Williams, the 26-year-old director of education and advocacy for the Kino Border Initiative, which assists migrants.
"What they need is assistance in reintegrating into their communities."
That reintegration can prove difficult.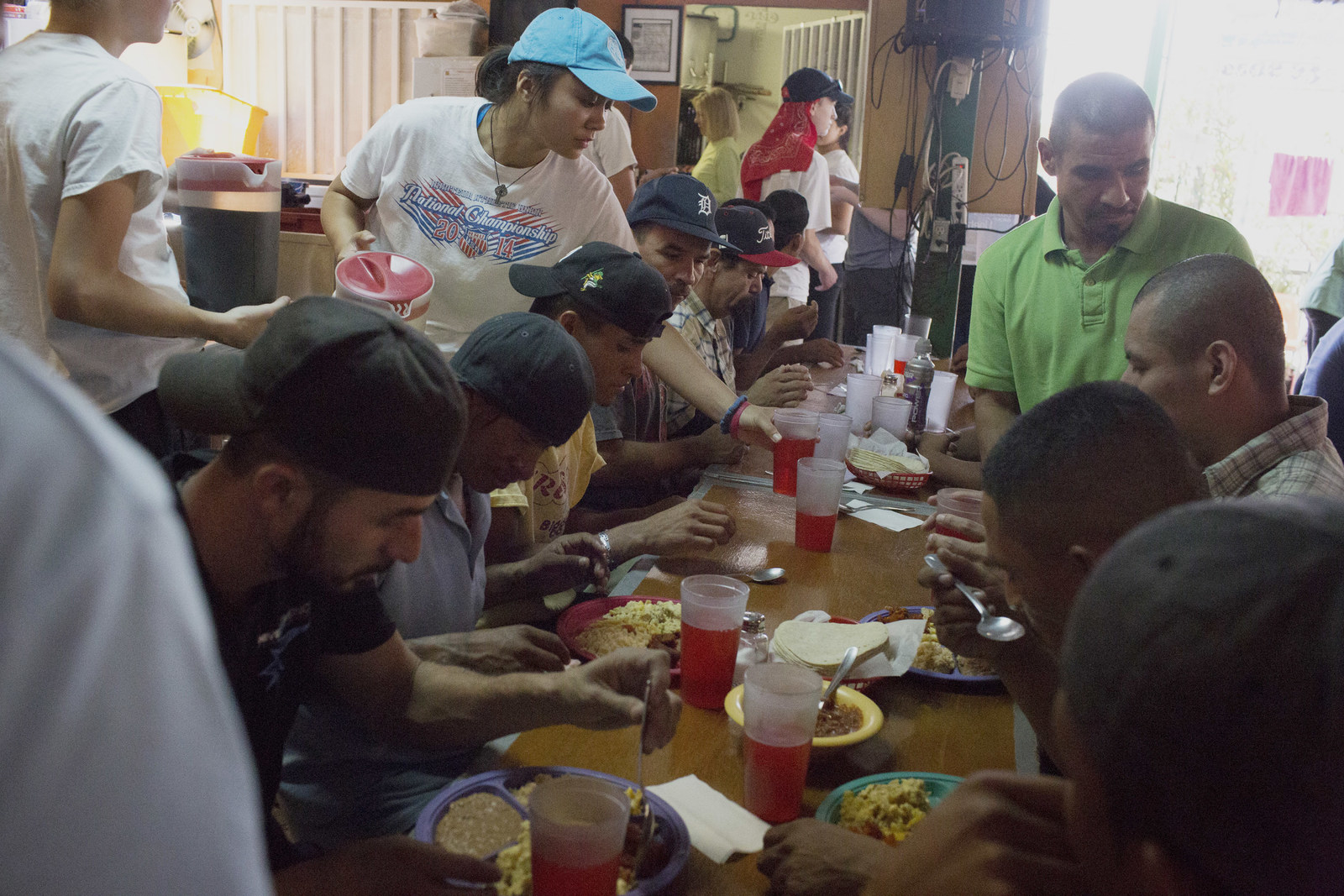 A few hours later after being dropped at the border, the newly deported men arrive at El Comedor, a soup kitchen of sorts run by Kino, whose humanitarian workers are feeling the effects of Trump's immigration policies.

"They receive a document from the Mexican government, and then they're brought over here within an hour or two," said Williams.
They take seats beside dozens of other deported men and women at the long tables inside the cramped El Comedor. After a prayer and announcements, a group of high school volunteers visiting from Oregon sets about serving the breakfast of eggs, beans, and tortillas.
Last year, El Comedor served 44,000 meals to recently arrived deportees, Williams said. "They do miracles over there in the kitchen."
But it's not just food that the aid workers are providing. There are clean clothes, toiletries, and free cell phones to call family in the US or Mexico, and several volunteers with medical training are on hand. Since almost none of the deportees have any identification, they can also get help obtaining a Mexican ID card, which will help them find work.
Kino has even begun assisting in job hunting for some of the deportees who have decided to stay in Nogales, Mexico, to be closer to their families in the States.
But the shock of going from having a home, a job, and money in the United States to being destitute in Mexico takes a heavy psychological toll, as does the separation from families, particularly among deportees with children.
Combined with a lack of good legal advice, this can lead desperate deportees to make bad decisions. Many, still shell-shocked from being thrown out of the country they've come to call home, hastily try to cross back into the US through the extremely dangerous Sonora desert, which has claimed untold hundreds of lives.
Others simply hang around in a haze, believing that something, somehow, will change and they will be reunited with their families.
And then there are people like Efrain Bautista Dominguez, who, less than week after being deported to Nogales, still doesn't understand why it happened.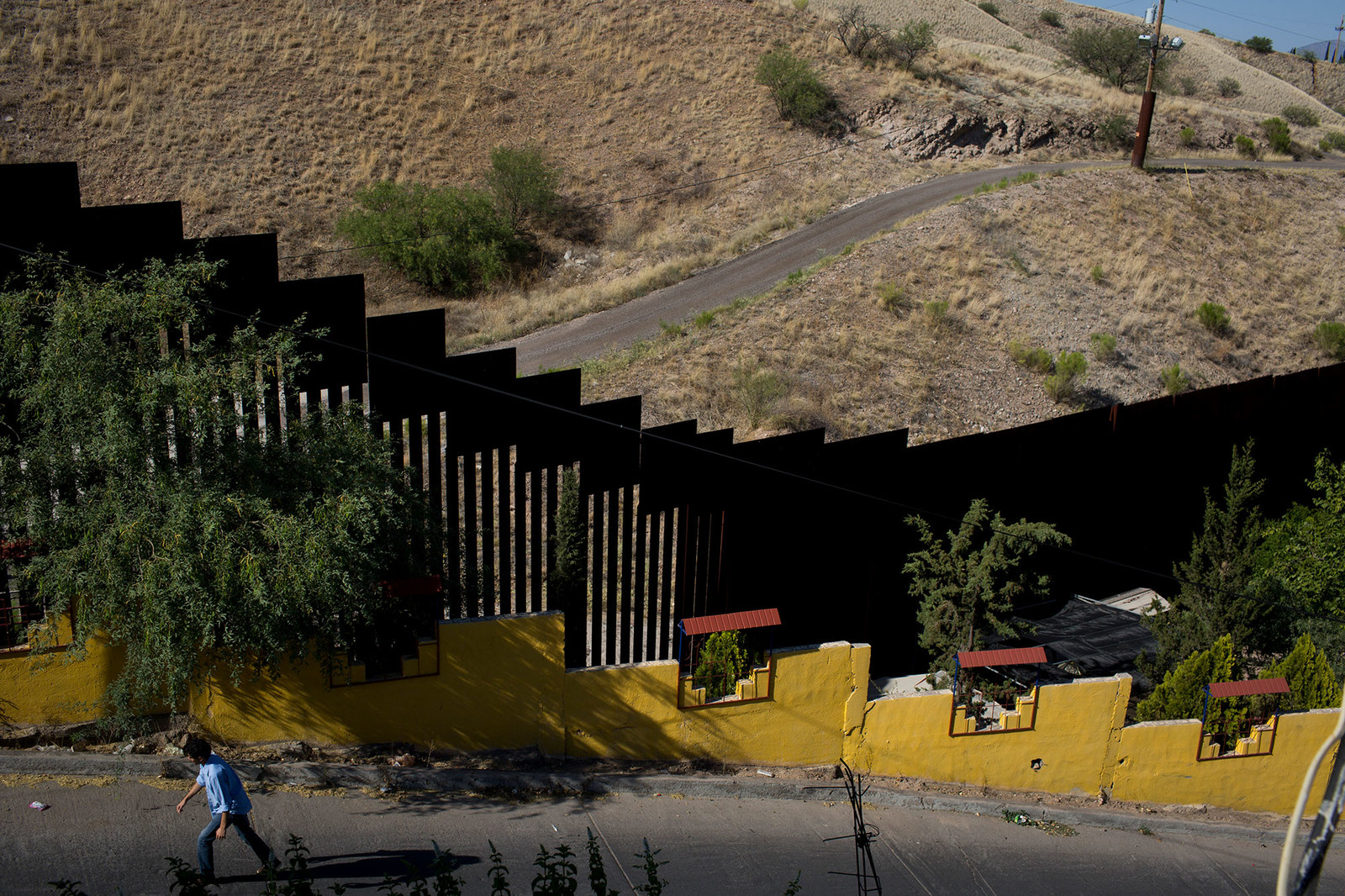 Everywhere he goes — El Comedor, the Don Bosco migrant shelter, the streets — Dominguez clutches the brown folder that holds everything he has left from his time in the United States: a certificate of completion from an alcohol abuse class, documents related to his deportation, and a small notepad in which he keeps important numbers.
After 14 years in the United States, first in North Carolina and then in Arizona, Dominguez had put down roots. He had a good job, was married, and felt like he was part of his community. The government even knew he was living in Arizona but had deferred attempts at removing him, opting instead to require that he check in with immigration officials periodically.
Like a stunned man hastily retelling a harrowing tale of survival in the immediate aftermath of a bad car crash, Dominguez tells his story in a rushed, stream-of-consciousness cadence, randomly mixing English and Spanish and flitting from one point to the next. Though there's panic and sadness in his eyes, he speaks of his life in the United States as if it hasn't ended and makes clear he's still in shock.
"America, for me? It's nice! Big people, lots of respect," he said with the confident smile of someone who doesn't realize that that life is gone.
Without adequate resources available when Dominguez comes to terms with his new reality, Williams and other aid workers worry he and thousands like him will end up living in the streets of Nogales, Tijuana, and other border towns. And while groups like Kino are beginning to explore ways to help them, it's simply too big and complex a job for the nonprofits working on the border.
"America, for me? It's nice!," he says with the confident smile of someone who doesn't realize that that life is gone.
While job training, mental health, and housing programs will cost the government money, they could help make deportees — many of whom have US high school degrees and job skills — productive members of Mexican society. For instance, a 2015 study by Mexico's National Institute of Migration of deportees in Tijuana found that 1 in 4 had a high school diploma and most spoke English.
That, Williams argued, makes the deported a significant, untapped resource. But under the current system, "people who have skills … end up in low-wage factory jobs," she said.
So far at least, there's little sign that the Mexican government, which did not return requests for comment, is going to come to the rescue. There's a government-run program to assist Mexican citizens in setting up small businesses after they've returned to their home towns, and earlier this year the government helped release an app for Android phones that undocumented people in the US can use to alert family members that they've been detained. But on the ground in border towns, there's little evidence of the sort of concerted effort NGOs believe is needed from either the government or international institutions. Although the Jesuits and Missionary Sisters of the Eucharist fund Kino's work, groups like the UN and international refugee NGOs are focused on areas like Syria and not the US's southern border.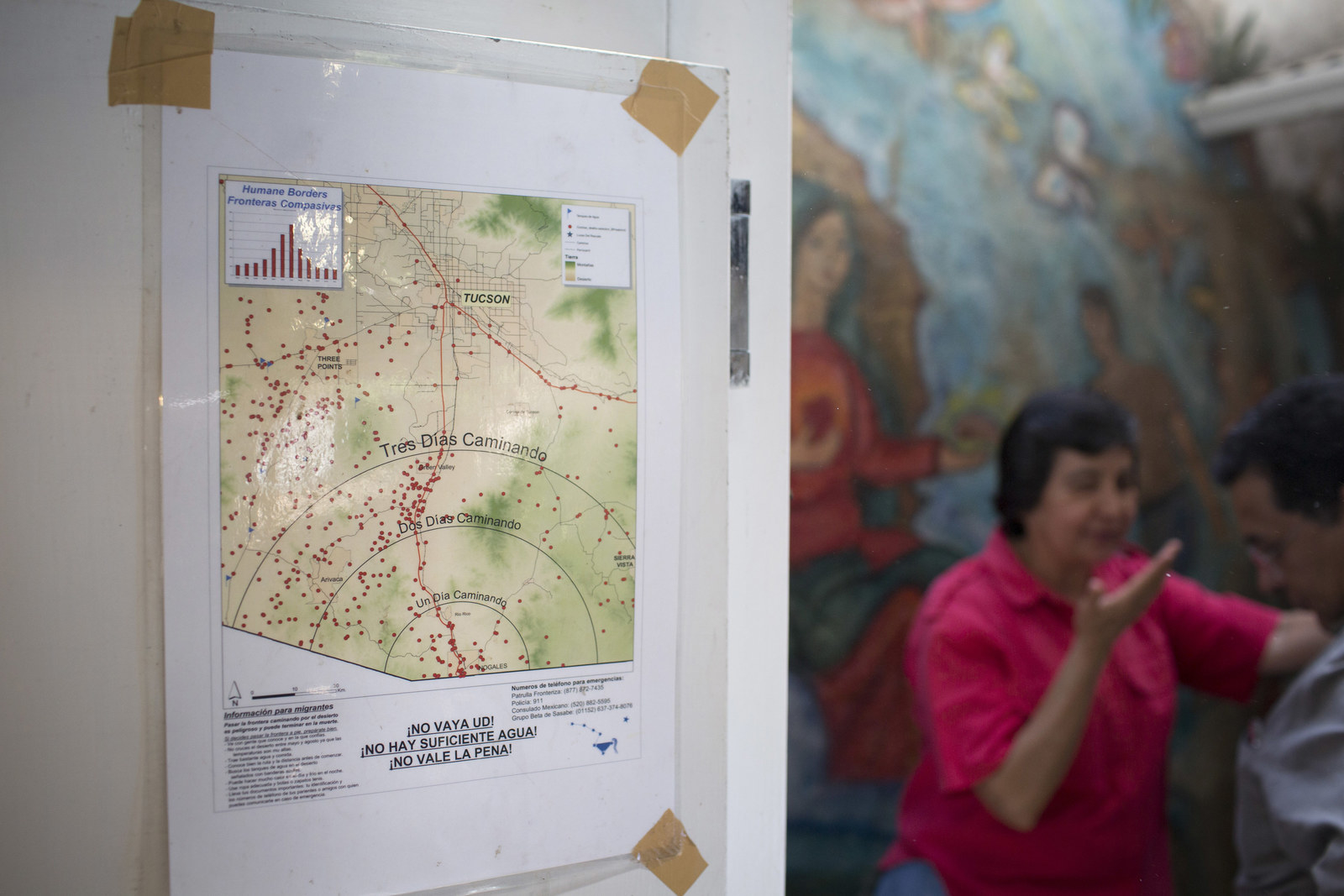 A lack of government interest in helping deported Mexicans isn't confined to Nogales. Indeed, far from trying to find a way to welcome deported Mexicans home, the government in many communities seems more interested in simply sweeping them under the rug.
Leaning forward in her squeaky, old desk chair, Dr. Patricia Gonzalez-Zuniga peered out the window of her Tijuana office. "It must be a march for the sex workers," she said, motioning toward a group of young, fresh-faced people winding their way through the chaotic line of taco stands, prostitutes, police, and various hawkers of secondhand wares that clog Avenida C Niños Héroes.
Her second-story office, where she runs the University of California's El Cuete IV Project and the Tijuana Wound Clinic, is equally as chaotic, a jumble of Catholic iconography, lefty bumper stickers, brightly colored crafts from indigenous artists, and Yodas. Lots of Yodas. "Yes, I like Yoda," she said, laughing when asked about them.
Working with intravenous drug users, the homeless community, and sex workers — many of whom come from the ranks of the more than 1 million people who have been deported to Tijuana since 1992 — makes her keenly aware of the challenges facing deportees and border communities.
Like Williams, Zuniga insists that government must step up its efforts to reintegrate deportees into Mexican society. "People are coming and have a lot of needs … [and] there's a lack of adequate programs. But the government relies on NGOs," she explained.
Part of the problem, she believes, is a lack of interest on the part of both government officials and Tijuana's wealthy residents, who have made revitalizing the border town and its image a major priority over the last several years.
While the government and wealthy investors have been more than willing to dump $100 million on a new luxury medical facility catering to American medical tourists, for instance, Zuniga said there's little appetite to build the sort of housing, educational, and medical infrastructure Tijuana needs to help its growing deported population.
Born and raised in Tijuana, Zuniga, 57, straddles the two sides of this border city — privileged enough growing up to go to private schools and become a medical doctor, she can move between the city's elite and its most disenfranchised with ease.
Tijuana's most influential citizens believe "all the people that are being deported are criminals because they deport people from jail, that they were gang members, and so on," she said, adding that this stigma has been fueled by US rhetoric casting deportees as violent criminals and by years of neglect of the deported by local officials. This has resulted in huge sections of the city being overrun with homeless and desperate people.
In 2015, city officials launched an aggressive effort to clean up Zona Norte, the part of Tijuana closest to the border checkpoint and where huge camps of homeless deportees had sprung up, including in El Bordo, a miles-long sewage ditch.
Police launched raids in El Bordo and other areas, rounding up thousands of deportees and scattering those who escaped to other parts of the city. Many of the arrested were shipped off to other cities, jailed, or put into mandatory drug rehab programs that aid workers claim were little more than forced labor camps.
The crackdown worked: The small knots of plastic tarps and cardboard shanties that had dotted El Bordo vanished, as did small tent cities that had been set up in nearby plazas.
But over the last six months, people have started returning to El Bordo and other familiar stomping grounds. And with more deportees expected, the city is again looking for a way to eliminate the eyesore of homelessness — and that has Zuniga worried.
"They were thinking they need not shelters, but detention centers."
"I think some of the people here, like some of the people in the government, are more conservative, and they're thinking, Oh no no no, we don't need a shelter," she explained.
What, if anything, government officials will do to address the problem is far from clear. In the past, officials have insisted the small amount of assistance they provide deportees — such as free bus tickets to their state of birth or access to computers to print their birth certificates — has been adequate.
But if the increasingly hostile attitude toward deportees among many wealthy Tijuana citizens is any indication, things could get worse. During a "community" meeting set up by the city's government and well-to-do residents, Zuniga said, a city official floated the idea of simply building jails to house new deportees.
"They were thinking they need not shelters, but detention centers. They [see] what is happening with detention centers on the other side [of the border], and they want to do something modeled on that here," Zuniga said incredulously.
"To me, that sounds like concentration camps." ●