What Happened In Arizona On Nov. 16, 2010?
There have been 21 known cases of a Border Patrol agent shooting someone crossing the border illegally — only two have survived.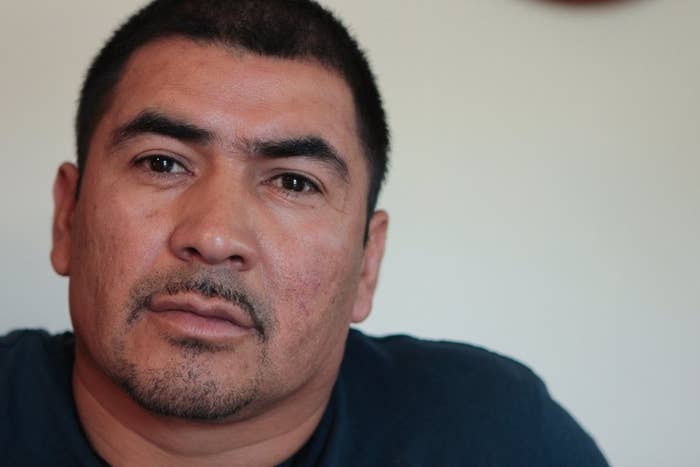 For Jesus Castro Romo, crossing illegally into the United States from Nogales, Mexico, wasn't supposed to be a big deal: He'd done it more than a dozen times.
Half the time, he'd made it to a job some place just in the interior of Arizona, once as far as Tucson for a few months, where he worked as a gardener. The rest of the time, Customs and Border Protection agents had caught him and promptly released him. "Twenty-four hours," Castro said of his incarceration times in a later deposition.
But in the early morning of Nov. 16, 2010, a routine illegal border crossing went wrong when a Border Patrol agent — a man once paid $4,000 by the drug cartels to wave at least one U-Haul truck full of unknown contraband past a border checkpoint — shot Castro in the back.
Now 42, Castro can't sit, or stand, for long periods of time. Shrapnel from the standard-issue, hollow-point CBP bullet hit his spine, and caused significant internal injuries that have also made it impossible for him to operate his waste hauling business in Nogales.
The border agent who shot him is unlikely to ever face any penalties, let alone jail time. CBP does not keep public databases of cases in which agents used deadly force, and the agency has ignored multiple requests over the last eight months by BuzzFeed for data on such cases. But publicly available data collected by the Southern Borders Community Coalition shows that few people survive armed conflicts with the CBP. In 21 known cases, only two people survived the confrontations: Castro and Jose Gutierrez Guzman, who was beaten into a coma by Border Patrol agents in 2011.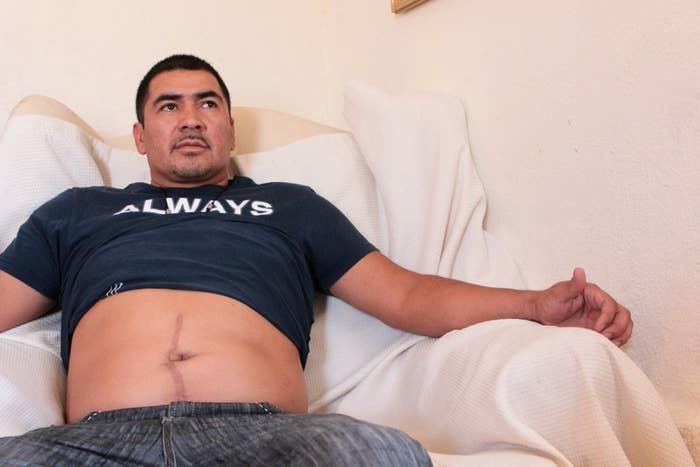 What we know about the Castro shooting, based on law enforcement reports and depositions, is that on the morning of Nov. 16, 2010, Castro and a group of eight or nine other migrants were crossing into the United States in the Walker Canyon area, a few miles west of Nogales, Ariz. The group had set off CBP sensors, and Abel Canales and his partner — both of whom were on horse patrol — were dispatched to intercept the group, along with a second group of agents on ATVs.
For Canales, joining the Border Patrol was a way forward. Coming from a Mexican-American family that spent much of its time working horses in the country's western desert, entering the CBP meant a new life with upward mobility, especially with a pregnant girlfriend.
He ended up in the checkpoint on Interstate 19 between Nogales, Ariz., and Tucson, a lonely, gas fume-fused stretch of highway in the middle of nowhere. It's mind-numbing work — checking identification papers, surveying passengers, and deciding which ones will get extra scrutiny and which will get waved through to Tucson and its international airport and easy access to the country's interior.
When the cartels came calling in 2008, Canales took their cash.
According to a later deposition, Canales received $4,000 for allowing a U-Haul through the CBP checkpoint on Oct. 30, 2008. Canales said he took the money because he was in debt for "many thing."
"I had … I don't remember specifically, but I know I was" in debt, Canales said under questioning from Castro's attorney Bill Risner, including owing $15,000 on a pickup truck, cell phone bills, and credit cards. Canales was indicted and later pled guilty on charges stemming from the exchange in 2011.
But in the fall of 2010, he was on horseback.
The migrants, who had been hiking through the desert overnight, saw the federal agents approaching, and turned back, hoping to cross back into Mexico before they were apprehended.
Canales and his partner split up, and eventually Canales caught up with the group. Although he ordered the migrants to halt and lie face down on the ground, Castro and a woman from the group, Liliana Gonzalez Rodriguez, ran south.
Canales brought the rest of the group under control while Castro and Gonzalez made their way down into a ravine that ran toward the border, approximately a mile away. Canales then went after Castro and Gonzalez. Castro continued down the ravine while Gonzalez scrambled up the side into the brush — so Canales went after Castro further into the ravine.
And that's where what we know for sure ends. The details of what happened between that moment and the moment Canales fired a single shot are less clear.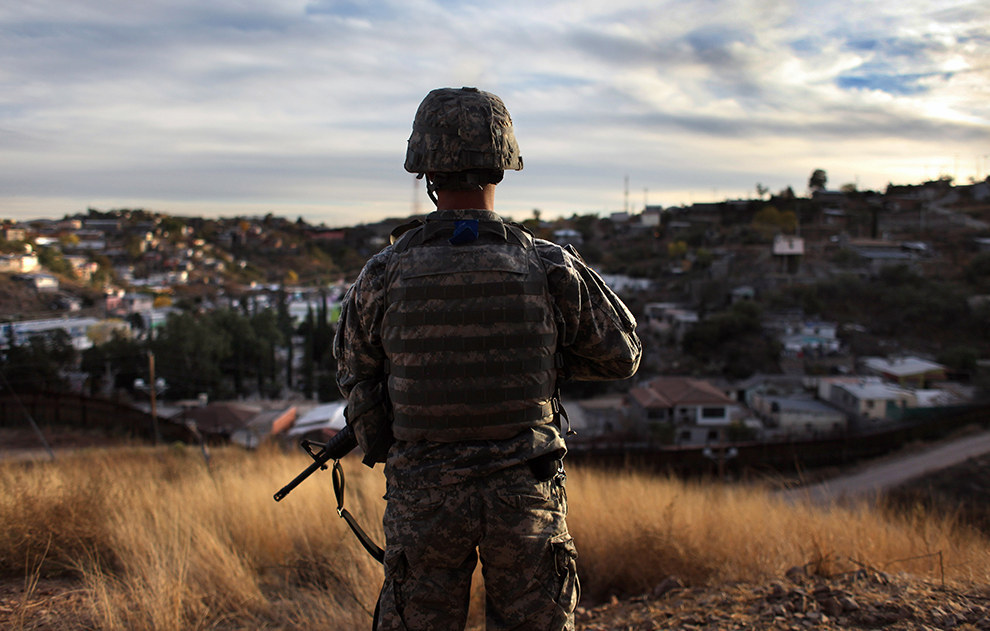 Depositions and formal interviews taken from Canales and Castro — and Gonzalez, the woman who went into the ravine with Castro — in the days and years since the 2010 shooting differ on how exactly Castro ended up with a bullet in his back.
The day after the shooting, Canales told investigators he followed Castro deeper into the ravine, repeatedly ordering him to stop running in Spanish, according to the transcript of an interview with the Critical Incident Team. Made up of two FBI special agents, a representative from the Department of Homeland Security's Office of Inspector General, and a Department of Justice attorney, the CIT investigates agents involved in shootings to determine whether the use of force was justified.
He eventually caught up to and passed Castro, Canales said, wheeling his 800-pound horse around in the path to block his way forward.
"When I turned facing him, I said I need you to go back to where the group is at. And he kind of looked at me. And said, 'Why are you yelling at me?' and started arguing," Canales told the investigators, adding that Castro seemed at ease despite having an armed CBP agent on a large horse giving him commands. According to Canales, as he continued to argue, Castro took a step closer to his horse. "I felt a little bit threatened by this," Canales said. His first reaction, he said, was to hit him in the shoulder with the reins of his horse.
According to Canales, the two argued and then Castro began to run. Canales came up behind him, yelling at him to stop. At this point, Castro again stopped and "went down," picking up a rock that Canales described as "bigger than his hands." Canales charged him with his horse, scaring Castro, and forcing him to drop the rock.
Castro again "went down," Canales said. Worried that he would come up with another rock, Canales, who had since unholstered his gun, aimed and fired a single shot, hitting the migrant in the "left flank," according to investigators.
With Castro on the ground and bleeding, Canales tried to radio for help. But the walls of the ravine blocked his transmissions, and the agent headed back up the ravine, where he encountered Gonzalez, who was hiding in the brush.
The fact that Canales only took one shot appears to have concerned investigators, who repeatedly inquired about it. If Canales feared for his life, the investigators asked, why didn't he shoot until the threat was eliminated?
"Like I said, he was — he was coming up with the rock," Canales said. "And when I shot, he — I just see him — I just see his legs gone, and he just went down immediately. So there was no reason — no reason whatsoever for me to shoot again."
But Canales conceded during his interview that he never actually saw a second rock. "I knew it was a rock because like I said anything you're going to pick up right there, it's going to be a rock," he told investigators. Asked about the rock's size, Canales said he didn't know.
Asked again if he saw a rock, Canales said he couldn't. Asked a third time if he saw an object in Castro's hand before he shot him, Canales again said he could not. "There was no reason to get down again if he didn't want to pick up something," he told investigators. "And the only thing he was going to pick up was the rock … [but] I didn't — I didn't really — no, I didn't [see it]."
During Canales' formal deposition in 2013, his story changed dramatically. For instance, he now says he did not see Gonzalez before the shooting, claims that when he did see her he ordered her to return to the group and said he did not speak to either her or Castro while they were waiting for medical aid — all contradictions of his initial statement to investigators. Most significantly, Canales now insist he did, in fact, see a rock in Castro's hand immediately before shooting him.
"I unholstered my weapon," Canales said. "I had it in my hand. And when he grabbed the rock, he went back, and with the motion, and at the same time he was saying, he told me, 'Ahora si vas a chingara tu madre,' meaning 'Now you're going to get it, motherfucker,' and he went back and I had the gun in my hand, and I — that's when I shot him."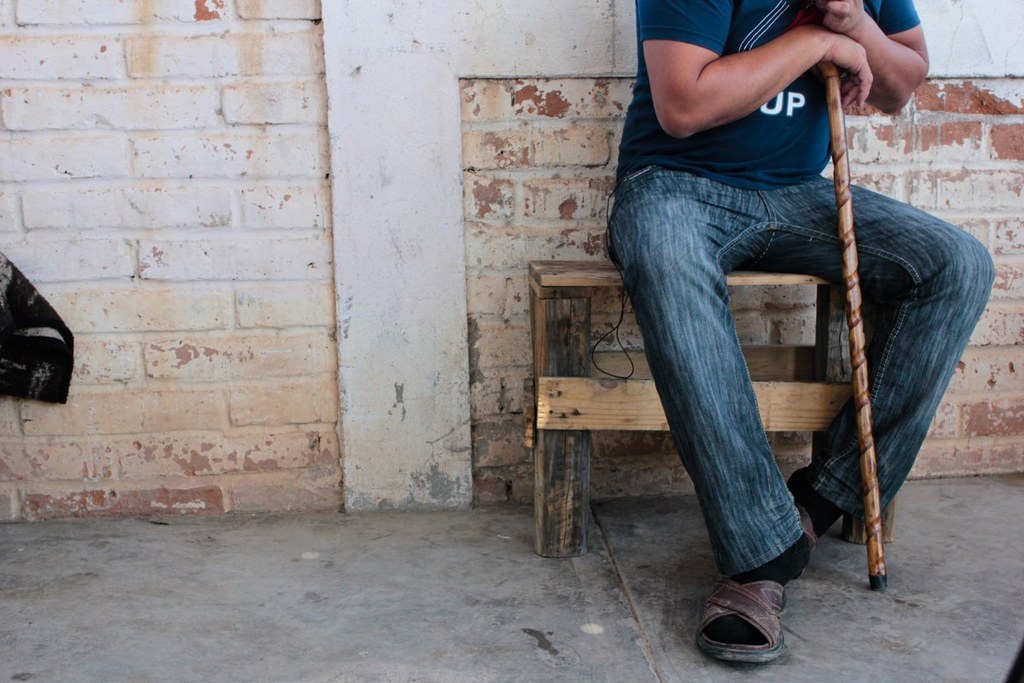 Although some of the initial details are similar, Castro paints a much more confrontational situation in his deposition, casting Canales as far more aggressive from his first encounter with the migrants.
As Castro ran back toward the border, Canales gave chase. "He yelled at me, 'Come back here, motherfucker.' I remember that word that he used to tell me that. So I did mind him, and I did come back … [but Canales] hit me on my back, and he was pushing me with his horse. And I said, 'Hey, why are you hitting me? I don't have anything on me. I don't have anything.' And he said, 'Just walk, motherfucker, you were running.'"
Castro alleges the physical and verbal abuse continued to escalate so "I started to run, looking for a tree so that I could hide behind so he would not be able to hit me … before I was able to reach a tree, he caught up to me, and he gave me another whipping with that rein, and that's when I fell down, and that's when he shot me."
At that point Castro claimed that Canales' mood suddenly changed.
"It's almost like he woke up, this official woke up, and he just said, 'Oh fuck,' like he had saw what he did," Castro said during his deposition.
Catro repeatedly denied bending down to pick up a rock or threatening Canales, saying the only time he stooped was when he was "crouching down like this when was hitting me. I was trying to cover face … I was telling him times to not hit me, that I wasn't doing anything to him," he said.
There was only one witness to the shooting — Gonzalez. And her story has changed several times.
Within an hour of the shooting, Gonzalez told local law enforcement officials that Canales shot Castro after he fell on the ground. "Liliana said the agent fired as 'Jesus' was lying on the ground. Liliana added the agent then shouted [that] her friend tried hitting him with a rock. Liliana said 'Jesus' immediately responded back by saying he did not," Santa Cruz County Sheriff Sgt. Jose Cota wrote in a report. Liliana ultimately provided a signed, written statement outlining her version of events to Cota, according to his report.
But Gonzalez's story would quickly begin to change. For instance, the CIT interview transcript notes that after "the interviewing agent then asked clarifying questions about the facts of the incident" Gonzalez "related that she saw [Canales] pull out something but she did not see the gun … [she] then heard one shot, but did not see the shot."
Her story shifted again during her Dec. 27, 2013, deposition. Asked by U.S. Attorney Johanna Hamburger if she saw Canales reach for his gun, Gonzalez said, "I don't remember." Asked if she ever saw the gun, she again responded, "I don't remember." Asked if she saw Canales shoot Castro, Gonzalez said, "No, I don't remember."
Soon, Castro's civil suit against the U.S. Customs and Border Protection will begin.
In general, the likelihood of winning a case like this is slim. "It's really hard for someone to be a victim of Border Patrol violence and speak out and actually have the sophistication to find a lawyer," one El Paso, Texas, attorney said on condition of anonymity because of the politically sensitive nature of the subject. "When I have one person in my office, I always feel like there's a hundred behind them. Or a thousand."
Castro's case will begin on the heels of the June exit of CBP Internal Affairs Chief James Tomscheck, who was dismissed over complaints of excessive use of force by CBP agents. The use of force by border agents — and the federal government's ability to enforce protocol changes among them — has become a critical issue to immigration activists who have pushed the Obama administration hard this year.
But the border remains astoundingly complex from all sides. A former CBP agent who worked in the Tucson sector and spoke on condition of anonymity, painted a picture of life as an agent in the isolated desert region.
According to the former agent, it is not uncommon for migrants or coyotes — paid guides who often work for Mexican drug cartels — to attack agents, particularly those who don't take a hard initial line with them. "You can't treat [an apprehension] like that. It would be extremely irresponsible to do that … until you have it under control," the former agent explained.
The agent also noted that, like virtually all law enforcement agencies in the country, CBP agents are trained not only to neutralize threats before they are injured, but to shoot to kill.
"Any police department can do that. The question comes down to what do you do when you're getting rocks thrown at you," the former agent said, adding, "you can't tie someone's hands when they feel they need to use [deadly force] … if it's completely gone you're putting them in a really dangerous situation."
Still, the former agent criticized what they see as an increasingly aggressive push to apprehend migrants who, facing imminent capture, turn back for Mexico. "You did your job, just calm down. You don't need to get them every time. Let them win that one. You'll win it when it matters," the former agent said.
Asked what has changed in the agency, the former agent argued it is a result of officials both in the sectors and in Washington moving away from viewing the Border Patrol as a law enforcement agency and toward seeing it as a paramilitary organization with no accountability.
"To me, that's the most tragic thing about what's going on," the former agent said. "I want them to look at themselves and say, 'We are law enforcement. We are not paramilitary.'"