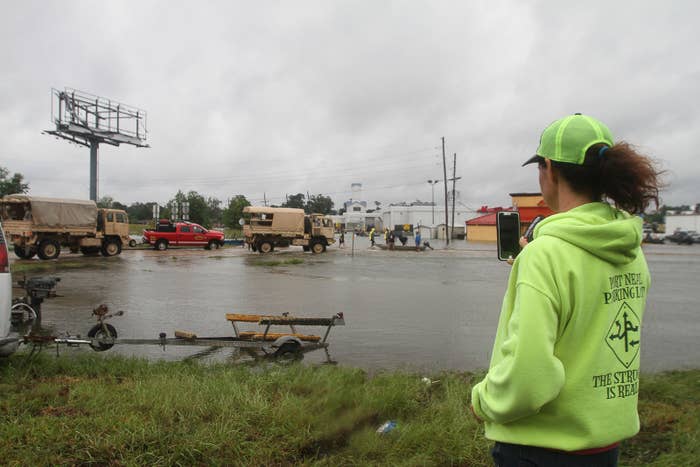 ORANGE, Texas — None of the volunteers awaiting orders in the American Airboat parking lot seemed to know her name, not that any of them had time to find out, or even needed to. If you had a question, you simply talked to the "woman in the neon yellow shirt."
Even without the shirt, Amanda Labove's calm confidence made it clear she was in charge of the makeshift command center.
"I need a boat, it's an emergency," Labove said, turning to a group of five men. "There's a mother and infant stuck on a car and the infant is turning blue."
Two men quickly volunteered and, with address in hand, they climbed into their pickup and sped off west with their flat-bottom fishing boat in tow.
It was just one of dozens, maybe even hundreds, of rescue missions Labove would dispatch complete strangers on throughout Wednesday to Orange and other small communities along the Texas–Louisiana border.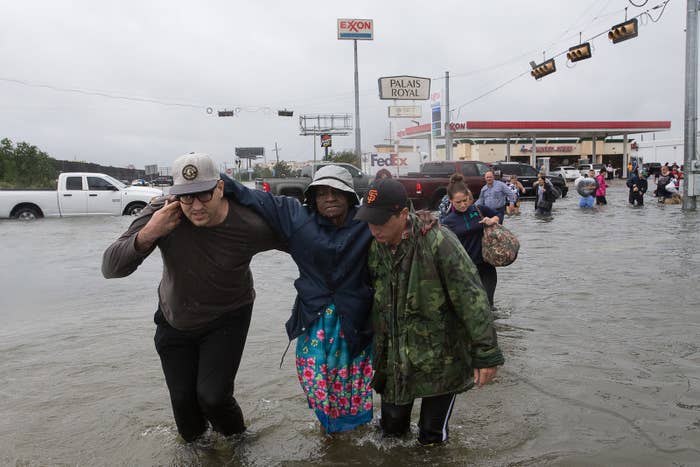 By 1 p.m., volunteers estimated they'd already picked up 500 people in Orange alone.
And they kept on coming.
Although the National Guard and Coast Guard would arrive in the early evening hours of Wednesday, for most of the day, the rescues were being done by an army of volunteers, most of whom had no training in search and rescue or even knew each other.
"I just showed up early this morning and just started taking calls, sending people where they needed to be, and doing the best I can," said Labove, a resident of Lake Charles.
After she set up shop in the parking lot, Labove said the volunteers simply started showing up "from all over, from all over the United States. Georgia, Alabama, obviously Louisiana."
Chase Moreau and Lance Broussard stood in the warm rain, preparing to head out for their second trip into Orange of the day. A few minutes earlier they had arrived back at the American Airboat lot, bringing with them an 82-year-old flood victim. She was in bad shape, and her oxygen tank was running low when they found her.
"It's rough seeing how it is. People standing out there, with maybe a bag. That's all they can carry with them. And they've lost everything else," Moreau said.
Like most of the rescuers working in Orange, Moreau and Broussard weren't part of a highly organized search and rescue operation. The two friends had decided early Wednesday morning that they had to try and help the people of Orange. So first they went to the Civic Center in Lake Charles, which is operating as a regional shelter for victims of the storm. There, they met members of the Cajun Navy, a volunteer group from Louisiana that helps flooding victims. They signed up and headed off with their boat to Orange.
"Sitting at home knowing all these people needed help, we decided to come over here and get 'em to safety," Moreau said matter-of-factly.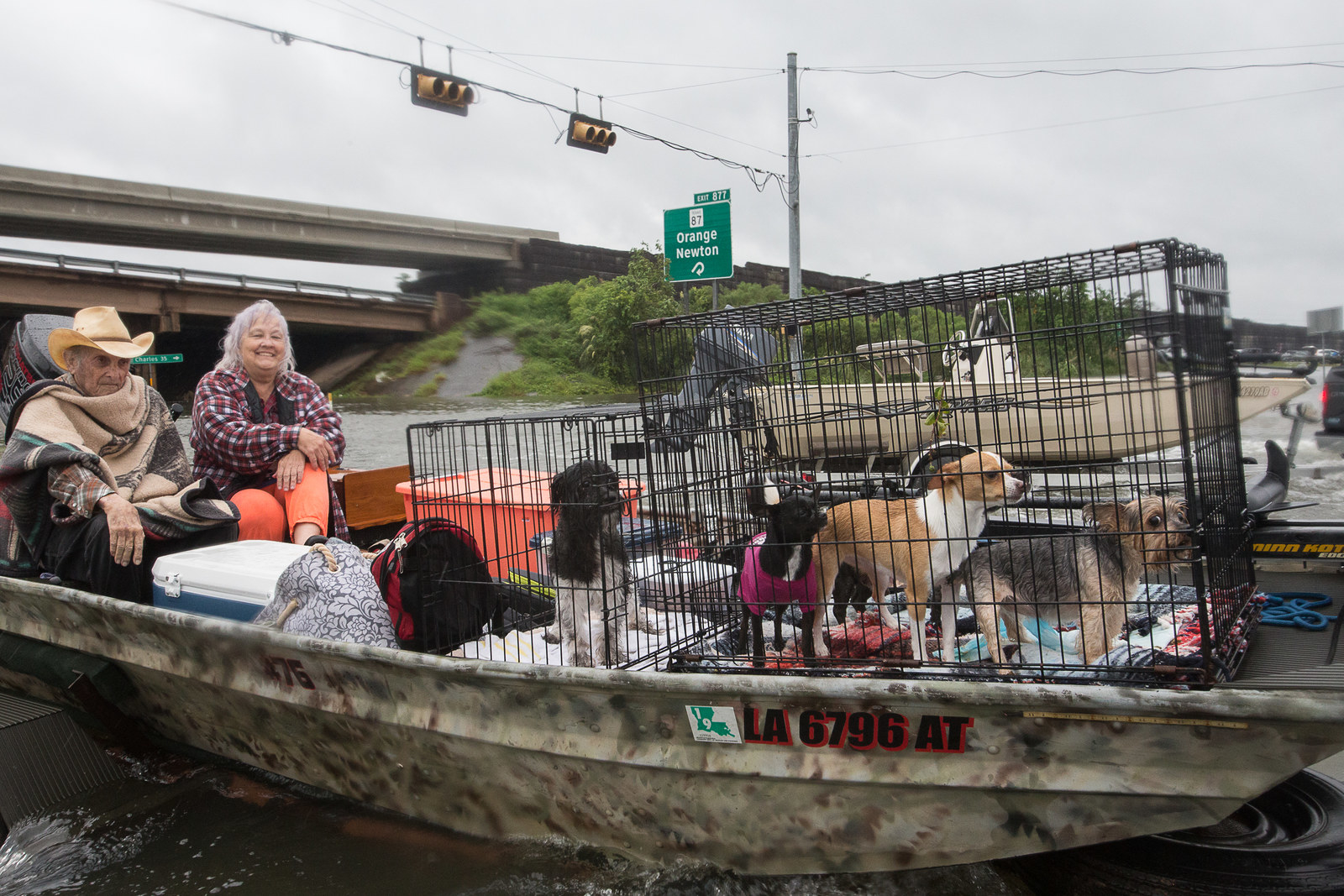 Most residents here were caught by surprise — according to locals the town hasn't seen major flooding in over a decade, and the storm had been forecast to move further east and hit Lake Charles, Louisiana, which had already taken a beating earlier in the week during Harvey's first landfall.

But instead the storm tracked farther to the west than forecasters had predicted. And while Lake Charles was largely spared, Orange and other communities along the border between the two states were inundated overnight. Still, most of the town's population went to bed assuming the best.
"We came to Orange to stay with my grandparents, because it's never flooded here," said Byron Ellis, a pastor at Redemption Church in Beaumont, which was hit with a massive deluge of water Monday and Tuesday. "Three hurricanes, they've never got any water in the house — no flooding, nothing. So me and my wife and our nine-month-old baby came to stay with my grandparents."
At first, he said, everything was fine.
"We didn't lose electricity or nothing. And then around 3 o'clock in the morning, water started coming in. Within an hour or so, it was probably waist-deep," Ellis said.
A neighbor picked up the family a few hours later in his boat, and brought the young family first to a nearby church, and then eventually to the parking lot of the Market Basket grocery store, where they waited with hundreds of other flood victims to be ferried through the deep water that cut off much of the town from safety.
"It's great, especially since two weeks ago we had all that bullshit with the white supremacists … [but] it's sad that it takes something like this to bring unity to our people," the young pastor said.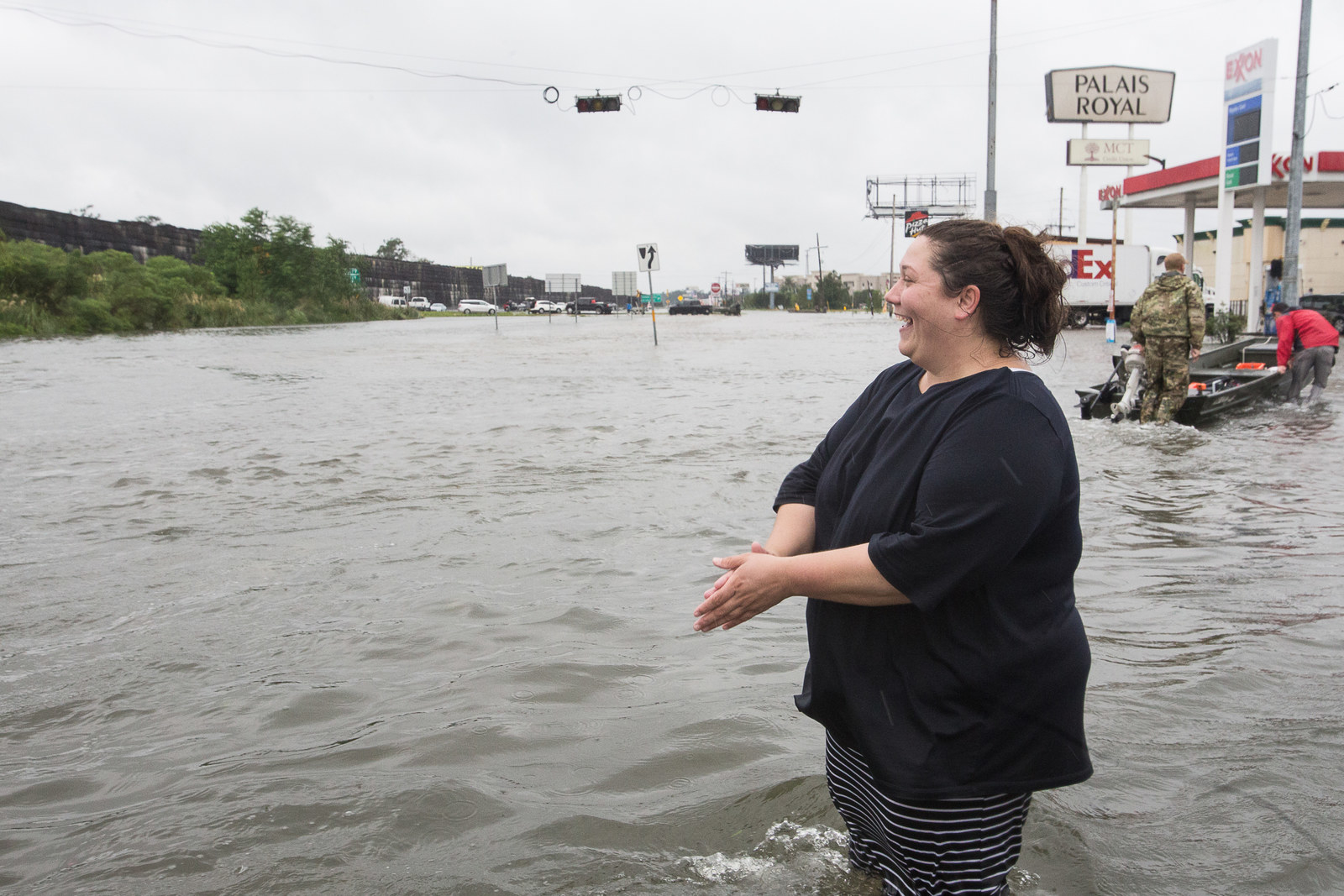 Tasha Lyles stood waist deep in the water in the intersection of East Lutcher Drive and 16th Street. With the I-10 freeway looming above her, Lyles calmly directed the bizarre traffic of trucks, canoes, fishing boats, and even a plucky Volkswagen Bug, that was churning through the flood waters.
"Evacuees need to be dropped off over there! No, there!" she called out to a man towing a boat full of water-logged flood victims behind his truck.
Originally from Dequincy, Louisiana, Lyles and a group of other locals had banded together just four days ago to form the Dequincy Rescue Rangers to help save people in Harvey's path.
"We're just a small community, and everybody came together and we thought this would be a good way to help out," Lyles said.
Until federal authorities showed up, the rangers made up the largest single contingency of people working in the part of Orange. The rangers had more than 30 boats patrolling the town's streets looking for people in need of help, and a team of volunteers were organizing pickups and drop offs of flood victims, staging them in the relative safety of Market Basket's awning before moving them east to shelters in Lake Charles.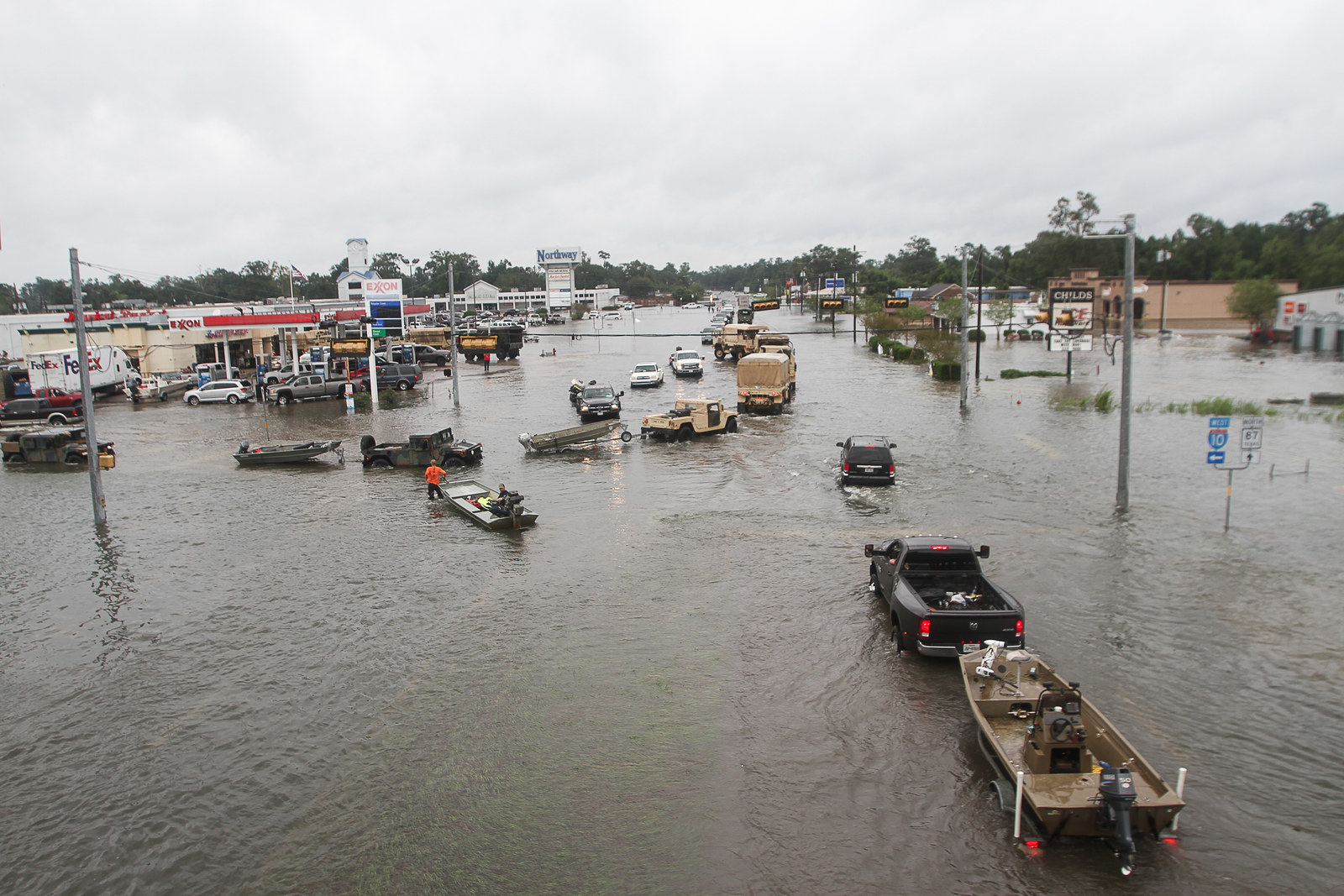 They'd even brought a number of church vans from Dequincy to help move flood victims back and forth.
"We've just been out helping people get rescued, meeting their needs and seeing if we can help them with anything," Lyles said with an earnest smile.
The flooding also worsened after local authorities decided to open the spillway to release pressure on a dam in Louisiana. The Sabine River Authority first noted at 9 a.m. Monday that water levels at Toledo Bend Lake were approaching levels that would require spillways to be opened.
By 3:30 p.m., 11 spillway gates were open 2 feet. Water level at the lake was at 172.94 above mean sea level after increasing through the day. Water was flowing from the spillways at 22,000 cubic feet per second, up from 5,000 early in the day, officials reported.
If you've been impacted by the storm in Texas or have a tip about rescue, relief, government, or aid efforts, call the BuzzFeed News tipline at (646) 589-8598. Find us on Signal, email, SecureDrop, and more here.
Claudia Koerner contributed reporting.