Trump's Sloppy, Vote-Depressing Outreach Effort In Little Haiti May Actually Work
There's not a lot of love for the Clintons among Haitians in South Florida, and Donald Trump's campaign wants to make sure it stays that way.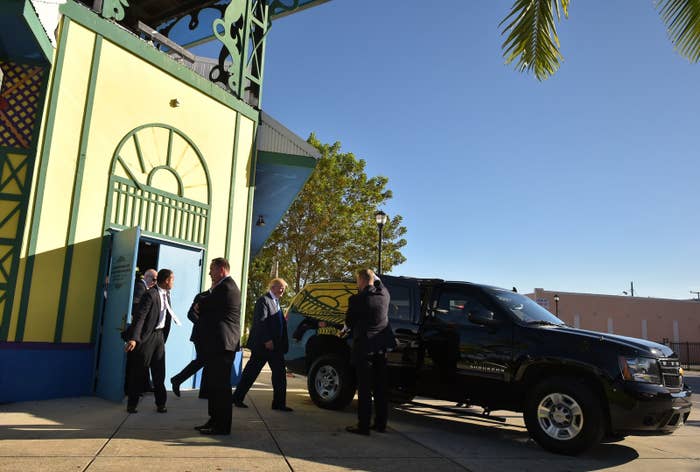 MIAMI — When Donald Trump's motorcade left Little Haiti last month — speeding past protesters and gawkers in this historic Miami neighborhood — it seemed like just another day in his campaign's ham-fisted minority outreach efforts.
Trump had just wrapped up a meeting at the Little Haiti Cultural Center. His campaign had billed the event as an opportunity for the Republican nominee to learn about the Haitian community's needs. But instead of the standard collection of local business owners, community members, and activists gathered for a well-staged roundtable discussion common to these sorts of campaign events, the vast majority of Little Haiti residents didn't even know it was happening. In fact, staff working at the center didn't know the campaign had rented a room there until that morning.
Instead, the crowd was stacked with businessmen and political figures hostile to the Clinton administration, almost all of whom came from outside of Little Haiti. Local leaders were never informed about the event.
In the month since the meeting, Trump and his running mate Mike Pence have made Haiti a standard part of their stump speeches and the campaign has begun running ads targeted at the community. And when Trump brought up his visit in the last presidential debate and attacked Hillary Clinton's reputation in the Haitian community, it seemed an odd turn.
On its face, trying to make inroads in the Haitian community doesn't necessarily make sense for Trump. His anti-immigrant rhetoric has angered many in the community, and his calls to build a wall across the United States' southern border — where increasing numbers of Haitians are crossing into the country illegally — has not won him many supporters.
But even with the sloppily put-together event, Trump's focus on Little Haiti has made an impression among those living here. Haitian anger with the Clintons is real, and potent to the point that even the most insane rumors from the internet's fever swamps — including accusations that the Clintons are drug runners and money launderers — are openly discussed as fact.
The estimated 370,000 Haitians make up just 2% of Florida's population, but every vote counts in Florida.
Interviews with nearly a dozen Republican operatives, Haitian-American journalists, activists, business owners, and residents of Little Haiti show anecdotal evidence of a new strategy spearheaded by Trump campaign CEO Steve Bannon, according to a Republican operative: convince Haitian-Americans to stay home on Election Day.
According to Marlene Bastien, who runs the Haitian Women of Miami, Trump's targeted comments about the Haitian community's conflicted feelings about Clinton and her husband were a stroke of genius.
"There are issues that the Haitian community in Haiti and the diaspora have with the Clintons," Bastien said. "And a true politician, a good politician, he's taking advantage of that."
It's difficult to tell just how big of an impact the campaign's efforts are having on the Haitian community. But the fact that anecdotal evidence suggests it's working is particularly remarkable given the relatively small amount of effort the campaign has put into it.
A Republican strategist not working on the campaign said that in many ways, Trump is the only Republican candidate who could even attempt something like this. "A generic Republican candidate would do it. And can you imagine Mitt Romney going to Little Haiti?" the source said.
According to two Republican sources with direct knowledge of the plans, the marriage between Trump and Little Haiti is part of a bigger strategy by the Trump campaign (and reported in depth last week by Bloomberg) of convincing traditionally Democratic blocs — like young women and black voters — to sit this election out. And the Haitian community became one of the campaign's main targets.
"There are issues that the Haitian community in Haiti and the diaspora have with the Clintons ... And a true politician, a good politician, [Trump is] taking advantage of that."
The Trump campaign did not return a request for comment.
These same Republican sources say that Trump's fascination with Haiti stems from Clinton Cash, a book and subsequent movie written by author Peter Schweizer, who is affiliated with the Government Accountability Institute. Bannon sits on GAI's board of directors. In the book, Schweizer writes about the Clintons' history in Haiti, including the US intervention in 1994, the election of Haitian President Michel Martelly in 2011, and the unproven rumors that the Clinton Foundation mishandled relief money in the aftermath of the earthquake there in 2010.
Despite those tensions, Haitians have traditionally voted Democratic, according to community activists.
Ringo Cayard, a controversial Haitian-American activist and businessman, set up the September meeting for the Trump campaign. Cayard has, to say the least, a colorful history. When he was 8, his family fled Haiti under threat from the Duvalier regime, which at the time was supported by the US government.
To hear Cayard tell it, he's had direct lines to presidents for years. According to Cayard, he was "involved" in the campaigns of Walter Mondale, Bill Clinton, and Al Gore, and "I flew on Air Force One with Bill Clinton," he told BuzzFeed News, adding that he talked with Clinton as late as earlier this year — to warn him that his foundation's involvement in Haiti could hurt Hillary's campaign chances.
Asked about Cayard's claim that he flew to Haiti with Clinton, Angel Urena, a spokesperson for the former president, said simply, "We have never heard of him."
In 2008, Cayard was arrested on 20 charges of racketeering connected to a nonprofit housing group he ran. Although the charges were eventually dropped — and he insists they were politically motivated in the first place — they nevertheless have dogged him, making him a controversial figure.
Cayard said that when the Trump campaign came calling, it seemed like an obvious decision. "I said to myself, 'That makes a lot of sense,'" he said.
"Thirty-seven, 40 years ago, we were political exiles and economic exiles here," Cayard said. "From there, we became boat people. From there, we became refugees, then … we received temporary visas. From there we became residents, then citizens. And from there, we became voters."
"Donald Trump coming here is a recognition that our generation learned how to be American citizens," he said.
"I wanted to come to Little Haiti for a very specific reason. I wanted to come here to listen and to learn," Trump told those in the meeting on Sept. 19.
A video of the event posted by participants showed that they asked questions on standard Republican fare like school choice, or urged Trump to use the presidency to investigate the Clintons for their drug-dealing ways.
Trump appears to have earnestly walked out of the meeting believing that he actually understands the situation in Little Haiti and that all Haitians truly do love him. And both of those ideas have become constant parts of his and his surrogates' campaign pitch.
Cayard brushed off the idea that his community was simply being used as a prop by as political opportunist, making it clear that the opportunity goes both ways: "For me, it's not a question of voting for Donald Trump. My being involved was to bring the saga of Haiti to the international level."
Trump's sojourn into Little Haiti may not have won him many new voters, but it was certainly effective in irritating the old wounds between the community and the Clintons.
"People called it a publicity stunt, but whatever. He showed up," said Nadege Green, a Haitian-American journalist for NPR in Miami.
For a portion of the community, the very act of coming into Little Haiti "gave them permission to maybe like Donald Trump," she said, adding that, for much of the community, Trump has reopened the wound of longstanding rifts with the Clintons: "It goes back to Hillary Clinton's record on Haiti."
"We're not picking on Donald Trump. We also have questions for the Clintons and their foundation," said Schiller Sanon-Jeules, who owns the Little Haiti Thrift and Gift Store, down the road from the community center. Sanon-Jeules pointed in particular to Clinton's failed promise to build new homes for Haitians after the earthquake: "Only four houses were built. Where is the rest of it?"
"I think he's a smart man. He knows that Haitian-Americans, rightly or wrongly, vote en bloc for Democrats, and he made a very, very intelligent calculation," Bastien said. Anecdotally, she's seen an impact within the community: "I get calls from people saying, 'I can't believe it, I'm voting for Trump.' When I ask them why, they say, 'He came to Little Haiti.'"
Callers into talk shows on Haitian radio, Green said, routinely bring up Clinton's problems, and more and more people are simply throwing up their hands and giving up.
"If his showing up either makes folks vote for him or sit it out, then yes, it could have an effect. This is Florida," Green said.
Stephane Lherisson, for instance, has never voted for a Democrat, but he's considering it this year because of Trump's heated rhetoric against immigrants and general temperament.
But over the last month he's become increasingly unhappy with Clinton, who he views not only as a source of many of Haiti's problems, but also as taking advantage of Haitian voters, who generally vote Democratic.
Pointing to the collapse of Haiti's poultry and rice industries, which has left tens of thousands without jobs or a consistent source of food, Lherisson insisted that Clinton-era policies, as well as those under the Obama administration, have crippled the island nation. "What the Clintons did to the country is despicable," he said, explaining that Trump's visit helped refocus many in the community on the Clinton's relationship with their home country.
That said, he's not voting for Trump. "He's not prepared. He's not ready," Lherisson said of Trump. Still, he insisted, "We have to show Hillary she can't take us for granted."
With less than two weeks before the election, he still doesn't know what he'll do. "I'm very undecided. But I can't vote for Trump," he said.
Of course, not everyone in Little Haiti sees Trump's trip the same way that Cayard does.
Jan Mapou is 75 years old, a Democrat, and an immigrant. He owns Mapou Liberie, a local bookshop in Little Haiti. Mapou is so revered here that his face is part of a mural memorializing influential figures in the community. His bookstore is directly next to the Little Haiti community center, and he was incensed that the neighborhood was neither invited to nor told of Trump's event. He closed his business in protest that day.
"To say he was here and talked to the community is a lie," Mapou said. "It was disrespectful. So when I got here, I shut down the doors."
Sitting behind the counter of his bookstore in the heart of his neighborhood, Mapou insisted Trump's visit wouldn't sway many of his neighbors to Trump's camp.
"There are no Haitians that are going to vote for Trump," Mapou said confidently. "He is not prepared to be the president. Can you imagine him internationally?" he asked incredulously, shaking his head. "I promise you, at 12:05 they will call the election for Hillary."
Like Mapou, Sanon-Jeules has little good to say about Trump's visit. When Sanan-Jeules heard Trump was the cause of the traffic delays, he joined a group of about 100 residents on the corner chanting and jeering Trump and those Haitians who attended. "You should have seen the anger against this guy," he said. Though one friend did attend the event, most of them were not from Little Haiti. As for Cayard, Sanan-Jeules said simply that "he's a man who's defending his own pockets."
Sanan-Jeules acknowledged that Trump's focus on the Haitian community has helped bring renewed attention to the country's plight, his broader anti-immigrant rhetoric has soured many Haitians to him: "To us, he's racist."