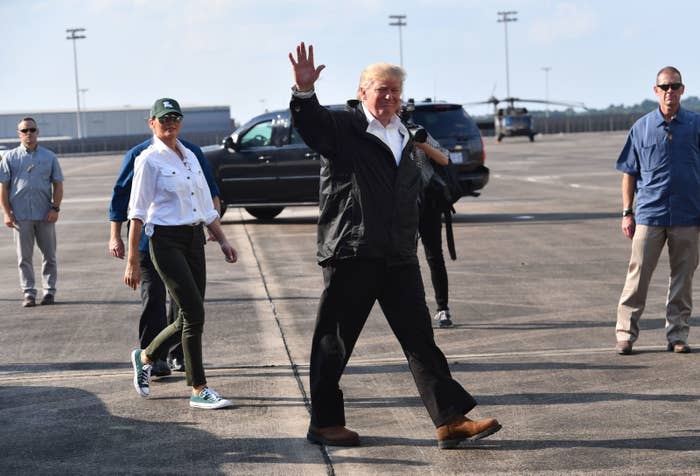 LAKE CHARLES, Louisiana — Hundreds of enthusiastic Louisianans waving American flags, Texas Lives Matter signs, and 2016 campaign lawn signs greeted President Donald Trump during his brief stop at the National Guard headquarters here Saturday.

Trump's 15 minute stop, during which he met members of the Cajun Navy rescue group, is the last stop on his tour of areas affected by Hurricane Harvey. Although Lake Charles didn't receive the brunt of Hurricane Harvey's destruction, it has been a staging point for relief efforts in eastern Texas.
And while there wasn't much in the way of disaster touring to be done in Lake Charles, the pit stop is sure to lift the spirits of a president with historic unpopularity.

Lake Charles is friendly territory for Trump, who waved and smiled at the crowd outside the headquarters. "I think it's great. It's a chance to see how much everybody here in Louisiana supports him," said Kim Strickell, a Lake Charles native who came to catch a glimpse of the president along with her family and friends.
Strickell said she is pleased with how Trump has handled the aftermath of Harvey. "He's put federal dollars out there ahead of it. That's a big help," Strickell said.
Her nephew, 16-year-old Jack Slade, was also on hand. An ardent supporter of Trump, Slade said "even though I am a minor, I know my beliefs already."
Although the crowd was almost entirely made up of Trump supporters, there were also plenty of people simply on hand to witness a bit of history. "It's historic," said Miles Brown, 23.
Asked if he was a Trump supporter, Brown hesitated. "I'm not going to say that exactly. But I hope for the best with this president. Because I'm tired of seeing the same thing going on. This person did say he wanted change. I haven't seen it yet, but it's better to support him than keep talking down on him."
But at least one family wasn't pleased with Trump's visit. The fence of a house across the street had an "#IMPEACH" sign painted in huge white letters across it, and the owners sat on the roof holding protest signs as Trump's motorcade rolled by.
Earlier in the day, one of the owners of the house across the street from the headquarters, who identified herself as "Ms. King. Because I have to do business in this town," had painted an "#IMPEACH" sign painted in huge white letters across her fence. At one point, two men attempted to cover the sign with a tarp, but her husband stopped them, warning "you best get away from my fence."
For King, Trump's visit had nothing to do with Harvey — and everything to do with his already started 2020 reelection campaign. "Something happened here. It's called a disaster. But that's not what all this is about," she said waving dismissively at the president's motorcade from her perched on top of her roof. "It's all about the campaign for 2020."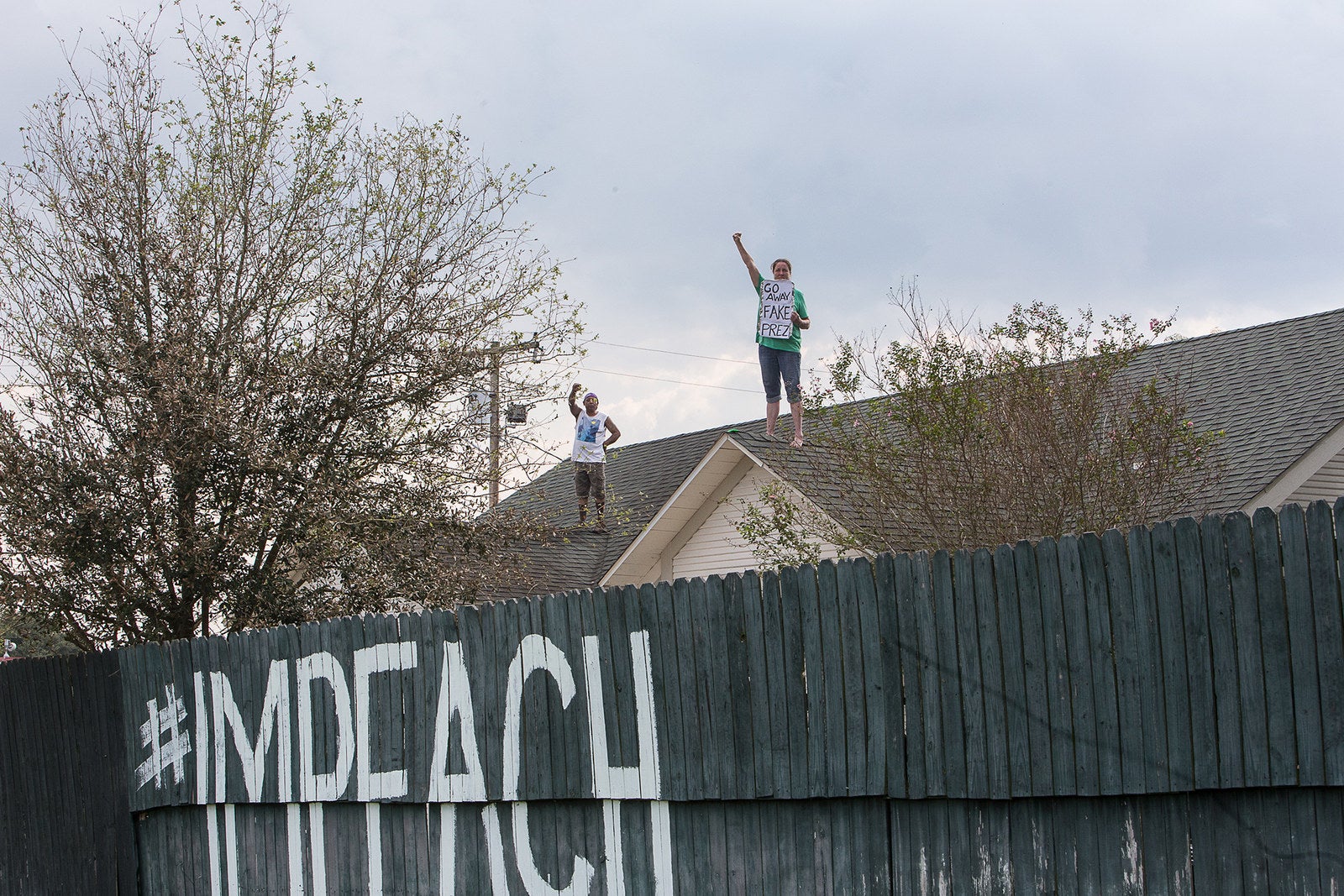 If you've been impacted by the storm in Texas or have a tip about rescue, relief, government, or aid efforts, call the BuzzFeed News tipline at (646) 589-8598. Find us on Signal, email, SecureDrop, and more here.