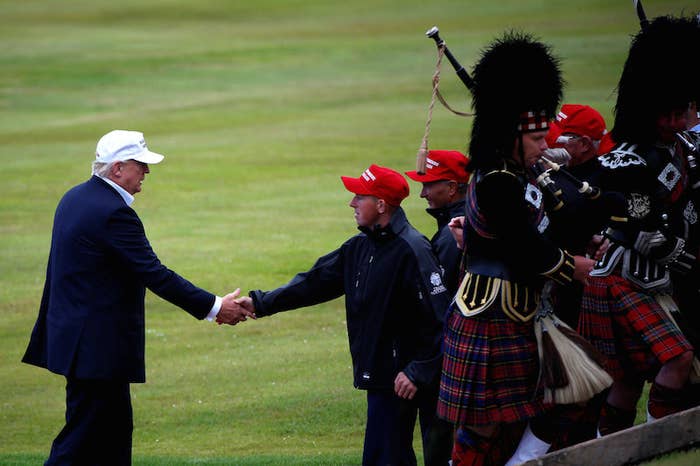 Donald Trump, the presumptive Republican nominee for president, said Friday that he believed the same feelings that drove people in the United Kingdom to vote to leave the European Union is "happening in the United States."
"I think you're going have this happen more and more. I really believe that and I think it's happening in the United States. It's happening by the fact that I've done so well in the polls," Trump said.
Supporters of the vote to leave the European Union said doing so would tighten the country's borders to immigrants.
Trump made the comments while visiting his golf course in Turnberry, Scotland. When his helicopter landed, he was escorted by bagpipers. "Just arrived in Scotland. Place is going wild over the vote. They took their country back, just like we will take America back. No games!" he tweeted shortly after. (Voters in Scotland supported remaining in the EU.)
Then, more than an hour later, he was escorted by bagpipers to his news conference, where he spent the entire first portions discussing the details of his golf course.
At one point, a protester stood up and held two golf balls with the Nazi logo, reportedly saying, "These are the new balls available in the clubhouse." Trump told his guards to remove him and made a comment about his haircut.
After his family made short remarks about the facility, he took questions and was asked about Brexit.

"I really do see a parallel between what's happening in the United States and what's happening here. People want to see borders. They don't necessarily want people into their country they don't know where they're coming from," he said.
When asked if he was discussing the Brexit vote with his foreign policy advisers — the fallout has included Prime Minister David Cameron's resignation and massive fluctuation in the world's markets — Trump said, "I've been in touch with them, but there's nothing to talk about."
He said he thought the vote would "turn out to be a good thing. Maybe not short term."
He also said that with the value of the British pound plummeting "they're going to do more business. When the pound goes down, more people are coming to Turnberry, frankly" — where Trump's golf course is.
"People are angry all over the world," Trump said earlier in the day, and said the vote was about "borders," seemingly connecting it with his own campaign in the U.S.

Trump does not appear to have any other business on his agenda except visiting the course and holding the news conference.
"They have declared their independence from the European Union and have voted to reassert control over their own politics, borders and economy," he said in a statement. "A Trump Administration pledges to strengthen our ties with a free and independent Britain, deepening our bonds in commerce, culture and mutual defense."

Here is Trump arriving at his golf course to bagpipers: