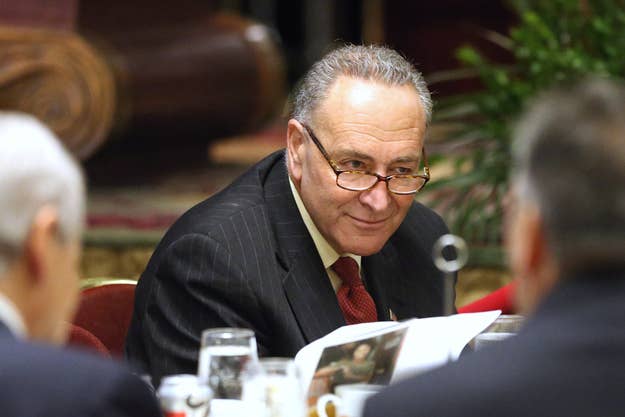 WASHINGTON, DC — Hoping that Tuesday's election will help break GOP resistance to broad immigration reform, Sen. Chuck Schumer Thursday said he hopes Congress can begin tackling the politically thorny issue next year.
"The election gave great momentum to immigration reform, because it showed Republicans they cannot succeed if they continue with such a harsh position," Schumer told a group of reporters during a Christian Science Monitor Breakfast here.
Latino voters' share of the total electorate increased again Tuesday, and in the aftermath of Mitt Romney's defeat and their party's collapse in the Senate, Republicans openly acknowledged they had to begin dealing with their Latino problem.
As a result, Schumer, who chairs the Judiciary Committee's immigration subcommittee, said that immigration reform, along with energy legislation and campaign finance reforms, could become the defining items of Democrats' agenda in the 113th Congress.
Schumer also said that while FEMA "is much improved" since last year's Hurricane Irene because they "have money to deal with [Sandy], at least in the immediate," Congress will likely have to take up a supplemental spending measure in the near future.
When asked if he thought current spending levels would cover the reconstruction, Schumer bluntly said, "I don't think it will be … at some point we will need some more help," noting that beyond disaster relief issues covered by FEMA, the federal government will need to give New York and New Jersey resources to deal with damage to transportation infrastructure and to help pay for flood insurance programs.
"Disaster relief has been a federal government responsibility for a long time," he added.
As for the looming fiscal cliff, the New York Democrat said he talked with White House officials Wednesday night and that, "You'll see the president actively engaged right away," although he downplayed the idea that Obama needs to present a detailed plan immediately.
And while Schumer took some optimism from Speaker John Boehner's comments Wednesday that he is open to including additional revenues in any deal to avoid the fiscal cliff, he warned: "The Speaker is going to need some help in bringing along his colleagues … and I'm very hopeful that help will come from the business community."