Top Senate Democrat Defends Attacks On Romney Tax Payments
An unusual personal attack from the Senate floor. Majority Leader Harry Reid says claims that Romney hasn't paid taxes in a decade came from "extremely credible source."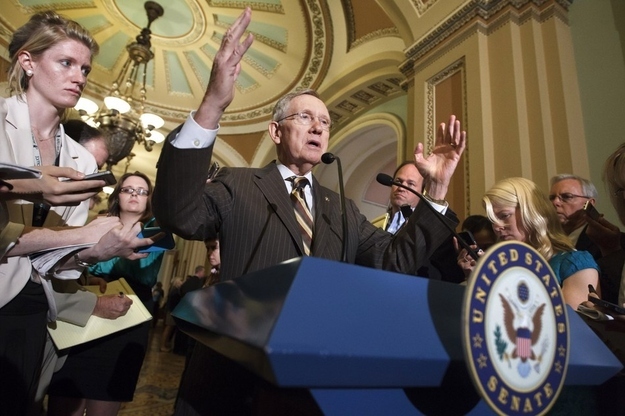 Senate Majority Leader Harry Reid Thursday defended his claims that Mitt Romney hasn't paid taxes in a decade, charging his "credible source" raises legitimate questions about the presumptive GOP presidential nominees finances.
In an interview with the Huffington Post earlier this week the Nevada Democrat, citing an anonymous "investor" in Bain Capitol, leveled the bomb shell on Romney, saying the investor told him Romney "didn't pay any taxes for 10 years."
He repeated the charge in a speech on the Senate floor Thursday, saying "the word is out" that Romney hadn't paid taxes.
In a statement released by his office Thursday night, Reid said "There is a controversy because the Republican presidential nominee, Governor Mitt Romney, refuses to release his tax returns. As I said before, I was told by an extremely credible source that Romney has not paid taxes for ten years."
"People who make as much money as Mitt Romney have many tricks at their disposal to avoid paying taxes. We already know that Romney has exploited many of these loopholes, stashing his money in secret, overseas accounts in places like Switzerland and the Cayman Islands," he added.
The Obama campaign has successfully made Romney's wealth a key issue in the presidential race so far, and the Republican's consistent refusal to release his tax returns has raised questions in the public mind about what, if anything, he may not want made public.
Still, Reid's comments, particularly those on the Senate floor, were remarkable. In addition to providing no evidence to back his claims, Reid's decision to bring a blatant campaign attack to the chamber's floor raised eyebrows amongst Democrats and Republicans alike because it violated the arcane rules of Congress. Lawmakers in both chambers actively avoid criticizing their colleagues by name on the floor of the House and Senate, and members in both chambers are explicitly forbidden from referencing the other chamber in a bad light in speeches.
More broadly, there is a longstanding rule that while members of leadership may use the floor during election years to attack an opposing presidential candidate's policies, they are to avoid the sort of personal slams that are forbidden when talking about fellow senators or members of the House.
In his statement, Reid showed no signs of backing down.
"When it comes to answering the legitimate questions the American people have about whether he avoided paying his fair share in taxes or why he opened a Swiss bank account, Romney has shut up. But as a presidential candidate, it's his obligation to put up," Reid said.