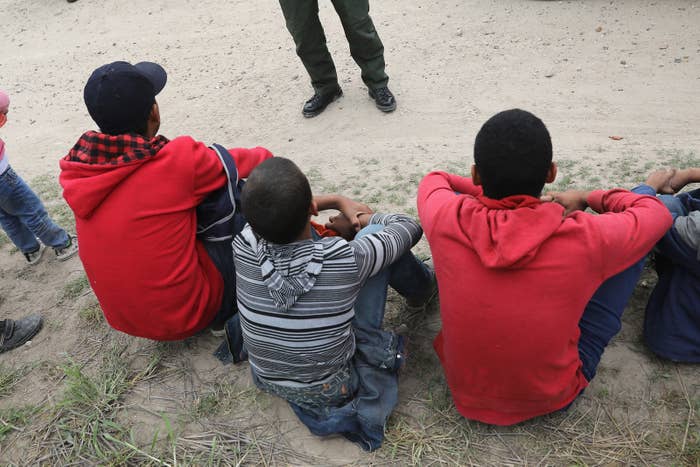 The United Nations is considering providing help to unaccompanied minors crossing the US border in the face of new Trump administration efforts to keep undocumented children from coming to the country in the first place.

The idea is to offer educational materials to minors to explain the country's asylum process, which is challenging even for adults. The United Nations High Commissioner for Refugees told human rights organizations of its plan in an Oct. 16 email, saying the goal is to "strengthen protection for unaccompanied children in the United States and orient them to their legal rights and the necessary procedures for seeking asylum."
The information provided to minors would include the requirements for obtaining asylum and would explain the rights of and protections for unaccompanied, undocumented minors in the United States. The materials could be compiled in a comic book, as part of a cartoon video, or via other means aimed at children, the email said.
UNHCR spokesman Chris Boian said it's unclear if the idea will become a reality. Even if it does, Boian said it would be part of the organization's overall mission to "help children who are unaccompanied by any grownups to understand what's going on, and help them understand there are places they can get help."
Boian also stressed the proposal came as part of UNHCR's routine consultation with state, local, and federal officials, as well as with human rights groups working on the US-Mexico border. Any assistance UNHCR gives would likely be similar to help it has provided unaccompanied refugee children in Europe and other parts of the world, Boian said.
This wouldn't be the first time UNHCR has become involved in the US asylum process. Over the last several years, it has operated a toll-free hotline for asylum-seekers to call to receive reports on conditions in their home countries. Those conditions can be used by asylum-seekers as evidence during their asylum hearings to show dangers they face if they are sent back home. DHS provides detained asylum-seekers access to the number in most detention centers along the border, according to lawyers, activists, and former detainees.
A surge of child migrants fleeing the violence of their Central American countries first hit the US border in 2014, when border agents apprehended 68,541 minors, a 77% increase from the year before. Since then, federal immigration officials have struggled to stem the flow of children.
Although the Obama administration used a mix of increased detention capacity and advertising campaigns to decrease the number of children and families seeking US asylum, unaccompanied minors continue to arrive every day at the border.
A surge of children fleeing the violence of their Central American countries first hit the US border in 2014, when border agents apprehended 68,541 minors.
The Trump administration continues to use detention as a deterrence, but Reuters reported that the Department of Homeland Security is taking a number of harsher steps, including ending a program that lets children apply for asylum while still in their home countries and proposing an end to limitations on the amount of time children can be held in detention centers.
The administration's approach to undocumented minors was criticized recently after agents detained a 10-year-old girl following surgery at a Texas hospital. Federal authorities released the girl, Rosa Maria Hernandez, after the ACLU filed a federal lawsuit demanding she be freed.
Activists working along the border said international officials have made clear for months they are concerned with the Trump administration's approach to asylum-seekers and refugees. Beginning in March, UNHCR staff began a tour of border "hospitality providers" — organizations that provide short-term housing and relocation assistance to asylum-seekers released by DHS. Those visits came at the same time that immigration attorneys and activists were first hearing reports that Customs and Border Patrol agents were turning away asylum-seekers from border checkpoints, which activists have charged is in violation of international law.
In late summer, UNHCR convened a meeting of these and other human rights activists in El Paso, Texas, to assess the challenges refugee and asylum groups face and identify ways it can assist them.
Although UNHCR meets with NGOs and governmental agencies routinely to discuss asylum and refugee issues, an activist who works with asylum-seekers and who attended the summer meeting said UNHCR staff made clear that since January, it had sensed a shift in how the US was "responding to its duties to and treatment of refugees that are presenting themselves at the border. And so they wanted to see what the NGOs are doing."
Additionally, activists said UNHCR staff indicated during the meeting the organization was looking for new ways in which it could assist refugee support groups, including helping them secure new sources of funding.
Boian denied the group has stepped up its interest in refugee issues in the United States because of Trump administration policies, insisting that meetings over the last year are routine and there is "absolutely nothing new in what we're doing in this country or any country."