The Trump Campaign Targets Early Clinton Voters With Buyer's Remorse
On the stump and on social media, Trump is making sure early voters in certain states know there's still time to switch their ballots.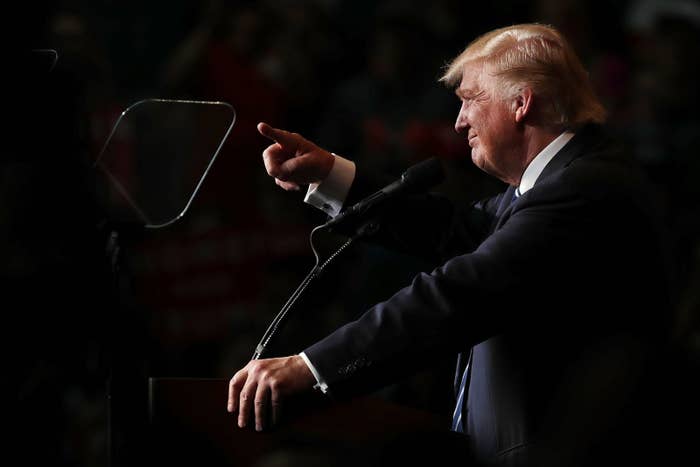 The Trump campaign is urging voters who have already voted but are having second thoughts about Hillary Clinton to try and change their votes before Tuesday's general election.
On Monday, Trump's director of social media tweeted a graphic with numbers voters can call to find out how to change their votes in a number of states, and late last night Trump himself tweeted about vote changing.
And at a rally in Wisconsin, Trump reiterated that message.

"Wisconsin is one of several states where you can change your early ballot if you think you've made a mistake," he said. "A lot of stuff has come out since you voted. So if you live here or in Michigan or Pennsylvania or Minnesota, those four places you can change your vote to Donald Trump."
A Republican strategist familiar with the campaign's thinking says Trump will be hammering that message home in the final days before the election both on the stump and on social media. The campaign will be using Twitter and Facebook to push out the message, targeting voters in states where early votes can be changed, including Pennsylvania, Wisconsin, and Michigan. A Trump campaign spokesman did not return a request for comment, and it is unclear how many resources the campaign is putting into the messaging push.
Although 34 states allow early voting, only a handful of states give voters the ability to change them before election day, and the rules vary by state. For instance, in Wisconsin, voters can change their votes up to three times before November 4. In Minnesota, the ability to change a vote ended Monday. In Pennsylvania, which does not have in-person early voting but does allow voters to submit an absentee ballot early, the only way to change a vote at this point is to show up at the polls on Election Day.
To be sure, the number of people who have already cast votes that are now regretting backing Clinton is likely small — and the number of voters who would go through the trouble of actually changing their votes is almost certainly even smaller.
Still, when the campaign saw Monday that "how do I change my early vote" was trending on Google, it saw an opportunity to siphon off at least some of Clinton's banked votes, according to two Republican operatives.
Targeting early voters regretting their decision is part of a "concerted effort" to woo voters "at the margins" in the waning days of the campaign, according to one source familiar with the campaign's thinking.
Trump is doing this as part of an effort to conduct the sort of micro-targeting that Barack Obama's 2008 and 2012 campaigns perfected to identify narrow slices of voters. The source said this includes targeting former supporters of Sen. Bernie Sanders and Libertarian candidate Gary Johnson — who may still be convincible, especially as Clinton continues to take hits from the WikiLeaks-released hacked emails and as a result of this past Friday's letter from FBI Director James Comey.
"That's all stuff that Trump has the ability to do," the Republican strategist said. "Because he's been a non-traditional candidate, we see potential movement in these areas."