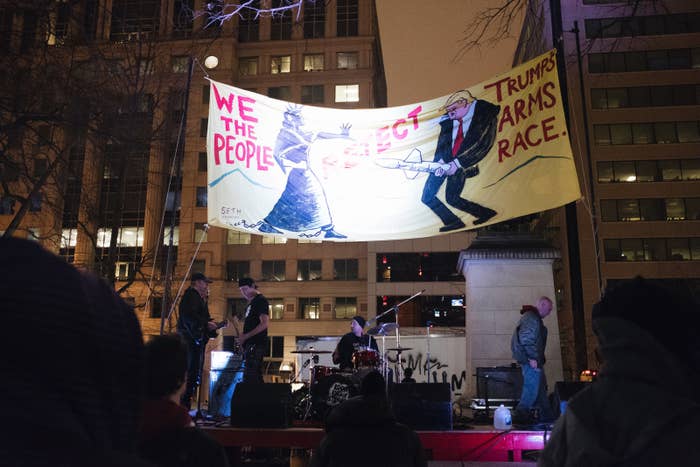 WASHINGTON — As Republicans, alt-righters, and conservatives of every stripe were celebrating President Trump's ascension to power in some of Washington's swankiest hotel ballrooms and restaurants this weekend, another sort of inaugural partying was happening.

Instead of ball gowns and tuxes, the partygoers wore torn jeans, denim vests, scuffed boots and "Nazi Trump Fuck Off!" T-shirts. And their venues of choice were the city's streets, parks, and a tiny pizza parlor that had become the epicenter of the fever fringe's most preposterous 2016 election conspiracy, pizzagate.
The sweaty, chaotic scenes in Franklin Square and Comet Ping Pong pizzeria were familiar to anyone who'd lived in Washington in the 1980s, the last time the country elected a larger than life Republican to the White House. Like President Ronald Reagan before him, Trump tapped into the seething anger of white America's "silent majority," leading a crusade that was not only a political campaign but a cultural phenomena, an expression of disapproval of the excesses of popular culture.
Out of that dynamic DC's punk scene gave birth to bands like the Bad Brains, Minor Threat, Scream, and Government Issue that would go on to influence generations of not just punk musicians but hiphop and the broader rock world as well.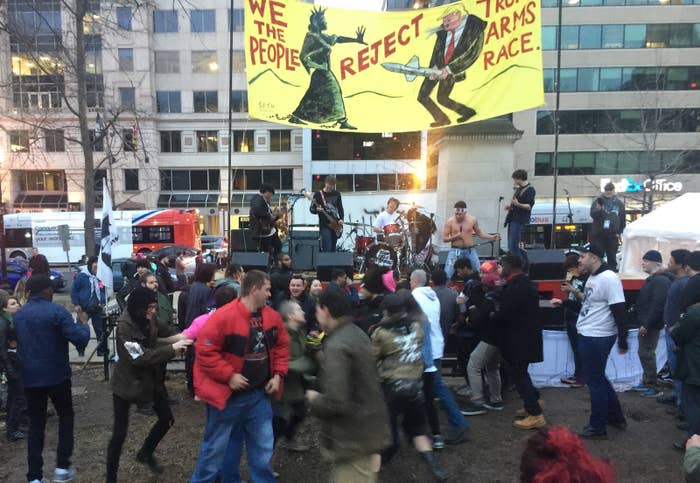 And like the city's iconic 80s hardcore scene did three and a half decades before them, a new crop of angry punks were here this past weekend to greet the new commander in chief with a full throated Fuck. You.
"This song is about slavery, and I really need you guys to mash. Because slavery really sucks," Rael Griffin deadpanned as he stalked the stage Saturday afternoon.
The 150 or so punks, protesters, and homeless denizens of Franklin Square Park laughed, edging closer to the edges of the pit, a little girl with a Moana balloon tied to her arm fearlessly leading the way. As the fresh faced maniac on stage smirked down on them, the punks in the pit tensed, ready for the mayhem.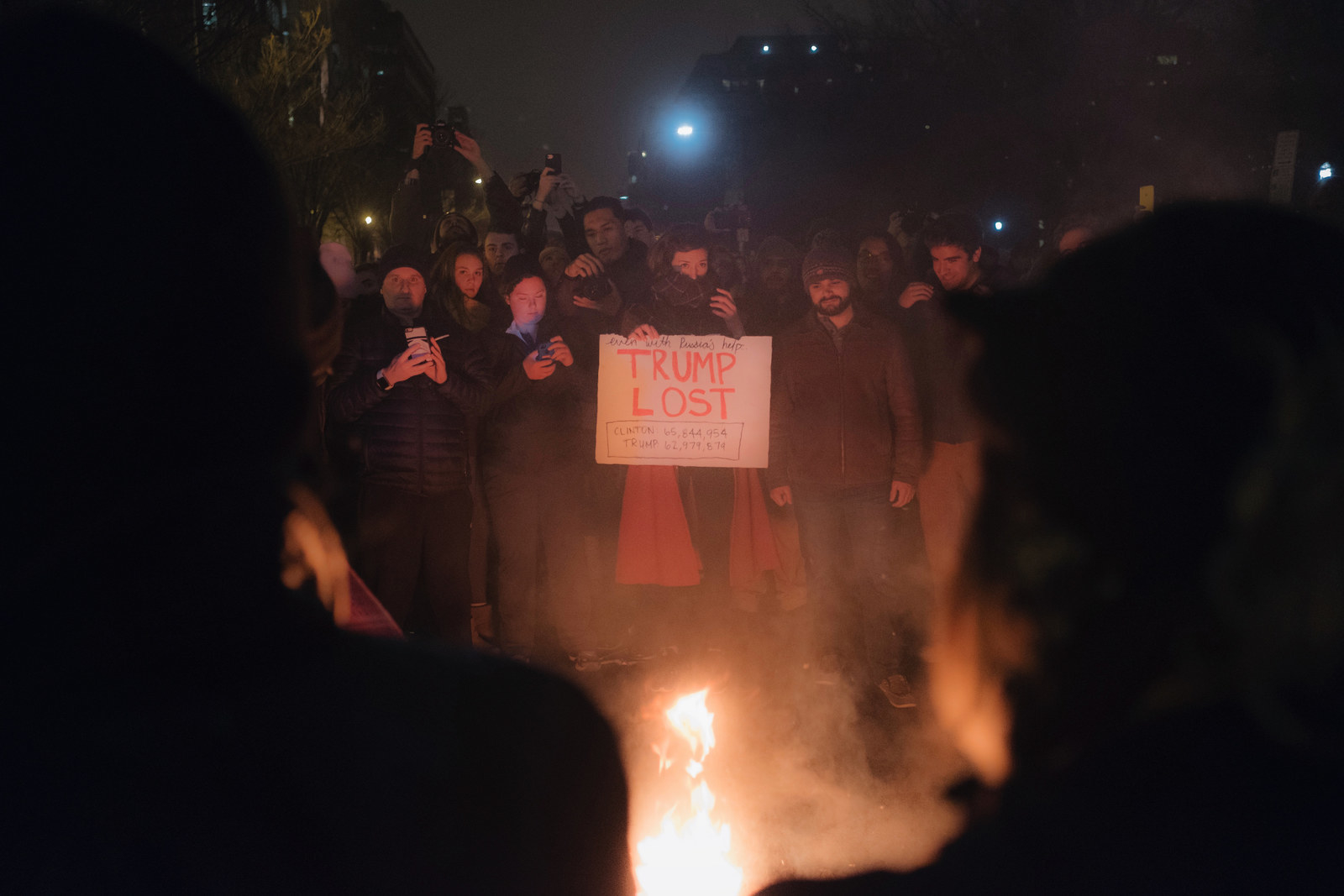 And then Bust Off, the five piece hardcore band Griffin fronts, did just that, unleashing with a loud, fast, fury. Griffin happily bounced, stomped, and screamed into the mic, filling the busy intersection in downtown Washington with youthful rage and turning the pit into churning sea of swinging fists and legs.
Bust Off's style is a throw back to the oldest days of DC hardcore, when skinny, awkward kids dominated the scene. "We're all a bunch of skinny guys. Nothing like the boys in Madball," Griffin joked, explaining that he first started listening to punk music as a small child. "My pops played me the Ramones when I was probably, four years old and I loved it. Then Shrek number one came out, and they sampled Joan Jett and the Blackhearts 'I don't give a damn about my bad reputation,' and I was like, 'damn that's that noise my pops used to play,'" he said.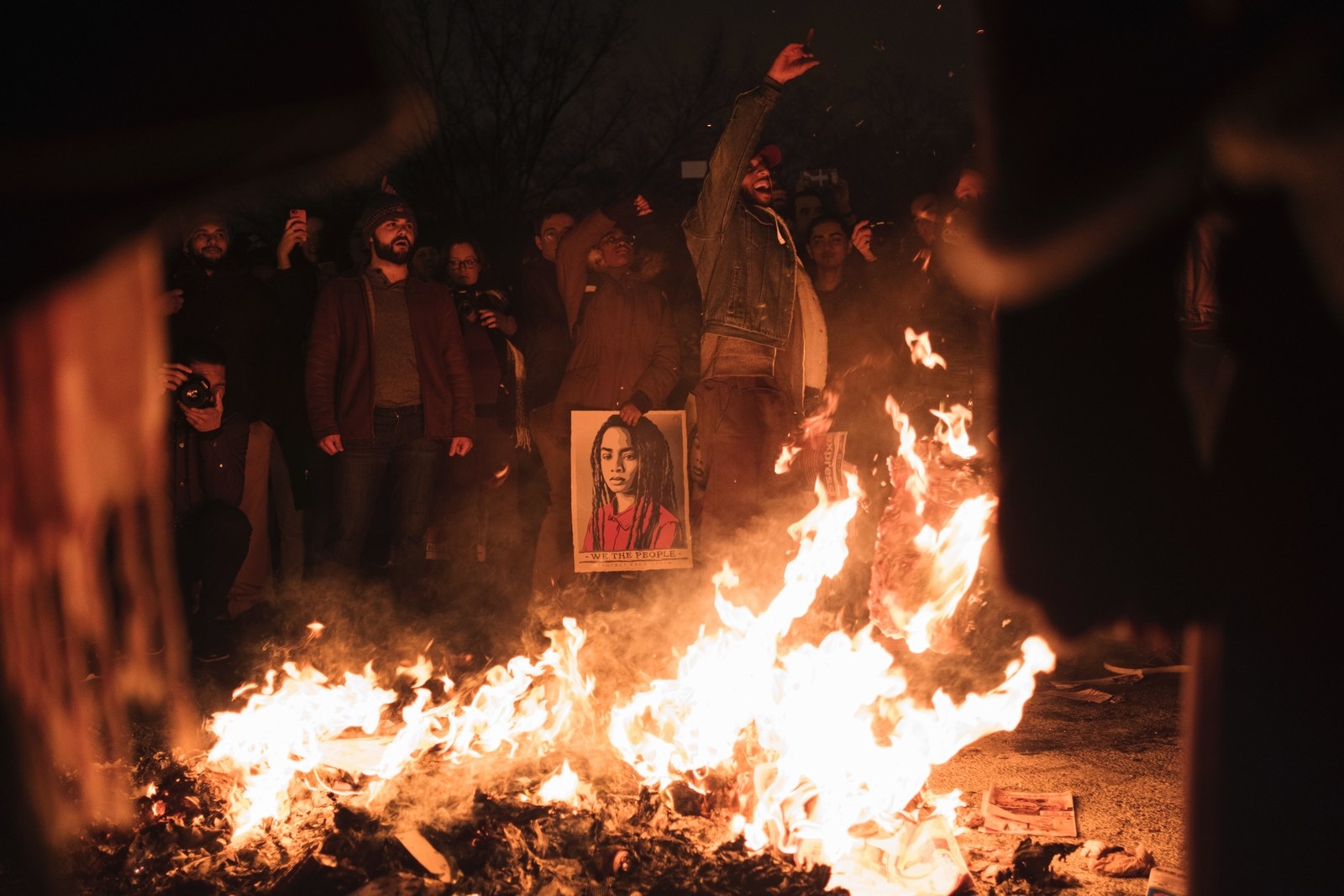 Griffin argued Trump's election is already feeding energy into the punk and hardcore scenes. "I think it goes together like Cinderella and her glass slipper. It's pretty natural for a horrible political situation to breed punk rock and hiphop and hardcore and folk music. We're part of the renaissance, the revival, if you will," he said.
Griffin and his friends played the second night of a DIY anti-inaugural protest in Franklin Square in the heart of Washington's K St, the home of Brooks Brothers clad lobbyists and power brokers. The night before, police and anarchists clashed in the streets around the park as The Screws provided the sound track from the small stage.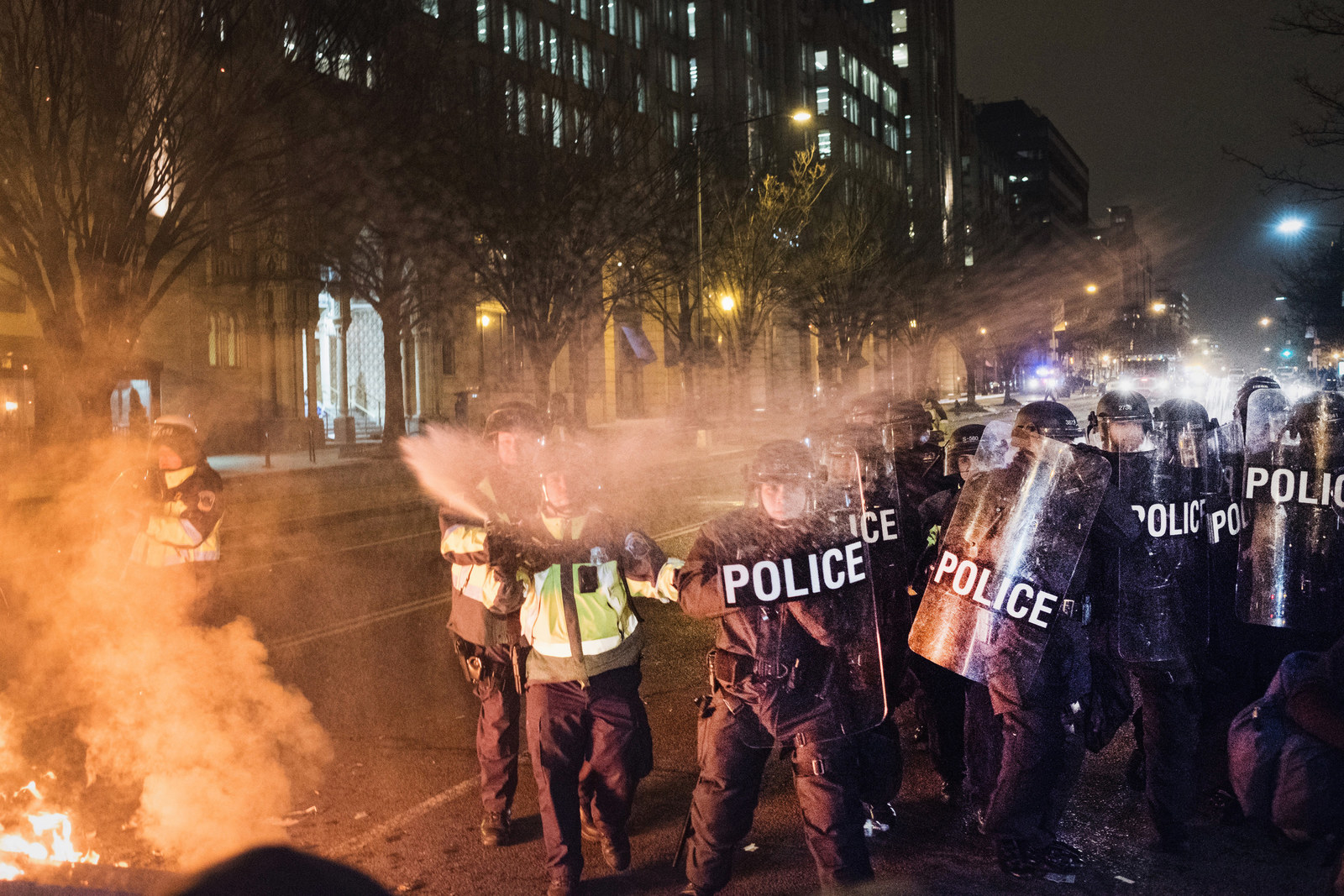 "Been there, done that," The Screws' frontman Irie joked about playing for rioting anarchists earlier in the day.
Hardcore was born in DC, a reaction not only to the hippie counter culture of the 60s and 70s but the capitalist, "Generation Me" attitudes that were just taking hold in 1980s America. Gangly, awkward kids who couldn't find their place in a rapidly changing America — and most times could barely play a musical instrument — started forming bands as an outlet of their frustration.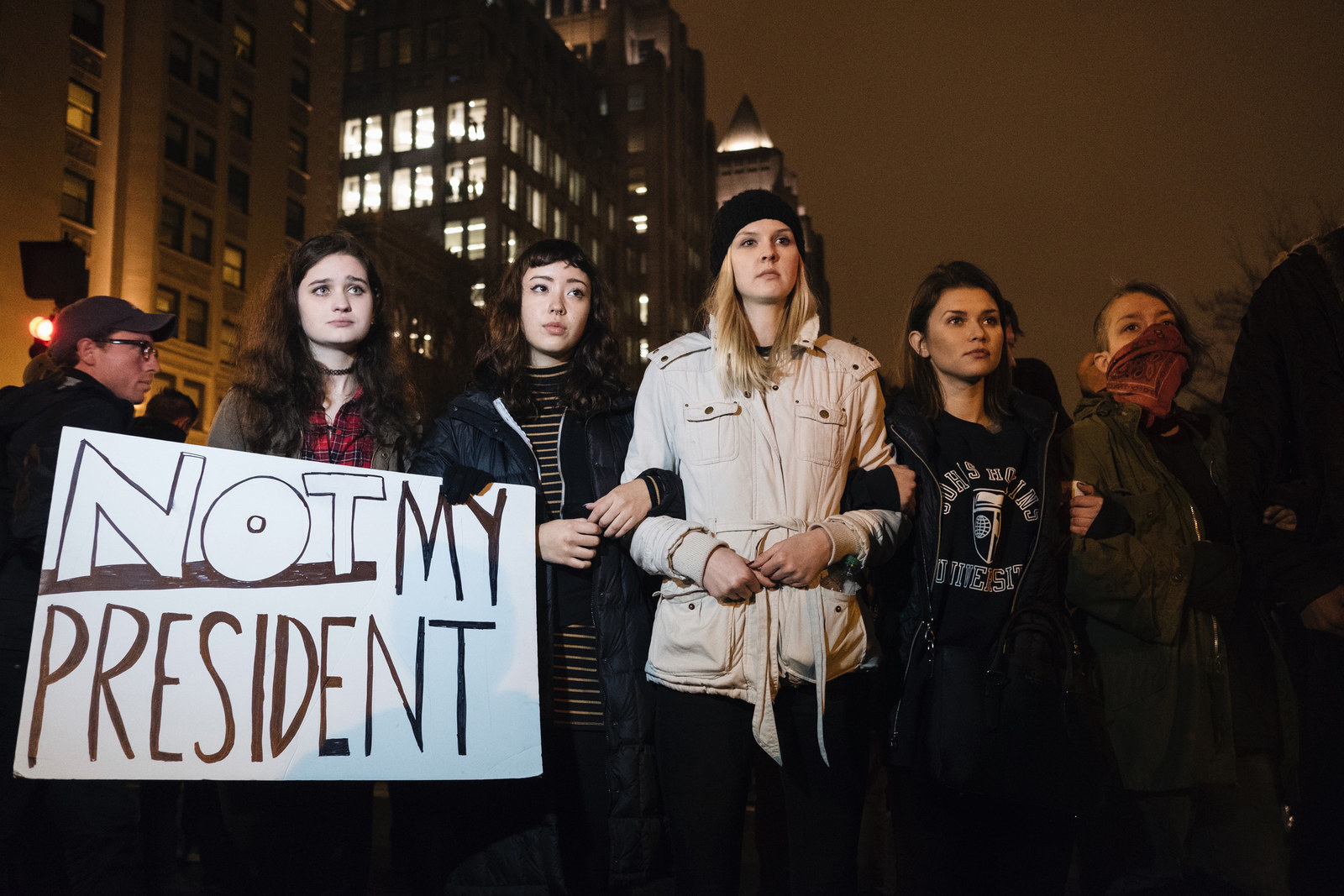 And while the players may be different, Trump's election comes at an eerily similar time in America — racial tensions are high, popular music has once again become dominated by bubble gum acts, and the political divides are as stark as they were in the early 1980s.

Late Saturday night outside Comet Ping Pong, graying members of the hardcore scene watched a group of protesters with bemusement. Normally a family friendly pizza parlour and all ages music venue, the venerable restaurant has been targeted by far right conspiracy theorists who insist it is the hub of a child sex ring connected to the Democratic Party.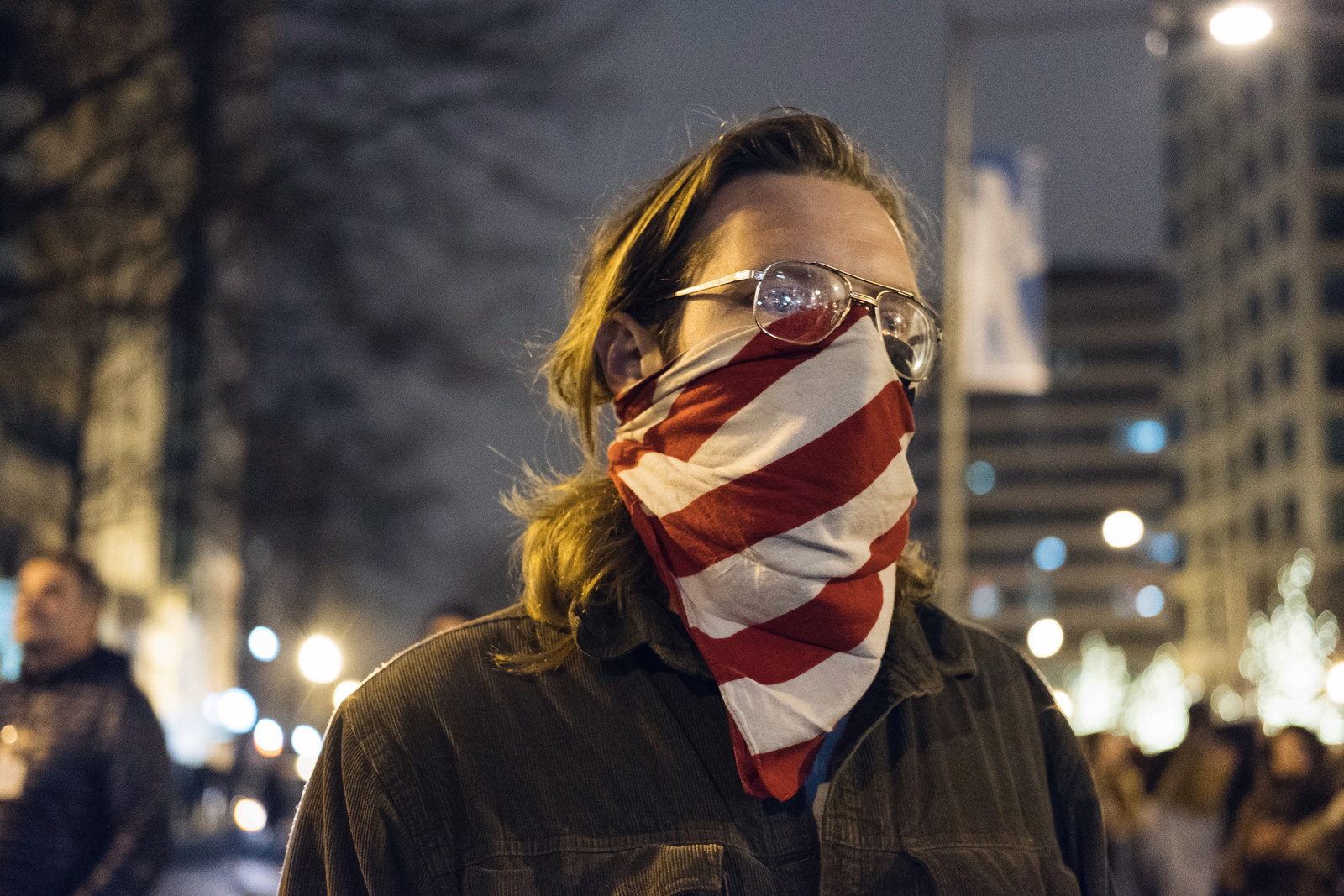 In an odd plot twist, the punks and other denizens of the underground found themselves on the side of the small army of police that were on hand to keep the peace, a necessary precaution in the wake of a pizzagate inspired shooting at the restaurant in November. Luckily, they wouldn't be needed — an impromptu dance party scared off most of the protesters.
Comet was hosting the last protest of the weekend, a show that included Loud Boyz, one of DC's newer hardcore bands and DC punk supergroup FoxHall Stacks that featured members of Minor Threat, Burning Airlines, and Government Issue. Organized by We Were Black Clouds — a heavy, instrumental band that's a weird mix of stoner metal and Bjork — the show was both a show of support for Comet and a rejection of Trump's nascent presidency.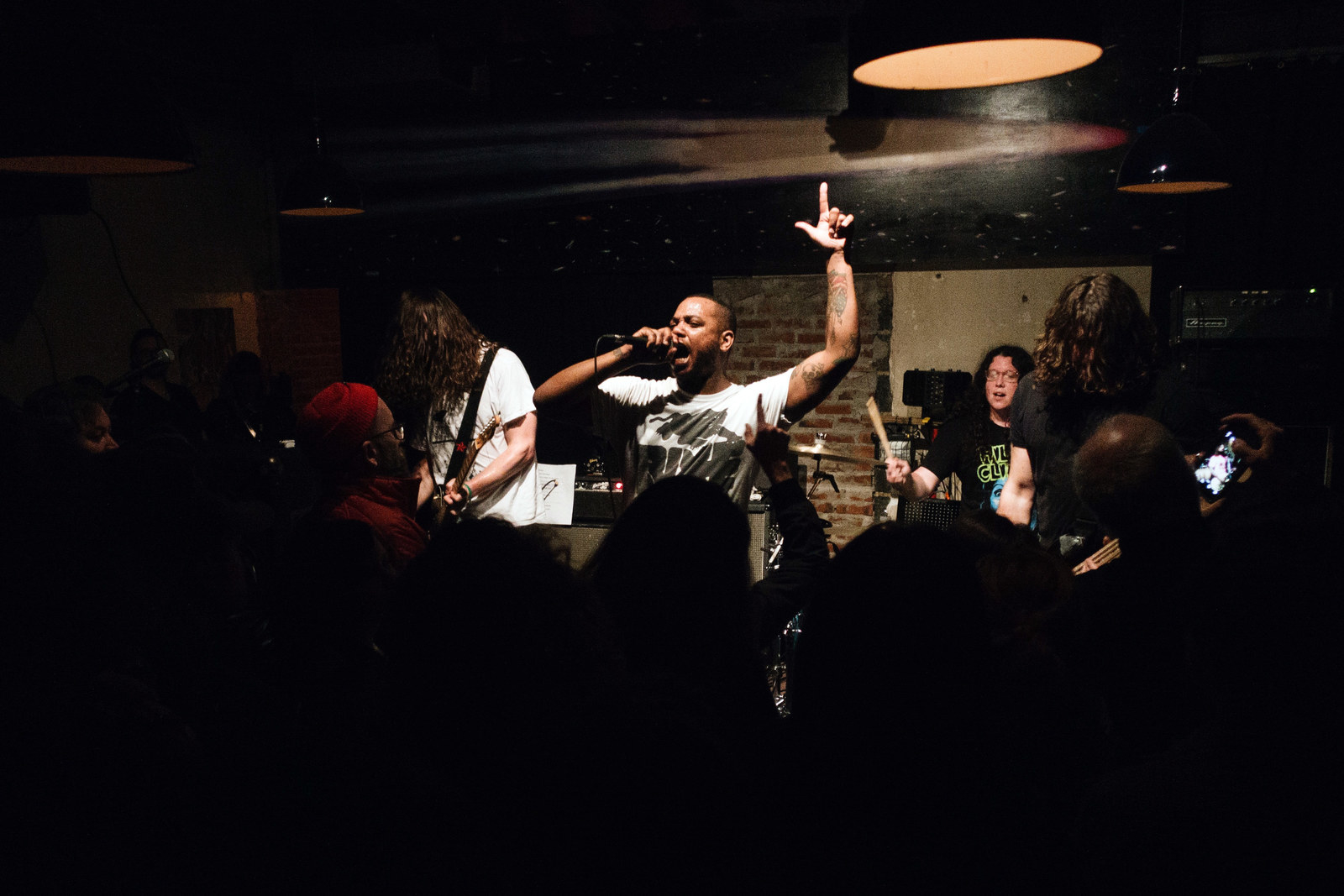 As Loud Boyz took the stage, the crowd packed into the restaurant's back room. Originally a hard charging band that sang about drinking and partying, over the last several years Loud Boyz has increasingly focused on more serious issues.
"When we first started writing songs, I was like writing all funny bullshit. And I talked to the guys and said, 'yo, I'm not really feeling this. I have some other shit I got to say. Are yall down with this?'" lead singer Brandon Brown said.
"I think it shows growth in a scene where a band like Loud Boyz can just go [party anthems] to a song like The Badge, where's it's talking about being a young black kid in the city," he added.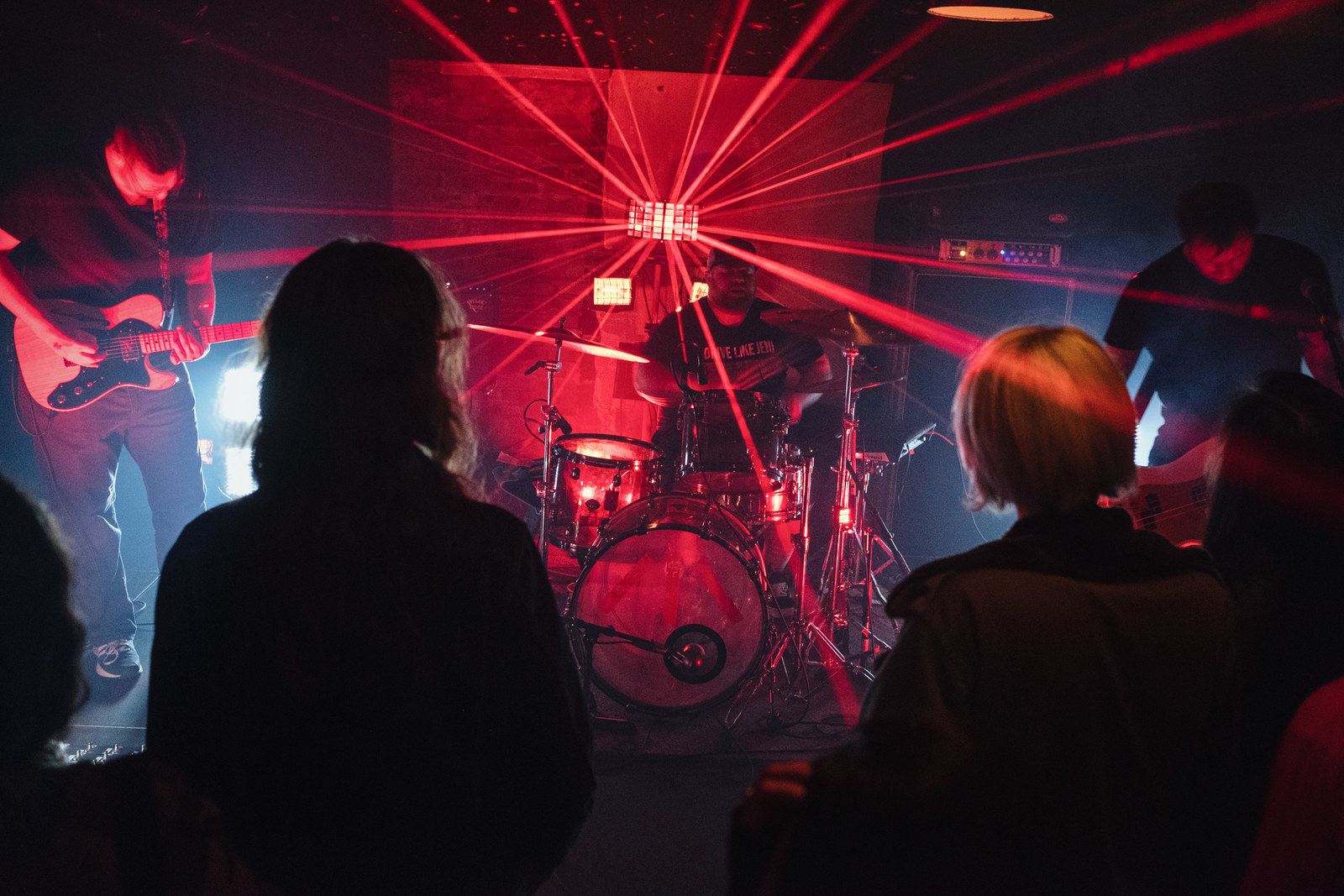 Members of the DC hardcore scene are definitely aware of the city's history as one of the birthplaces of the music — and the seat of political power in America.
Bust Off's Griffin said it's particularly important for the district to have a vibrant punk scene, given the city's history. "All across the states that I've been to, I can have a conversation about the Bad Brains, I can have a conversation about Minor Threat. I can mention Black Flag. I can mention Dag Nasty. These bands were so fundamental in everything that came after them that I do think people look to Washington, DC, as an important town in punk rock," he said.
"It's good for punk, but it's bad for the world … and we can't forget that," said Loud Boyz' Brown. "We can't sit idly by and write snarky songs or post internet memes. We have to do something about it."