The Syrian Refugees Become Big Focus Of Louisiana Governor's Race
In the final days of a contentious election, David Vitter's campaign has launched an ad about the Paris terrorist attack — and against allowing Syrian refugees into the United States.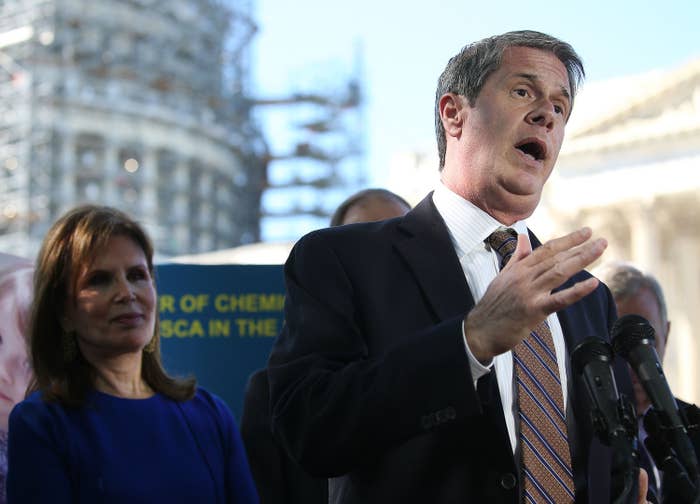 WASHINGTON — The fight over whether to allow Syrian refugees into the United States in the wake of Friday's terrorist attacks in Paris has taken center stage in Louisiana's tight gubernatorial race, with Sen. David Vitter and State House Minority Leader John Bel Edwards trading barbs over the issue.

On Monday Vitter — once the seemingly sure thing to be Louisiana's next governor who is now locked in a tight run off with Edwards, a Democrat — released a new web ad on the Syrian refugee crisis.
As the only major election still underway, the Louisiana race has suddenly become a key battle ground between Republicans and Democrats over whether the country should take in refugees.
Opening with the sound of an explosion as footage from the France Germany soccer game targeted by terrorists plays in the background, a narrator gravely says "One of the Paris ISIS terrorists entered France posing as a Syrian refugee. Now, Obama is sending Syrian refugees to Louisiana," before noting that Vitter had objected to the plan to bring refugees to the U.S. "weeks ago."
The ad, which will begin running state-wide on television Tuesday, ends with the voice over ominously noting, "He always does."

Vitter also launched a Facebook petition on the issue, while Edwards also took to Facebook Sunday, telling voters, "As governor, I will continue to be an active participant in the ongoing conversation with federal authorities so that we can be partners in the effort to both assist refugees who are fleeing from religious persecution and ensure that all our people are safe."
To date, 14 Syrian refugees have been resettled in Louisiana.
The issue was also front and center during the final debate Monday night, with the candidates clashing in person over the refugee crisis.
In a statement Monday night, Vitter slammed the administration's decision to allow refugees into the country. "President Obama's plan to bring 10,000 Syrian refugees to the U.S. — just like his statement made a day before the Paris attacks that ISIS was 'contained' — is outrageous and irresponsible. That's exactly how at least one, maybe more of the Paris terrorists got there. These Syrians have already started arriving in Louisiana. That needs to stop immediately, and I will continue to lead that fight and protect the people of Louisiana," Vitter said.
Democrats, meanwhile, charged Vitter of being hypocritical, pointing to the fact that Vitter missed a Senate hearing on the Syrian refugee crisis.
"When he had the opportunity to actually make something happen, he didn't. He has missed every important hearing on this issue. Louisiana already has an absentee governor, and now it seems our absentee senator failed to do his duty as well," Edwards said in a press release from his campaign Monday afternoon.
"One month ago, David Vitter didn't even bother to show up for a U.S. Senate hearing on the Syrian refugee crisis. In the real world, if you don't show up for work, you don't get a promotion. How can David Vitter ask Louisiana voters to trust him on Syrian refugees when he doesn't even show up for his day job?" Democratic Governors Association spokesman Jared Leopold said Monday evening.