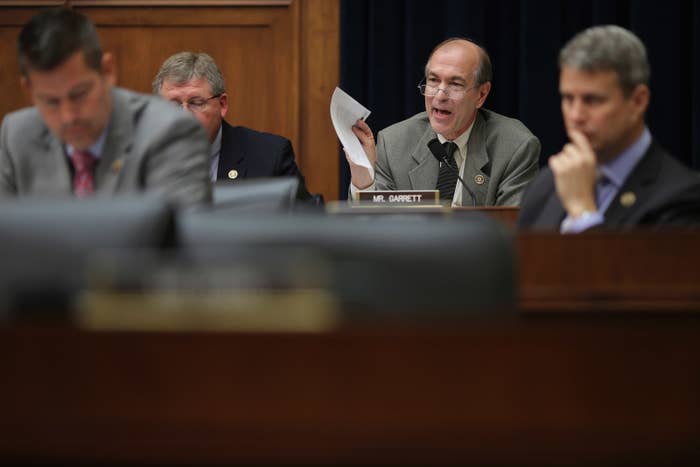 WASHINGTON — When Republicans huddled last week to discuss a how to fund the federal government beyond the end of the month, Rep. Scott Garrett had a simple request of his colleagues — help him save his seat.
"He said, 'Democrats aren't going to vote for me, moderates aren't going to vote for me. I need something to take back to my constituents,'" a Republican who attended the meeting said, adding that Garrett pleaded with leaders to include a ban on Syrian refugees or Planned Parenthood funding, or of one of the other riders he and members of the conservative Freedom Caucus have pushed.
Whether a rider in on a short-term spending bill can save Garrett remains to be seen. But what is clear is that the 57-year-old New Jersey Republican has a large bullseye painted on his back, a self-inflicted wound resulting from his opposition to same-sex marriage and allegations that he refused to help fund LGBT Republican candidates for Congress.
Garrett finds himself at the center of the battle over the future of the Republican Party between social conservatives uncomfortable with the expansion of civil rights for the LGBT community on one side, and moderate and business community Republicans who see those views as outdated.
"It says a lot about where the LGBT community is, and where it's going," said Steve Elmendorf, a gay Democratic lobbyist who has spearheaded the push to oust Garrett. "The Republican Party knows where this is going. And Scott Garrett is a little behind the times on this."
Garrett's campaign manager, Sarah Neibart, rejected that notion, arguing Democratic lobbyists are attempting to buy a congressional seat for a friendly candidate.
"Josh Gottheimer has the entire D.C. Democratic political establishment working to help buy him this election. He doesn't care about the views and values of Fifth District residents — he's working to win the approval of the D.C. elite like lobbyist Steve Elmendorf and Goldman Sachs. This is merely a preview of what Josh Gottheimer would be like as a member of Congress. If Josh Gottheimer is so interested in representing Goldman Sachs' values, maybe he should be their lobbyist, rather than a congressional candidate. Scott Garrett's values are not for sale. He represents the people of the Fifth District — not the check-writing lobbyists in Washington, D.C.," Neibart said in a statement to BuzzFeed News.
Garrett shouldn't be in this position. His district is one of New Jersey's most reliably Republican enclaves, and has been comfortably held by Republicans since 1933. The seven-term incumbent also chairs the powerful Finance Services Subcommittee on Capital Markets and Government-Sponsored Enterprises. With oversight authority over the banking and investment sectors, the chairmanship of the subcommittee has traditionally meant access to a deep well of corporate campaign contributions.
Although the east side of his district is far less conservative than the more rural western areas, in previous cycles Garrett would almost certainly been able to weather a storm over his views on LGBT rights, or even refusing to fund gay candidates — something he has adamantly denied doing.
But this is no ordinary year, and when he warned his colleagues last week that he's facing the political fight of his life, he was right. After Politico reported in July 2015 that Garrett was refusing to pay dues to the National Republican Campaign Committee — which is responsible for electing Republicans to the House — because it was supporting LGBT candidates, Elmendorf and a group of other lobbyists "made the decision [we] didn't want to support someone who had those views," Elmendorf said. Within weeks, they hosted a fundraiser for Gottheimer.
Gottheimer is a former aide in the Clinton White House, and has not only the support of the Clinton machine but also Washington's Democratic establishment. He also has outraised Garrett this cycle by a wide margin, taking in $2.9 million compared to Garrett's $1.3 million, according to Open Secrets.
Democrats have made toppling him a priority. Last week, a political action committee connected to House Minority Leader Nancy Pelosi began running ads against him. And as election-day approaches, Garrett can expect that more is on the way, Democratic operatives warn.
But most damning for Garrett has been the campaign by Elmendorf and a group of other financial and technology lobbyists to end Garrett's tenure in Congress by drying up his pool of potential corporate contributions.
Elmendorf and his allies began meeting with lobbyists for major corporations, focusing particularly on investment firms and banks, Garrett's campaign finance life-blood.
At the same time, the politics of LGBT rights in America were rapidly changing. Although GOP leaders on Capitol Hill met the Supreme Court's June 2015 decision on marriage equality with dismay, there were no serious calls for changes to the Constitution. Efforts by local officials to skirt the ruling were also met with opposition from some Republicans, and corporate America increasingly has embraced the LGBT community while making it clear it wants nothing to do with restrictions to their rights. Similarly, the decision by North Carolina officials to restrict trans rights has been met with outrage, and a range of groups including the NCAA have opted to relocate events to other states, costing the business community millions in revenue.
So when Elmendorf and company came calling on top executives, they found a receptive audience. "Frankly, it's not been a very hard sell, saying, 'You don't want to be supporting an anti-gay guy,'" Elmendorf said.
So far this cycle, the investment industry has given Garrett $306,805, and commercial banks have donated $50,800. Those numbers are down significantly from 2014, when investment firms gave the lawmaker $588,000 and banks kicked in $178,800.
But even more striking are the amounts his Democratic challenger have taken in: according to Open Secrets, Gottheimer has received $363,583 from securities and investment firms and an additional $30,150 from banks.
Those numbers are, to say the least, remarkable. Not only are sectors under Garrett's jurisdiction giving to his opponent — which is rarely done and is traditionally seen as a slap in the face to powerful chairmen like Garrett — but in the case of the securities and investment sector, they've actually given Gottheimer more.
"That's a real shift. It used to never happen," said a longtime banking industry lobbyist, who pointed to banks giving to the opponent of a powerful chairman as a clear example of the shifting politics of LGBT rights. For corporate America, the LGBT community has joined the ranks of "Black Americans and Hispanic Americans … they don't want to offend them," the lobbyist argued.
But a Republican campaign strategist insisted that regardless of where the business community stands on LGBT issues, the involvement of powerful lobbyists is little more than the sort of backroom dealings most Americans believe happen every day in Washington. "Normally, we like to pretend that lobbyists don't have the kind of influence the rest of America thinks they do. But nobody is even putting up a pretense here that the Democratic lobbying establishment isn't trying to buy an election," the strategist said.
"In this community, we don't believe in Garrett's anti-gay bigotry. Garrett doesn't share our Jersey values," a campaign spokesman for Gottheimer said in a statement to BuzzFeed News. "People here want a moderate problem solver who will work across the aisle for lower taxes and respect for all -- not someone who's going to vote the Tea Party line. That's the reason we've had more support from people who live here than Garrett."
This post has been updated with a comment from the Gottheimer campaign.