The Deadly "Beast" Train Through Mexico Doesn't Actually Carry That Many Immigrants
Conditions have become so bad it has hurt the profits of criminal organizations including MS13, who have begun policing the train.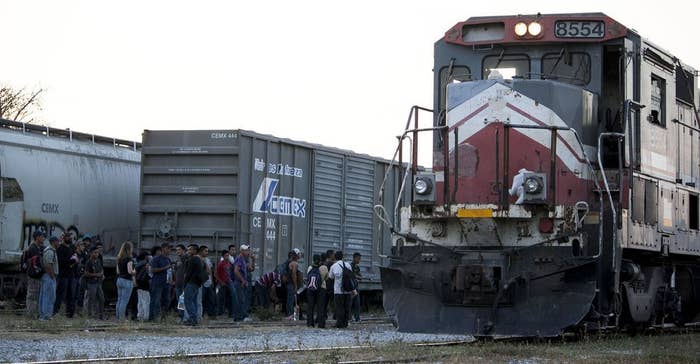 International efforts to cut off access to "La Bestia" — a network of trains in Mexico — are expected to have little to no impact on the flood of undocumented children and other immigrants that has hit the Texas border, according to internal Obama administration documents obtained by BuzzFeed.
Although the pictures of children huddled atop train shipping cars have become a symbol of the dangerous trip north most immigrants face, Department of Homeland Security documents indicate less than 10% of immigrants end up riding the train, and those that do only ride the train for a few days before disembarking out of fear of being targeted by the violent Zetas cartel or MS13 gang.
Travel on the train is extremely dangerous. Derailments are frequent, including an August 2013 incident that injured scores of people and killed 11. Rapes are common on La Bestia, and immigrants are routinely robbed or extorted during the trip.
The U.S. government has invested heavily in the notion that a flood of immigrants are riding the line: In addition to a multimillion-dollar ad campaign now underway in Central America, the Customs and Border Protection Agency hired a D.C. PR firm to write a corrido migra — a genre of music about immigrants — called "La Bestia." The song warns would-be immigrants that the train is incredibly dangerous — and has become a hit in some Central American countries.
Mexican officials have also begun focusing on La Bestia in recent months, agreeing to arrest immigrants found waiting for the train. The company that is set to take control of the the train, Ferrocarriles Chiapas-Mayab, has announced it plans to spend 2 billion pesos over the next five years to improve the train, including speeding the train up significantly in an effort to discourage riders.
Seven companies operate most of the rail lines in Mexico. While immigrants use lines other than La Bestia, which is currently operated by Ferrocarril del Istmo de Tehuantepecm, it appears rare, according to the DHS documents. For instance, security for Kansas City Southern de Mexico — which operates the main train line moving goods from southern Mexico to the United States — has only removed 4,000 immigrants from its line; the line is considered one of the most secure.
But even La Bestia has relatively low levels of immigrant riders.
According to the DHS documents, only 10% of all immigrants entering the United States in the Rio Grande Valley Sector use La Bestia, with the vast majority relying on cars, trucks, and buses to move through Mexico. With those immigrants making up 76% of all undocumented immigrants entering through the southern border, it appears a fraction of undocumented immigrants ever ride the trains.
That's not to say immigrants don't use La Bestia: According to DHS, between 350 1,500 people ride the trains daily, typically boarding in the towns of Arriaga and Palenque before disembarking at Tierra Blanca in Veracruz. The train ride is a relatively short one; immigrants are wary of taking the train further because of gang and cartel violence in parts of Mexico further north.
Ironically, the Zetas and MS13 have reportedly become concerned about La Bestia's dangerous reputation. Immigrants interviewed by DHS indicated the criminal organizations have begun policing the trains and "removing" rapists and robbers to ensure a steady stream of paying immigrant passengers on the trains.
Juan Gastelum contributed reporting to this story.