For most college kids, going home to visit family isn't a big deal. But for Daniel, straying even a short distance from the University of Texas campus in Austin is fraught with danger, and it could get worse.
That's because of the ongoing battle over a new law with the potential to put students like Daniel on the path to deportation. Under SB 4, or the so-called "show your papers" bill, law enforcement agencies — including campus police — would have broad powers to question the legal status of anyone they suspect of being undocumented. The law was set to go into effect Sept. 1, but key portions were put on hold by a federal judge on Wednesday.
In a statement following the ruling, Texas Gov. Greg Abbott criticized the decision and vowed that it "will be appealed immediately and I am confident Texas' law will be found constitutional and ultimately be upheld."

Texas isn't the only state to pass a "show your papers" law. Both Arizona and Utah have passed similar laws, and over the last decade, Republicans in state legislatures across the country have proposed measures aimed at giving local and state law enforcement officials the ability to enforce immigration laws.
But Texas's inclusion of university police in SB 4's wording caused particular concern for undocumented families across Texas, who have long seen campuses as safe havens for students.
The stakes couldn't be higher, or more personal, for thousands of college students like Daniel, who asked that his last name not be used. The handsome 19-year-old watched drug cartels transform his Mexican hometown, Juarez, from a bustling border metropolis into a war zone. After a series of robberies where his mother worked, which culminated in her being held hostage at the business end of a shotgun, she moved her young family to Texas in 2009. They settled in a small community outside Dallas that Daniel would eventually claim as his hometown, but which might as well be back in cartel country given how risky it is for him to travel back for a visit.
His "situation," as he calls it, as an undocumented immigrant can turn even a minor run-in with the law into a one-way ticket to Mexico. Now, with Donald Trump as president and a Texas legislature intent on enforcing Trump's zero-tolerance policies with laws such as SB 4, the undocumented more than ever are careful to stick to the shadows. In Houston, in fact, undocumented Texans have expressed reluctance to come forward and seek help amid Hurricane Harvey's devastation for fear of being detained. There were at least 575,000 undocumented people living in Houston in 2014, according to an estimate from the Pew Research Center.

But staying hidden won't be easy once classes resume and undocumented college students, most of them brought to the US as young children, move back into dorms and return to classrooms.
Having to always be careful is "like a boulder on my back all the time. And you can't show that to anyone, because you're worried that they might not sympathize with you," Daniel said one recent evening after attending a gathering of the University Leadership Initiative on campus. The group's aim is to help undocumented students, and lately, its focus has been coming up with ways to protest SB 4 and give students and the broader undocumented community guidance on what to do if they're caught in immigration agents' crosshairs. The group celebrated the judge's injunction against SB 4, but noted the fight continues.
As the law is written, all state law enforcement agencies would have to enforce it, making anywhere in Texas potentially hazardous for students. But campus police would have unique authority. For instance, they could stop students and ask for their student ID cards, possibly leading to questions about someone's immigration status.

"Let's be honest. Not all of the cops are gonna follow the law."
Days before the law was set to go into effect, the campus police director, Michael Heidingsfield, tried to temper student concerns in a training bulletin sent to the University of Texas's 14 police departments that reiterated the system's policy against racial profiling. It said campus cops don't have the right to question a student's immigration status merely because they suspect the student is undocumented. If a student is suspected of having committed a crime and is being questioned, an officer may ask about their immigration status, but Heidingsfield said students can't be compelled to answer.
Still, Daniel and the other students worried that campus police would target anyone who "looks" like an immigrant.
"Let's be honest. Not all of the cops are gonna follow the law, or like implement it like they should. And I'm afraid that there might be some racial bias and stuff. So it's definitely scary, because there is a chance that a police officer might say, like, 'Oh, that kid looks immigrant. Let me check him out.' It's really scary," Daniel said.
Some students have opted to drop out rather than risk being caught, but members of ULI are instead taking a very public stance, one that, no matter what happens to SB 4 in the coming months, will mark them in the eyes of authorities as undocumented troublemakers.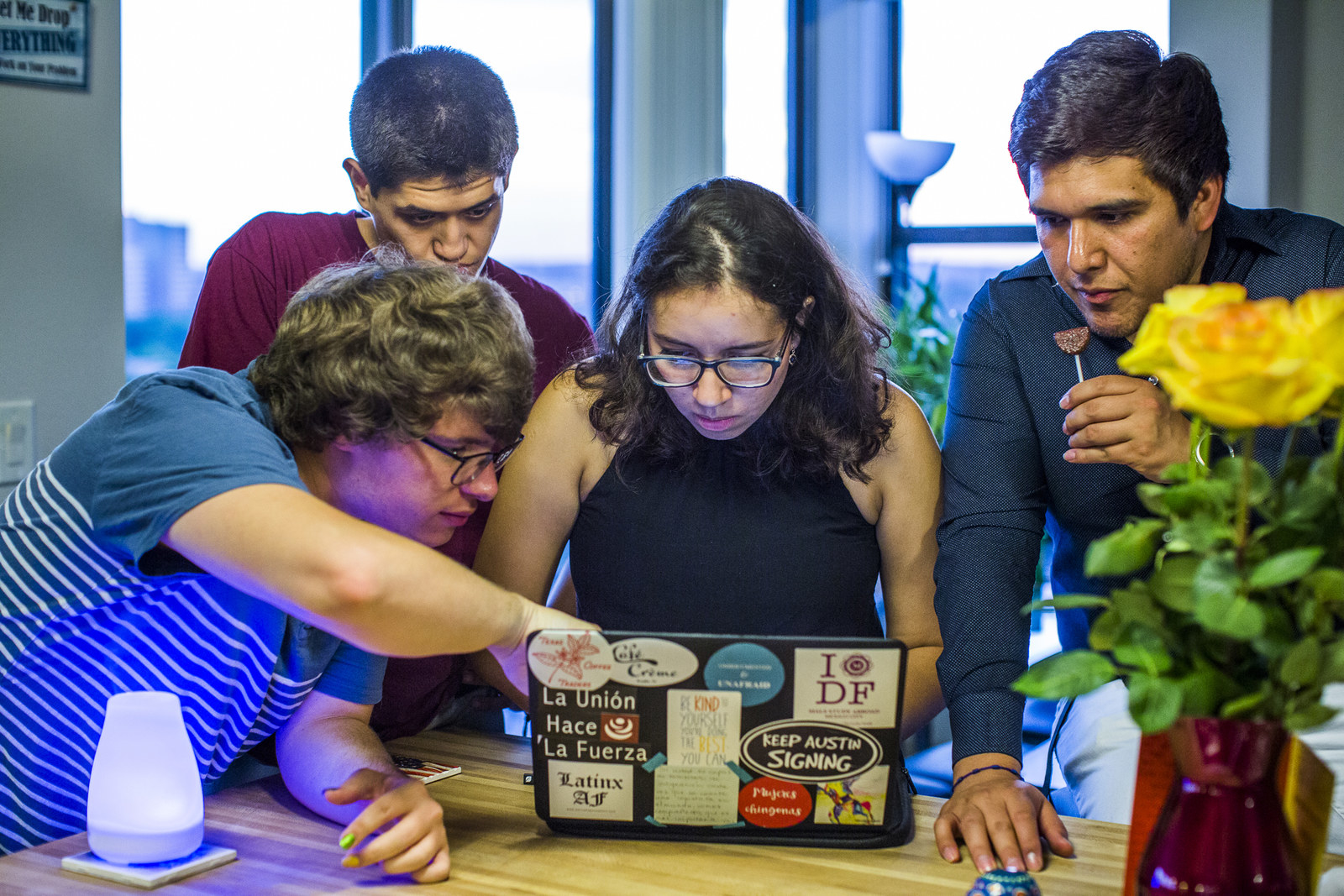 It was just after 8 p.m. on a hot Thursday night, and the University of Texas at Austin's library was nearly empty. But in a cramped, fifth-floor conference room bathed in harsh fluorescent light, eight students were sitting down for the ULI's weekly meeting.

"The only thing we ask is that you don't record or quote anything because of the sensitive nature of what we're talking about," said Vanessa Rodriguez, the group's press liaison and a sophomore at UT. Like others in the group, Rodriguez is one of the thousands of undocumented Texans who will attend state universities and colleges this year thanks to the state's 2001 immigrant tuition law, signed by then-governor Rick Perry.
The law eliminated one of the biggest barriers to undocumented Texans attending college; SB 4 shows just how far to the right Perry's Republican Party has shifted on the immigration issue.
And it's not just Texas: While Capitol Hill Republicans only a few years ago were lining up behind legislation to give the estimated 11 million undocumented immigrants in the US a pathway to citizenship, President Trump's election signaled a hard rightward tack for the party and country. Trump and Attorney General Jeff Sessions routinely blame the undocumented for rising crime rates. On Friday, Trump pardoned former Arizona sheriff Joe Arpaio — who trafficked in racist theories about immigrants and was found guilty of contempt of court for racially profiling Latinos. Trump has threatened to shut down the government over funding for his long-promised wall along the US-Mexico border, and there are concerns he'll end the Deferred Action For Childhood Arrivals, or DACA, program, which allowed hundreds of thousands of young undocumented immigrants to obtain work permits and remain in the country without fear of deportation.
Over the next hour and a half, the students plotted strategies for the coming weeks. Volunteers were needed to record testimonials opposing the new law and to conduct "know your rights" seminars for Austin's broader undocumented community. T-shirts had to be made for protesters. Perhaps most important, the university had to be pressed to provide students with guidance on how campus police plan to enforce the law.
The group broke for the night after 9:30 p.m. There was still so much to be done that they agreed to meet again on Saturday evening. With so much happening so quickly, and with school opening Aug. 30, putting things off until the next regularly scheduled Thursday gathering didn't make sense.
It was the sort of meeting adults with years of experience in activism are paid to have, and listening to the students, it was easy to forget that some were still in their teens.
At not yet 5 a.m. the morning after the meeting, Rodriguez was already up, dressed, and standing outside the university gym waiting to begin her job working the morning shift. One semester's tuition costs $5,207 for in-state undergraduate students, far less than the $18,492 out-of-state students pay.
Even with in-state tuition, her parents — who are also undocumented — can't help much with the costs of school. So like many undocumented students lucky enough to be able to work under DACA, she works several jobs, including a part-time gig with Austin City Councilman Greg Casar.
"I decided that if I was ever going to be deported, I didn't want to be a silent story."
Rodriguez was keenly aware of the danger she was putting herself in by participating with ULI. She said her parents worry for her, and friends have questioned her decision, asking "why are you telling people you're undocumented when SB 4 is going to come out, and somebody is going to go to tell the police officer, 'go ask her where she's from.'"
"One day, I decided that if I was ever going to be deported, I didn't want to be a silent story, or a case where nobody knew I was undocumented [and] I left the country just like that," she said matter-of-factly.
That's not to say the threat of SB 4 hadn't shaken Rodriguez, who said she had to "analyze and reanalyze and wonder whether I want to pursue coming to school at UT or any institution of higher education." Rodriguez said she left her hometown of Elgin, Texas, in hopes of surrounding herself with open-minded people who would not judge her based on her ancestry. "And to know that that place is now going to also be subject to same things, [and] UT will be another place where a police officer can ask me about my immigration status, it worries me," she said.
The law hasn't kicked in yet, and its future is uncertain, but students said they've already felt the difference on campus — not from cops, but from their classmates.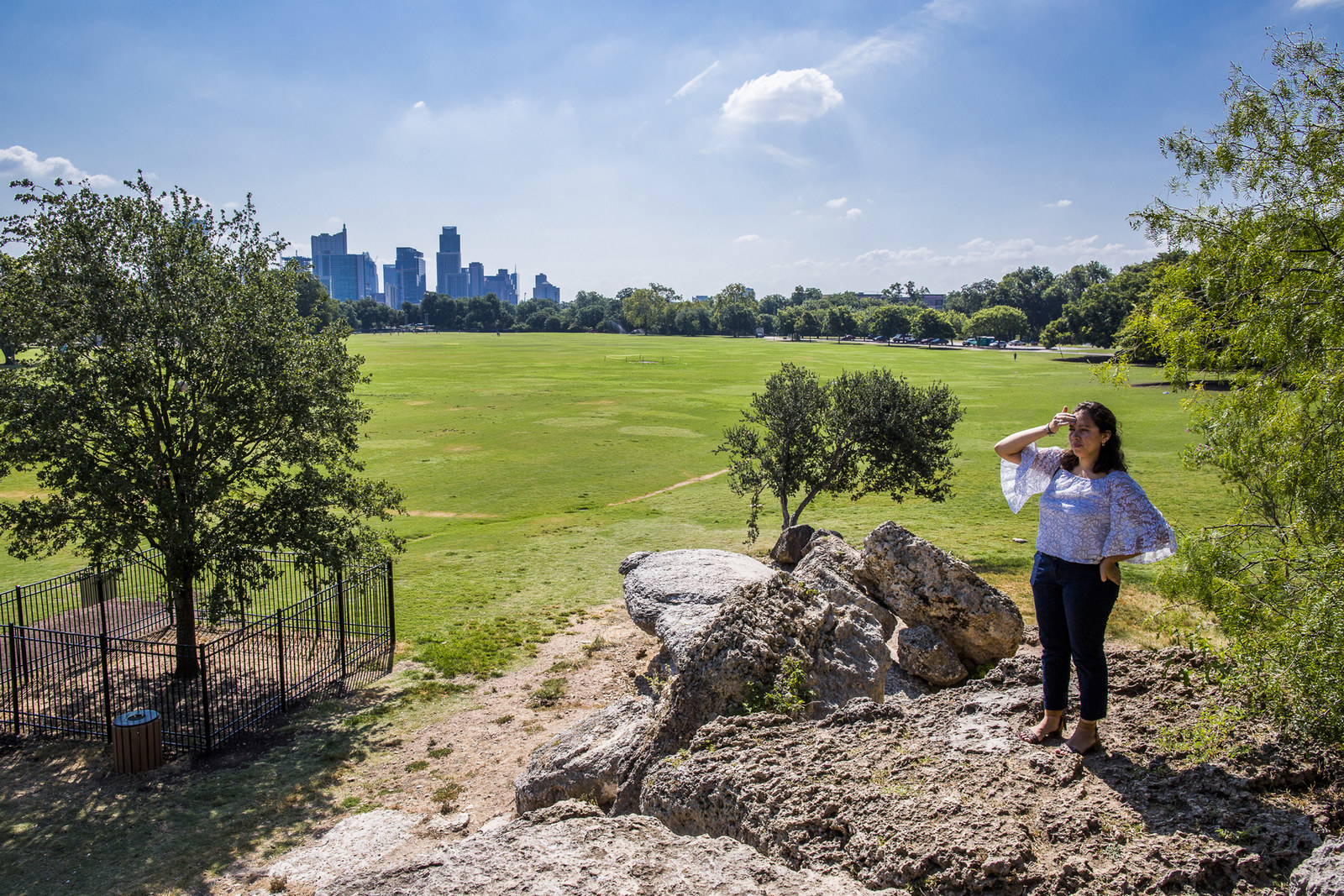 Sitting on the lawn of the state capitol after an anti–SB 4 rally, Estefania Ponce plucked blades of grass and squinted in the bright Texas sunshine. A student at a nearby community college, she and her friend, Juan Belman, said their biggest fear had been how white students will react toward them.
In Texas, conservative student groups have staged so-called "catch an illegal immigrant" events — basically racist games of tag featuring white frat boys and beer — several times in recent years. Even in Austin, arguably the most liberal city in the state, the Young Conservatives of Texas student group planned one such event just four years ago. That "game" was ultimately canceled, though not because it was racist. Facing protests from Latino students, the Young Conservatives canceled because of concern for the safety of participants.
"I don't know what hurts me the most: Knowing the peers who go to my school do those kind of events, and then knowing that administration many times doesn't do anything, or doesn't do much to prevent that from happening," Belman said.
More troubling is the chilling effect the proposed law has had on the willingness of undocumented students to report abuse or assaults to campus police. Ponce said she and a friend were recently harassed while walking through their campus for how they "looked," and neither reported it to police. If SB 4 goes into effect, she said, reporting incidents is "going to be something that people are going to hesitate to do. Which shouldn't be the case at all."
"My mom doesn't have any sort of status right now. I have DACA. But my mom doesn't have anything."
Asked if they fear deportation, Ponce and Belman gave similar answers.
"I'm afraid. Not as much for myself but for my mom," Belman said. "My mom doesn't have any sort of status right now. I have DACA. But my mom doesn't have anything. So I worry that whenever she's taking my brother to school, that whenever she's taking my little brother to a doctor's appointment, that something's going to happen."
Ponce had the same fear. "For my mom, more than anything," she said. "I myself as a student, as someone that unfortunately in this society is seen like 'well you're at least upholding your duties,' I feel okay."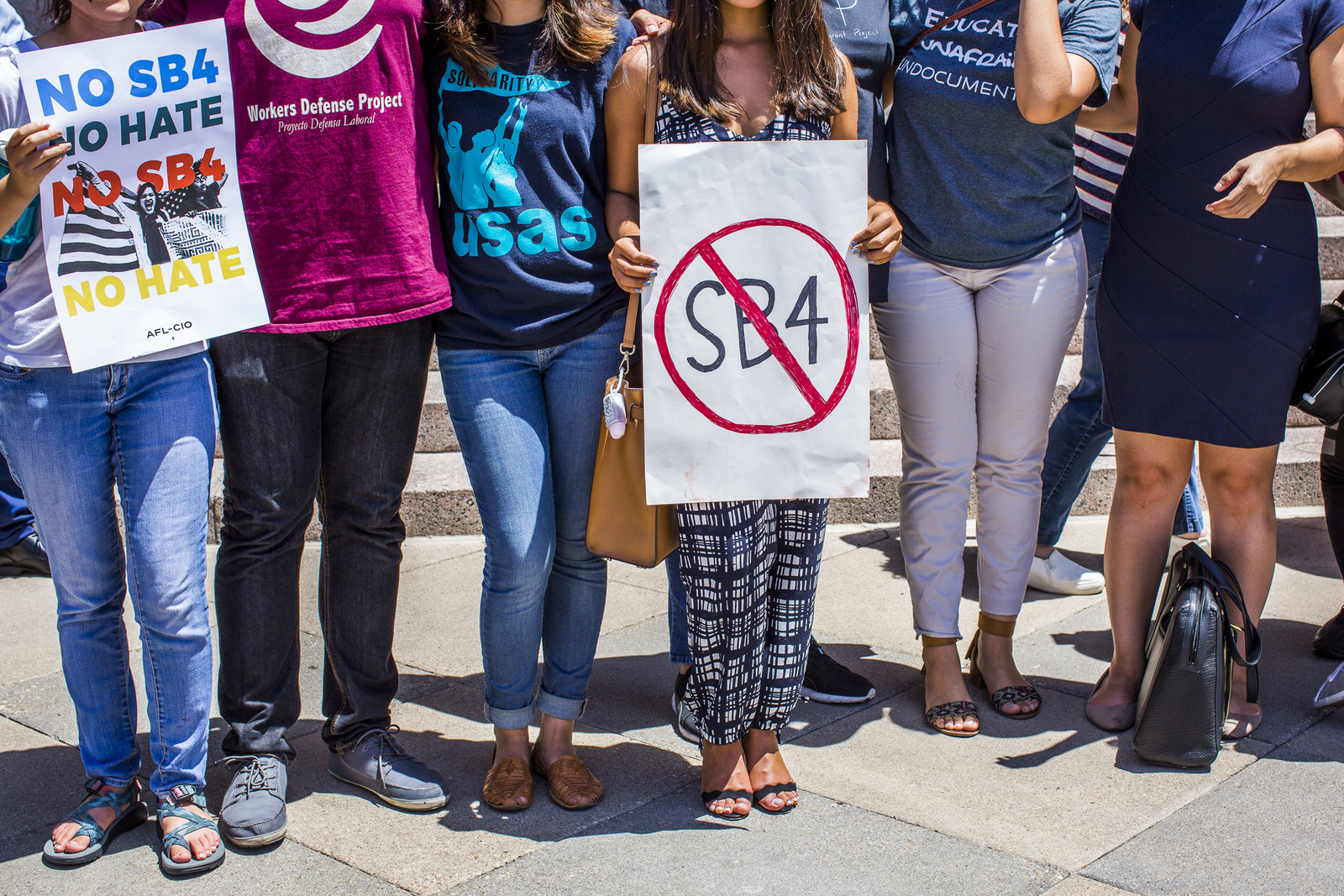 The next day, the members of ULI gathered at the apartment of Skyler Korgel. Though he's white and a US citizen, he's been a member of the group for several years, working alongside his fellow students on immigration issues.

One of the students brought a box of Mexican sweets, and the group of serious-minded activists transformed as they reminisced over their favorite childhood treats as they dug into the goodies. "This is what we ate instead of food! Because it's so good!" Ponce said, lifting a box of strawberry Gansito cakes.
With Korgel manning the stove, for the next hour the group laughed and bickered happily over the candies, over which movie to watch later, over anything other than SB 4.
It was a marked shift from the serious reality they'd been dealing with since Gov. Greg Abbott signed the bill into law in May, forcing these young men and women into battle without the benefit of training or seasoned leadership.
Still, the psychological toll of the fight weighed heavily on them and had already started to change not only how they lived, but how they saw their futures.
As we walked up to his apartment, Daniel stopped and turned to me. There was a mix of embarrassment and worry in his eyes. "If you cannot talk too loud until we're in my room, my roommates don't know about my situation," he said with a shy shrug.
Though he's always been careful about sharing information regarding his legal status, Daniel has told a few people close to him over the years. His high school tennis coach, for instance, and most of his friends in his small hometown.
"One of my best friends is a hardcore Republican. So, you can't tell him 'hey, I'm illegal.'"
But now, he didn't know who he could trust. One friendship, in particular, had become especially difficult. "One of my best friends is a hardcore Republican. So, you can't tell him 'hey, I'm illegal.' What if my good friend shouldn't change his mind?" he said wistfully. "It's like you have a label, like you're labeled [as] something less."
Inside the confines of his small room, Daniel visibly relaxed. He talked animatedly about his friends and family, and laughed as he showed off his decidedly preppy, pastel-heavy wardrobe.
Scrolling through pictures of his family on his laptop, it was easy to forget the fear he carries with him because of his status. Unlike many of the other members of ULI, Daniel isn't covered by DACA, which only covers individuals who entered the US before June 2007. That means he cannot get the documents necessary to work his way through college. It also means he cannot get a driver's license.
While his rural hometown is a safe haven thanks to a large population of immigrants, getting there is tricky. In May, after months without seeing his family, Daniel decided to risk the trip. His mother and uncle, who are both undocumented, drove to Austin to pick him up, and as the three were driving through the night to the family home, they were pulled over. The officer said that Daniel's uncle had been driving with his high beams on.
Then came the words every undocumented person fears during a traffic stop: "License and registration, please."
When his uncle said he didn't have a license, the officer swept his gaze over the passengers. Daniel sat stock still in the back seat, terrified of what could happen. Nobody had a license, and arrests could end up exposing their undocumented status.
Then, the officer noticed that Daniel was wearing a UT shirt and asked him where they were coming from. Without thinking, Daniel explained that his family had come to Austin to pick him up after his freshman year in college.
It was an admission that the family had been on the road for hours, and in that long, dragged-out instant, he worried he'd made a terrible mistake. Had he exposed his uncle and mother to further scrutiny? If so, would the officer turn them over to immigration officials for deportation, leaving his 16-year-old sister home, alone, not knowing what had happened?
But the University of Texas T-shirt apparently reassured the cop that the family was okay. He smiled approvingly at Daniel and gave his uncle a warning. As they drove off into the dark, the family breathed a collective sigh of relief.
One night a few weeks ago back in Austin, Daniel was walking home from Pluckers, a local wing shop, when a police car rounded the corner and passed him. Although the cop didn't stop, it shook Daniel.
"It's just those moments — they're simple [and] you shouldn't be afraid. But it's that constant reminder that you're not safe," he said. Like so many other undocumented students, he said his biggest worry was for his mother, who broke down in tears the last time they spoke by phone and questioned whether bringing him across the border as a boy was the right move.
"'I'm sorry if I made the wrong decision. I was just trying to look out for you and give you your best,'" Daniel recalled her telling him as he wiped away his own tears. "I love my mom," he said. "I want her to know that all her sacrifices she's done are not worthless."
If students start getting deported, "I'm just going to drop out," Daniel said. "I'm not going to take chances."
With school now starting and key pieces of the law on hold, it's still unclear what will happen on college campuses across the state as the semester continues. Given the lack of answers they'd received from university officials, none of the students interviewed for this story believed the UT system would stand up for them.
So, the students have prepared for the worst. Most of ULI's members left "emergency packets" with relatives that include contact information for lawyers and copies of any documents they have that could be used to help get them out of an immigration detention centers.
Daniel's plan was to wait and see how many fellow students got deported in the coming year from UT. If that number hit five, he said, "I'm just going to drop out. Like I'm not going to take chances."
I ask him if he'd go home to work or leave the country and return to Juarez. Tears welled up in his eyes and frustration showed on his face as he struggled with the question. "I don't know if I'm going to handle it. Like, I read a story about this kid who I think was from Juarez. He got deported, and then he went to the bridge and jumped down and killed himself," he said, tears streaking his face.
"I'm scared that might be me. I'm scared that I'm not going to handle [the] emotional breakdown, you know? Because I tried so hard to, to be accepted by Americans." ●
UPDATE
This story was updated following a federal judge's decision to block key parts of SB 4. The legal battle is ongoing.