Terrorists Shot This Journalist Twice And He Can't Get U.S. Asylum
Said Muse Dahir kept his newspaper and radio show going in Somalia, even as al-Shabaab militants wreak violence in the country. What happened after he crossed into the U.S.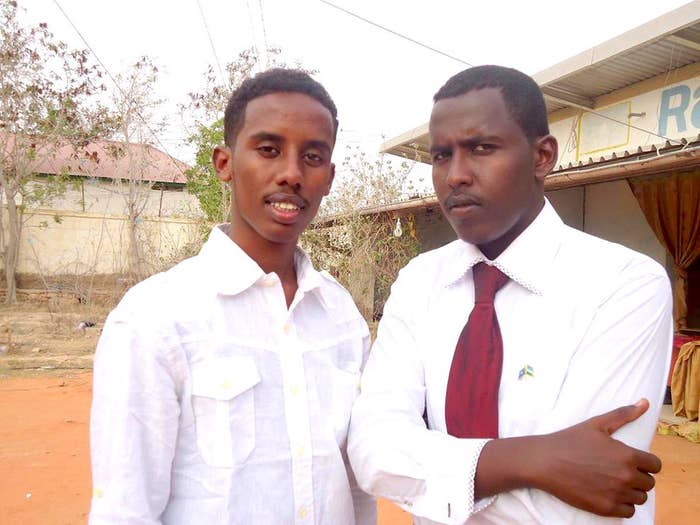 As his friend Ali lay dying in the back of a car, Said Muse Dahir thought it might be time to leave Somalia.
The 22-year-old journalist had already been shot twice himself by an al-Shabaab gunman. He said he realized the group's attacks on journalists in his hometown of Galkayo were becoming more frequent, and deadly.
"They force us to leave the country," Dahir told BuzzFeed News. Within months, Dahir would begin a journey in search of "first a safe place, and then a place to have free speech" that would take him across three continents to the southern border of the United States.
Instead of a safe place, he found himself in in an El Paso, Texas, detention center fighting an ultimately losing battle against federal attorneys arguing for his deportation.
After the judge overseeing his case read her verdict, Dahir told her, "You are ordering me to be dead, and you will be responsible for my death."
According to Dahir, the judge simply responded: "Good luck."
Although al-Shabaab — a ruthless terrorist group that has been targeted by the Obama administration with drone attacks — does not technically control Dahir's hometown, Galkayo, the city remains constantly threatened by the group.
"They don't control Galkayo, but they can kill you there," Dahir said, explaining that members of the group hide in plain sight. "In the night, they will try and kill you, but in the day, they are in society. They will sit next to you, eat with you."
The city is also an epicenter for Somalia's pirate problem, and al-Shabaab will often hire pirates to act as mercenaries to carry out attacks on civic leaders in the city. And reporters are often the targets: Numerous reporters, including several of Dahir's colleagues, have been wounded or killed in Galkayo over the least three years. On Tuesday, Abdirizak Ali Abdi, a reporter with Radio Daljir, was shot and killed. The country routinely ranks as one of the most dangerous in the world for reporters. In 2012, 18 reporters were killed in Somalia and many more wounded, according to the National Union of Somali Journalists.
Somalia is also one of the worst failed states in the world. Its nominal government has virtually no control over most of the war torn country, and attacks on government officials and civilians by al-Shabaab are a weekly occurrence.
Dahir began working as a journalist in 2007 while still in high school. Although there are no real universities to provide journalism training, he worked for a year as an intern at Radio Galkaio before being hired as a full-time reporter.
He and a group of friends began a weekly program at the station that focused on educating youth about the dangers of al-Shabaab and chronicling their activities in the area. "They are trying to take the you and teach them extremist things," Dahir said, explaining that the organization has an active recruiting presence in the city.
The program became popular quickly, which meant it also drew the attention of al-Shabaab. "They started to threaten our reporters, our radio station, saying to stop the program … or you will receive a message. A clear message," Dahir said.
The first message came Jan. 15, 2010, when al-Shabaab bombed the radio station's offices with hand grenades. In July of that year, the group struck again, this time doing significant damage to the offices and the station's antenna. Although that attack knocked the station off the air for a week, citizens "contributed to reopen the station. It's our community radio," Dahir explained. A third bombing a month later would leave a security guard dead, but the station continued to air the program.
At the same time, Dahir launched RAADRAAC, a weekly newspaper on al-Shabaab.
In September, al-Shabaab picked up its attacks, ambushing Dahir's colleague, Horiyo Abdulkadir, shooting her six times. Horiyo would have to be flown to Nairobi, Kenya, for surgery, and now lives in Finland where the government provided her with asylum.
At the same time, al-Shabaab began issuing regular threats against Dahir and his colleagues and, according to Dahir, placing bounties on their heads. "Al-Shabaab was trying one by one to kill us," he said.

Jan. 4, 2012 seemed like any other day for Dahir. He'd spent the day finishing editing and laying out the newspaper and working as a now volunteer at Radio Galkayo offices.
As Dahir left for the evening, he pulled his car up to the locked gate, a security measure put in place after the attacks on the station.
Dahir climbed out of his car to unlock the gate. Despite bombings, shootings, and nearly constant threats, Dahir wasn't thinking about his safety. "You forget, because you are human … that is when they shot me," Dahir says.
Although it was dark, CCTV footage would later show that two gunmen, hiding in the shadows near the gate, opened fire on Dahir. The first bullet that hit him struck Dahir's face with a glancing blow, leaving a thick scar inches from his eye.
The second bullet, which hit him as he scrambled back towards the relative safety of his office, lodged in his hip.
Within hours al-Shabaab took credit for the attack — which they had thought was successful.
"#Mujahideen intelligence in Galkayo killed #Said Muuse Daahir who was working with Radio Gaalkacyo," the group's official twitter account HSMPress announced triumphantly at 11:22 p.m. that night. Later, the group's spokesman for the central region of Somalia would tell Radio Alfurqaan "that they were after this journalist because they blamed him for working with the enemy."
But the attack wasn't a success: Dahir was in a nearby hospital, where doctors were tending to his wounds.
The next day, al-Shabaab fighters attacked the hospital. Security was able to fight them off, and officials sent Dahir home with enough antibiotics, pain medications, syringes, and other medical equipment to tend to his own wounds. Although doctors agreed to call him and walk him through the process of giving him injections, officials told him none would be coming to visit Dahir because "if they come to your house, they will be a target."
A month later, Dahir was back on his feet. He received a new threat from al-Shabaab. While previous texts had been general, this one was specific to his shooting. "'This one is a message. We don't want to kill you. If we wanted to kill you we can kill you,'" Dahir said the message read. "But it is not correct. They tried but they didn't kill me."
Dahir returned to work at the paper and radio station, working under the constant threat of an attack from al-Shabaab. Colleagues, including Dahir's best friend Ali Ahmed Abdi, began receiving threats, warning them to stop working with Dahir. "They threatened Ali, told him not to work with [me] … but he said, 'We cannot stop the program.'"
On March 4, al-Shabaab attacked Abdi as he was walking home from the radio station. As he and Dahir talked on the phone, a gunman shot Abdi in the head.
Dahir and another journalist rushed to the scene, hoping to save Abdi's life. Although he was alive when the two arrived, Abdi died before they could get him to a hospital. "He was one of the people who influenced me to become a journalist," Dahir said.
After gunmen killed another friend and journalist — Farhan Jeemis Abdulle — in May, Dahir decided it was time to leave.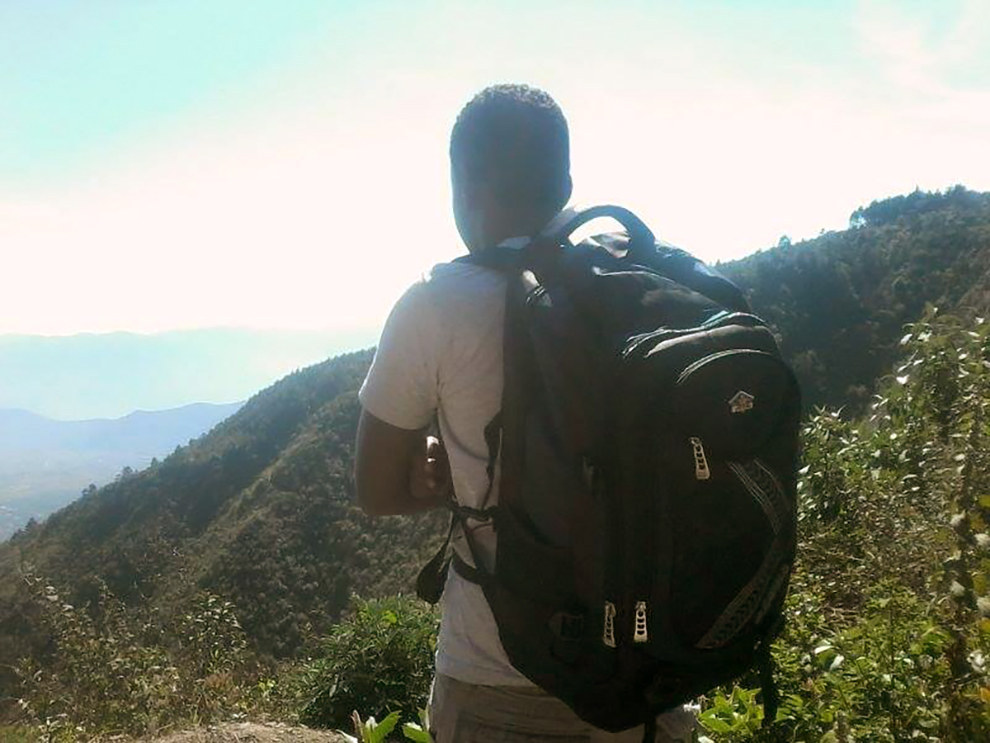 Over the next year, Dahir travelled first to Uganda, then Kenya, and finally Zambia in an effort to out run al-Shabaab. But everywhere he settled, the organization would find him. "Still al-Shabaab would call me and threaten me. 'We know where you are … everywhere you are, we will kill you,'" he said.
On Oct. 19, 2013, Dahir flew to Brazil and began a trek to the U.S. border that would take him more than three months. "The way is very risky. It's difficult. Very, very difficult," he said.
Like dozens of other African asylum seekers, Dahir would ultimately end up in Juarez, Mexico, and on Jan. 22 of this year, he crossed one of the bridges into El Paso, turned himself into authorities, and asked for asylum.
Dahir would spend the next seven-and-a-half months in the El Paso detention center. Without money, he couldn't afford to hire an attorney. He was able to secure the help of a law student in preparing court filings, including hundreds of pages of news articles detailing his career, al-Shabaab attacks on journalists, and his own shooting.
But his arguments didn't convince Department of Homeland Security officials. According to Dahir, they repeatedly questioned whether he was in fact a member of al-Shabaab, whether he worked for the Somali government, or even whether al-Shabaab had ultimately been responsible for his shooting.
Proving an asylum claim from jail is extremely difficult, even for people proficient in English and familiar with the legal terrain. For instance, asylum applicants must prove they are a protected class, such as a member of an oppressed minority or political party, that they face danger if they are returned to their home country, and that local officials will not or cannot protect them, among other obstacles.
In Dahir's case, DHS acknowledged that, as a journalist, he was a member of protected class. Additionally, DHS did not dispute the basic facts of his shooting.
During the asylum hearing, DHS attorneys argued, in part, that even if al-Shabaab had targeted him, they do not control his home city of Galcayo and that the Somali government would be able to provide him with adequate protection.
On July 7th, judge Sunita Mahtabfar denied his asylum request, agreeing with DHS that Dahir did not qualify for asylum.
The day after the court ruled against Dahir, al-Shabaab attacked the presidential palace — the second such assault this year — and the country's president was forced to fire his police and intelligence chiefs.
Since then, DHS decided to temporarily release Dahir on Aug. 11 while Dahir awaits deportation to Somalia.