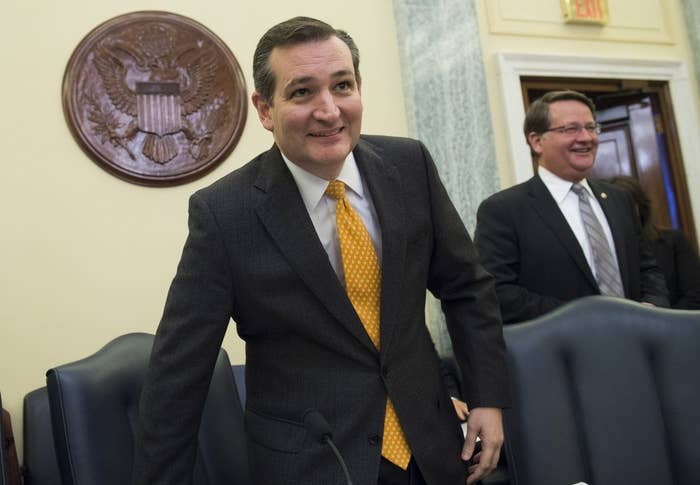 WASHINGTON — Sen. Ted Cruz and three other Republican senators voted on Thursday against a non-binding Senate resolution affirming that the United States does not use religious tests for immigrants seeking admission into the country.

The resolution, which is an amendment to a maritime security bill, reads simply "It is the sense of the Senate that the United States must not bar individuals from entering into the United States based on their religion, as such action would be contrary to the fundamental principles on which this Nation was founded."
Prior to the committee's vote, Leahy said, "I know many on this committee on both sides of the aisle rightfully expressed their outrage about the call earlier this week to shut our borders to Muslims. Now let's just go on record, as formally rejecting this reprehensible proposition. We've heard from FBI Director Comey that ISIL's narrative, part of it, is that the United States is anti-Muslim, they use that in recruiting. The Department of Defense has told us the same thing. I think we ought to listen to what our national security leaders and send a clear and direct message that America welcomes all peoples of all faiths."
It is not entirely clear why Cruz doesn't support the amendment's language, which was proposed by Judiciary Committee ranking member Patrick Leahy. The Texas Republican did not attend the meeting, and his spokesman did not return a request for comment.
Cruz' vote was cast in proxy by Sen. Jeff Sessions, one of the fiercest opponents of immigration on Capitol Hill who has advised Trump on immigration in the past.
Sessions spent nearly 30 minutes on a rambling statement that invoked the memory of Kate Steinle who was killed by an undocumented immigrant earlier this year and whose murder Trump has used to rail against undocumented immigrants. Sessions also charged the one sentence amendment is "In effect, it's a move towards the ratification of the idea that global migration is a human right and a civil right for those of us in the United States. And that these immigrant rights must be supreme to the rights of nations, of sovereign nations, to determine who and who cannot enter their borders. Fundamentally, foreign nationals, living in foreign countries, do not have a constitutional right to enter the United States. If they did, any alien denied entry could file suit to demand entry, claim damages for loss of employment, lost benefits or welfare income if they believe they were improperly denied."

After insisting that under the non-binding Sense of the Senate resolution "the United States could not favor for entry, maybe we don't want to do this, could you favor for entry a moderate, moderate Muslim cleric over a radical Muslim cleric," Sessions then argued that ultimately, Leahy and others were looking to eliminate any questions about applicants for entry. "The next step of course … is to say we cannot consider history, or geography, or culture," Sessions said.
The amendment passed 16 to 4, with Sens. David Vitter and Thom Tillis joining Sessions and Cruz in opposing the language.