Ted Cruz: Energy Exports Are The Way To Beat Back Russia
The senator emphasized an energy-based approach for the United States in dealing with Russia in Ukraine. Part of Cruz's foray into foreign policy.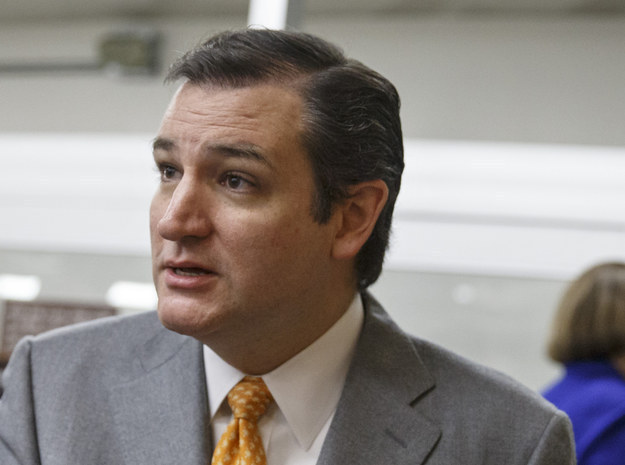 WASHINGTON — Sen. Ted Cruz called Wednesday for an energy-based approach to addressing Russia's increasingly aggressive steps in eastern Europe, arguing steps ranging from expansion of natural-gas exports to increasing the use of petroleum-based fuel by the U.S. Navy will counter the Russian "Petro-Tyrant."
Speaking at a Wall Street Journal event with Democratic Sen. Jack Reed, the conservative Texan also slammed President Obama's leadership on the Russian crisis in Ukraine.
"We should have spoken out far more unequivocally in support of freedom in Ukraine … we should have seen far more leadership."
Cruz hinted that he also believes Obama has been weak in his response, which has encouraged Russian President Vladimir Putin's activities.
"Putin in my view is not a complicated world leader .. in my view, he is consistently pressing to reassemble as much of [the soviet empire] as possible … [and] his response to weakness is to press and press and press until he encounters meaningful resistance," Cruz said.
Although Cruz has become a force in Washington on domestic spending issues, he has only recently begun to stake out hard lines in the foreign policy realm, including calling for Secretary of State John Kerry's resignation this week.
At the event, Cruz provided some details on his thinking on foreign policy approaches in Eastern Europe. For instance, he called on the administration to immediately "install antiballistic missile batteries in the Czech Republic and Poland," charging that the decision to not do so has exacerbated the crisis. "That appeasement hasn't worked. And our allies are expressing considerable nervousness at the size of the Russian bear."
Cruz also picked up a common Republican talking point on the Ukraine crisis in pushing for the quick expansion of liquid natural gas exports to Ukraine and other European nations that rely on Russian energy sources.
The administration should work with the Ukrainian government to help "install the facilities to accept liquid natural gas," and said the White House should approve the 22 LNG export permits now under review. "In my opinion the admin should approve all 22 of them. To allow them to go through," Cruz said.
But he also expanded those talking points into domestic energy spending by the Department of Defense. Cruz criticized a Navy alternative fuels program based on algae, insisting that it is a "luxury" the department can ill afford during tight fiscal times and said the Navy should revert to conventional fossil fuels. Similarly, Cruz criticized a failed Air Force wind-farm project that is now being dismantled.
As for U.S. relations with Europe, Cruz again had no kind words for the administration, arguing its leadership of NATO has weakened the U.S. position. "There is no doubt that NATO right now is having a crisis in terms of its ability to prevent Russian aggression. That is making our allies deeply uncertain to the degree to which the United States will stand with them," Cruz said.