Ted Cruz Compares President Obama To King George III, Richard Nixon
Cruz goes after Obama on executive actions.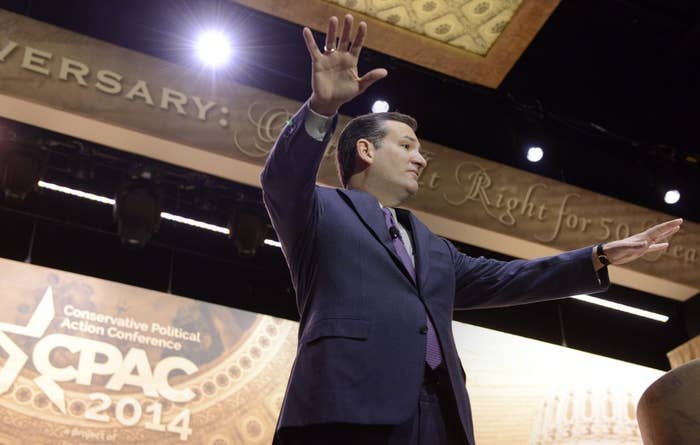 WASHINGTON — Sen. Ted Cruz attacked the Obama administration's record with executive actions, comparing President Obama to King George III, whose reign ultimately prompted the American Revolution, in a Wednesday speech.
Speaking at the Federalist Society Executive branch Review Conference, Cruz outlined his latest report on executive branch over reach by the Obama administration.
"The Declaration of Independence had, I believe, 26 abuses that King George had committed against Englishmen. Well, this particular report lists 76," Cruz said.
Cruz went on to argue the administration has engaged in "lawlessness that threatens the basic underpinnings of our society" on a variety of issues ranging from drug policy to IRS investigations of political groups. "The rest of us don't have the ability to disregard courts, and yet some how this administration thinks they do."
For instance, Cruz pointed to drug-sentencing laws, where "on the policy area we could find real bipartisan agreement … and we could have a sensible policy discussion." But rather than waiting for congressional action, Attorney General "Eric Holder simply announced the following drug crimes weren't being prosecuted … If you want to change the criminal laws, there's a process for it. You can go to Congress."
"These are criminal laws … it is extraordinary," Cruz said.
Similarly, Cruz criticized the administration's position on marriage equality, saying, "the administration announced it's going to disregard the Supreme Court stay and recognize and enforce marriages," while on immigration the Whiter House is "universally granting [millions of undocumented persons] amnesty."
Cruz also paraphrased law professor Jonathan Turley's congressional testimony on executive overreach, arguing that "President Obama has become the embodiment of the imperial presidency. Barack Obama has become the President Richard Nixon always wanted to be."
Cruz said the "abuse of presidential power" has also bled into foreign policy, particularly the current confrontation with Russian President Vladimir Putin. "How exactly do we go to Putin and say you have to be bound by law when our administration is saying never mind our laws?"
"These concerns should be bipartisan. Listen, I recognize there is a poisonous, even toxic atmosphere in Washington … but this shouldn't be partisan," Cruz argued. "Anyone who cares about rule of law, anyone who care about liberty and the constitution should be dismayed by a admin and executive that is disregarding the law."