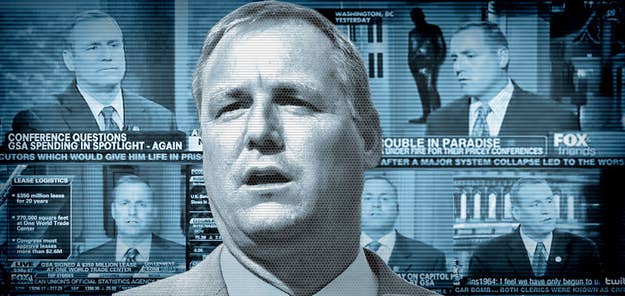 WASHINGTON, D.C. — California Congressman Jeff Denham spent more than a thousand dollars in taxpayer funds in April and May to spend the night in hotels in San Francisco and Sacramento, an expense he said was necessary to make appearances on various morning television shows.
He was on TV to denounce lavish spending by the Obama administration on, among other things, hotels and conferences.
Denham, a Republican who chose Courtyard Inns and other midmarket locations, isn't the only member of Congress to bill the Treasury for hotel stays inside his district. Greg Walden of Oregon and Sean Duffy of Wisconsin also racked up large hotel bills because, spokespeople said, their large districts make overnight stays important in visiting constituents.
And billing nights at a hotel for a morning media hit is not unheard of – congressional aides said members like Denham who don't have satellite uplink studios in their districts will occasionally do so. Ethics attorneys also said that there are no irregularities with the spending, since the publicity was part of Denham's official duties as congressman.
In a statement to BuzzFeed, Denham not only defended the overnight stays to conduct interviews but noted they helped build public support for efforts to force the General Services Administration, which manages federal buildings, to begin selling off excess federal properties and recouping billions in federal funds for the treasury.
"As Chairman overseeing GSA, there is a need to inform the public about the systemic waste and culture of corruption within GSA," Denham said. "The interviews required travel to destinations outside the district and with the media's help, I've been able to discuss the huge amount of waste within the agency, and forced them to begin selling many properties around the nation that will save taxpayers billions of dollars."
Denham, who chairs the Transportation and Infrastructure Committee's subcommittee with jurisdiction over General Services Administration, had seized on the scandal over GSA's more than $820,000 bill for a conference in Las Vegas to not only harshly criticize the agency's spending on conferences but to launch an assault on its very existence.
"I am prepared to systematically pull apart GSA to the point where we will make it a question to the American public of whether GSA is needed at all," the freshman lawmaker saidduring a hearing in April.
Denham ultimately took his push to the airwaves, conducting at least seven morning show interviews on CNN, Fox and MSNBC April 5th and May 29th, according to his office. During those stays in San Francisco and Sacramento — the two closest television studios to his Modesto-based district with satellite uplink capability — he accumulated about $1,000 in hotel bills, all of which he was paid back for by the federal government, according to a review of his disbursement records by Buzzfeed.
Denham isn't the only critic of GSA's spending that has at times spent federal money on his own travel.
In May, Roll Call reported on a 2011 trip by Sen. Jeff Sessions – one of the harshest critics of spending by GSA and the 9th Circuit Court of Appeals on conventions – took a trip to the tony Croatian resort town of Opatija, which he described during an interview on Croatian television as "just beautiful, fabulously beautiful … I have not been disappointed."
And it's difficult to pin down how many hotel stays members of Congress make on a yearly basis. But disbursement records show that over the last two years members have billed the government 394 times for "lodging," many of which were for multiday stays in a single hotel.
But because many lawmakers have disbursements made for expenses directly to their credit cards and do not provide a full itemization of their expenditures in publicly available documents, that number could be significantly higher.
Still, dozens of members have listed receiving compensation for lodging expenses over the last several years, most one off instances in which a member finds himself or herself out of town for a conference or field hearing.
Some members of Congress, like Walden, say it's a simple matter of geography. Walden's district covers 70,000 square miles in eastern and central Oregon, totaling some 20 counties. According to disbursement records, the Treasury has paid him for 54 hotel visits over the last two years — almost all of which have come because of a rigorous district travel schedule.
Likewise, disbursement forms show Duffy of Wisconsin has been paid 27 times for hotel stays since coming to Congress in 2011. Duffy has one of the largest districts east of the Mississippi, making travel to meet with constituents time consuming. Duffy also lived some five hours from the closet airport, which meant he was often forced to stay over night when traveling to and from Washington, according to his office.
"Rep. Duffy represents the largest district, geographically, in Wisconsin, and one of the largest districts in the country east of the Mississippi River. From various parts of the district to the other, it takes upward of 5 hours to drive. Rather than make the long drive and turn around to go home, occasionally, Rep. Duffy will stay overnight and hold town halls and conduct constituent work over several days to maximize his time and taxpayer dollars," Duffy spokesman John Gentzel said in a statement.
Gentzel also noted the distance between Wausau – where the airport is located -- and Duffy's original home Ashland Wisconsin. Additionally, the vast majority of his lodging receipts were for the first part of his term when he still lived in Ashland as a reason for some of the stays, and noted that, "He and his wife and six kids have since moved to the Wausau area."